Maurice Smith tracks Shedd Aquarium's energy usage from a control room in the building's basement. (Photos by Alex Ruppenthal / Chicago Tonight)
When Maurice Smith started working in Shedd Aquarium's facilities department 11 years ago, nobody used the word "sustainability."
Dozens of times each day, Smith or one of his colleagues had to march over to a set of pumps feeding water into the aquarium's various animal habitats and crank a lever to adjust the water flow based on conditions in each exhibit.
"When I started, everything was manual," Smith said.
Today, Smith sits in front of five computer screens and two 50-inch monitors in the aquarium's operations center, where a graph tracks the building's energy use in real time. With a few clicks of the mouse, Smith slows the flow of water headed for the sea otter exhibit – a move he hopes will help the aquarium meet its daily energy efficiency goals.
"Right now, our target is 2,158 [kilowatt-hours]," said Smith, one of Shedd's life support operators, noting the current usage levels. "I'm at like 2,248 [kilowatt-hours], so I'm starting to pull different stuff back."
Since embarking on a new sustainability initiative five years ago, Shedd has cut water use by more than half, from 60 million gallons per year in 2012 to 28 million gallons per year now. (The 32-million gallon difference is about what it would take to fill 50 Olympic-sized swimming pools.)
The transformation is noteworthy given that the aquarium is, well, an aquarium.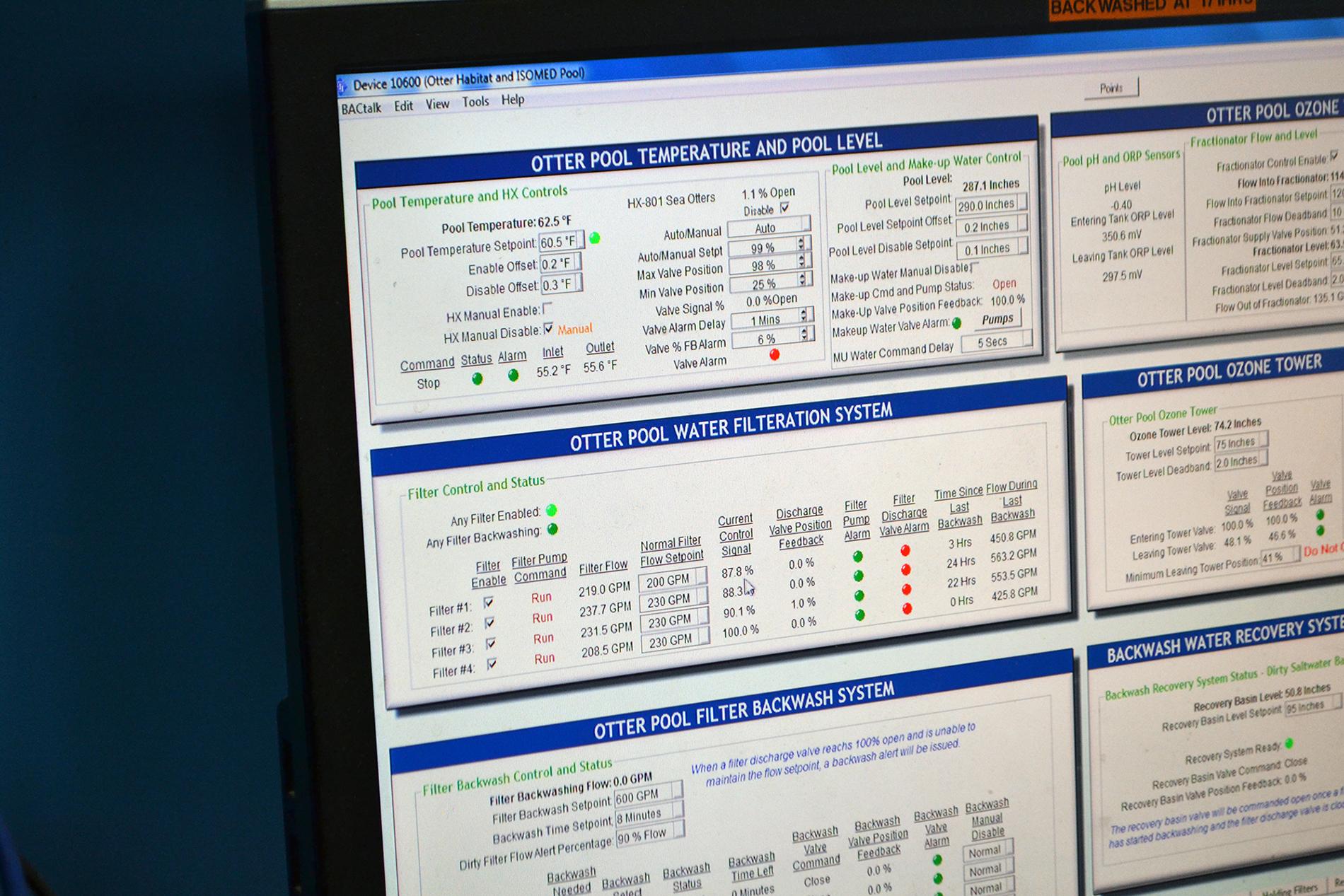 A table shows water flow levels for Shedd Aquarium's various animal habitats.
To achieve the steep cuts, Shedd's facilities staff, in coordination with the aquarium's animal health team, tested water levels in some exhibits and found that, in some cases, the flow of water could be adjusted. This allowed Shedd to change water flow in several exhibits without jeopardizing the health of animals.
The aquarium also made a number of more basic changes to cut water usage, such as installing low-flow toilets and sinks, shoring up leaks and replacing a 42-year-old cooling tower. The new cooling unit is much more efficient at regulating the temperature of water used throughout the building.
"It was essentially converting a building built in 1929 to a modern building but keeping the structure and the architecture of the existing building," said Bob Wengel, Shedd's vice president of facilities, after an event Thursday in which Shedd received an award from ComEd for participating in the company's energy efficiency program.
By investing about $250,000 on water-related upgrades over the past five years, Shedd officials say it has saved hundreds of thousands of dollars that are instead being used to fund other programs, such as its animal rescue and response missions and field research.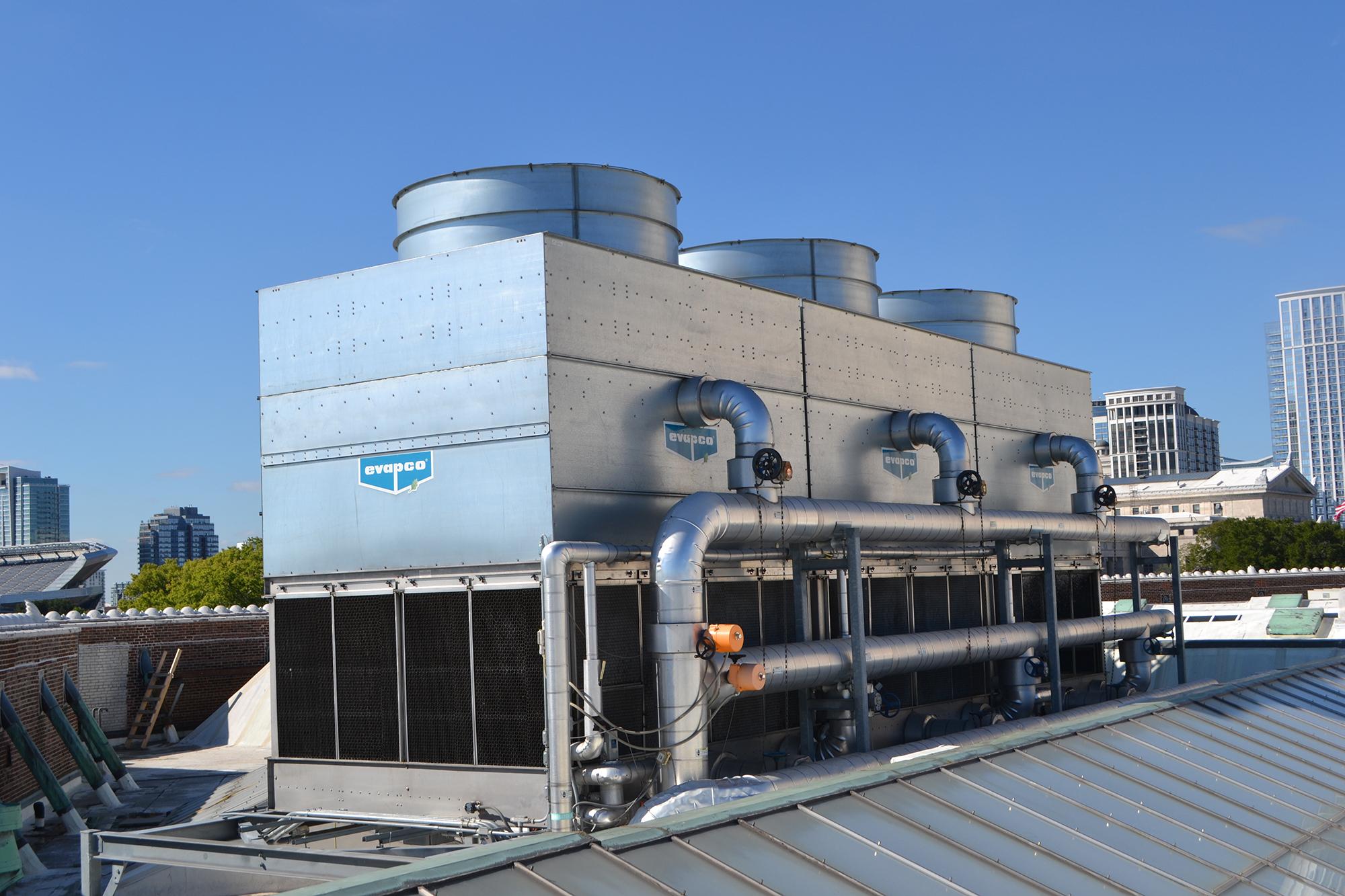 A new cooling tower has helped Shedd Aquarium cut water use by 50 percent over the past five years.
In the Oceanarium, the site of Shedd's aquatic presentation featuring dolphins, whales, sea lions and sea otters, 2.5 million gallons of water are now recycled each year from the aquarium's shark and stingray exhibit. The recycled water, which used to get dumped down a drain, contains microorganisms that make it healthier for animals in the Oceanarium than the water used previously in the exhibit. 
"Every kilowatt hour we save, every gallon of water we save is just as important as every field conservation project that we have going on here at Shedd," Wengel said. "Because conservation starts right here."
The aquarium's sustainability initiative also includes 900-plus solar panels fixed to the building's roof and a one-megawatt, $2 million lithium-ion battery that will go live next year. The new energy sources are part of Shedd's goal of cutting overall energy use in half by 2020.
Note: This story has been updated to clarify Shedd's process of testing water levels in animal exhibits. 
Contact Alex Ruppenthal: @arupp | [email protected] | (773) 509-5623
---
Related stories: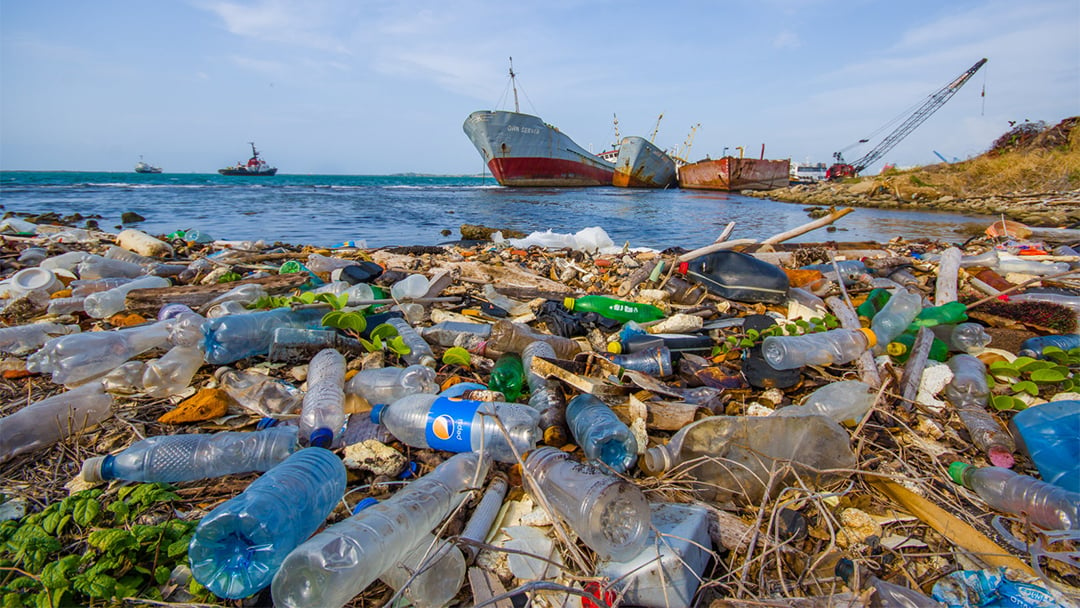 Shedd Takes Aim at Plastic Bottles in New US Effort to Cut Pollution
July 10: First went the plastic bags, then the plastic straws. Now they're coming for more. The Shedd Aquarium announces a new initiative to significantly reduce or eliminate the use of disposable plastic bottles by 2020.
---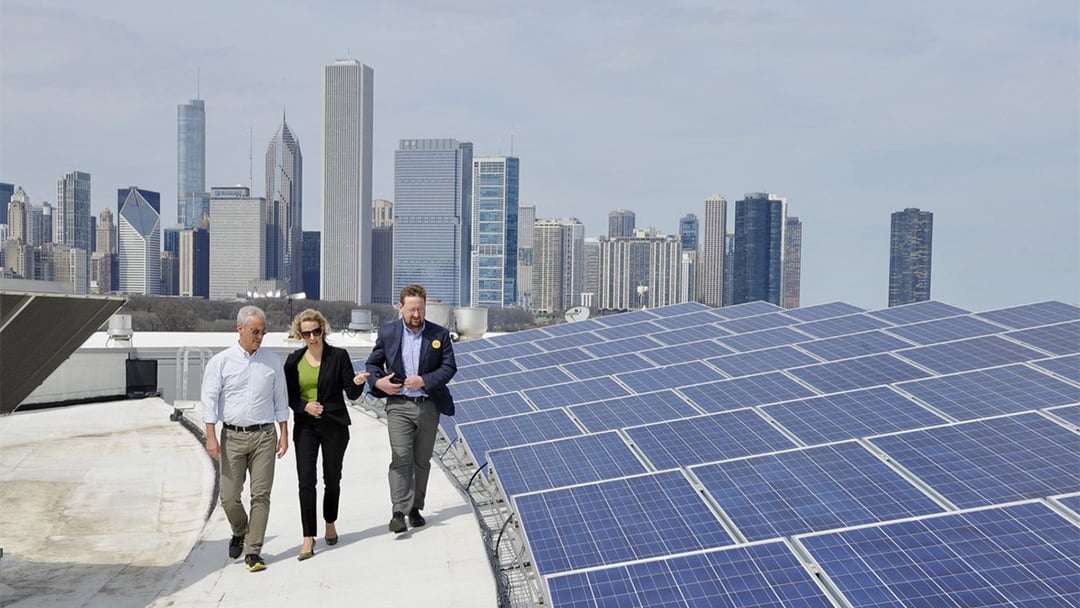 Chicago Commits to Renewable Energy for 900-Plus Government Buildings
April 10: Mayor Rahm Emanuel announced Sunday a commitment to transition the city's municipal buildings and operations to 100 percent clean and renewable energy by 2025.
---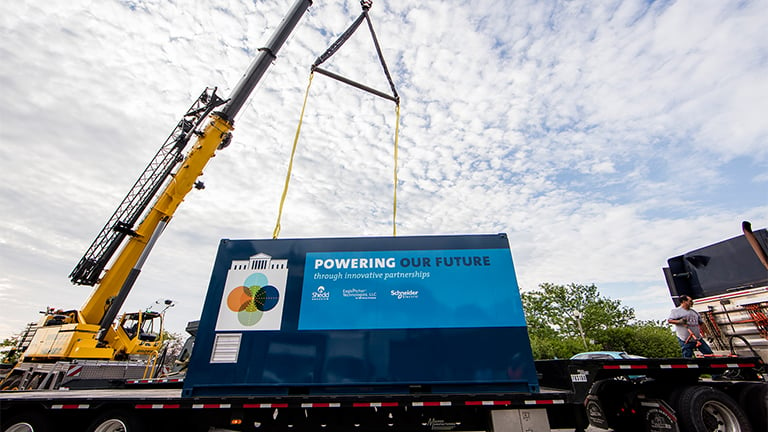 Shedd Installs Largest Lithium-Ion Battery of Any US Aquarium or Zoo
June 9, 2016: The Shedd Aquarium has added a new source of power as part of its green initiative – and it isn't coming from the institution's electric eels.
---