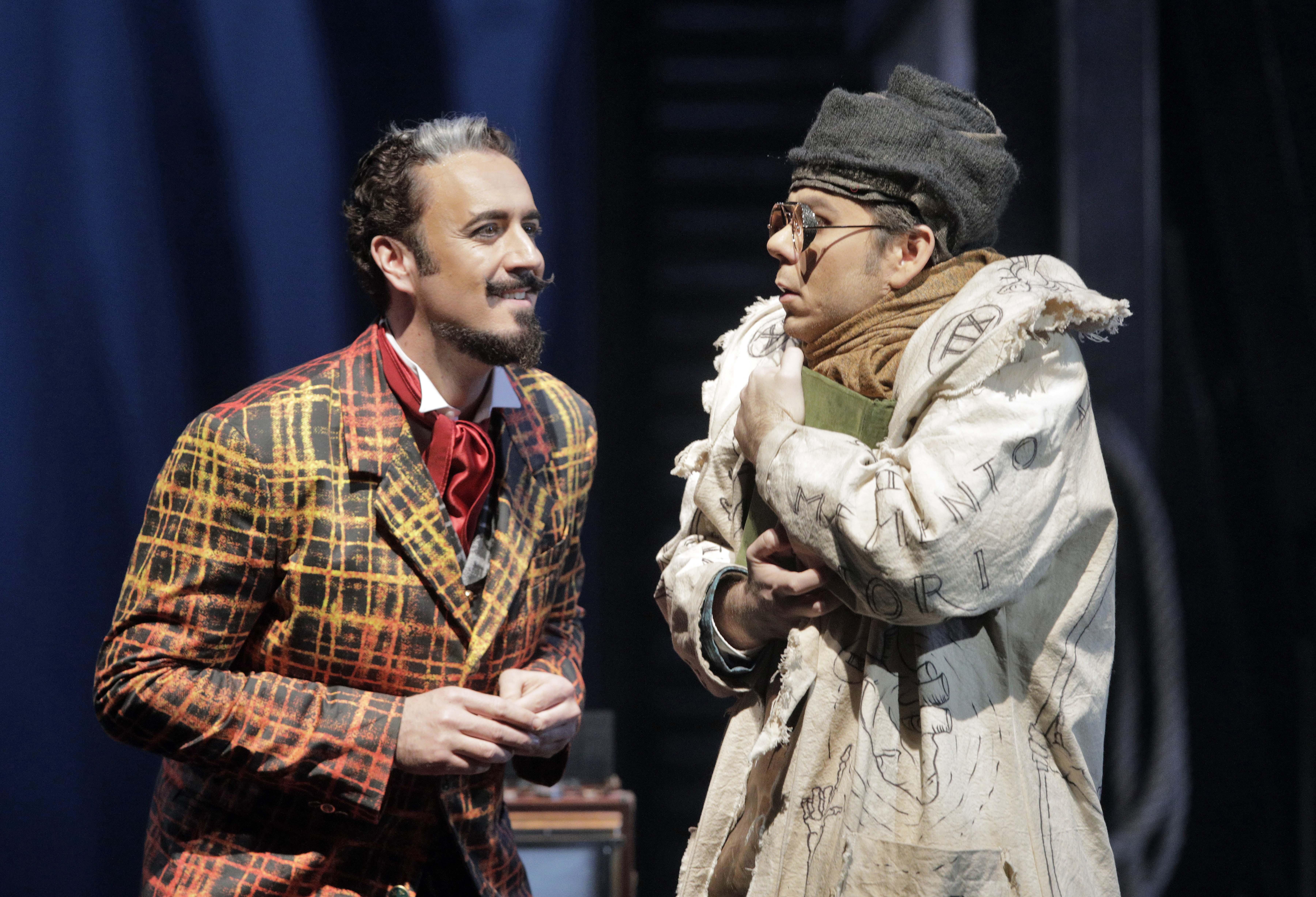 Christian Van Horn and Benjamin Bernheim in "Faust" at Lyric Opera of Chicago. (Credit: Cory Weaver)
The notion of the Faustian bargain by which men (and yes, more often than not it is the male of the species) agree to sell their soul to the devil in exchange for fame, fortune, knowledge or youth has been a staple of literature, and by extension all the arts, for centuries. True, the price is steep (punishment is a sentence of eternal damnation), but there have always been plenty of willing buyers.
While women are rarely shown entering into such direct bargains they might sacrifice their virtue (think "chastity") to men, but thus will get them little more than grief in return.
And so it is, for both the man and woman in the version of "Faust" devised by three mid-19th century Frenchmen – composer Charles Gounod, and librettists Jules Barbier and Michel Carre – whose storytelling is a rambling affair played out in five acts driven by a lushly Romantic score.
Ailyn Perez in "Faust" (Credit: Cory Weaver)
In an effort to make things feel a bit more modern, Lyric Opera of Chicago's new production of the work unnecessarily complicates matters. Directed by Kevin Newbury (who staged "Bel Canto" at Lyric a couple of seasons back), it is so full of distractions that Faust sometimes gets lost in the shuffle. And while it is visually captivating, the incongruous mix of multimedia surreality devised by John Frame, combined with the old-school realism of set and costume designer Vita Tzykun, proves to be an awkward fit that would serve such operas as "Hansel and Gretel" or "The Nose" far better.
Here it feels out of synch with Gounod's fervent, varied but traditional score that is full of arias both passionate and prayerful, as well as exuberant choral work (superbly sung) that ranges from drinking songs to fiery calls to military action and patriotic duty. (An anti-war banner is displayed at one point to express a more palatable contemporary attitude, but it, too, feels awkward.)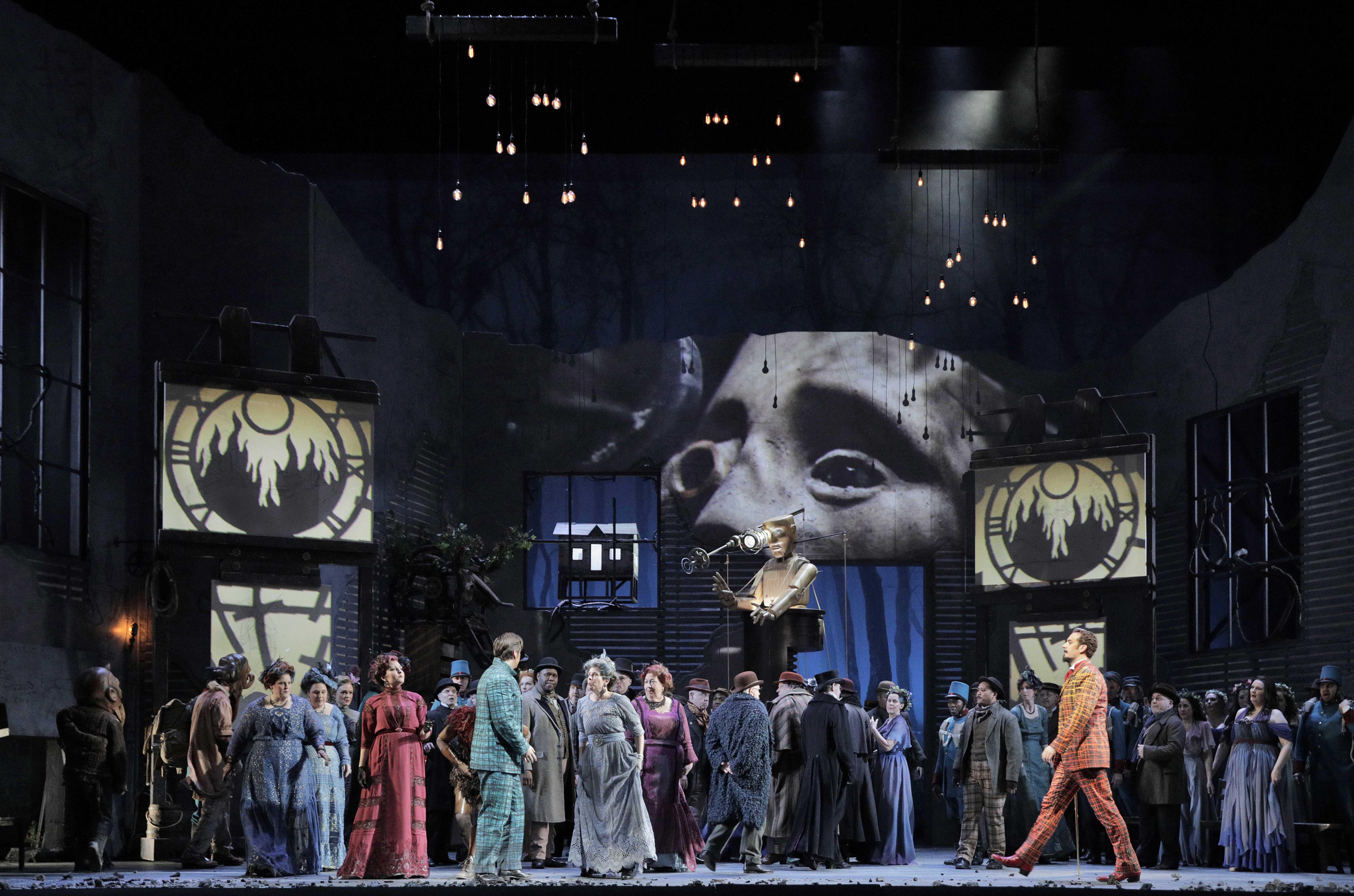 (Credit: Cory Weaver)
The voices in the large cast are excellent. And the Lyric orchestra, conducted with great fervor by Emmanuel Villaume (who pays meticulous attention to each singer), serves the Gounod score admirably. But despite all the stirring music, and several memorable characterizations (both tragic and comic), the story often loses its focus as Newbury tries too hard to attach a new shell to an old chestnut and ends up with a messy, often incoherent hybrid. What saves things over the course of its rambling three-plus hours of running time is the impressive singing.
Rather than a scholar, this production's Faust (French tenor Benjamin Bernheim, whose voice is full of emotional heat) is portrayed as an aging artist – a sculptor of phantasmagorical puppet-like pieces (Frame's haunting work) suddenly overwhelmed by the feeling that he has wasted his life and worked in vain. But just as he aches for a return to youth – to wine, women and song (and even considers suicide) – Mephistopheles (Christian Van Horn, the tall, altogether dashing American bass-baritone who uses his peppery voice and body language to perfection) arrives in Faust's studio, dressed in a fiery orange plaid suit, and makes him an offer he cannot refuse. Never mind that he will have to serve Satan for all eternity in the next world.
So, Faust (in a fuzzily dramatized moment) turns into a young man, and he and Mephistopheles head into the center of a French town where veteran soldiers and older women gather, and where younger women surround the men, including Valentin (the rich-voiced American baritone, Edward Parks), who are about to head off to battle in the latest conflict.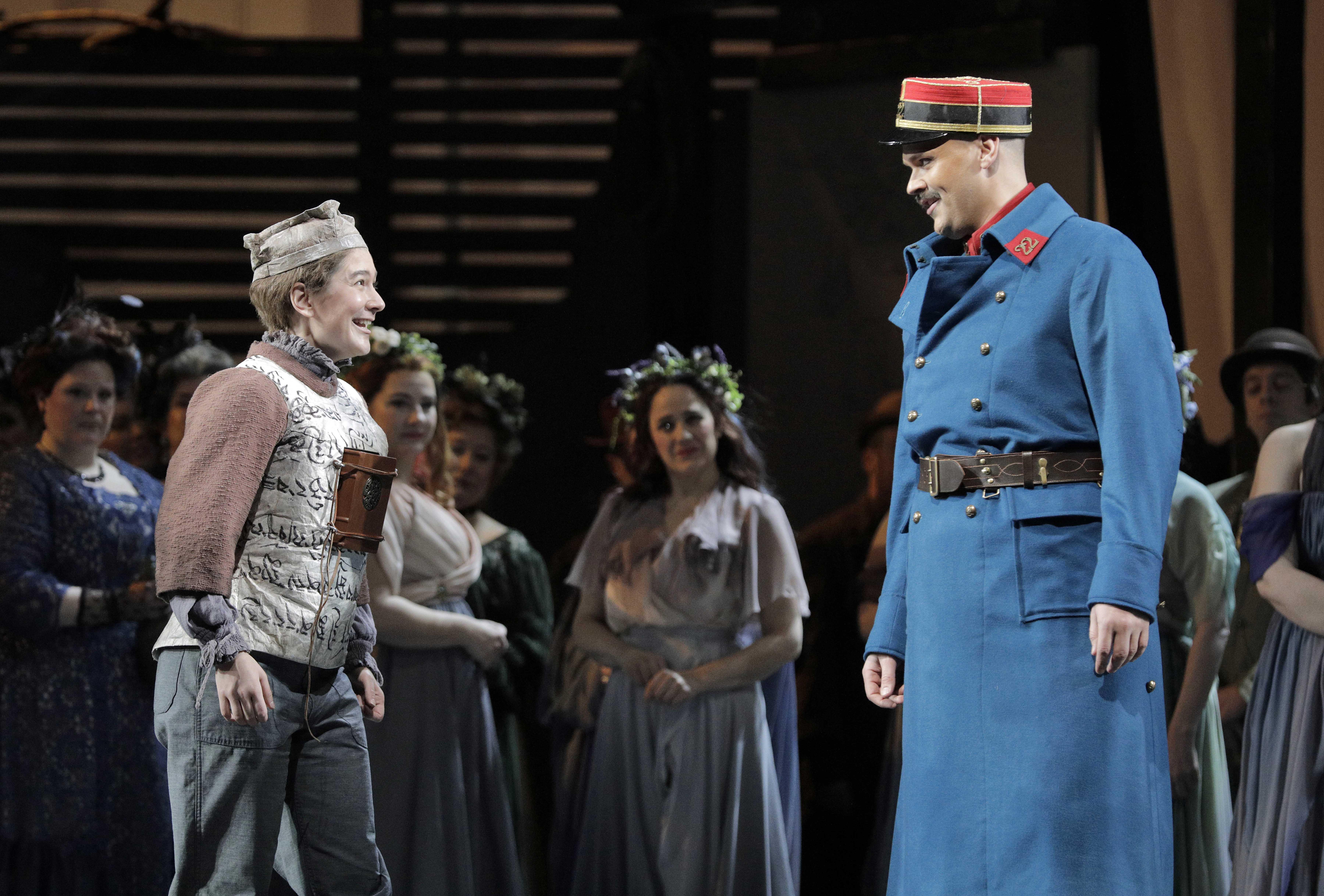 Annie Rosen and Edward Parks in "Faust" (Credit: Cory Weaver)
Valentin is worried about the safety of his beloved sister Marguerite (Chicago-born soprano Ailyn Perez), whose "purity" is of utmost importance in this fiercely Catholic world. And he entrusts her care to Siebel (the rich-voiced mezzo-soprano Annie Rosen, in a pants role), a boyish fellow who loves her, but who she sees as just another brother.
Of course Faust is immediately drawn to Marguerite, but she keeps her distance. Only later, after trying on jewels planted at her doorstep by Mephistopheles, and suddenly feeling beautiful, does she give herself to Faust. (In another directorial distraction, Marguerite hobbles on a crutch until the moment she finds love, but audiences might simply think the performer had twisted her ankle and chose to go on with the show.)
Not surprisingly, Faust soon disappears, and Marguerite gives birth to a baby, kills it, and ends up condemned to death. 
Perez sings beautifully throughout (including her rendering of "King of Thule," which flips between that ballad and her attraction to Faust). But she comes fully into her own near the very end of the opera when she turns to heaven with a gorgeous aria that renews her bond with God and the angels. Faust's fate, of course, was determined from the start.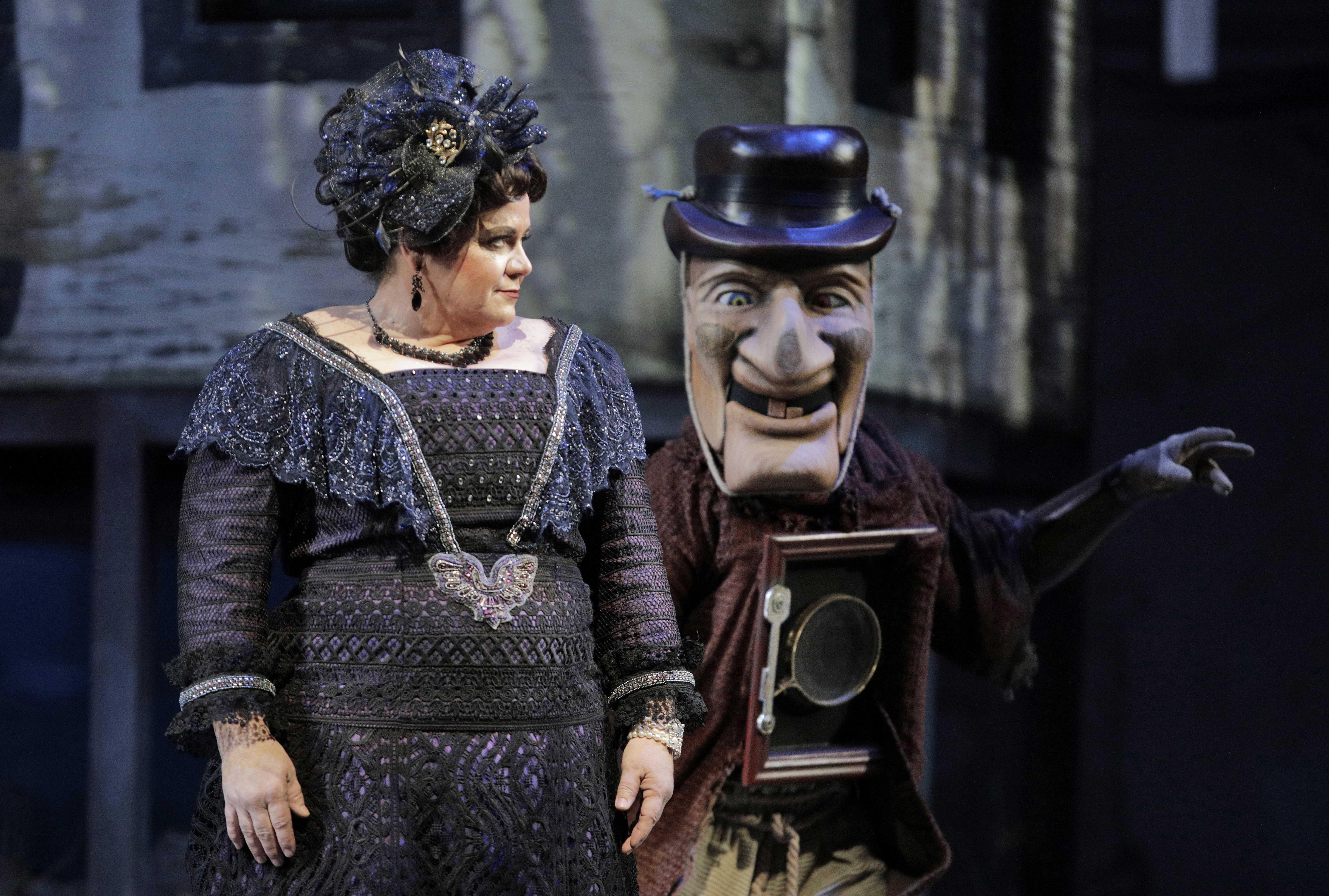 Jill Grove in "Faust" (Credit: Cory Weaver)
For pure comic relief there is a wonderfully played scene between Marguerite's worldly, acquisitive neighbor, Marthe (ideally played by mezzo-soprano Jill Grove) and Mephistopheles. Seconds after he informs her of the death of her husband she is more than happy to indulge his attentions. You can probably guess where she will end up in the long run, too.

"Faust" runs through March 21 at the Civic Opera House, 20 N. Wacker Drive. Tickets are $49-$319. Call (312) 827-5600 or visit www.lyricopera.org/faust.
---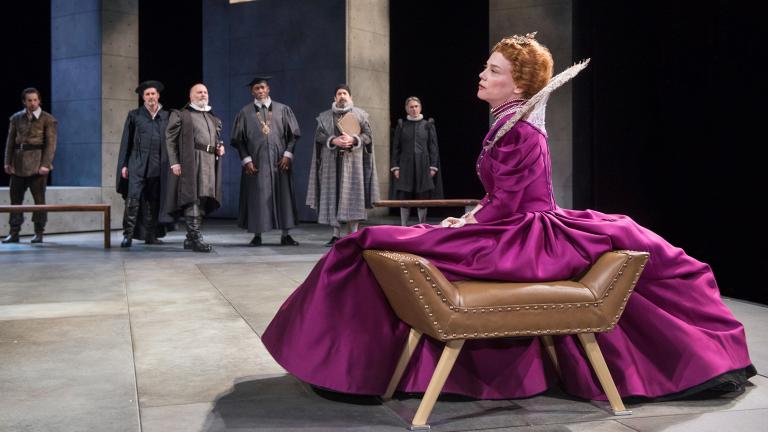 Powerful Women at Odds With Each Other and the Nature of Power
March 2: A vivid production of "Schiller's Mary Stuart" at the Chicago Shakespeare Theater is fresh and modern, but never artificially tricked up.
---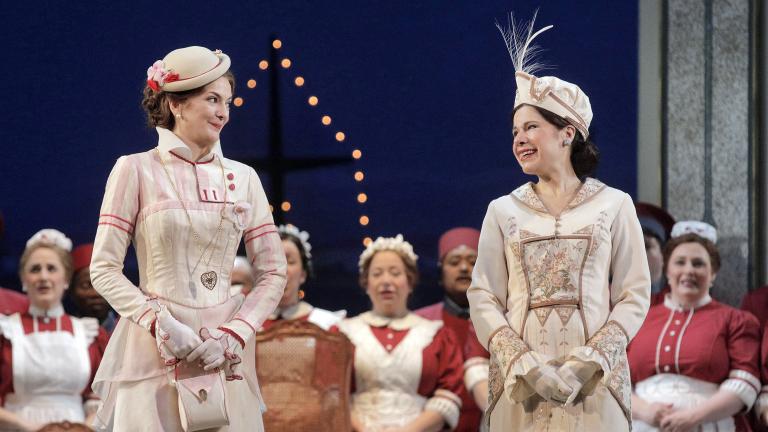 In Lyric's 'Cosi,' a Spirited Toast to the Imperfections of the Heart
Feb. 20: The production of "Cosi fan tutte" now at Lyric Opera of Chicago is a beauty. And in its playful but unquestionably bittersweet exploration of love, fidelity, betrayal and the unreliable nature of both men and women, it could easily have been written yesterday.
---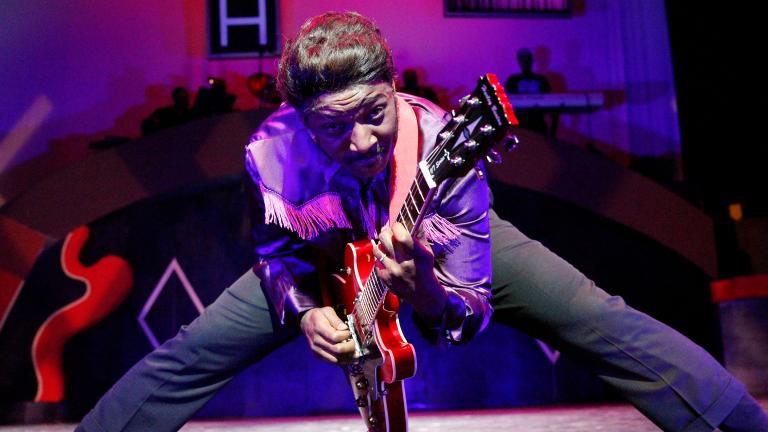 Black Ensemble Pays Rollicking Homage to Rock 'N' Roll Pioneer Chuck Berry
Feb. 26: Long before Chuck Berry died in March 2017 at the ripe old age of 90, he was revered as the granddaddy of rock 'n' roll. Black Ensemble Theater tells the story in "Hail, Hail Chuck: A Tribute to Chuck Berry."
---