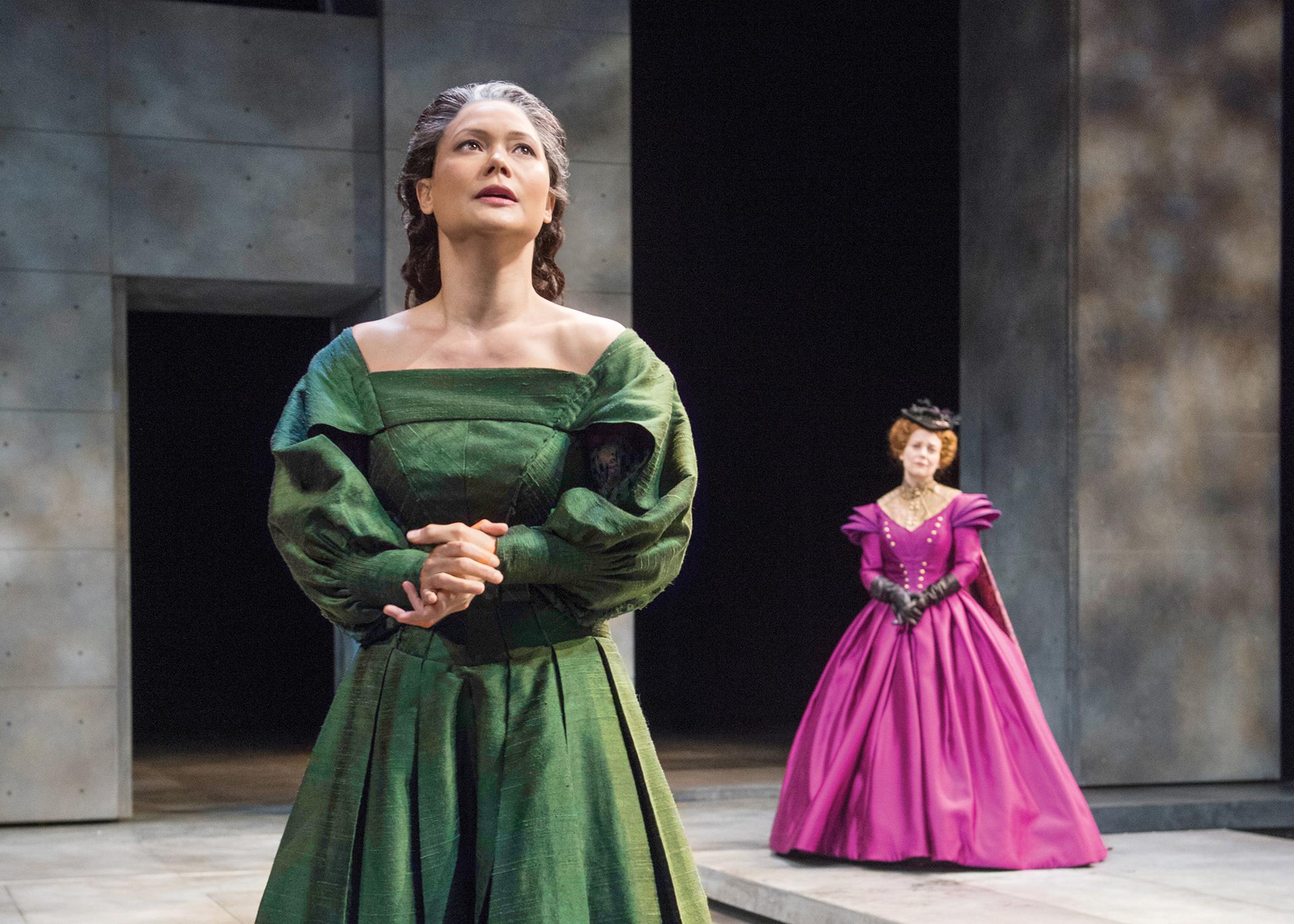 Mary Stuart (K.K. Moggie) implores her cousin Queen Elizabeth I (Kellie Overbey) to release her from her imprisonment in Chicago Shakespeare Theater's production of "Schiller's Mary Stuart." (Credit: Michael Brosilow)
No matter how pervasive the marital celebrity and gossip that attends the British royal family might be these days, it unquestionably pales by comparison to the bloody infighting of those who, in centuries past, had their eye on the throne.
Shakespeare devoted a good portion of his career to chronicling the misfortunes and misdeeds of a slew of kings, even as Queen Elizabeth I is said to have watched a few of his plays at court. But it was for a much later playwright, the German poet Friedrich Schiller, to tell the story (albeit partly fictionalized) of the bitter rivalry between two queens – Elizabeth I, the virgin queen of England who was part of the Tudor dynasty, and her cousin, Mary, Queen of Scots, a Catholic of the Stuart line that had alliances with France.
Schiller's 1800 play is now receiving a vivid production by the Chicago Shakespeare Theater – one that uses a 2005 English translation by Peter Oswald that is fresh and modern, but never artificially tricked up. The play puts the battle of wills, egos, nerves and power politics between the women in sharp relief, while simultaneously suggesting the pressure from male influence that was an ever-present force in the lives of both.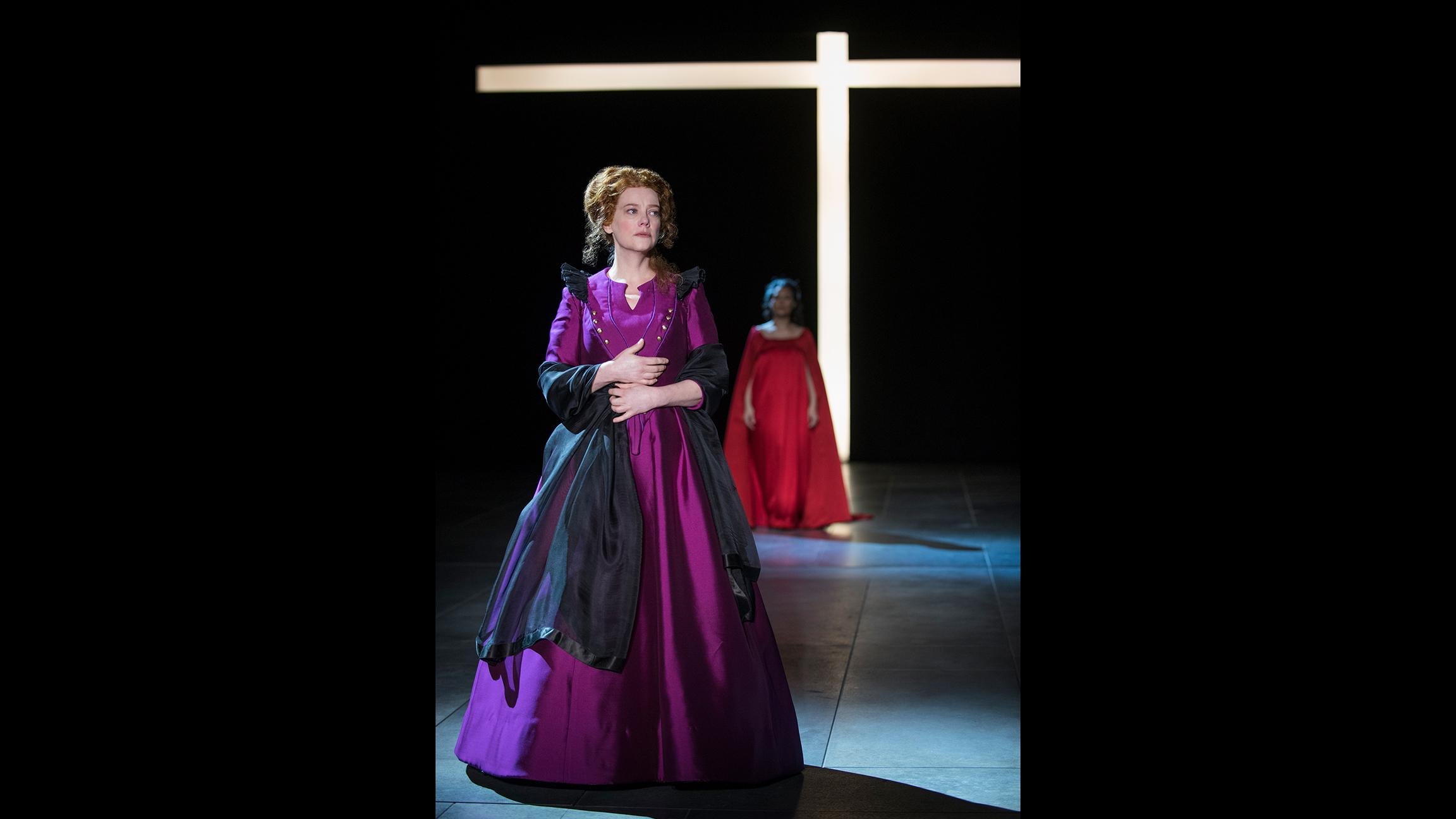 Queen Elizabeth I (Kellie Overbey) faces an uncertain future, as Mary Stuart (K.K. Moggie) looms in the distance. (Credit: Michael Brosilow)
Homing in on the final days in the life of the imprisoned Mary (K.K. Moggie), who is charged – falsely or not – with conspiracy to commit regicide, it captures both the political considerations and romantic intrigues involved in the decision by Elizabeth (Kellie Overbey), to send Mary to her death. Along the way, what becomes very clear is that despite their notably different temperaments, these two women share a ferocity of spirit grudgingly acknowledged by each other.
They also share the sort of loneliness that comes with the pursuit of power, and the desire to hold on to it. And all this is complicated by cries for justice, by a shrewd sense of "what the people want," and by a dangerous impulse to give in to passion and flattery. 
There is much talk, much debate and much scheming in this play. And Jenn Thompson, the New York-based director who has cast New York-based actresses in the two immensely demanding leading roles, keeps it sharp, clear and highly energized, if not always entirely subtle.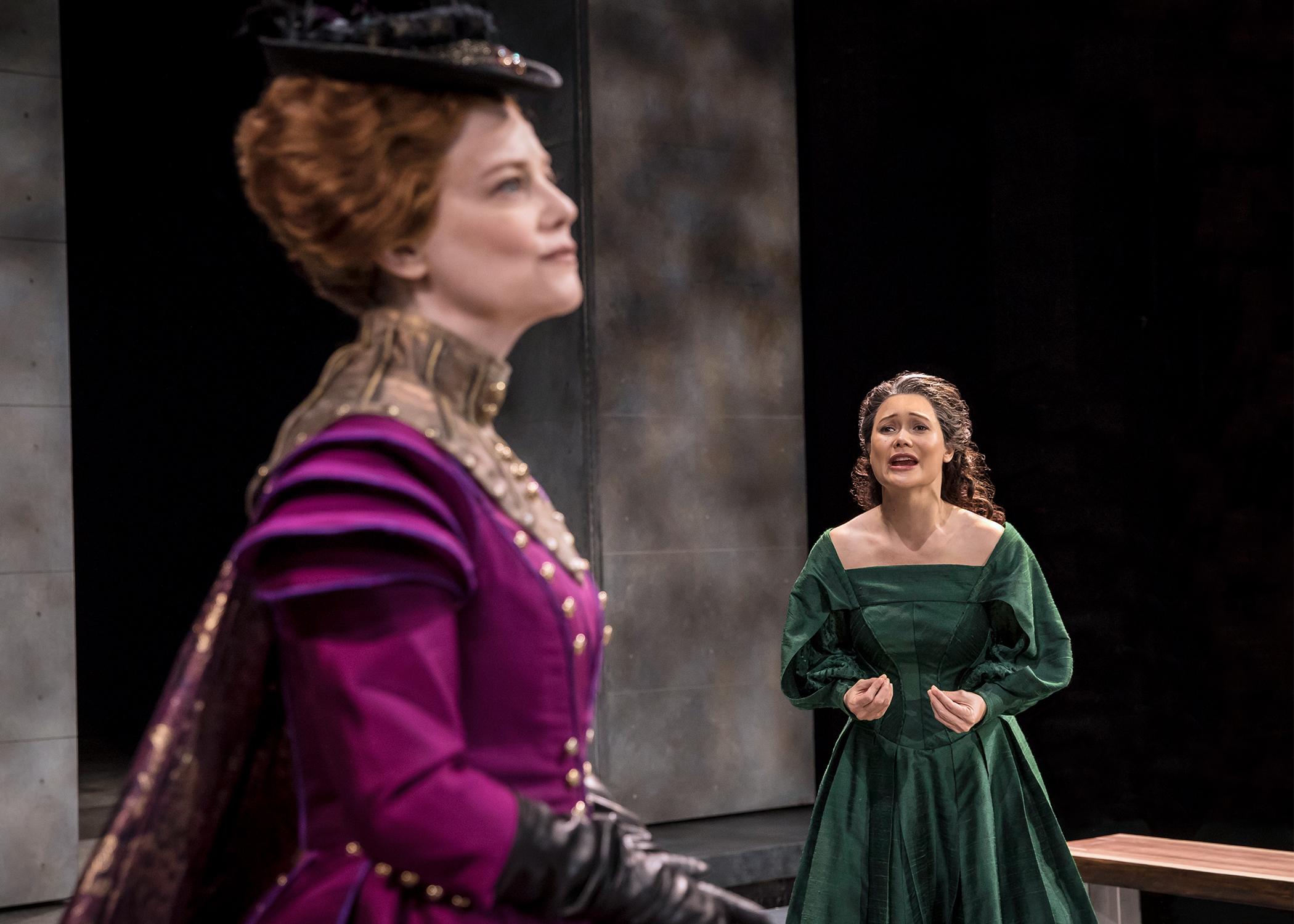 Mary Queen of Scots (K.K. Moggie), right, comes face to face with her cousin and captor Queen Elizabeth I (Kellie Overbey). (Credit: Liz Lauren)
Moggie's Mary is full of fiery, impulsive motion, and she makes you see why this woman has often found herself in trouble, much of it involving men. What she doesn't quite nail is the gravitas of her final repentance scene before she is taken to the gallows. For all her religious fervor, Mary – who is winningly protected by her devoted nurse, Hanna (beautifully and forcefully portrayed by Barbara Robertson) – is not someone quite so easily resigned to death.
Overbey deftly suggests Elizabeth's taut, wary, conflicted and imperious nature, as well as her sense of discipline, rigor, repression and constant doubt. And while she understands that marriage would undermine her power, like Mary she is vulnerable to the seductive charms of Robert Dudley, Earl of Leicester. And Tim Decker is just handsome and smarmily charming enough to suggest both the allure and opportunism of the man.
Thompson has tapped many other excellent Chicago actors for important roles, too. They include Kevin Gudahl (as Amias Paulet, the knight who is Mary's jailer at the castle where she is being held), and David Studwell (as Lord Burleigh, the strict constructionist who believes Mary must die, and who debates vigorously with Paulet).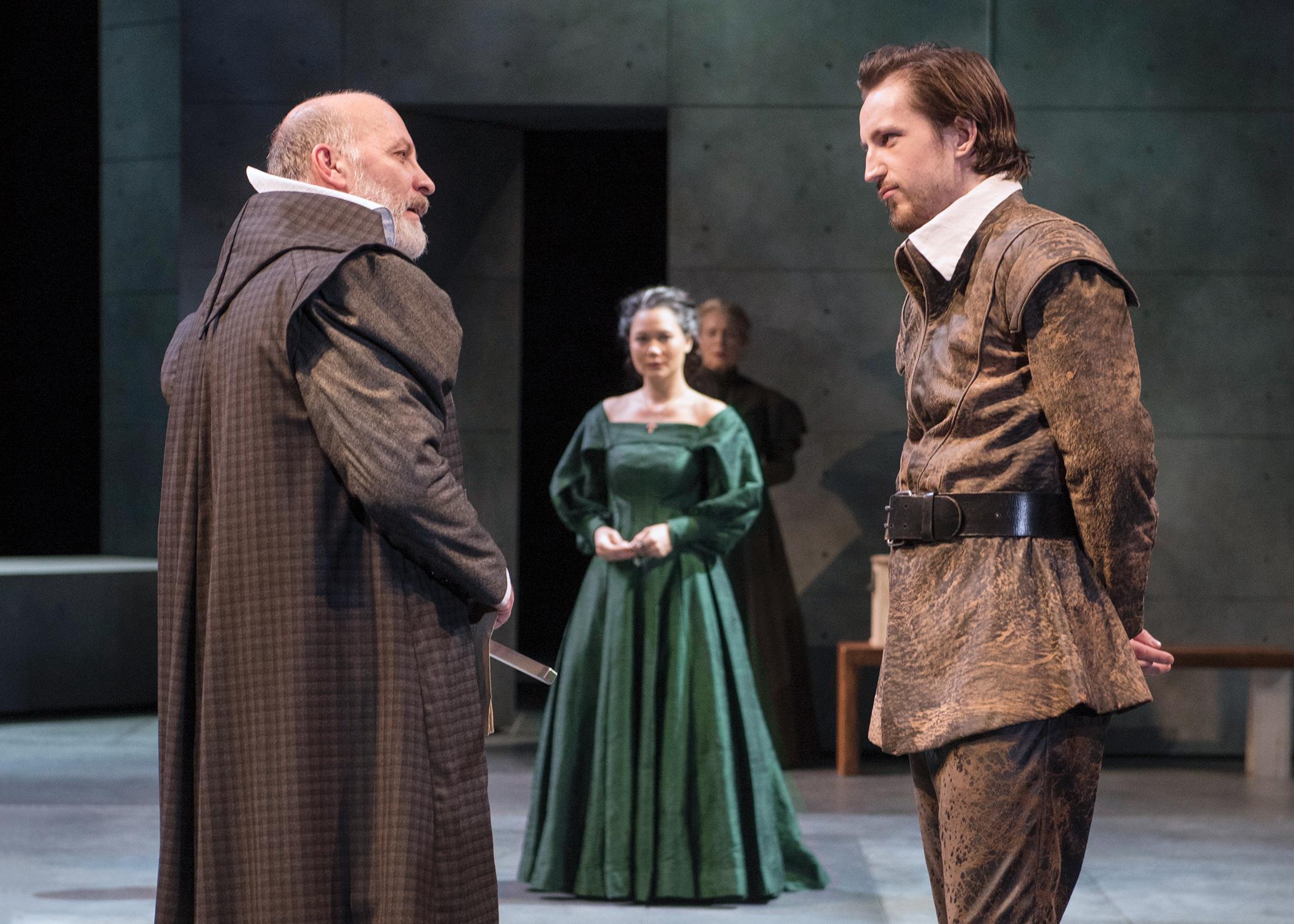 Paulet (Kevin Gudahl) and Mortimer (Andrew Chown) oversee Mary Stuart's (K.K. Moggie) fate. (Credit: Michael Brosilow)
Canadian actor Andrew Chown brings great verve and recklessness to the role of Mortimer, Paulet's young nephew, who is as impulsive as Mary, and who puts his life on the line by working as a skilled double agent. Yet his plan to free Mary is not without its darker side, as, at one point, he tries to wrestle her into sexual submission.
And then there is George Talbot, Earl of Shrewsbury, Elizabeth's older, wiser and more compassionate advisor. He is played superbly by Robert Jason Jackson, whose measured, bass-baritone voice possesses the natural timbre of reason, experience and moderation.
There also are fine turns by Patrick Clear, Michael Joseph Mitchell and Kai Alexander Ealy.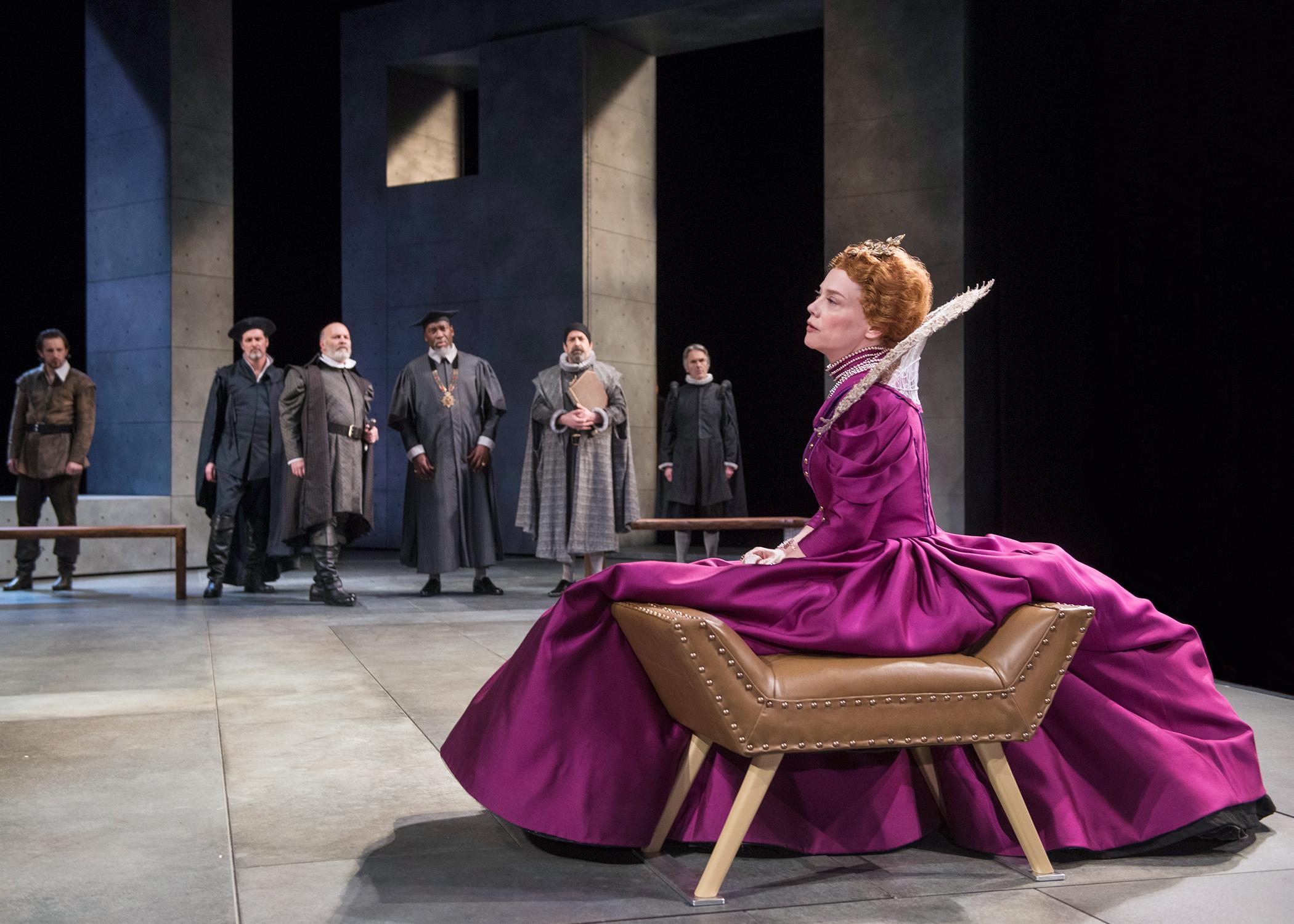 Queen Elizabeth I (Kellie Overbey) contemplates her next move. (Credit: Michael Brosilow)
Linda Cho's gowns perfectly capture the two queens' very different situations. And Andromache Chalfant's set, with its massive gray walls, suggests that both Mary and Elizabeth are imprisoned in their particular ways, whether by their own penchant for extremes, or by their entrapment in a world in which strong women must always be on their guard.

"Mary Stuart" runs through April 15 at the Chicago Shakespeare Theater, 800 E. Grand Ave. on Navy Pier. Tickets (312) 585-5600 or visit www.chicagoshakes.com. Running time: 2 hours and 50 minutes with one intermission.
---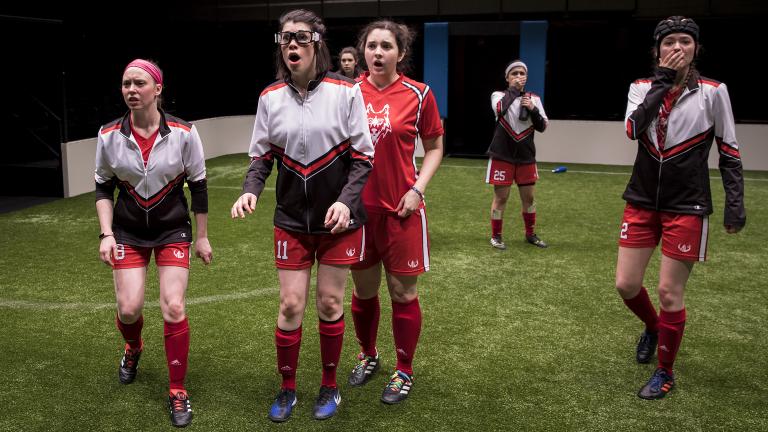 In 'The Wolves,' the Tensions Beneath a Fierce Team Spirit
Feb. 22: Talk about timing: The Chicago premiere of Sarah DeLappe's tour de force mix of verbal and physical athletics and teen angst comes as the U.S. women's ice hockey team wins the 2018 Olympic gold medal.
---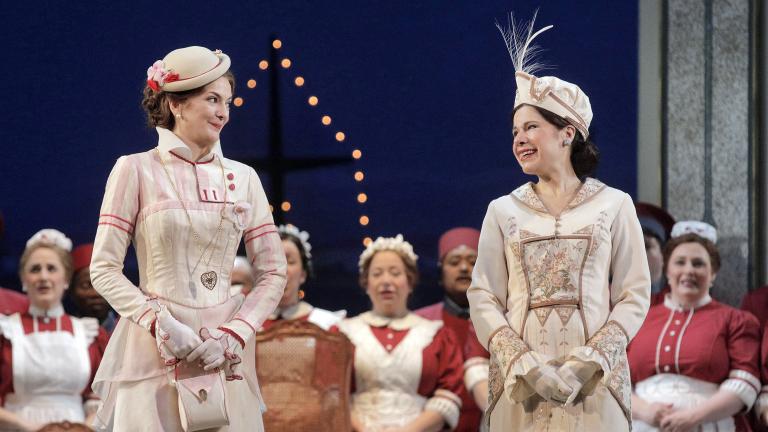 In Lyric's 'Cosi,' a Spirited Toast to the Imperfections of the Heart
Feb. 20: The production of "Cosi fan tutte" now at Lyric Opera of Chicago is a beauty. And in its playful but unquestionably bittersweet exploration of love, fidelity, betrayal and the unreliable nature of both men and women, it could easily have been written yesterday.
---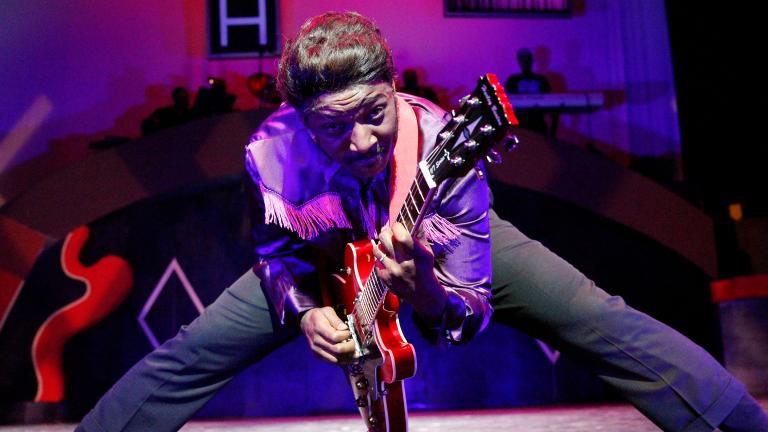 Black Ensemble Pays Rollicking Homage to Rock 'N' Roll Pioneer Chuck Berry
Feb. 26: Long before Chuck Berry died in March 2017 at the ripe old age of 90, he was revered as the granddaddy of rock 'n' roll. Black Ensemble Theater tells the story in "Hail, Hail Chuck: A Tribute to Chuck Berry."
---