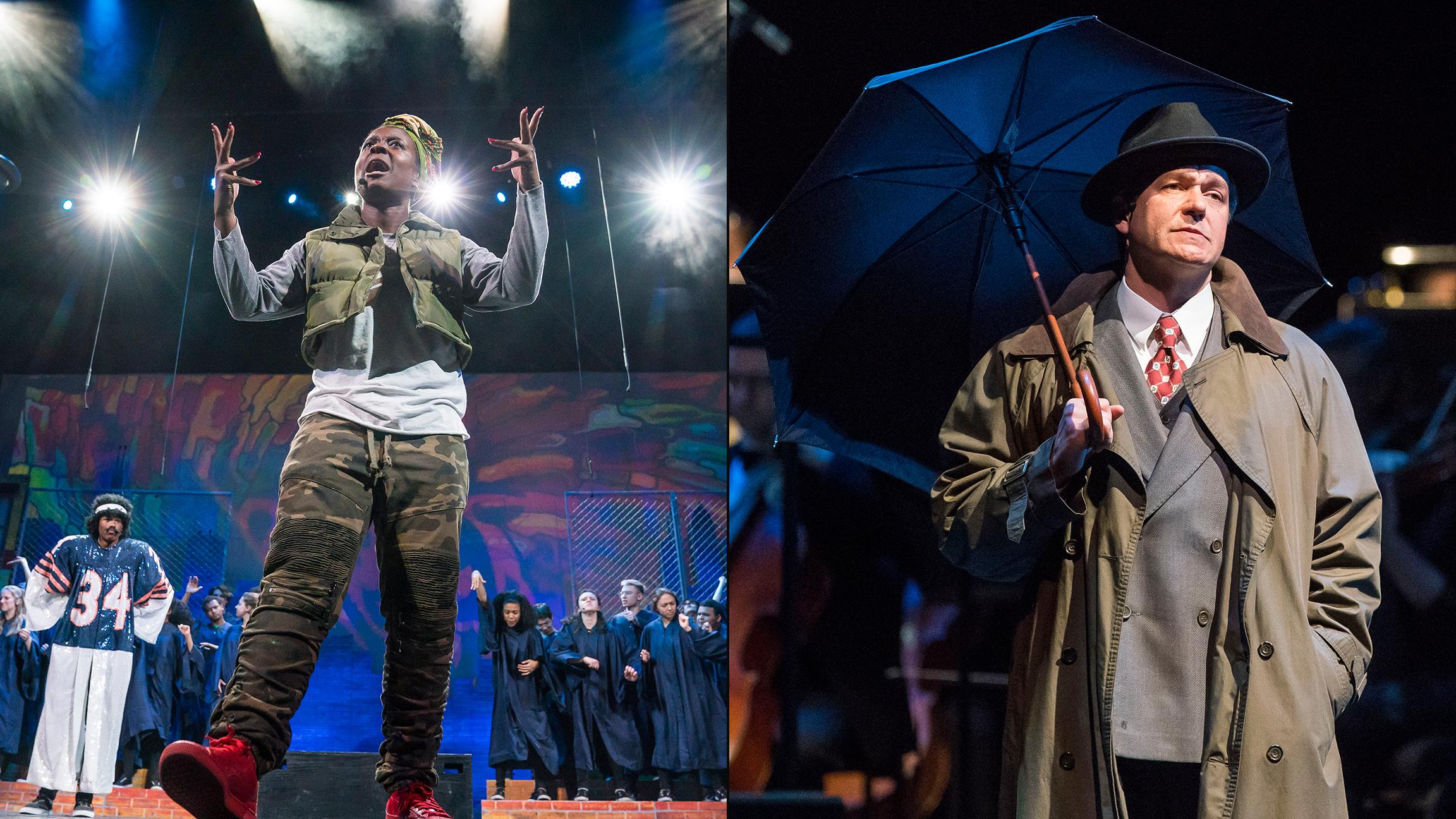 "Long Way Home," left, and "Celebrating 100 Years of Bernstein" (Credit for Lyric: Todd Rosenberg)
Two special productions came to Chicago stages this past weekend. 
One was the world premiere of "Long Way Home," a rollicking, phantasmagorical, multimedia-infused pop music "L" ride into Chicago neighborhoods staged for five performances at the Studebaker Theatre. 
Written and directed by the Q Brothers Collective, those hip-hop masters, and performed by the always astonishing Chicago Children's Choir led by Josephine Lee, it put a winning spin on Homer's "Odyssey," the tale of one man's endlessly detoured journey as he returns home to Ithaca after years away at war. The 70-minute show, an ideal for family entertainment, unquestionably deserves to be remounted for a far longer run.
The other event was Lyric Opera's one-night-only celebration of the 100th anniversary of the birth of Leonard Bernstein, the conductor and composer whose work spanned the worlds of classical music, opera and the Broadway stage. Just one of the countless Bernstein tributes planned throughout Chicago and the world this year, it had its heart in the right place, but didn't quite light the fire you might expect given its subject.
First, "Long Way Home," which follows the crazy adventures of a gifted high school songwriter, Ody (Chloe Johnson), and her friends, Taj (Erick Tyson) and Kamika (Sydni Hatley), who travel north from their South Side neighborhood to Rogers Park to compete in a song contest that might earn them a record deal with a hot Chicago rapper, MC Rasheed.
Early on in the story, Ody's notebook full of self-penned lyrics is snatched by a mugger, but her mother urges her to get on with life, so she and her pals ride the "L" to the contest hoping to try their luck.
Along the way they encounter one strange distraction and character after another (think "Alice in Wonderland"), including their weird school principal (Jackson Doran); the flamboyant choir leader Reverend Walter Payton (PapaCanoochee Holt), decked out in a sparkly Number 34 football jersey; playwright Lorraine Hansberry; the blind sage, Deep Dish (GQ); and various other Chicago "gods" of gospel, blues, house and punk music. They also absorb enough inspiration to forge their own sound.
The Chicago Children's Choir can do anything and everything. And not only do they have the voices of angels (and experience working with the Chicago Symphony Orchestra and Lyric Opera), but here they act as an ever-morphing Greek chorus, moving with panache to Corey Anderson's spirited choreography, playing a slew of roles from rodents to sirens, and shifting musical styles in a heartbeat with the backing of conductor/keyboardist Lee, and musicians Mitchell Owens, Dave Hiltebrand and Meena Cho. In a work that is both clever and funny, these young artists are extraordinary on every count. And they are a testament to what can happen when the arts and education meet.

For "Celebrating 100 Years of Bernstein," the always excellent Lyric Opera Orchestra was perched onstage rather than in the pit, with Broadway veteran David Chase (doubling as a genial narrator), joined by opera stars Susan Graham and Nathan Gunn (plus Diana Newman, Joshua Lovell, Emmett O'Hanlon, Ann Toomey and Alan Higgs), as well as by Broadway favorite Kate Baldwin.
From left: Diana Newman, Ann Toomey, Josh Lovell, Alan Higgs, Emmett O'Hanlon, Susan Graham, Nathan Gunn and Kate Baldwin in "Celebrating 100 Years of Bernstein" (Credit: Todd Rosenberg)
The first half of the program was devoted entirely to a staged concert version of "Trouble in Tahiti," the 1951 one-act opera for which Bernstein wrote both the score and libretto. Begun (ironically enough) during his honeymoon, it captured the downside of the post-war American dream scenario of a well-to-do middle class suburban couple, and homes in on their discontent after 10 years of marriage. 
Graham, a fine actress, used her warm, richly expressive mezzo-soprano voice to exquisite effect as Dinah, the stay-at-home wife who visits her therapist and tries to connect with her egotistical, womanizing, businessman husband, Sam (Gunn, in " Mad Men" mode), who would rather compete in a handball tournament than watch his young son in a school play. The couple is in a state of perpetual bickering and blame, with each craving the sort of love and intimacy they once shared but seem unable to recapture. You can only imagine the uneasy sense of recognition felt by a Lyric audience packed with mature couples who probably had their own "troubles in Tahiti" at one time or another.
Susan Graham and Nathan Gunn, "Trouble in Tahiti" (Credit: Todd Rosenberg)
The evening's second half was devoted to showcasing Bernstein's ability to synthesize classical, jazz and pop styles in his Broadway scores, with songs from "Candide," "Wonderful Town," "On the Town," "West Side Story" and "Peter Pan" (definitely not the beguiling Moose Charlap-Carolyn Leigh version of Mary Martin fame). 
If this demonstrated anything it was that lifting songs out of context from a musical (and performing them in stylish gowns and suits) robs them of their full impact no matter how artfully they might be sung. [If only Lyric had invited Chicago actress Bri Sudia to perform "One Hundred Easy Ways to Lose a Man" from her showstopping turn in the Goodman Theatre revival of "Wonderful Town" a few years ago.]
The great revelation came with "Take Care of This House," an eerily timely song from one of Bernstein's rare Broadway flops, "1600 Pennsylvania Avenue." Now incorporated into what is known as "A White House Cantata," it was sung with beautiful understatement by Baldwin who, as Abigail Adams, the very first first lady to live in the White House, reminds us that "This house is the hope of us all."
---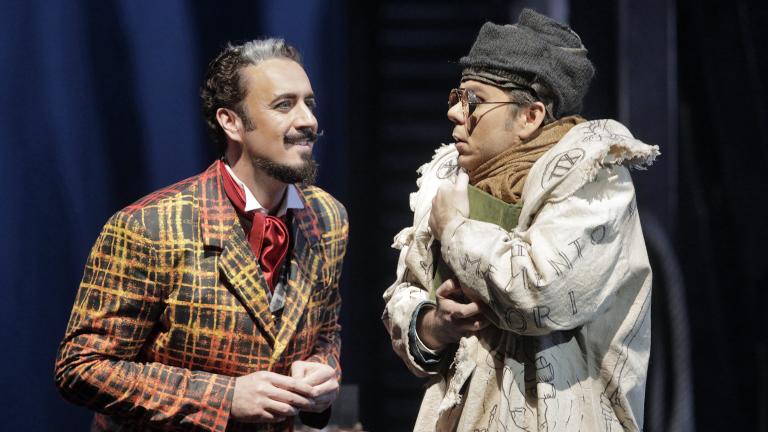 In Gounod's 'Faust,' a Slew of Mixed Messages
March 9: Despite a lush score, excellent voices and several memorable characterizations, the story often loses its focus in a new production of "Faust" at Lyric Opera of Chicago.
---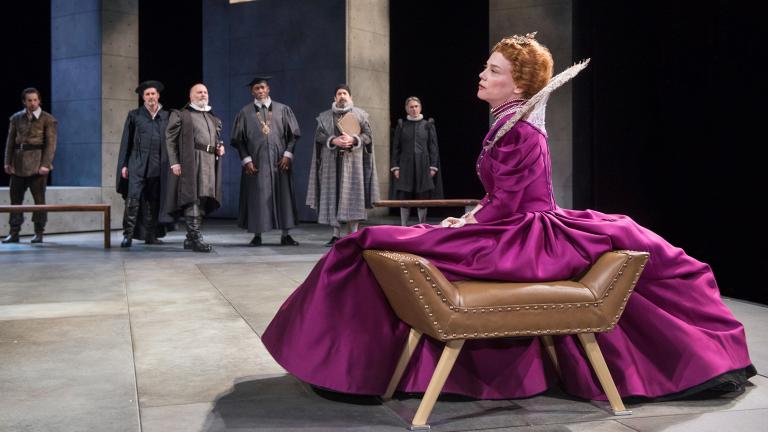 Powerful Women at Odds With Each Other and the Nature of Power
March 2: A vivid production of "Schiller's Mary Stuart" at the Chicago Shakespeare Theater is fresh and modern, but never artificially tricked up.
---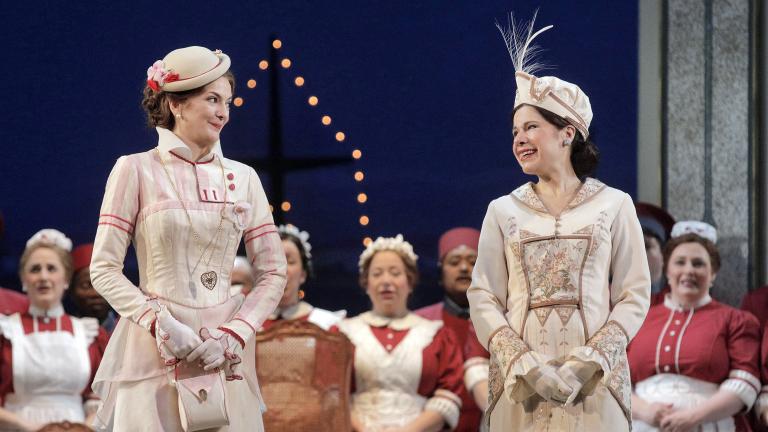 In Lyric's 'Cosi,' a Spirited Toast to the Imperfections of the Heart
Feb. 20: The production of "Cosi fan tutte" now at Lyric Opera of Chicago is a beauty. And in its playful but unquestionably bittersweet exploration of love, fidelity, betrayal and the unreliable nature of both men and women, it could easily have been written yesterday.
---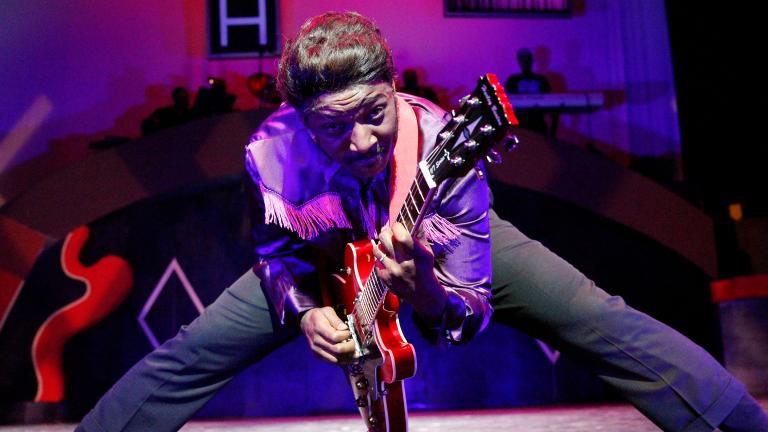 Black Ensemble Pays Rollicking Homage to Rock 'N' Roll Pioneer Chuck Berry
Feb. 26: Long before Chuck Berry died in March 2017 at the ripe old age of 90, he was revered as the granddaddy of rock 'n' roll. Black Ensemble Theater tells the story in "Hail, Hail Chuck: A Tribute to Chuck Berry."
---