A Cook County judge has denied bond for the four-time felon accused in the brazen shooting death of a Chicago Police Department commander this week.
Shomari Legghette, 44, made his first appearance in court Thursday, two days after he allegedly shot and killed CPD Commander Paul Bauer in a stairwell outside the Thompson Center.
Legghette faces a slew of felony charges including first-degree murder of a police officer, unlawful use of a weapon by a felon and drug possession. He faces a life sentence if convicted.
"This case is truly tragic and disheartening to the entire city, the Chicago Police Department, Bauer's family and loved ones," State's Attorney Kim Foxx said after the hearing.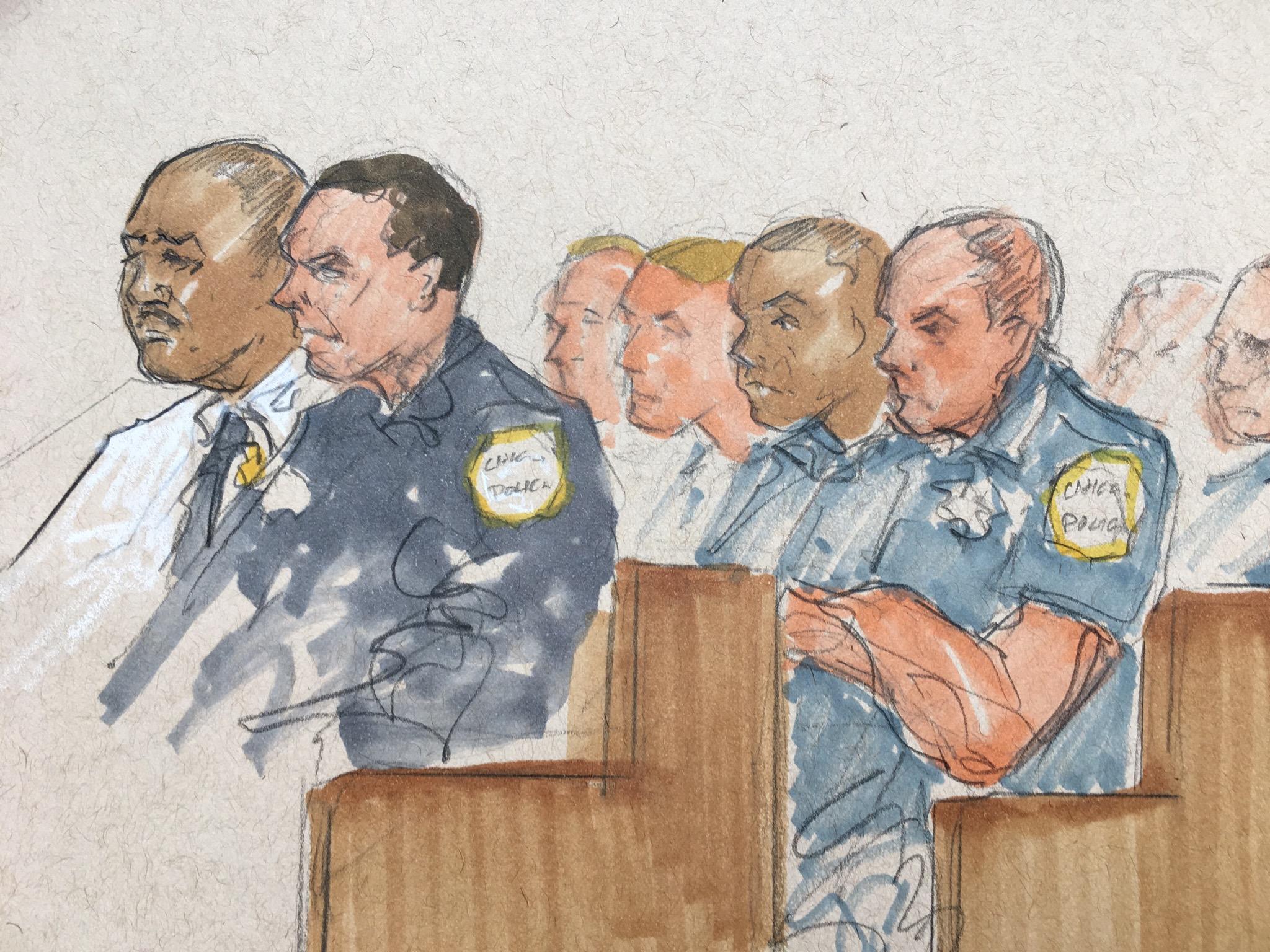 Police Superintendent Eddie Johnson, left, and police officers at Thursday's hearing. (Thomas Gianni sketch)
Before a courtroom packed with dozens of officers and reporters, and even Police Superintendent Eddie Johnson, Cook County Judge Mary Marubio said she believed Legghette presents a "real and present threat" to the safety of the community and ordered he be held without bail.
Flanked by a half-dozen heavily armored sheriff's deputies, Legghette was escorted into the courtroom wearing a Chicago Bears T-shirt.
The noon hearing had to be moved out of the regular bond courtroom to accommodate the crowd. Still, several onlookers were left standing inside the seventh-floor courtroom.
First district officers were working Tuesday afternoon on a narcotics operation on Lower Wacker when they saw Legghette standing in the area, CPD Detective Commander Brendan Deenihan told media Wednesday.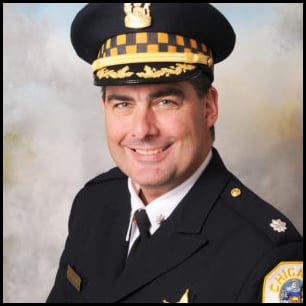 18th District Commander Paul Bauer
When approached by an officer, Legghette fled toward State Street. That's where Bauer was parked in his vehicle following lunch and an active shooter training session he had completed earlier that day.
After hearing a description of Legghette over the radio and spotting him, Bauer began pursuing Legghette on foot and reached him at a stairwell near the Thompson Center. Legghette was then seen pulling Bauer into the stairwell where he allegedly fired seven shots from a semi-automatic handgun, killing the 31-year department veteran.
"(Bauer) didn't think about his rank, or the fact that he wasn't even in his own district," Johnson said Wednesday when announcing the charges against Legghette. "He just ran toward where he was needed without hesitation because he, like all us who wear this star, took an oath to protect this city."
Police officials say Legghette was wearing a ballistic vest at the time of the attack and had heroin, crack cocaine and marijuana in his possession.
Bauer was struck six times, according to Cook County State's Attorney Guy Lisuzzo, who said the commander suffered gunshot wounds to his head, neck, torso, back and wrist. His handcuffs and radio were found beside his body, but his gun remained holstered.
Lisuzzo said three witnesses have positively identified Legghette as the man seen struggling with Bauer atop the staircase. The defendant's right hand and coat sleeve have also tested positive for gunshot residue.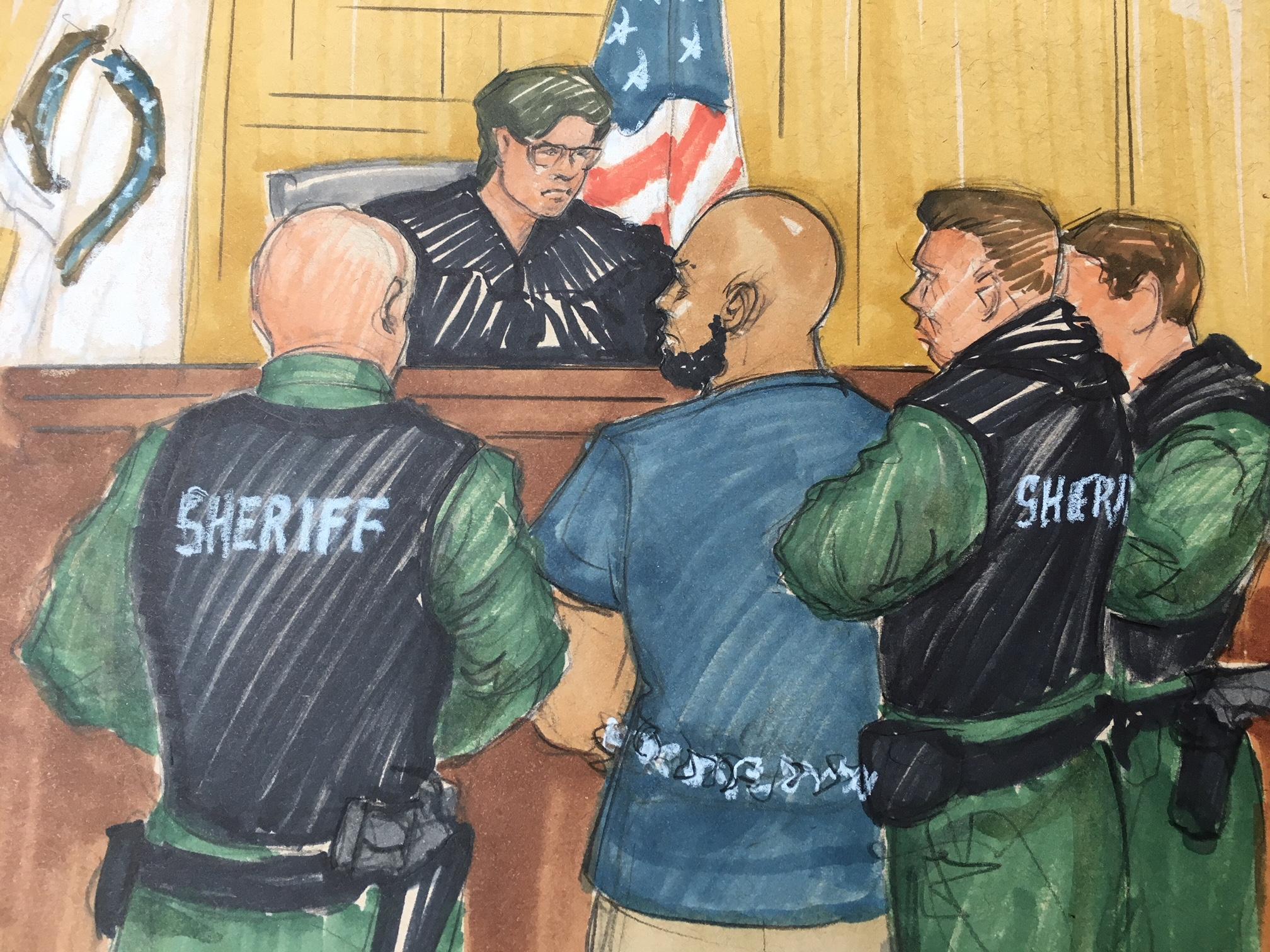 Shomari Legghette, 44, is flanked by a half-dozen heavily armored sheriff's deputies. (Thomas Gianni sketch)
During the hearing, the state's attorney's office outlined Legghette's extensive criminal background, which dates back more than two decades. He first pleaded guilty in 1997 to possession of a controlled substance and was sentenced to a year of probation.
Two years later he was convicted of armed robbery and sentenced to 16 years in prison.
That sentence came after Legghette and an accomplice robbed two victims at gunpoint and led police on a high-speed chase, exceeding 100 mph on the highway, before tossing a gun and stolen goods from a window and crashing their vehicle into multiple toll booths.
Legghette was also found guilty of possession of a firearm with a defaced serial number in 2009, misdemeanor battery in 2011 and possession of a controlled substance in 2015.
He has invoked his right to remain silent and his public defender said Thursday that Legghette does not wish to speak with any law enforcement officials.
Bauer originally joined the CPD in 1986, working in the First and Third police districts until his promotion to sergeant in 1994. He also served on various specialized enforcement teams and the department's mounted unit before becoming a captain, and later commander, in the 18th District on the Near North Side.
A wake is scheduled Friday afternoon followed by funeral services on Saturday at Nativity of Our Lord Church in Bridgeport.
He is survived by his wife, Erin, and 13-year-old daughter, Grace.
Contact Matt Masterson: @ByMattMasterson | [email protected] | (773) 509-5431
---
Related stories: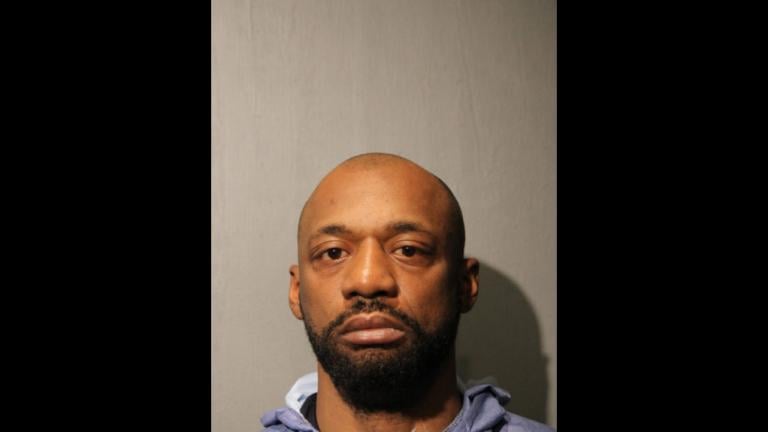 Police: Man, 44, Charged in CPD Commander's Shooting Death
Feb. 15: Shomari Legghette, 44, was charged a day after the fatal shooting of Chicago Police Commander Paul Bauer. He was allegedly wearing body armor and carrying a firearm containing an extended-round magazine.
---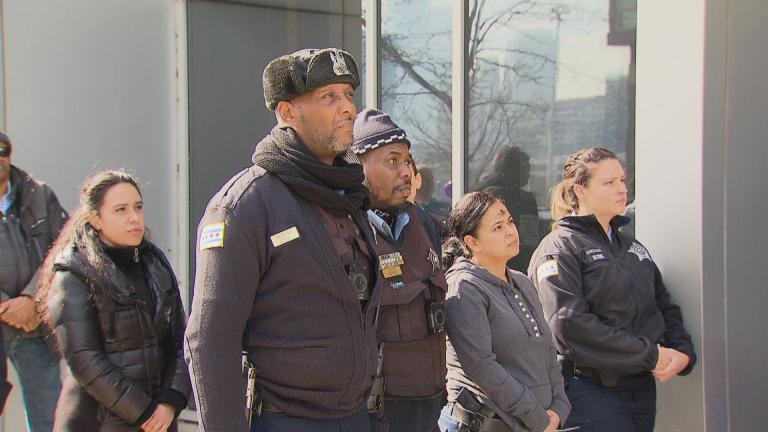 Slain CPD Officer Was 'Part of the Fabric' of Near North Community
Feb. 14: The Chicago Police Department on Wednesday continued mourning the loss of 53-year-old Commander Paul Bauer a day after he was shot and killed in the line of duty.
---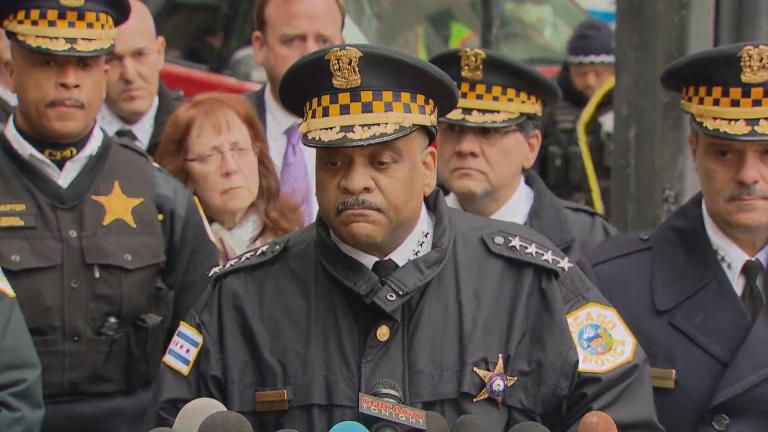 Chicago Police Officer Killed in Shooting Near Thompson Center
Feb. 13: "It's a difficult day for us, but we will get through it," an emotional Police Superintendent Eddie Johnson said Tuesday following the shooting death of 18th District Commander Paul Bauer.
---