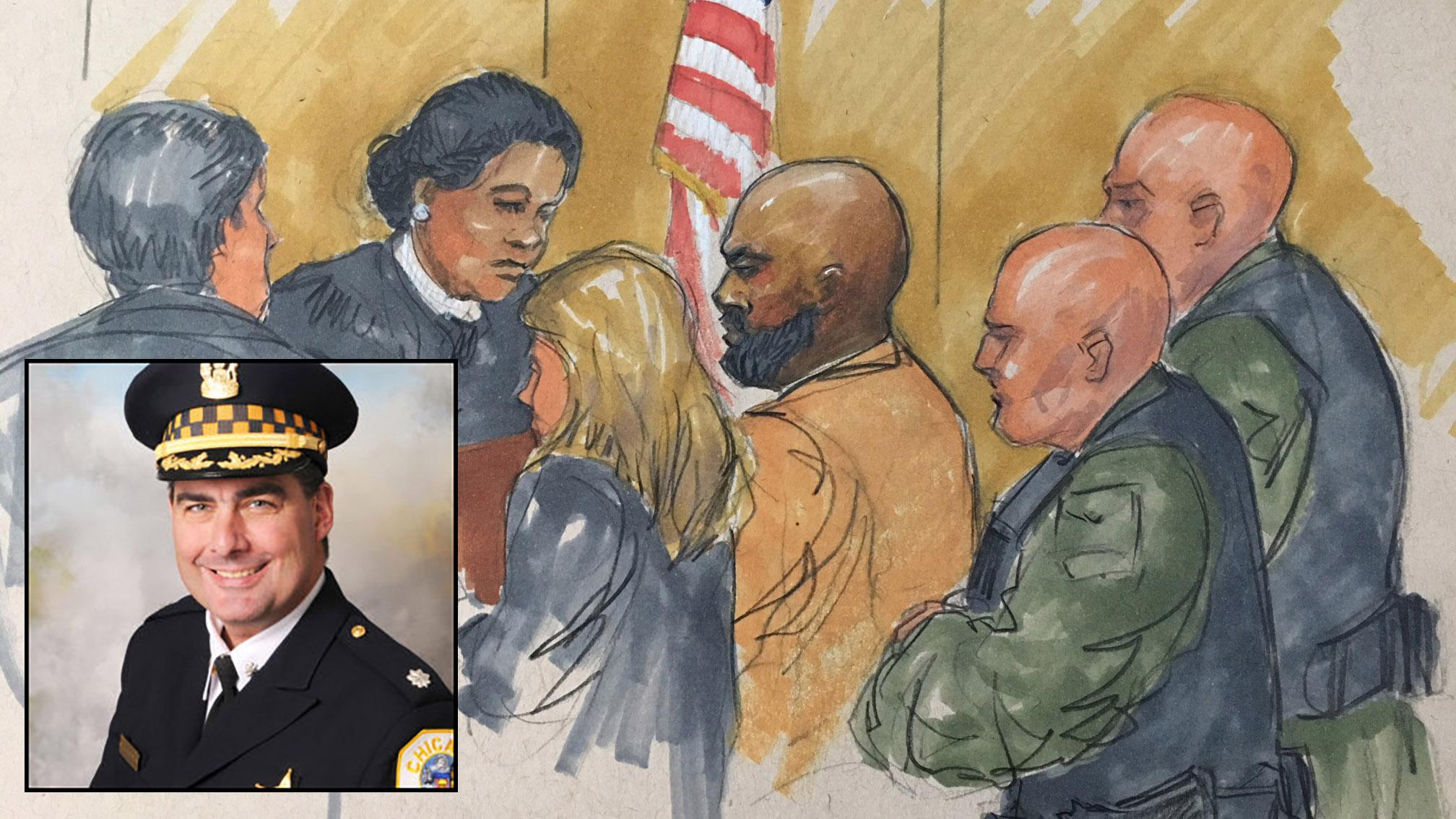 Shomari Legghette, center, appears before Cook County Judge Erica Reddick on Monday, March 12, 2018. (Courtroom sketch by Thomas Gianni). Inset: Chicago Police Cmdr. Paul Bauer.
Cook County prosecutors have rejected a potential plea deal for the man accused of killing Chicago police Cmdr. Paul Bauer.
The attorney representing 46-year-old Shomari Legghette said he had made an offer to the Cook County State's Attorney's Office wherein his client would plead guilty to second-degree murder and serve a 20-year sentence at 85%, which equates to 17 years in prison.
Legghette is facing a possible life sentence if convicted.
"The offer came from us," Legghette's attorney Scott Kamin told Cook County Judge Erica Reddick on Thursday, the first day of jury selection in the case.
It's not clear when the offer was made. Assistant State's Attorney John Maher said an offer had indeed been made by the defense, but it was not being considered and prosecutors had not offered any plea deal of their own.
Legghette was indicted on 56 individual counts stemming from the Feb. 13, 2018 shooting. On Thursday, Maher said they plan to proceed to trial on six of those – two counts of first-degree murder, two counts of first-degree murder of a peace officer and two counts of armed violence.
The trial had previously been slated to begin in late January, but was pushed back several weeks due to requests from Leghette's attorney.
On the day of the murder, police officers patrolling Lower Wacker Drive spotted Legghette around 1:30 p.m. and approached him to "conduct a field interview," according to the State's Attorney's bond proffer. As they did so, Legghette fled and officers put out a description of him over the police radio.
Bauer, who was nearby, heard that description, spotted Legghette and took off after him on foot, pursuing him to a stairwell near the Thompson Center. According to the proffer, both men descended the stairs, and following a struggle on a lower landing, Legghette shot Bauer six times, killing the 31-year police department veteran.
Bauer, who served as commander in the 18th Police District, was reportedly the highest-ranking CPD officer to be murdered in the line of duty in decades. Earlier this month, his wife, Erin Bauer, filed a federal lawsuit in Wisconsin against the online gun marketplace for facilitating the sale of the handgun used in the shooting.
Legghette, who has pleaded not guilty, appeared in court Thursday wearing a dark suit, tie and glasses. Seated beside Kamin, he leaned back in his chair and remained largely silent unless questioned directly by Reddick.
Before dozens of potential jurors filed into Reddick's cramped, second-floor "fishbowl"-style courtroom, attorneys on both sides ran through trial specifics and the questions they planned to ask each individual during the selection process.
Those included whether the potential jurors were aware of Bauer's murder, if they ever had positive or negative interactions with law enforcement and whether or not they'd been to the area of the Thompson Center where Bauer was killed.
Reddick cleared her courtroom gallery and brought in extra chairs to accommodate the potential jurors. Additional seating was also made available in a hallway outside the courtroom for the press and public.
Legghette's attorney is expected to argue that he shot Bauer in self-defense. But last week, Reddick denied their request to include evidence of past incidents involving Bauer from the 1990s and early 2000s, according to the Chicago Tribune.
The Tribune reported that those incidents each dated back at least 15 years, and included a 2003 police chase Bauer was involved in that resulted in a suspect vehicle running a red light and killing a pregnant woman.
At a memorial on the second anniversary of his death earlier this month, Mayor Lori Lightfoot said that in responding to the officers' call on the day of his death, Bauer was "fulfilling again his sacred oath to serve and protect."
"Paul Bauer is forever a hero that served our beloved city honorably," she said. "He personified what it meant to be a police officer."
Testimony in the trial is expected to begin March 3.
Contact Matt Masterson: @ByMattMasterson | [email protected] | (773) 509-5431
---