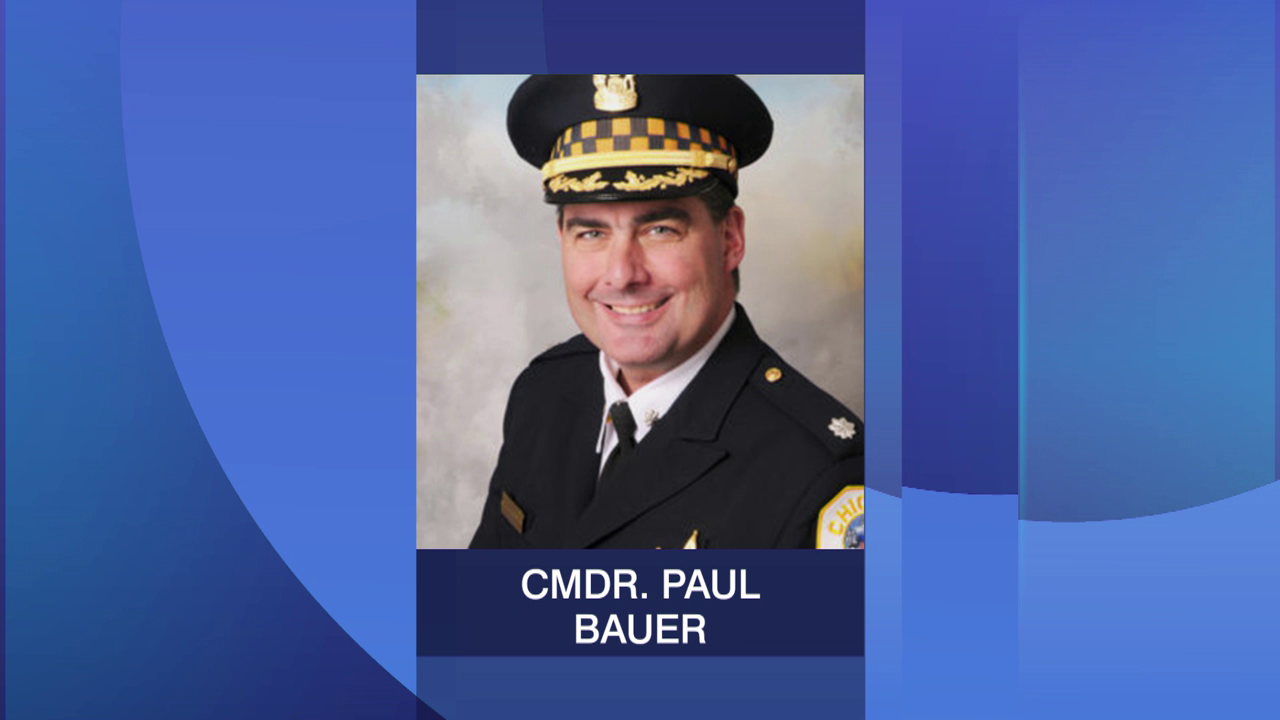 Of the six gunshot wounds sustained by Chicago police Cmdr. Paul Bauer, at least two caused injuries to his head and torso that would have been "rapidly lethal," according to an autopsy conducted a day after the murder of the 31-year police veteran.
Cook County prosecutors rested their case Wednesday after jurors viewed graphic photos of Bauer's body from that autopsy during the ongoing murder trial of Shomari Legghette, who is accused of gunning down Bauer outside the Thompson Center just over two years ago.
Bauer, 53, was shot following the foot pursuit of a suspect near the Thompson Center on Feb. 13, 2018. He was downtown following a training session when he had heard a call of a man fleeing officers from Lower Wacker Drive.
He saw Legghette, who matched that description, and took off after him. The two then fell down a staircase outside the Thompson Center and Legghette allegedly fired seven shots, striking Bauer six times and killing him.
Cook County Chief Medical Examiner Ponni Arunkumar – who did not conduct the autopsy, but was testifying as an expert pathologist who reviewed the final report – walked jurors through each of those gunshot wounds, explaining the trajectory and impact of each bullet before presenting photos to jurors that showed entrance and exit wounds across the commander's head and torso.
One of those wounds to Bauer's chest struck his ribs, heart, lungs and esophagus. Another entered his skull and struck his brain. Arunkumar called both of these fatal injuries.
"Would any human being be expected to survive that gunshot wound?" Assistant Cook County State's Attorney John Maher asked during direct questioning about the gunshot wound to Bauer's head.
"It has caused fatal injuries … so this would be a lethal wound," Arunkumar said.
"Rapidly lethal, fair to say?" Maher asked.
"Fair to say because it involves the brain," Arunkumar answered.
Legghette, 46, has pleaded not guilty and claims he acted in self-defense because he didn't realize Bauer was an officer. In his opening statements, defense attorney Scott Kamin said his client fired the shots that killed Bauer as the commander had Legghette in a chokehold. But Arunkumar testified that none of the gunshot wounds showed evidence of having been fired at close range.
Legghette's trial began last week. Testimony was slated to resume Monday, but Reddick postponed those proceedings, citing "extenuating circumstances" that were "beyond the control of the court." That delay extended through Tuesday and pushed testimony back into Wednesday morning following a four-day break.
Jurors on Wednesday saw some of the moments leading up to that shooting through the lens of various pubic and private cameras from the downtown area. One of those videos appeared to show a struggle between Bauer and Legghette before the men disappeared down the outdoor staircase. Seconds later, people could be seen scattering from the area just before a police vehicle pulls onto sidewalk.
Maurice Henderson, one of the passersby who could be seen on that video, was on his way to get lunch at the Thompson Center that day when he saw a white officer holding a black man by his coat. He testified Wednesday that he walked over toward the men after they fell down the stairs but turned back after hearing gunshots from below.
"I walked around the railing of the stairwell and I looked down," Henderson said. "I saw the officer laying there."
Henderson, who works at the Daley Center, said he immediately recognized that Bauer was an officer because of the distinctive jacket he was wearing. And he said that once other officers arrived on the scene after the shooting, no more shots were fired – countering a theory by the defense that Bauer was killed by friendly fire.
With the prosecution's case concluded, Legghette's attorney will begin calling defense witnesses Thursday morning. The case is expected to conclude by Friday.
Contact Matt Masterson: @ByMattMasterson | [email protected] | (773) 509-5431
---