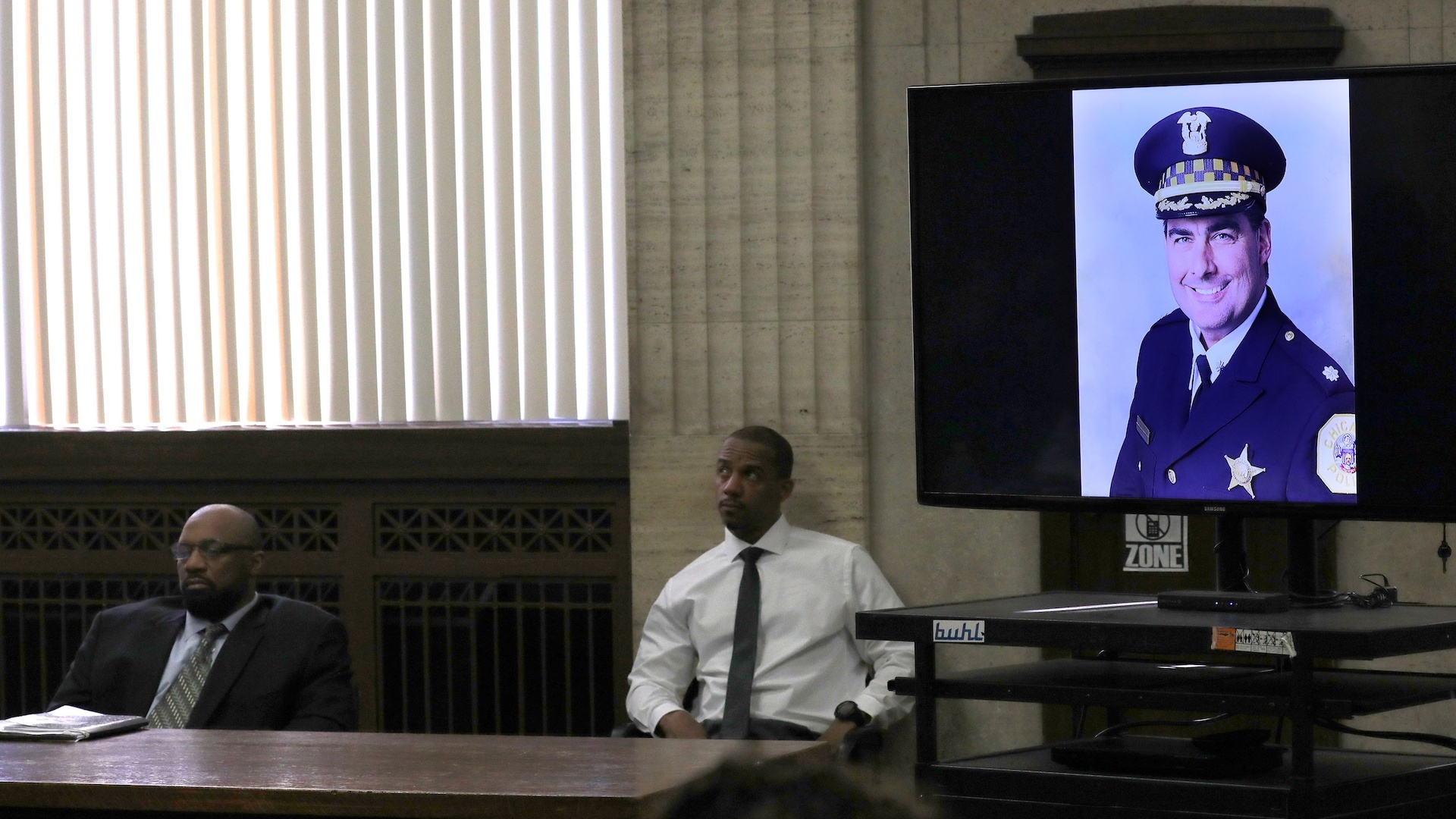 An image of Chicago Police Cmdr. Paul Bauer is shown during closing statements for Shomari Legghette at the Leighton Criminal Courthouse, Friday, March 13, 2020. Legghette was charged with first degree murder in the fatal shooting of Bauer. (Antonio Perez/Chicago Tribune/Pool)
A Cook County jury on Friday convicted Shomari Legghette of gunning down Chicago police Cmdr. Paul Bauer outside the Thompson Center, a shocking murder that marked the highest-ranking Chicago officer to be killed in the line of duty in decades.
Legghette, 46, was found guilty on each of the six charges he faced: two counts of first-degree murder, two counts of first-degree murder of a peace officer and two counts of armed violence for the Feb. 13, 2018 shooting.
The verdict was announced Friday afternoon to a courtroom packed with Bauer's family, fellow officers and other court officials including State's Attorney Kim Foxx.
Prosecutors said that on the day he killed Chicago police Cmdr. Paul Bauer, Legghette dressed in body armor and armed himself with a gun carrying 27 bullets in an extended magazine, becoming a "walking, talking felony," who had Bauer "outsized, outmuscled and certainly outgunned."
During closing arguments in Legghette's murder trial Friday, Assistant State's Attorneys Risa Lanier and John Maher presented the defendant as a human "weapons system" who killed Bauer to ensure he would not be arrested for carrying heroin and cocaine.
"Drugs, body armor and a loaded gun. Those are the reasons, and the only reasons, that this defendant fired six bullets into the body of police Cmdr. Paul Bauer," Lanier told jurors, saying Legghette tried to shoot his way out of an arrest when he allegedly killed Bauer on Feb. 13, 2018.
"Today his flight from justice ends because today what he cannot escape is the truth."
Legghette is now eligible for a possible life sentence.
Chicago police officers were patrolling Lower Wacker Drive on Feb. 13, 2018 when they spotted Legghette, who appeared to be urinating, around 1:30 p.m. and approached him to "conduct a field interview," according to prosecutors. As they did so, Legghette fled and officers put out a description of him over the police radio.
Bauer, who was nearby, heard that description, spotted Legghette and took off after him on foot, pursuing him to a stairwell near the Thompson Center. After reaching him, both men descended the stairs, and following a struggle on a lower landing, Legghette allegedly shot Bauer six times, killing the 31-year police department veteran.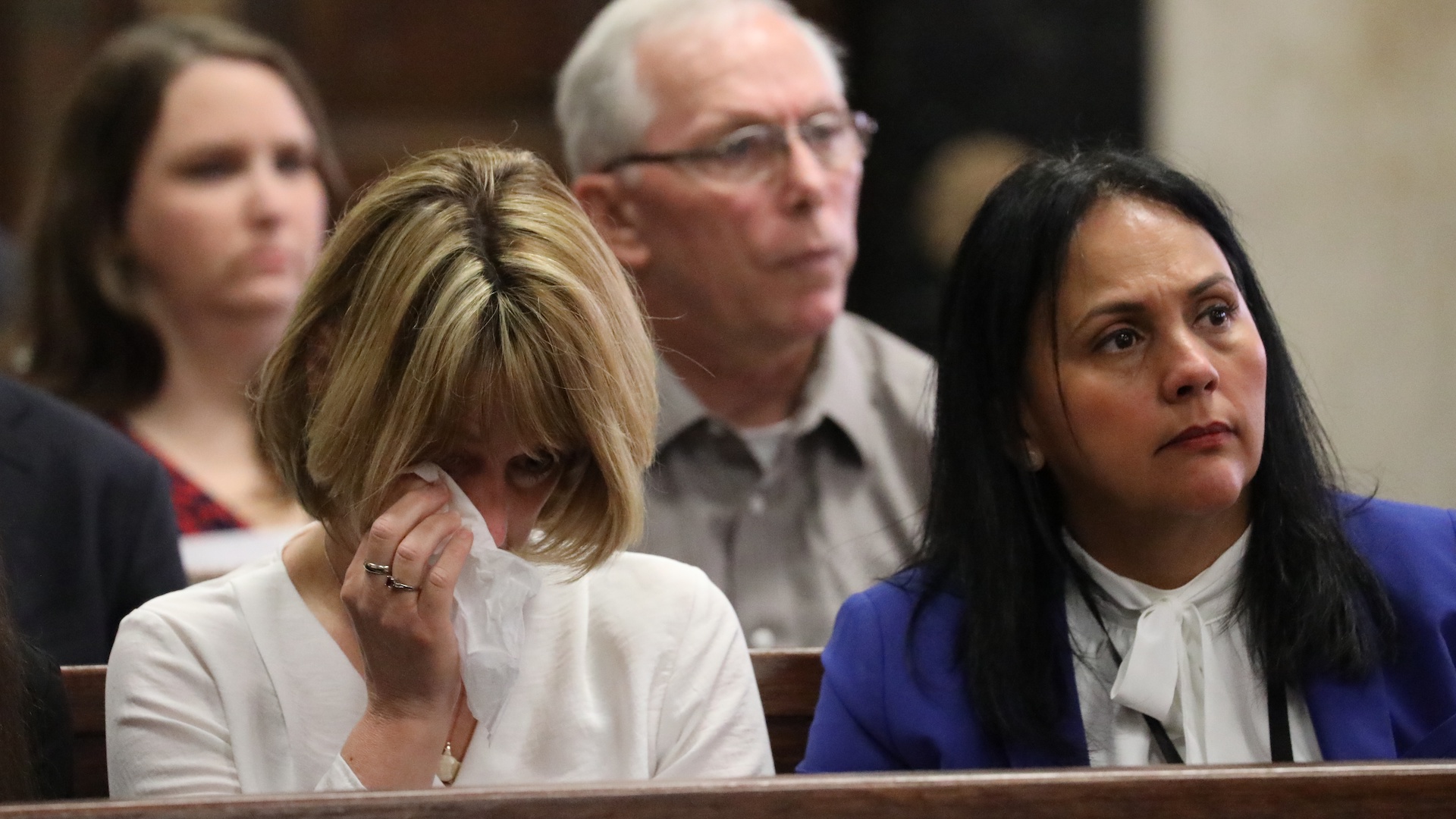 Cmdr. Paul Bauer's widow, left, wipes away tears during closing statements in the trial for Shomari Legghette, 46, who is charged with first-degree murder in the fatal shooting of Chicago police Cmdr. Bauer, March 13, 2020. (Antonio Perez/Chicago Tribune/Pool)
Prosecutors repeatedly walked jurors through those moments Friday, showing surveillance footage and photos from the area they said showed Legghette fleeing and tumbling with Bauer down the staircase. Bauer's wife, Erin, briefly left the courtroom just before audio of the gunshots was played for the jury.
During his arrest, police allegedly found Legghette was wearing body armor, carrying an extended magazine on his firearm and was in possession of both heroin and cocaine. Maher said Legghette had an advantage over Bauer not only in size, but also in firepower.
"He wasn't just armed, he had essentially outfitted himself in a weapons system," he said. "He's a latter-day Iron Man with none of the good intentions. All to protect his dope trade."
Legghette's attorney Scott Kamin in his closing arguments repeated that his client was unaware Bauer was a police officer and that any reasonable person would have reacted the way Legghette did if they were grabbed by an unknown person.
"What happened in this case is definitely a tragedy, no doubt about it," he said. "The state just hasn't shown, they haven't proven that the defendant is responsible for that tragedy."
He had previously claimed his client acted in self-defense and only fired at Bauer after the commander placed him into a chokehold.
Legghette was expected to testify at trial to tell jurors about his version of events. But his defense rested Thursday after calling just one witness who did not testify about the day of Bauer's murder.
Speaking with reporters after the verdict, Kamin was asked if his client's decision not to testify was fatal to his case.
"I think so," he said. He did not elaborate on why Legghette opted not to take the witness stand.
In a statement, Bauer's family thanked prosecutors and the jury for its verdict. But they said Friday marked a "bittersweet day."
"We are so happy and relieved with the verdict, but are overwhelmed with sadness that he is no longer with us," the family said. "There is absolutely no doubt that justice for Paul was served today and we are thankful."
After the verdict, Legghette exited the courtroom in custody. He is due in court for his first post-trial hearing April 10.
Contact Matt Masterson: @ByMattMasterson | [email protected] | (773) 509-5431
---