Courtroom sketch of Barbara Byrd-Bennett (Thomas Gianni)
Former Chicago Public Schools CEO Barbara Byrd-Bennett joins the list of city and state government officials guilty of corruption.
Byrd-Bennett was in court today for an appearance and arraignment on charges of mail and wire fraud.
The indictment–announced last week–claimed she intended to accept kickbacks for steering a multimillion-dollar CPS contract toward her former employers, who are also indicted in the scheme.
During the arraignment where Byrd-Bennett told Federal District Judge Edmond Chang that she pleads guilty, she showed little emotion. And even later on when she made a brief statement to reporters, she didn't say much:
"My message is for the children and the families of the children of Chicago Public Schools and the incredible, dedicated educators we have: I am terribly sorry, and I apologize to them. They deserved much more. Much more than I gave to them. And I thank you very much."
In court today, Byrd-Bennett pleaded guilty to only one of the 23 counts in the indictment we learned of last week, and that was count two for mail fraud.
The plea agreement shows that the former CEO, along with her co-defendants, came up with a plan to be sure that the SUPES Academy received contracts worth a total of $23 million from CPS, in exchange for kickbacks and payments to Byrd-Bennett. 
The agreement reads, in part, as follows: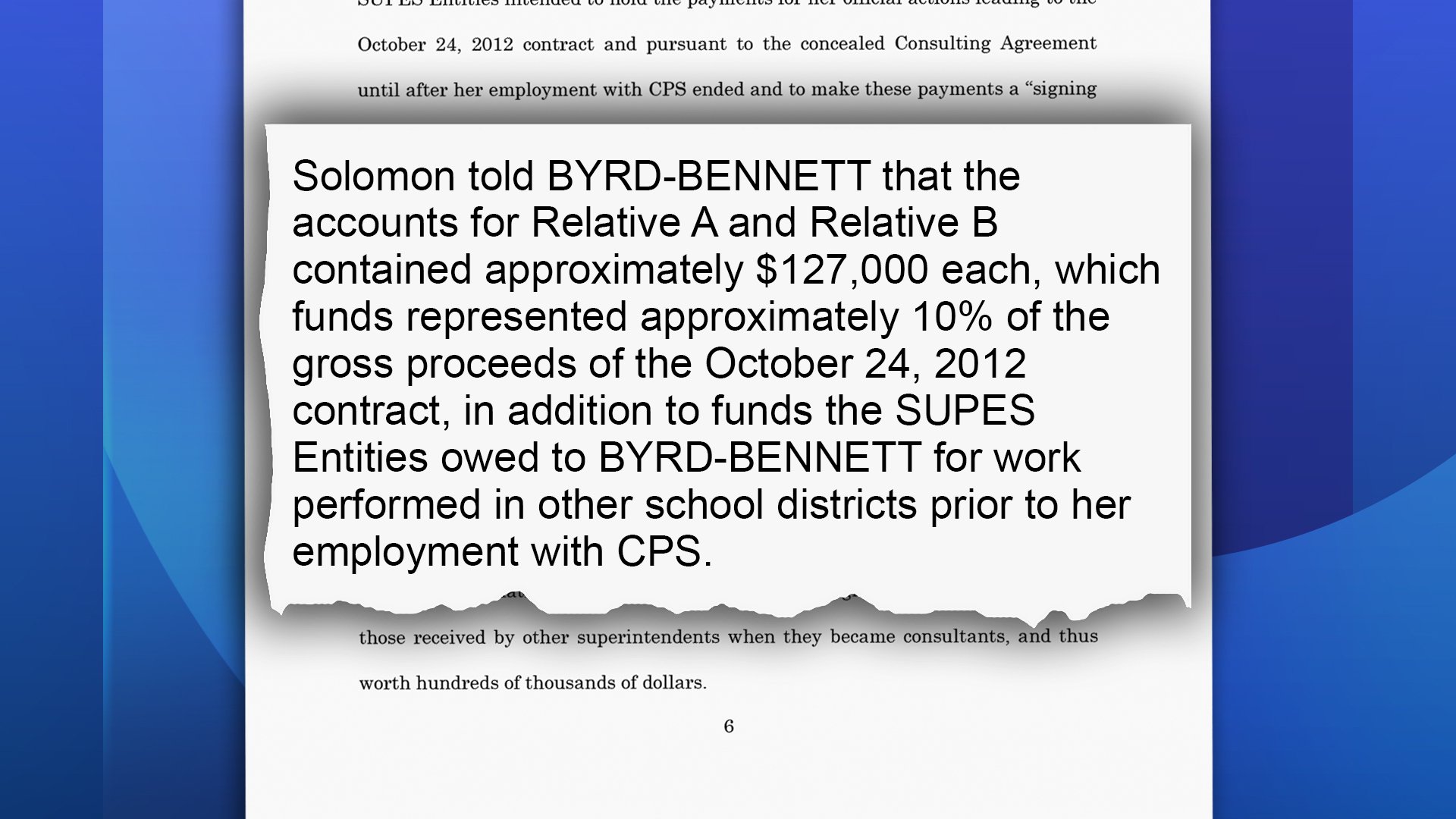 That October 24th contract referenced above was worth $2.09 million, and was approved by the CPS Board that date.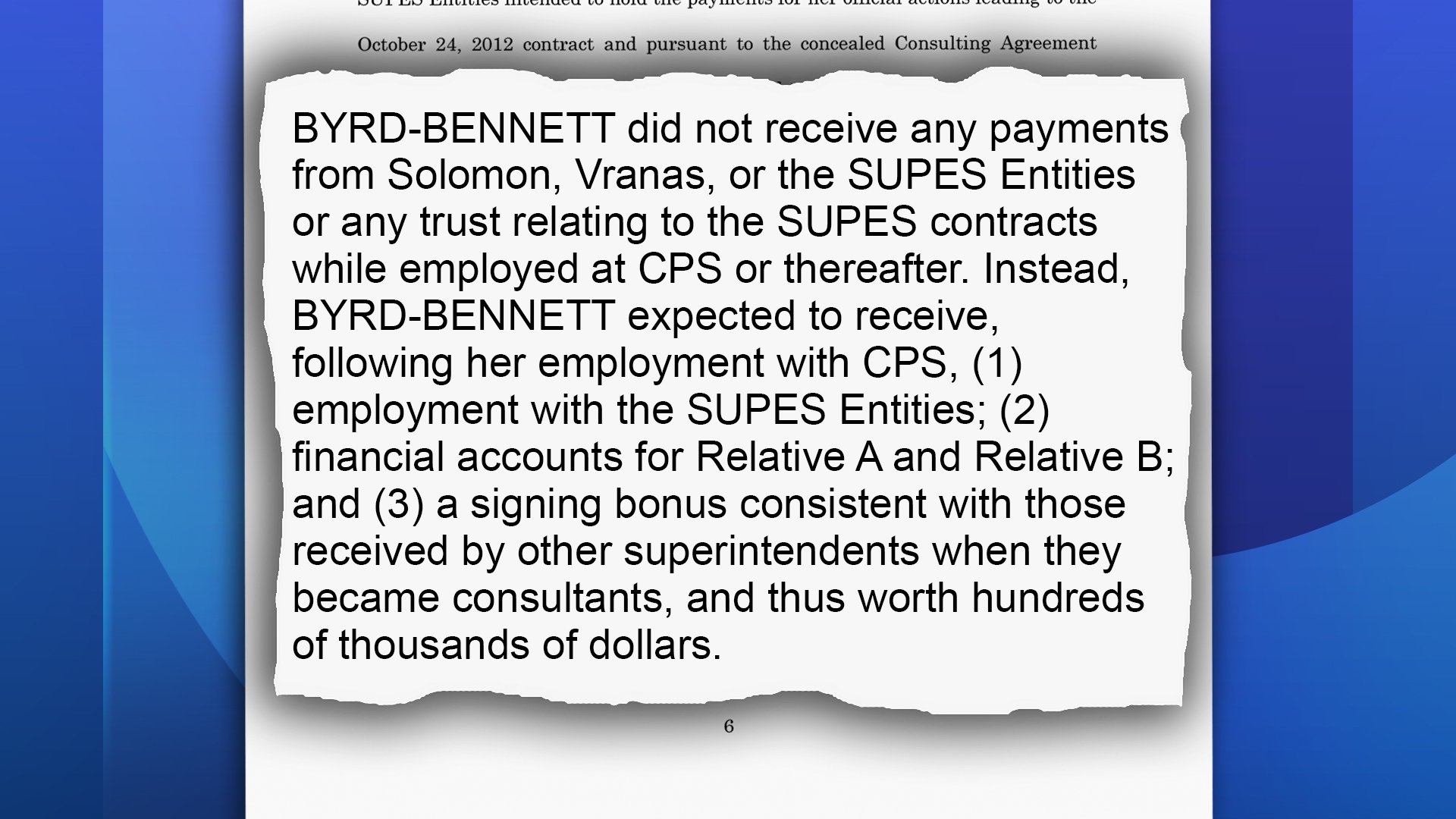 ---
Sentencing
The maximum sentence for that charge is 20 years in prison, a $250,000 fine and three years of supervised release.
"I am terribly sorry, and I apologize."

–Barbara Byrd-Bennett
But, because she is pleading guilty and agreeing to cooperate with the U.S. Attorney's office, prosecutors expect her sentence to fall in the range of 11 to 14 years.
The U.S. Attorney's office says that if she cooperates to the degree that they are expecting, they'd be willing to lower that recommendation to just over seven years imprisonment.
Of course, her sentence will be up to a judge, and she's not back in court until late January for a status hearing.
The other defendants, Gary Solomon, owner of the SUPES Academy, and Thomas Vranas, of Synesi Associates, are both expected in the same courtroom for an arraignment tomorrow afternoon.
A spokesperson from the mayor's office released a statement: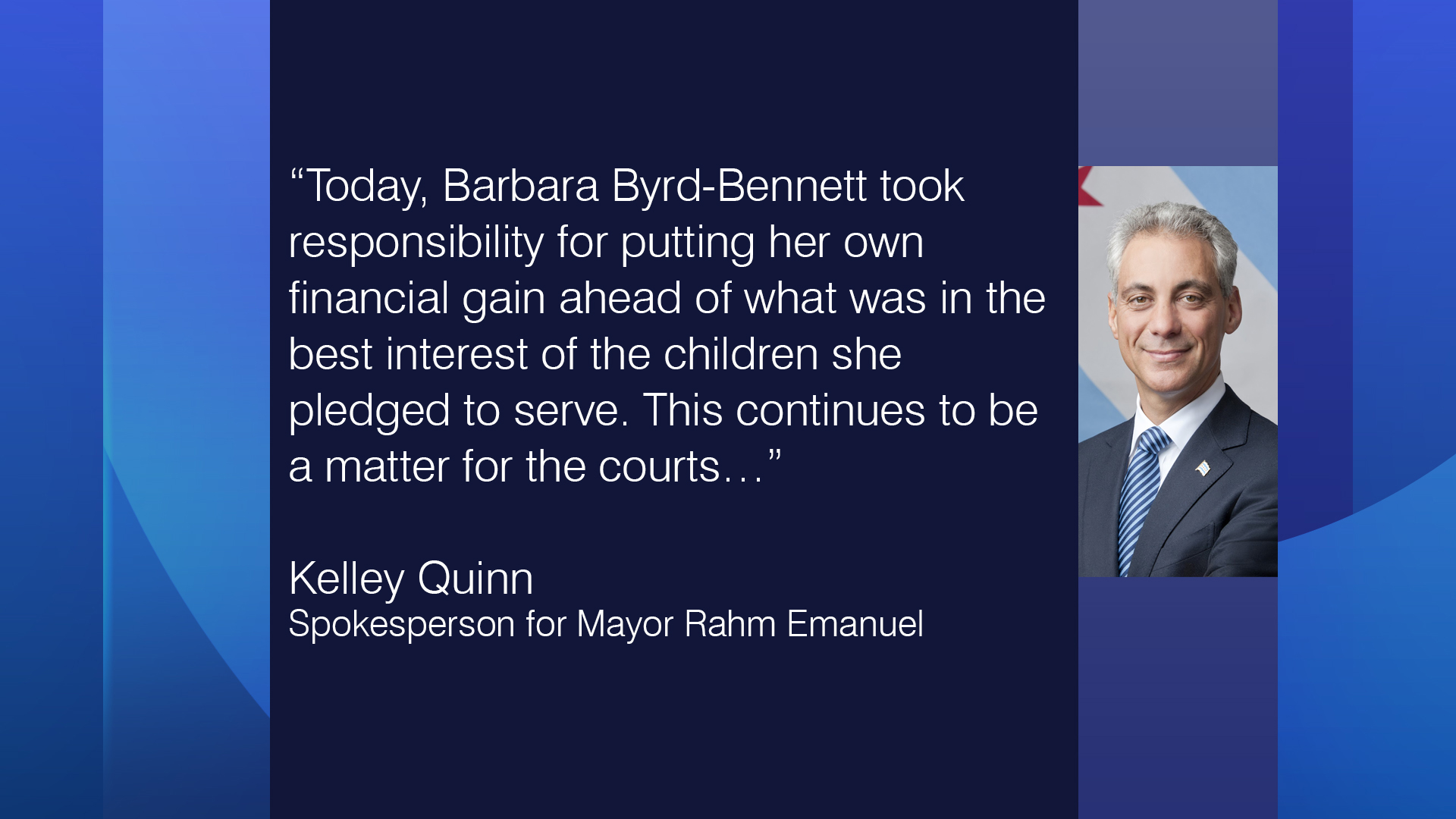 Parent advocacy organization Raise Your Hand Illinois said the apology Byrd-Bennett gave is better than not apologizing, but it doesn't undo the damage she caused.
The group's executive director Wendy Katten says this whole scandal underscores the group's call for an elected school board:
"We've been complaining about this contract to the appointed Board of Education for years. We went before the Board of Ed budget hearings, met with Tim Cawley over six times to ask that they cancel this contract. So for our group, the problem is larger than just one individual who did something very wrong. It's that a system is in place that doesn't have the checks and balances needed to stop this type of abuse."
Safeguards
Current CEO Forrest Claypool sent a letter to Ald. Will Burns (4th Ward), who chairs the City Council's education committee detailing changes being implemented at CPS.
Back in June, the month after Byrd-Bennett went on paid leave from the district, CPS leaders asked an independent consulting firm, Accenture, to conduct a third-party review of the sole-source contract procedures.
It did, and the district says it has already begun to implement some of the recommendations the company made, with more on the way.
The letter says that CPS is undergoing a top-to-bottom audit that may lead to more changes: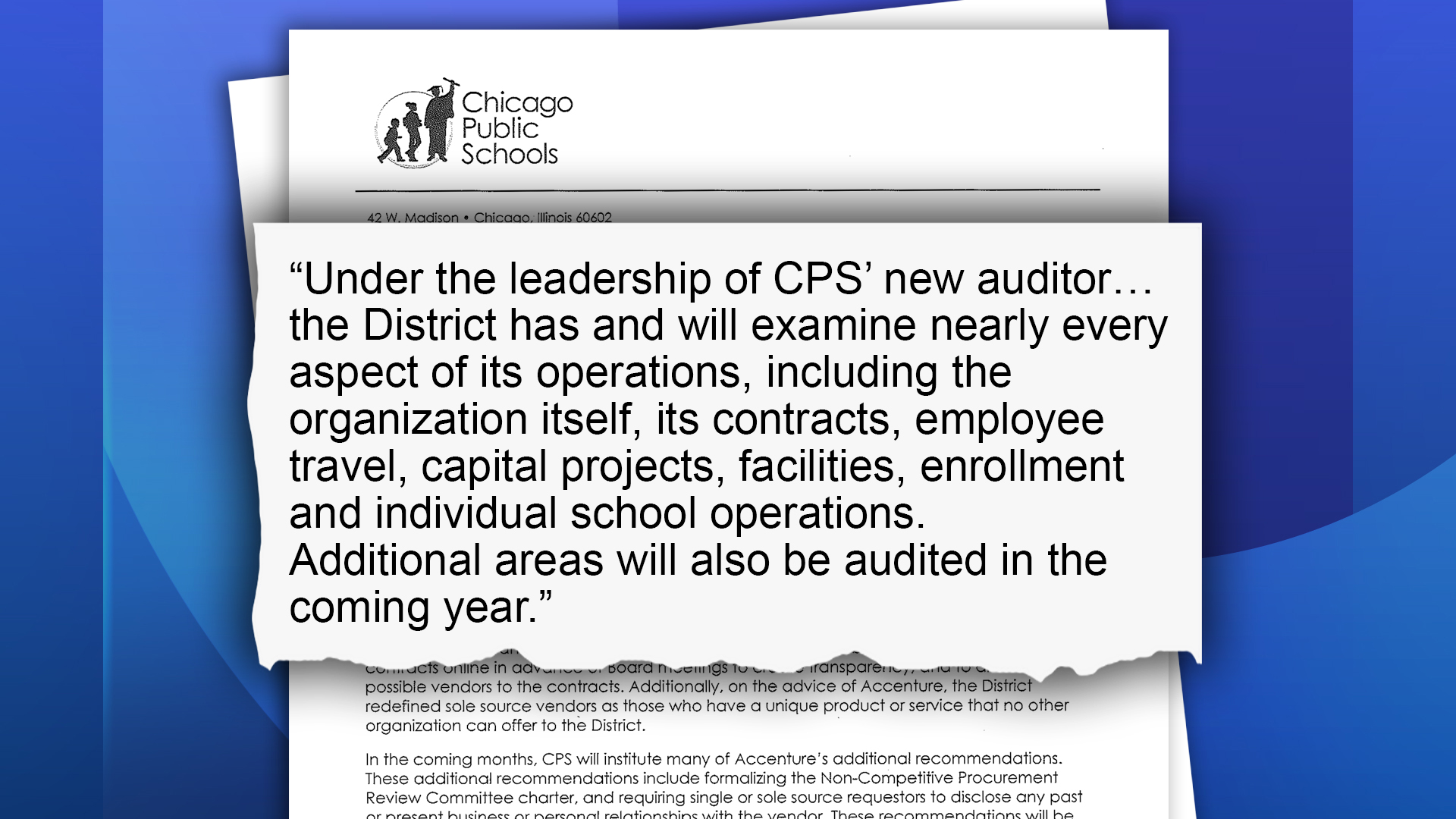 We also received a statement from Claypool, which states:
"Our top priority is making sure the children of Chicago get the high quality education they deserve, and making sure every possible dollar goes to their classrooms. CPS will do everything in our power to prevent anything like this scheme from happening again, which is why we have initiated a new, tough auditing process and implemented safeguards recommended by a respected, independent firm. Chicago's students are making strong progress, and we should not allow one individual's outrageous acts of criminality deter us from our mission."
---
See a timeline of events related to the indictment. Note: Some dates are approximations.
---
More stories, documents: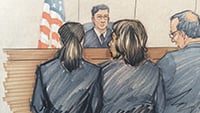 • Read the 21-page plea agreement
---
More Barbara Byrd-Bennett CPS Contracts Under Scrutiny
As Mayor Rahm Emanuel defends his role in the Barbara Byrd-Bennett scandal, "Chicago Tonight" has learned of another controversial CPS contract with someone else Byrd-Bennett used to work for.
---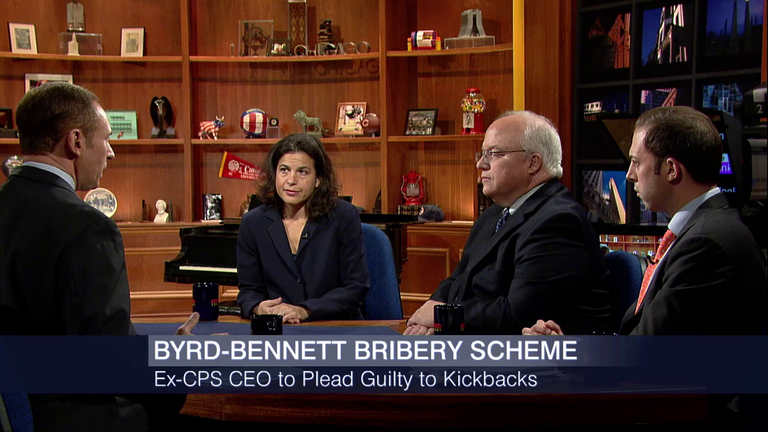 Examining the Indictment of Barbara Byrd-Bennett
We talk with the reporter who broke the story and the former CPS Inspector General who blew the whistle, as well as a former federal prosecutor.
---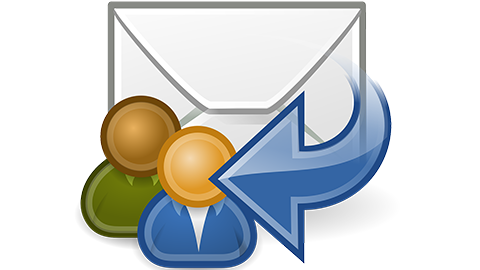 Dispelling the Myths of Email Privacy, Security
Heavily cited throughout the federal indictment against Barbara Byrd-Bennett are emails outlining the alleged kickback scheme tied to the controversial $20.5 million no-bid contract. We'll talk about the misconceptions and myths of email with the head of the Chicago office of security firm Kroll. 
---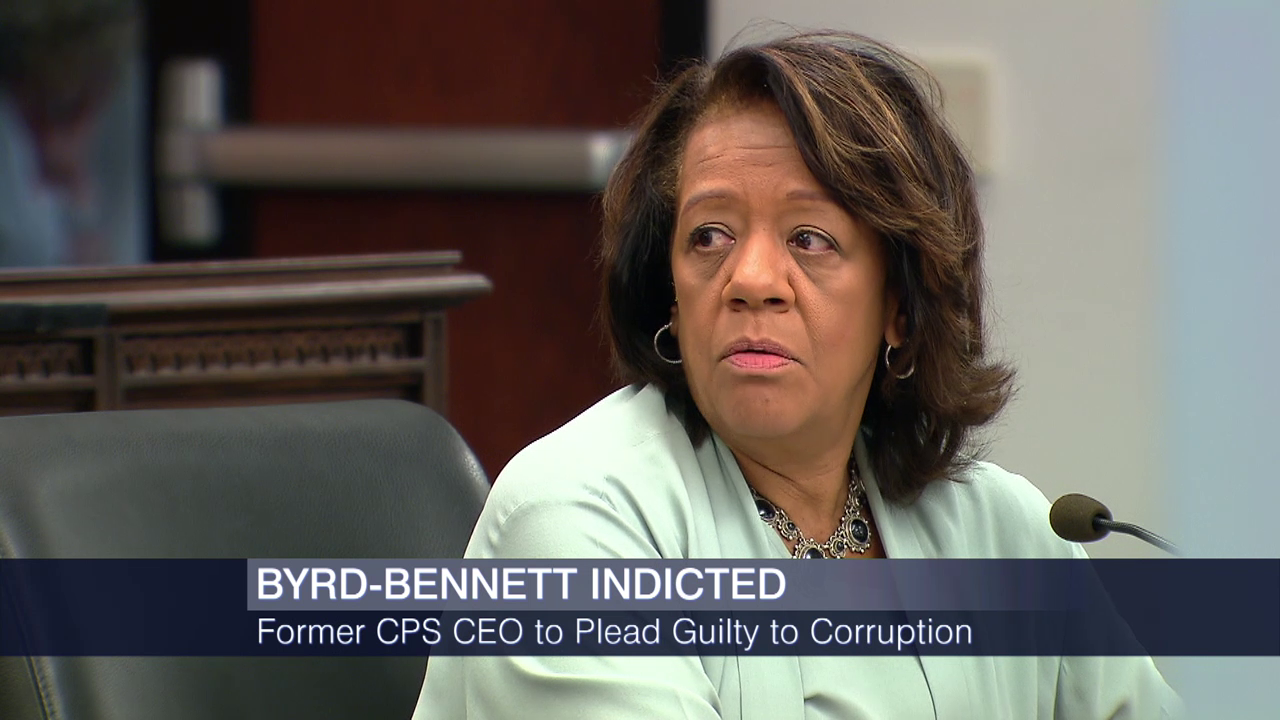 Barbara Byrd-Bennett to Plead Guilty in Bribery Scheme
The former Chicago Public Schools CEO is charged with 23 counts of federal corruption for her alleged role in a scheme to steer millions in CPS contracts to her former employer in exchange for millions in bribes and kickbacks.
---