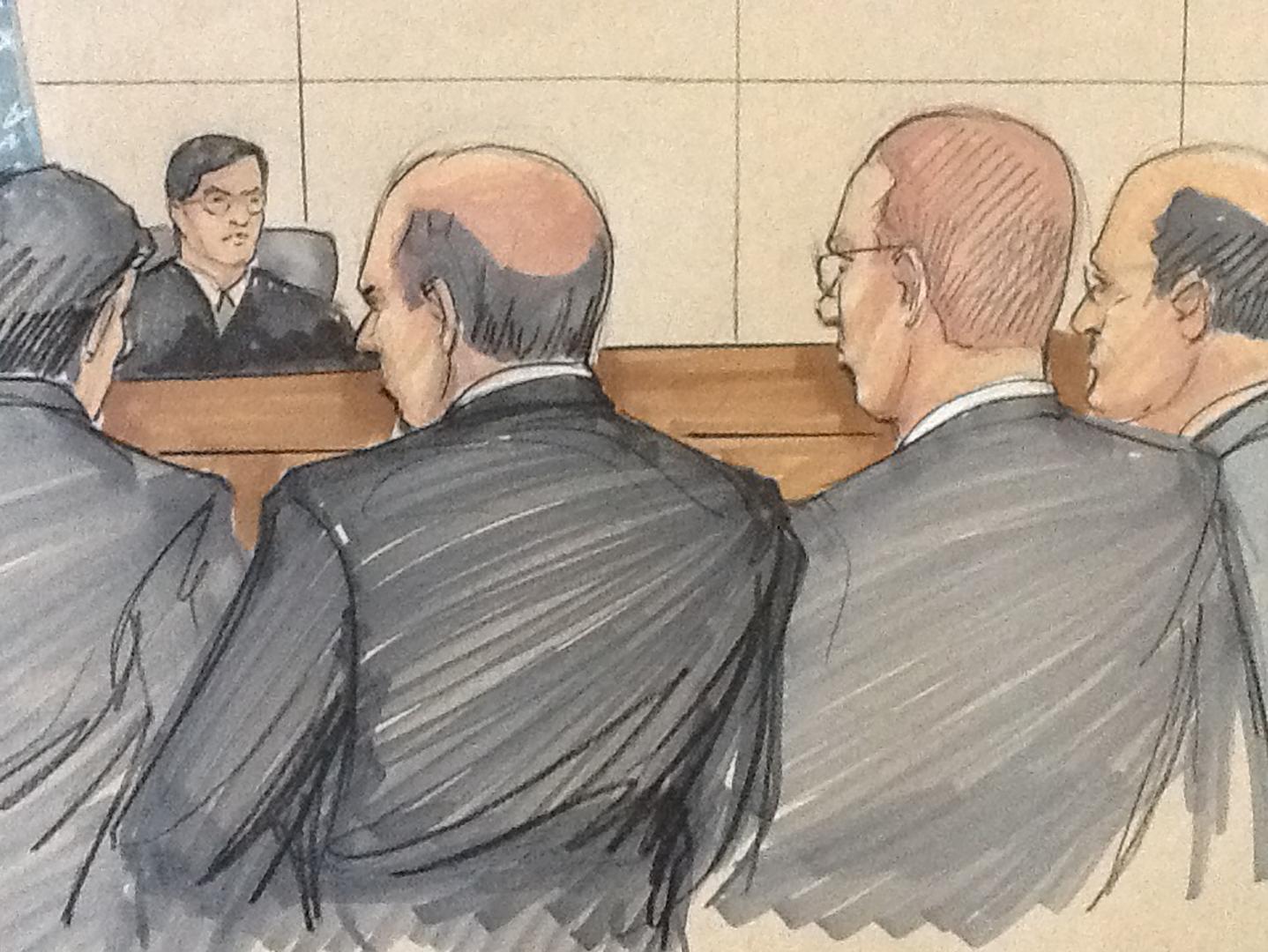 Courtroom sketch from October 2015 depicts Gary Solomon, right, and Thomas Vranas, left, in federal court.
The last of three defendants charged in connection with the Barbara Byrd-Bennett fraud scandal pleaded guilty Tuesday morning, opening the door for each to be sentenced before a federal judge.
Just over a year after he was formally charged, SUPES Academy CEO Gary Solomon pleaded guilty to one count of wire fraud – admitting he offered bribes to Byrd-Bennett, the former Chicago Public Schools CEO, who then steered a $2 million training contract to his company.
Charged as corporate entities, SUPES and Synesi Associates – education companies offering professional development co-owned by Solomon co-defendant Tom Vranas – also entered guilty pleas stemming from the conspiracy.
The two men initially faced more than 20 counts each of mail and wire fraud, and bribery in the scheme to send $23 million in CPS money to their companies to train CPS principals. 
Document: Read the plea agreement Solomon, 48, will be sentenced at a hearing in March. He faces up to 20 years in prison and a fine of up to $250,000. A written plea agreement released Tuesday included no sentence recommendation, but stipulates Solomon make a restitution payment to CPS totaling $254,000.
CPS is seeking more than $65 million in damages and civil penalties from the defendants and their companies, according to district spokeswoman Emily Bittner, who said CPS is owed civil penalties of three times the amount fraudulently obtained by the defendants.
"Recovering as much money as possible from those who have defrauded Chicago students remains a high priority for this administration, and today's guilty plea brings us one step closer to a conclusion in this matter," Bittner said in an email.
"We will continue to pursue those who have lined their own pockets at our children's expense so that we can track down every possible dollar that Chicago students deserve. At the same time, we will continue to move forward with strengthened procurement and audit procedures that will prevent any such abuses in the future."
Solomon said little during the hour-plus long hearing Tuesday, often answering U.S. District Judge Edmond Chang's questions with short one- or two-word responses. He did state he has been taking anxiety medication since just before his indictment last year, and continues seeing a mental health professional.
Still, Chang found Solomon competent to enter his plea.
Vranas had already pleaded guilty to a similar wire fraud charge last year. Byrd-Bennett, who initially faced a 23-count indictment, pleaded guilty to taking bribes last October.
She faces 7 1/2 years in prison, but delayed her sentencing until the cases against Solomon and Vranas were resolved.
Before she was hired as CPS CEO in October 2012, Bennett had worked as a consultant for SUPES and later the district itself, according to the 24-page plea agreement released Tuesday.
In her chief role, Bennett could have not economic interests in any vendor contracts with the district. But she worked to convince the district to spend millions on principal training through SUPES. In return, Solomon and Vranas agreed to pay Byrd-Bennett a 10 percent kickback that would come in the form of trust funds for two of her relatives, along with a promise to hire her back once she left CPS.
The plea states from April 2012 to April 2015, Bennett, Solomon, Vranas and the SUPES entities "participated in a scheme to defraud and to obtain money and property from CPS by means of materially false and fraudulent pretenses … and to defraud and deprive CPS and the Chicago Board of Education of their right to the honest services of Byrd-Bennett through bribery."
In one case, Solomon offered personal finance benefits to Bennett in exchange for her awarding a $2.09 million contract to the SUPES Academy in October 2012. Those benefits included meals, an airplane ticket and tickets to sporting events.
"When this stint at CPS is done and you are ready to re re re retire, we have your spot waiting for you," Solomon wrote in an email to Byrd-Bennett. "In the meantime, if we can figure a way to do deep principal (professional development) at CPS, I can find a good home for (friends of Byrd-Bennett's) and others, and make sure principals in CPS get kick ass training with kick ass teacher (sic) and kick ass coaching."
Follow Matt Masterson on Twitter: @ByMattMasterson
---
Related stories: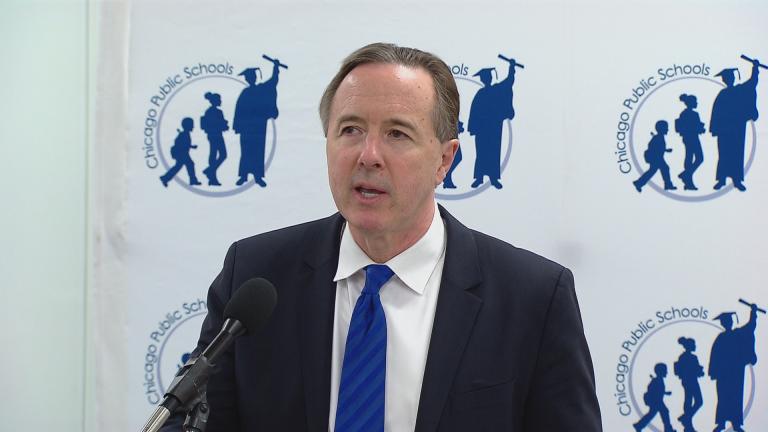 CPS Sues Former CEO, Asks Principals to Save Cash
March 10: Chicago Public Schools has filed a lawsuit against former Chief Executive Officer Barbara Byrd-Bennett. The complaint, filed Thursday in Cook County Circuit Court, seeks $65 million in money damages and civil penalties.
---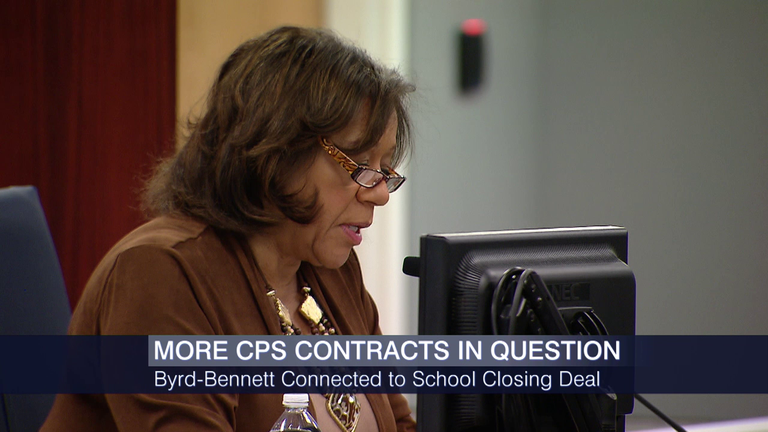 More Barbara Byrd-Bennett CPS Contracts Under Scrutiny
Oct. 15, 2015: As Mayor Rahm Emanuel defends his role in the Barbara Byrd-Bennett scandal, "Chicago Tonight" has learned of another controversial CPS contract with someone else Byrd-Bennett used to work for.
---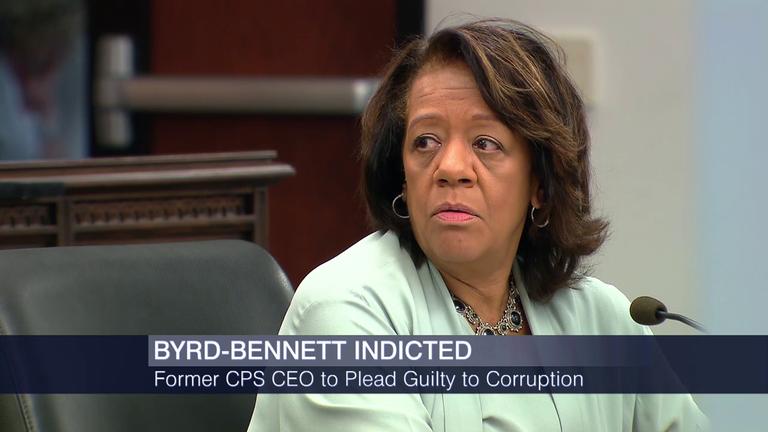 Former CPS CEO Barbara Byrd-Bennett to Plead Guilty in Bribery Scheme
Oct. 8, 2015: Former Chicago Public Schools CEO Barbara Byrd-Bennett is charged with 23 counts of federal corruption for her alleged role in a scheme to steer millions in CPS contracts to her former employer.
---