President-elect Donald Trump spoke about his education policies sparsely on the campaign trail. Here he addressed school choice during a visit to a Cleveland charter school in September. (Right Side Broadcasting)
What do we know about federal education policy under President-elect Donald Trump?
With Trump's focus on walling off the U.S.-Mexican border, banning Muslim immigration, repealing the Affordable Care Act and generally erasing all Obama administration policies, discussion on education had been few and far between on the campaign trail.
"Obviously education was not a central issue for either candidate, at least at the K-12 level," said Martin West, associate professor of education at the Harvard Graduate School of Education and editor-in-chief of Education Next.
The positions Trump has mentioned – pumping $20 billion in federal dollars and convincing states to divert another $110 billion into school choice; repealing Common Core; reducing or eliminating the Department of Education – remain fairly ambiguous goals that, in some cases, raise more questions than they answer.
For instance, Common Core is a state-run program, not a federally mandated one. Illinois adopted Common Core standards in 2010, but about a half-dozen other states never did.  And because it's handled at the state level, the president has practically no say over its implementation.
But renewed Republican power within multiple states, coupled with Trump's stance, could lead to some dropping those standards.
"Still, the Trump victory will surely give boost to anti-Common Core Republicans at the state level, in places like Kentucky (now under full GOP control)," Fordham Institute President Michael Petrilli wrote in a blog post Wednesday. "We Common Core supporters could be in for some more rough sledding."
As for those school choice investments, it's not clear where any of those federal dollars would come from or how the president-elect plans to lobby 50 states to re-allocate their own money to that end (Trump says he will "reprioritize existing federal dollars"; West believes that money will come from existing education spending).
While specifics are scarce, boosting school choice would likely include ramping up the portability of Title I dollars – the largest federal spending program in K-12 education, which allocates money to states and school districts to serve low-income students. Those funds are currently directed toward schools with the largest concentration of low-income students.
"For many years, some Republicans have been arguing for it to be converted into a portable grant program in which the funds would follow students to whatever schools they attended, perhaps including schools in the private sector," West said. "One challenge in this area with this proposal is that the Title I funding amounts on their own are not very large, so depending on how you defined an eligible child, you'd be talking (about around) $1,000 per student."
While Trump has threatened to gut the federal Department of Education, he has also spoken about increased forgiveness of student loans, something Politico education reporter Michael Stratford notes would likely have to be handled within that very department.
West said he sees that move as something of a red herring.
"Closing the Department of Education would involve a massive investment of political capital," he said. "It would likely be characterized as being anti-education and my guess is that the administration, with obviously many other priorities coming into office, is unlikely to pursue that."
One area where Trump's administration could significantly impact federal education policy is through the remaining vacancy on the Supreme Court. Justice Antonin Scalia's death earlier this year came in the middle of an education-related case – Friedrichs v. California Teachers Association – in which an Orange County elementary teacher challenged teachers unions' ability to collect fees from nonmembers.
The conservative court was expected to issue a 5-4 decision against the unions, but following Scalia's death, the court deadlocked at 4-4 and failed to set any precedent.
"Assuming (Trump) follows through on his commitment to appoint a conservative justice in the mold of Antonin Scalia, that will make it more difficult to convince the Supreme Court to engage on issues of school finance and school desegregation and will perhaps open up an issue the Supreme Court deadlocked on earlier this year after Scalia died," West said, referencing the Friedrichs case.
"That's something the unions see as not a mortal or existential threat, but a serious challenge."
On top of his own policies, Trump will also have to deal with education-related decisions made under President Barack Obama, including the implementation of the Every Student Succeeds Act – the new federal law set to replace No Child Left Behind at the beginning of next school year.
Illinois and several other states remain in the process of developing their individual ESSA state plans and are expected to continue doing so over the coming months. Asked if the election results could impact this process, Illinois State Board of Education Director of Media and External Communications Jackie Matthews said in an email:
"ISBE will continue developing its State Plan to implement the Every Student Succeeds Act, based on stakeholder feedback gathered online and at listening tours across the state."
Apart from his education plans, Trump has also threatened to end amnesty programs for immigrants who have entered the country illegally and eliminate so-called "sanctuary cities," like Chicago, which shelter such immigrants through local policies.
Following the election, Chicago Public Schools CEO Forrest Claypool and Chief Education Officer Janice Jackson said they are providing resources to principals, counselors and teachers to help students through the "strong feelings" they may have about the results.
Nearly half of the 380,000 students enrolled in Chicago Public Schools are either Hispanic or multi-racial, according to district data.
"With emotions running high after the presidential election, we want to affirm our commitment to the values of diversity, tolerance and fairness in our schools," Claypool and Jackson wrote in a statement to parents and families.
"Every one of our students has the right to a safe, welcoming school environment where they feel valued and respected. We are proud of our District's diversity, and believe that every student, regardless of race, ethnicity, background, sexual orientation, language or culture has the right to reach their full potential."
Follow Matt Masterson on Twitter: @ByMattMasterson
---
Related stories: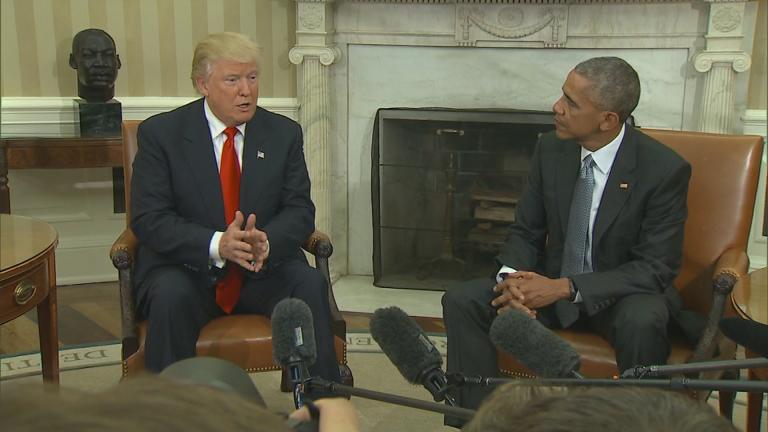 Trump, Obama Meet at White House
Nov. 10: It once seemed unthinkable: President Obama and President-elect Trump met at the White House for the first time Thursday. A closer look at the meeting, and what's ahead for Democrats and Republicans.
---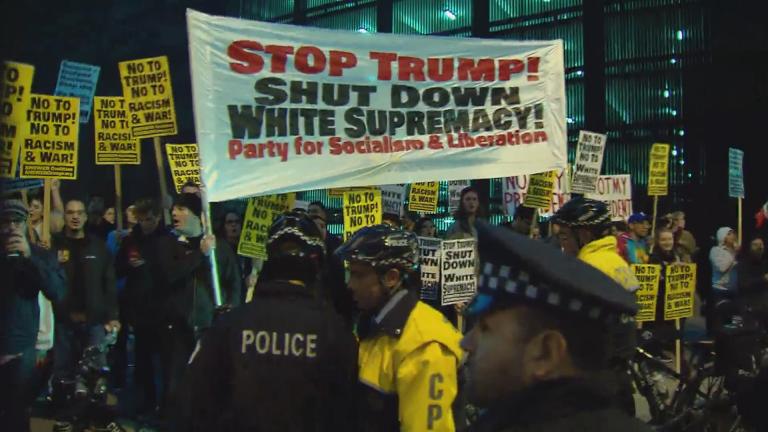 How Trump Presidency Affects Chicago
Nov. 9: As protesters hit the streets Wednesday evening, we assess what Donald Trump's coming presidency means for Chicago, and why Mayor Rahm Emanuel says he doesn't expect Trump will punish the city.
---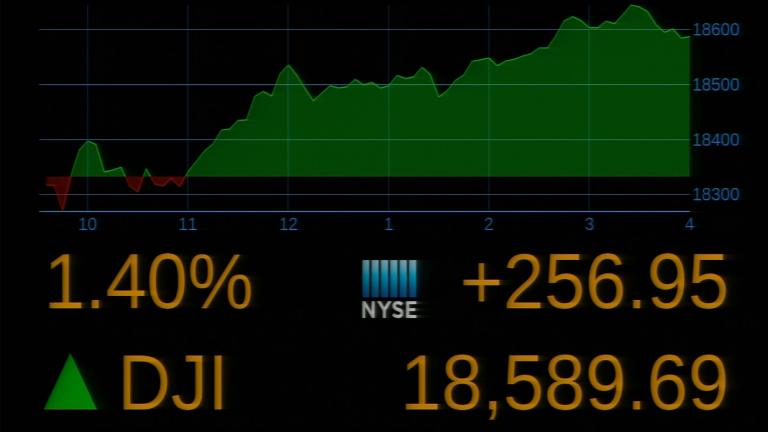 The Economic Impact of a Trump Presidency on US, Global Markets
Nov. 9: The outcome of the presidential election sparks a volatile reaction in markets in the U.S. and abroad. What will Trump's economic impact be nationally and around the globe?
---