One of the country's most heated and closely watched political races is happening right here in Illinois.
It's the Senate seat battle between incumbent Republican Mark Kirk and his Democratic challenger, Congresswoman Tammy Duckworth. The two squared off for the first and possibly only time Monday before the Chicago Tribune editorial board.
This is a race national Democrats believe they can and must pick off to take the majority back from Republicans in the U.S. Senate. Monday was the first time they appeared together. It was in front of the Tribune editorial board, not televised but available to the public online.
Both candidates sought to display their independence, admonishing the presidential choices at the top of their respective tickets. Duckworth criticized Clinton for her handling of state department emails and vote in favor of the Iraq War.
"I have been out there saying, she needed to turn over those emails, she needed to be more transparent, I have concerns," Duckworth said, adding that she disagrees with Clinton's vote for the Iraq war in 2003.
"Hillary is someone I will stand up to and oppose. She was wrong when she voted for the Iraq war. Senate Kirk wasn't just someone who voted for the Iraq war, he co-wrote the invasion resolution," Duckworth said.
Kirk called Trump "embarrassing," and said he would vote for David Petraeus as a write-in candidate.
"I realize that my write-in would not be effective in Highland Park," Kirk said. "I think for him as the victor of the Iraq surge is good, and it's difficult to see why he was prosecuted for misuse of classified material."
The two also sparred about some of the controversial things Kirk has said over the years, including calling Sen. Lindsay Graham a "bro with no ho" and referring to President Barack Obama as the "Drug dealer in chief."
"I think that's it's irresponsible and not befitting of a United States Senator, and he's been saying these things for the last 10 years," Duckworth said.
"Everything we say is going to be scrutinized in excruciating detail. I have too quick a turn of phrase, that's my bad," Kirk said.
On the issues, the two agreed on some and sparred on others. Duckworth called for tuition-free community college and student loan debt restructuring. Kirk disagreed, calling that a "massive new entitlement."
The two agreed on arming more police officers with Tasers. They disagreed on Syria: Kirk called for a safe haven for Syrian refugees in the neighboring country of Jordan, with U.S. troops guarding the zone. Duckworth criticized the call for the increased troop presence.
There is still disagreement as to how many debates the two candidates will appear in together. Kirk has eschewed a lot of the traditional options, including the Chicago Sun-Times editorial board and our Chicago Tonight forum. Duckworth, who only participated in one debate in the primary election, says she'll go to all of them.
At Monday's editorial board debate, Duckworth convinced Kirk to agree to a debate on ABC 7 at a time that has yet to be determined. The Kirk campaign publicly declined the invitation to appear at our Chicago Tonight forum Wednesday, Oct. 26, but it will go on as scheduled with Duckworth–and we'll leave it open should Kirk change his mind.
Follow Paris Schutz on Twitter: @paschutz
---
More election 2016 coverage: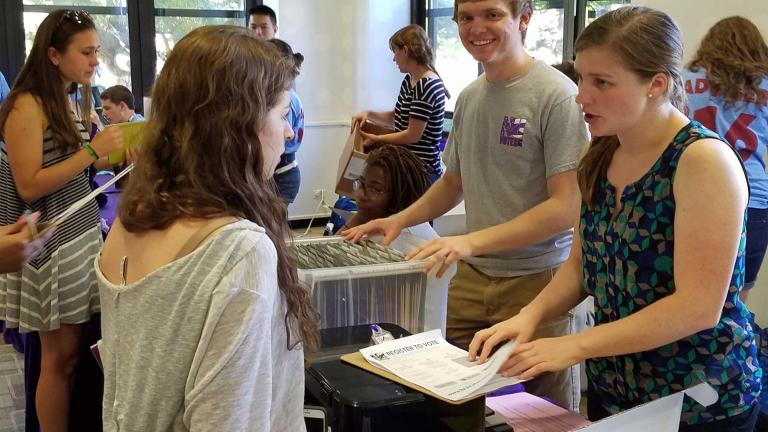 Northwestern Announces Record Voter Registration for Incoming Freshman
Sept. 30: This week, the university announced that 96 percent of incoming freshman have registered to vote, thanks in part to a new website launched this fall.
---
Debating the Ruling on Election Day Registration
Sept. 28: A federal judge blocks Election Day voter registration in Illinois, but Attorney General Lisa Madigan says she will appeal the ruling. We hear arguments on both sides of the case.
---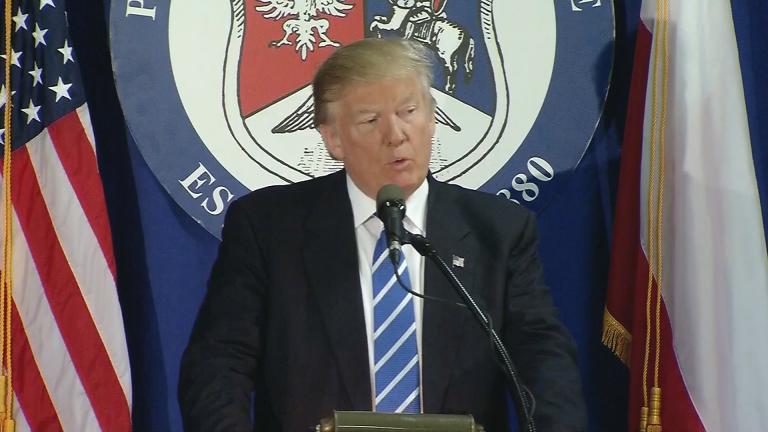 Donald Trump Hits Campaign Trail in Chicago
Sept. 28: He may not have had flattering words for Chicago during Monday's presidential debate, but Donald Trump on Wednesday hit Chicago and the suburbs for rallies and fundraisers.
---