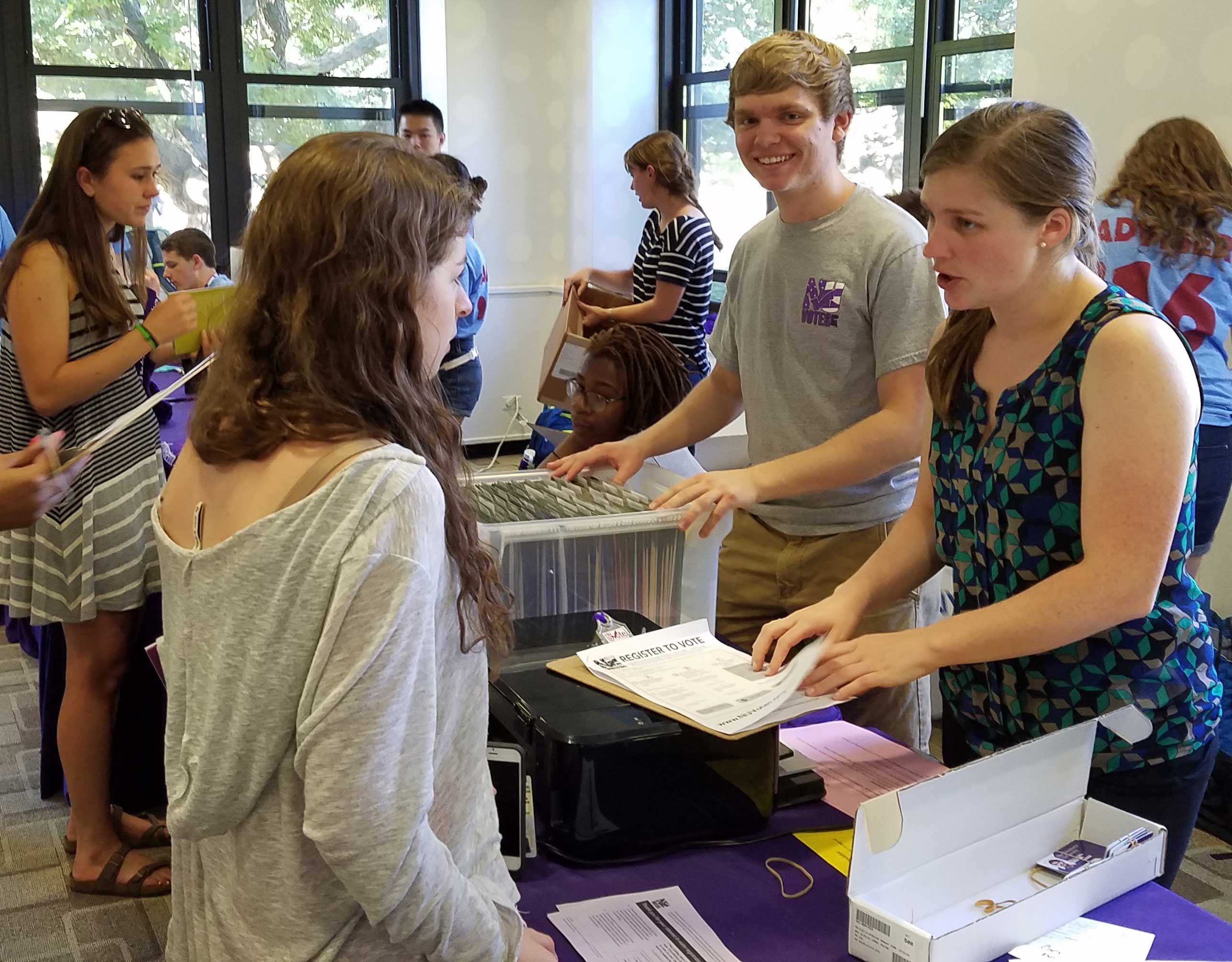 A student registers to vote at Northwestern University during orientation week. This year, 96 percent of incoming freshman have registered. (Courtesy of Robert Donahue)
As voter registration laws continue to change in Illinois and other states across the U.S., filling out the necessary paperwork can be a complicated process, particularly for first-time voters.
But a plan at Northwestern University has made the process much easier for students entering their first year of college who have never before voted, and whose attention is divided between classwork and social activities. Northwestern says 96 percent of incoming freshman are now registered to vote, thanks in part to a new website the school launched this fall.
NU Votes, an initiative from the university's Center for Civic Engagement, is designed to make voter registration easier, specifically for Northwestern students. The site, NUVotes.org, lists the specific requirements for all 50 states and allows students to register, review, or change voter status, as well as request absentee ballots. This week, stations equipped with laptops, printers, copiers and scanners were set up around the school's Evanston campus as a way to alert students to the new online tool.
The CCE reported that in the first two days, more than 700 students used the website.
The website is just one component of Northwestern's success in registering students. The CCE's voter engagement efforts date back to 2011, when the school launched a pilot program to register college freshman during the first week of school at orientation (what the school calls Wildcat Welcome). Since then, incoming freshman are given the opportunity to register during dorm move-in day and when they receive their student ID cards. This year, NU Votes on move-in day engaged 1,600 freshmen out of a class of more than 1,900. About 45 percent were already registered; and by the end of move-in day, a record 96 percent were registered to vote, according to the CCE.
Robert Donahue, associate director of the CCE, says Northwestern is attempting to live up to the spirit of the federal Higher Education Amendments of 1998, which require universities to make "a good faith effort to distribute a mail voter registration form, requested and received from the State, to each student enrolled in a degree or certificate program and physically in attendance at the institution, and to make such forms widely available to students at the institution." He feels that many colleges are not doing enough to make the process more streamlined.
"The vast majority of eligible young people want to get registered and will take the time to do it if you give them the opportunity to do so," said Donahue. "This really shows that it's not that young people don't care, it's that we've created systems that are not at all accessible or understandable to them."

"It's not that young people don't care, it's that we've created systems that are not at all accessible or understandable to them."
–Robert Donahue, Northwestern University
---
Since 2011, the CCE has consulted with other universities to improve voter registration efforts across the country. Stanford implemented a similar plan by providing voting forms for students registering their bicycles on campus. Locally, Northwestern has influenced plans at Loyola University Chicago and the School of the Art Institute of Chicago by allowing students who receive their annual CTA U-Pass to receive voter registration information.
"The idea of people finding a place where they have to do something administrative and giving this option is better than having people figure it out for themselves," said Donahue.
Rabeya Mallick, a 2015 Northwestern graduate and coordinator with the CCE, says the initiative serves to combat various voter restriction laws that have been put into effect in recent years.
"We're trying to institutionalize voter registration and make it a part of the university," she said. "A lot of states have so many laws in place to try to prevent voter fraud, which I don't think is a problem in our country. The problem is that it is too difficult to figure out how to vote so people aren't voting."
The university will offer free shuttle rides to students who plan to participate in early voting. Additionally, Northwestern Pritzker School of Law plans to cancel classes on Election Day, Nov. 8, to give students time to vote. 
Follow Reuben Unrau on Twitter: @reubenunrau
---
Related stories
Debating the Ruling on Election Day Registration
Sept. 28: A federal judge blocks Election Day voter registration in Illinois, but Attorney General Lisa Madigan says she will appeal the ruling. We hear arguments on both sides of the case.
---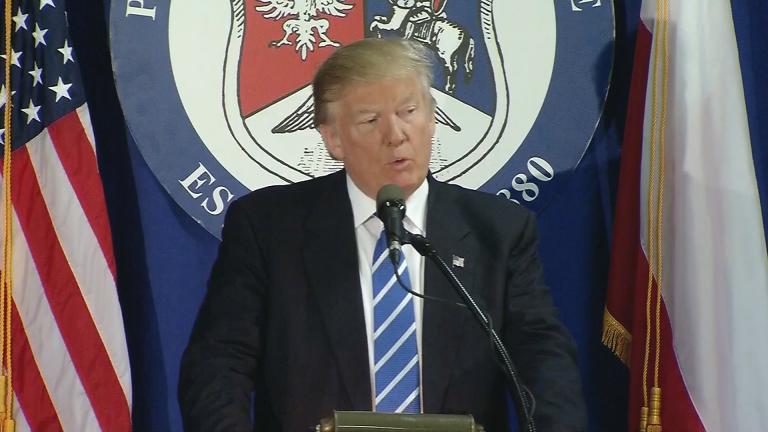 Donald Trump Hits Campaign Trail in Chicago
Sept. 28: He may not have had flattering words for Chicago during Monday's presidential debate, but Donald Trump on Wednesday hit Chicago and the suburbs for rallies and fundraisers.
---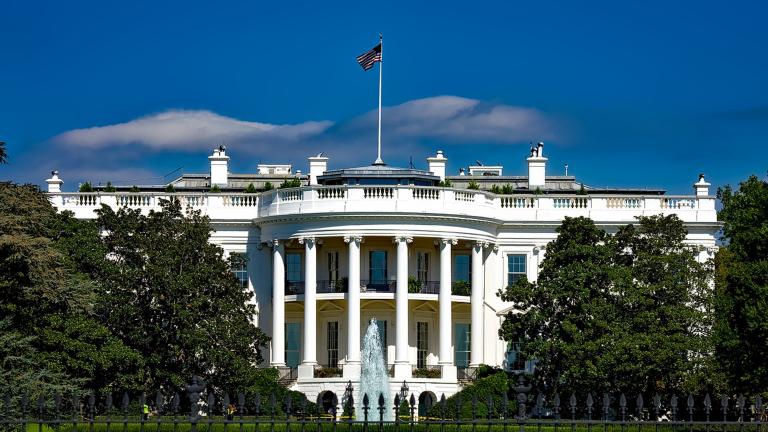 Countdown to Election Day 2016
Sept. 13: The presidential election is exactly eight weeks away. We break down the campaigns and what the candidates need to do in the final push.
---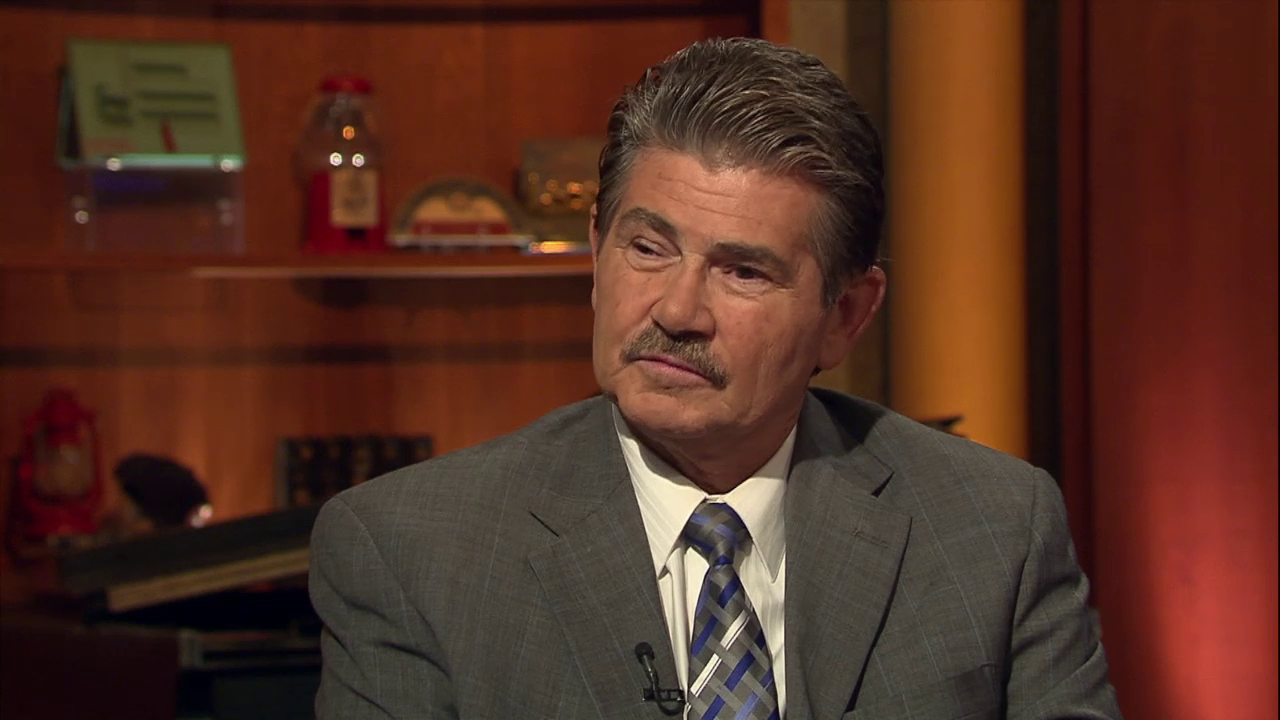 Cook County Clerk David Orr on Election Law Changes
March 24: Last week's primary election saw several firsts, including same-day voter registration and record-breaking early voting. Cook County Clerk David Orr discusses what it means for the future.
---