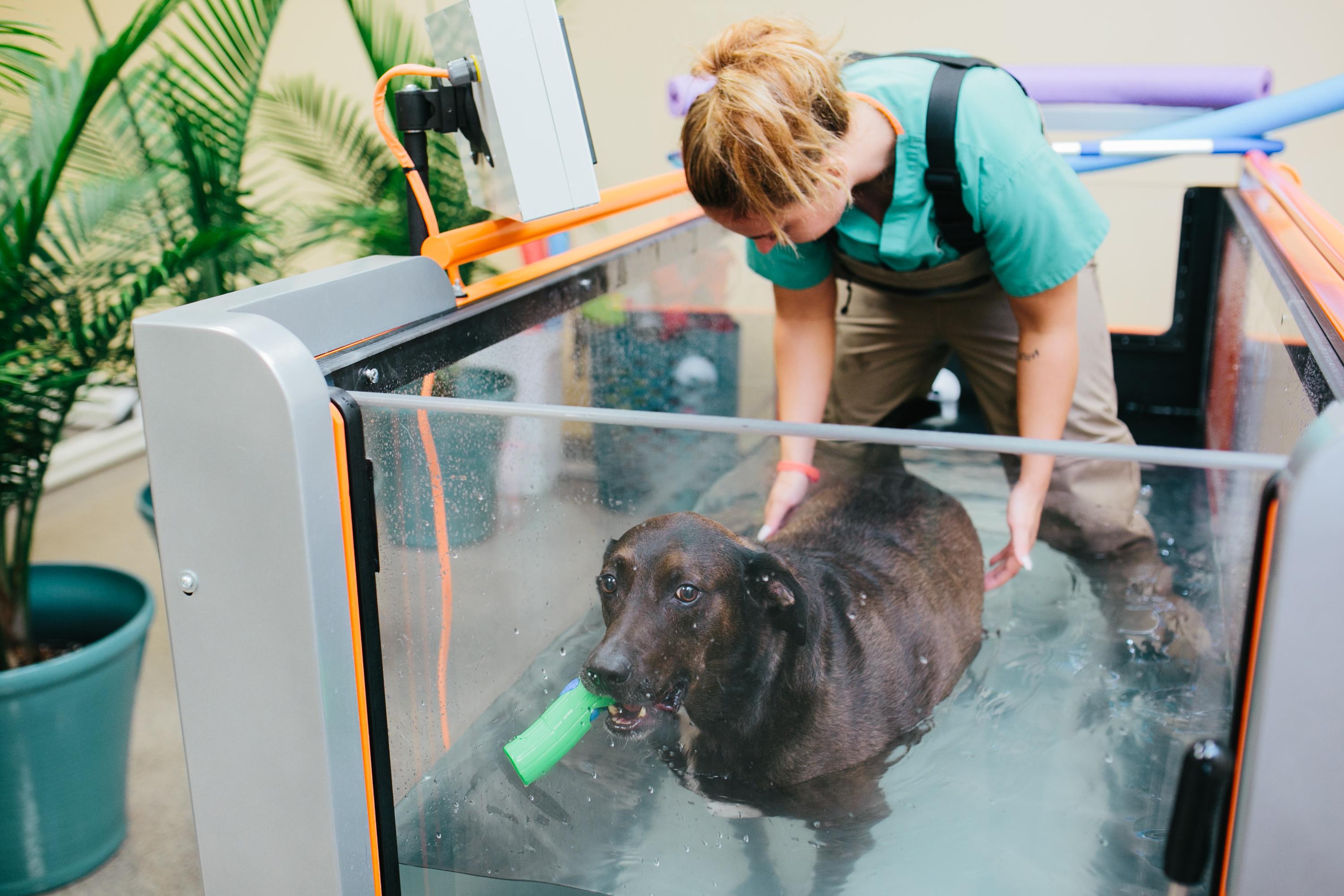 Haley Pekala works with Max, a 6-year-old lab mix on the underwater treadmill. Max is currently using the treatment for weight loss. (Courtesy the Veterinary Specialty Center)
As pet obesity and orthopedic surgeries continue to rise, many domesticated animals are struggling to get back on healthy legs, experts say. A new facility in Buffalo Grove, Illinois, is aiming to address that very problem.
The Veterinary Specialty Center, a 24-hour emergency and critical care hospital, is opening a new rehabilitation and athletic center on Thursday. The 8,600-square-foot facility will offer a variety of therapies for pets dealing with weight issues, as well as animals recovering from surgery.
This will be the first facility of its kind in the area.
According to a report from the American Pet Products Association, Americans are expected to spend nearly $16 billion on veterinary services this year. A large portion of those costs are the result of a rise in orthopedic surgeries. At VSC, orthopedic surgeries have doubled in the last three years and are the most commonly performed surgery at their clinics, which include satellite locations in Chicago, Crystal Lake and Mokena.
"Over the years, we've been doing a disservice to dogs and cats by not rehabilitating them after surgeries like humans," said Lindsay Seilheimer, rehabilitation director at VSC. "To get them back on track as soon as possible, we need rehab and this center provides that."
One of the major factors driving orthopedic surgeries is a rise in pet obesity. According to a study by the Association for Pet Obesity Prevention, about 58 percent of cats and 54 percent of dogs were overweight in 2015. Excess weight forces more pressure on joints and bones and increases the risk of injury.
"Owners are not realizing that their dog is smaller than they are and they have smaller stomachs with not as high calorie intakes," said Seilheimer. "The biggest factor is overfeeding and not realizing that one bone or some table scraps could be half the dog's calories for the day."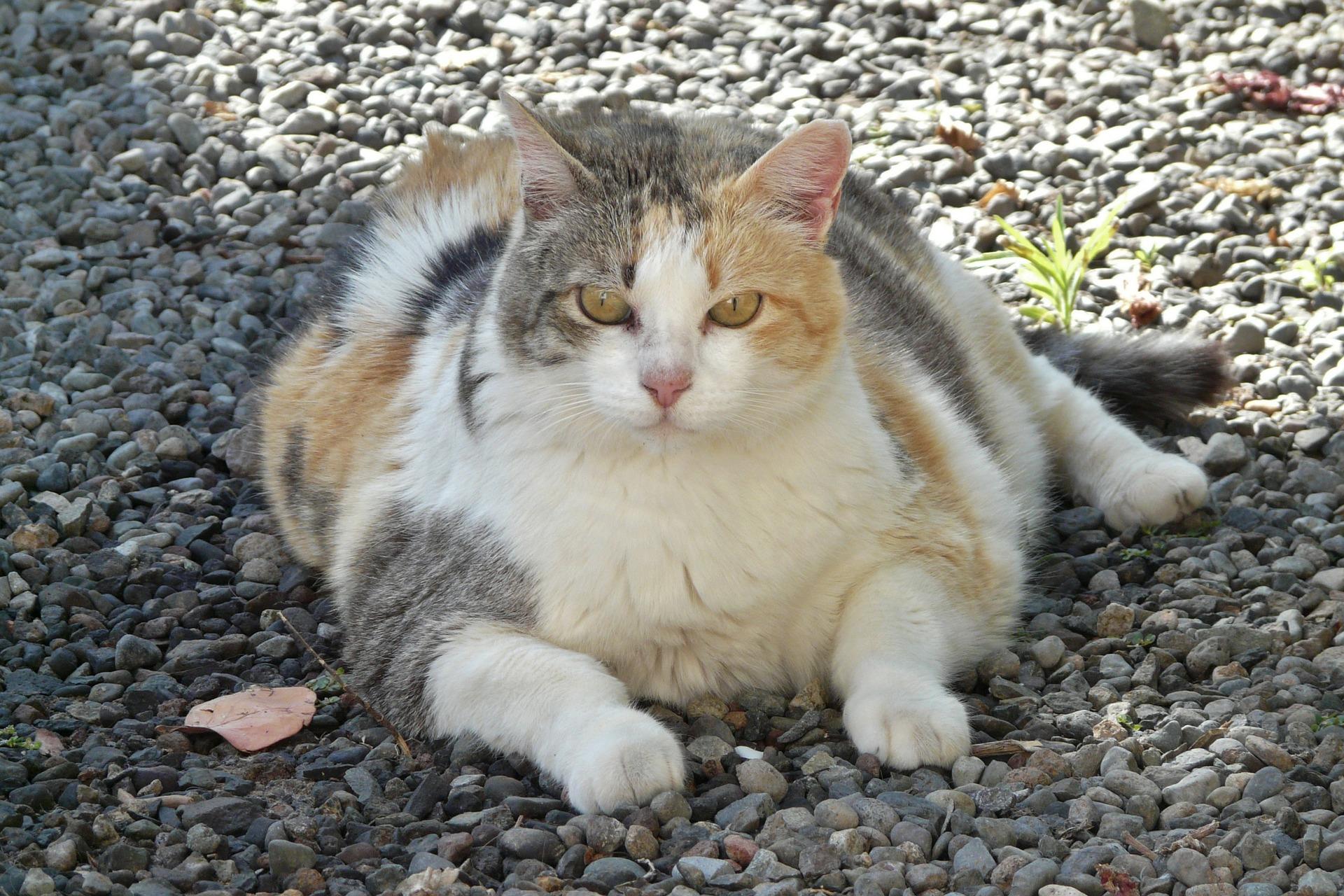 One study shows that nearly 60 percent of cats were overweight in 2015.
The new VSC facility has a full gym and offers weight loss consultation classes that teach owners how to properly exercise with their overweight pets.   
The center also features advanced equipment that aims to help with the post-surgery rehabilitative process, including cold laser therapy, a treatment that shines low-level light on sore sports to increase blood flow and cell production.
It also offers underwater treadmill therapy, a form of rehabilitation that claims to support 80 percent of a dog or cat's body weight and relax their muscles. Other treatments provided at the center range from electric nerve stimulation to holistic practices like acupuncture and massage therapy.
"All the therapies complement each other to give pets the best possible outcome," said Seilheimer. "We will be using a very tailored approach to each pet's treatment plan."
Seilheimer changed her focus from primary care to rehabilitative medicine three years ago after her own dog, Penny, had surgery on her two hind legs and underwent laser therapy. "Rehabilitation in conjunction with her surgery has allowed her to keep her alive," she said. "That's why I'm so passionate. It is an upcoming field in vet medicine and I hope it continues."
Follow Reuben Unrau on Twitter: @reubenunrau
---
Related Stories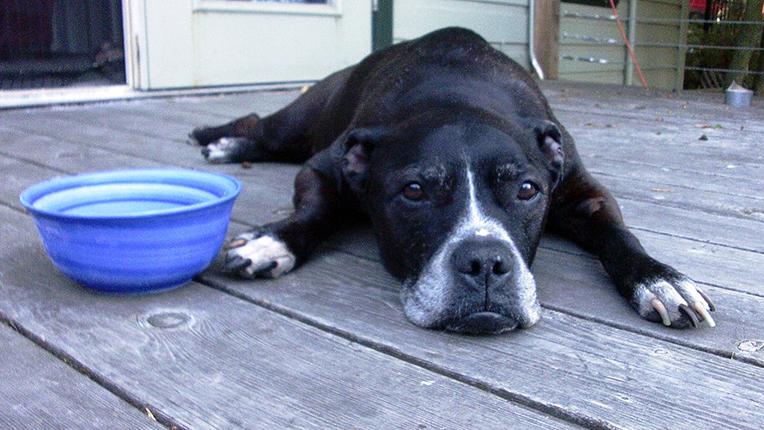 Caring For Your Pets During Excessive Heat
July 21: As extreme heat makes its way to Chicago, learn how to keep your pets safe. 
---
How to Keep Pets Calm During Fireworks Displays
July 1: Fireworks can be a lot of fun for humans, but frightening for some pets. Learn what you can do to ease your pet's stress when the celebrations start.
---
Highly Contagious Dog Flu Still Spreading in Chicago
Jan. 27: Chicago animal shelters like PAWS are still coping with the spread of a new, highly contagious strain of canine influenza. In the U.S., the outbreak of the H3N2 dog flu virus was first found in Chicago last year. It's now spreading to western states.
---