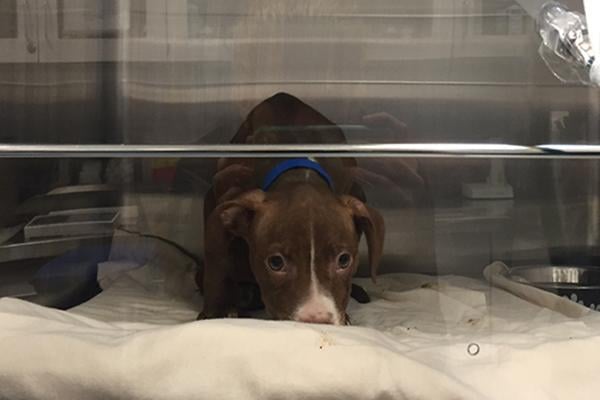 A dog with canine influenza placed under quarantine at PAWS Chicago. (John Caruso)
A new, highly infectious strain of canine influenza is still flaring up in the Chicago area. And it's spreading to western states.
The H3N2 strain of canine influenza was first reported on U.S. soil in Chicago last April, according to the Centers for Disease and Control Prevention. It quickly spread to at least 24 states, infecting thousands of dogs along the way. The virus now appears to be moving west. Recent cases were found in Washington and Montana.
This strain is different from the H3N8 virus, which has been documented in the U.S. since 2004. The CDC believes the H3N8 virus mutated from an influenza infecting horses that's been around for 40 years. H3N2, on the other hand, is believed to have mutated from a strain of avian flu in Asia. It was first reported in South Korea in 2007. The American Veterinary Medical Association believes the virus could have been transmitted from birds to dogs in Asia's live bird market.
[Archives: Outbreak of Dog Flu in Chicago Area]
The H3N2 virus is difficult to control for a variety reasons. For one thing, it's highly contagious. Dr. Barbara Hanek from the animal advocacy organization PAWS Chicago says about 80 percent of dogs exposed to the H3N2 virus become infected. Because the strain is relatively new, dogs have not yet developed an immunity to it.
Hanek says the incubation period, or the amount of time before symptoms show, is two to three days. So infected dogs may initially appear healthy, while in reality they're spreading the virus to other dogs they encounter. And direct contact isn't even necessary: Dogs can be infected simply by being in the same space that a sick dog was previously in, such as an elevator.
Some infected dogs show no symptoms, while others may develop a persistent cough, runny nose, fatigue, fever or reduced appetite. Older dogs or canines with pre-existing medical problems can develop deadly pneumonia; although canine influenza's fatality rate is less than 10 percent, according to the AVMA. The nonprofit organization says most dogs will recover in two to three weeks.
PAWS estimates they've treated approximately 350 dogs for canine influenza since last year's initial outbreak. Of those cases, only one dog died. It was older and already in poor health.
There are vaccines available to protect against canine influenza. According to the AVMA, these are "lifestyle" vaccines that should be administered to dogs that are at risk of infection, such as those that interact with several other dogs or are housed in communal facilities. Pharmaceutical companies Merck and Zoetis recently developed vaccines for the new H3N2 virus. PAWS Chicago plans to start utilizing the vaccine next week. Another vaccine for the H3N8 strain has been on the market since 2009.
Neither strains of dog flu have been known to affect humans. The H3N2 virus is reportedly transmittable to cats, although PAWS Chicago says that is "highly unlikely."
[Archives: Surprising Dog Flu Find Generates More Concerns]
During the initial outbreak last year, the Cook County Department of Animal and Rabies Control advised dog owners to avoid dog parks, animal boarding houses and other locations where canines are in close contact.
Last year's outbreak closed P.A.W.S. of Tinley Park for the month of May. PAWS Chicago–which is not affiliated with P.A.W.S. of Tinley Park–doesn't plan to shut down any shelters this year and is still accepting animals, healthy or otherwise. Any dog found to be infected at the city pound and rescued by PAWS Chicago is quarantined from non-exposed canines until full recovery.

These three dogs recovered from canine influenza after isolation from non-exposed dogs at PAWS Chicago. (John Caruso)
The Foster First program at PAWS gives potential pet owners the opportunity to adopt a dog recuperating from canine influenza for 30 days. Since the virus is so easily transmittable, candidates must not have any dogs living or visiting the residence during that time.
If pet owners notice their dogs showing symptoms of canine influenza, they're encouraged to bring their pet to a veterinarian for evaluation.
Follow Evan Garcia on Twitter: @EvanRGarcia
---
Related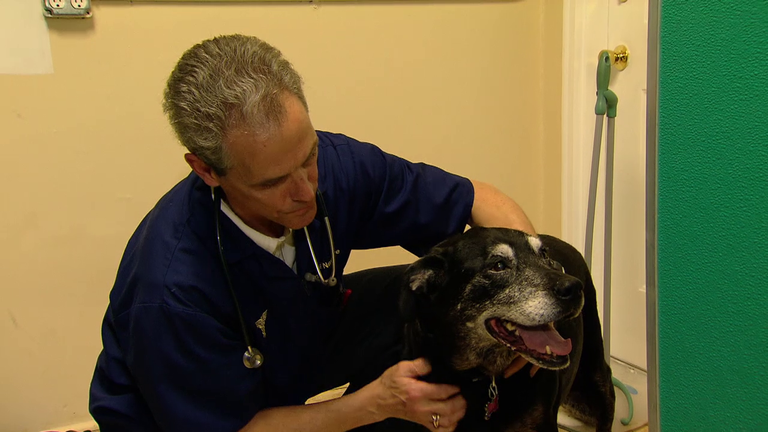 Surprising Dog Flu Find Generates More Concerns
April 15, 2015: Officials say the outbreak of the so-called dog flu throughout the Chicago area is now of greater concern than originally thought. Dr. Donna Alexander, administrator of the Cook County Department of Animal & Rabies Control, tells us what the latest findings mean for pets and what animal control officials are doing to contain the outbreak.
---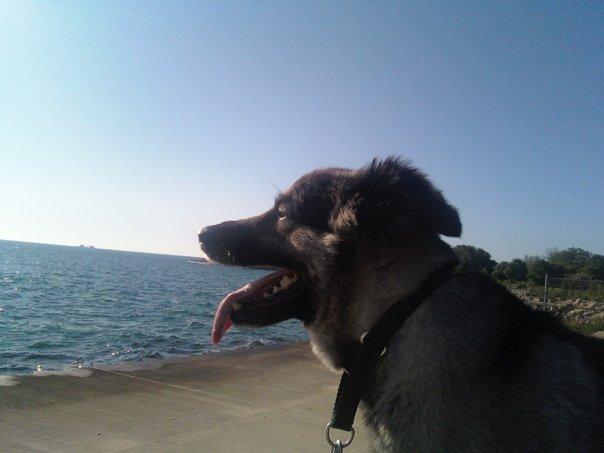 Outbreak of Dog Flu in Chicago Area
April 9, 2015: Hundreds of Chicago area dogs have gotten sick and a number have died from what is believed to be an especially virulent "dog flu." A Chicago veterinarian tells us what the disease is, why it's especially bad, and offers advice about what loving dog owners should and should not do.
---