Chicago-based chef Rick Bayless recently opened a new restaurant, but it's not in Chicago.
In late June, Frontera Cocina opened its doors to diners in Orlando, Florida. Disney Springs, a shopping, dining and entertainment district in Florida's Disney World, has 51 dining options for visitors. Bayless' new restaurant is the only one offering Mexican cuisine. The restaurant includes an open kitchen and walk-up window with a more limited menu for people wishing to eat on the outdoor patio.
Photos: Inside and outside Bayless' new restaurant Frontera Cocina.
Bayless joins Phil Ponce to talk about his newest venture, share recipes and discuss Mexican wines from Baja's Valle de Guadalupe. Dubbed by some the Napa Valley of Mexico, these wines are now being served at three of Bayless' Chicago restaurants: Lena Brava, Frontera Grill and Topolobampo. Bayless' believes his organization has the largest collection of Mexican wine in the U.S.
Below, some recipes from Bayless.

Spicy Chipotle Eggplant with Black Beans
Berengena al Chipotle con Frijoles Negros
Serves 4 as a light dinner       
2 pounds eggplant (I like the smaller ones like the Chinese, Japanese, graffiti or white because their flesh is less bitter and more compact)
2 tablespoons olive oil (plus a little more for the baking sheet)
9 tablespoons Sweet-Sour Dark Chipotle Seasoning (see below) (divided use)
2 cups seasoned black beans with enough broth to cover (if you're using canned beans, you'll need 2 15-ounce cans, though you'll have some leftover to, say, scramble into some eggs; use all the liquid in the cans, though be aware that bean sauce made from canned beans won't be as dark as one from home-cooked beans)
Salt, if necessary
A few tablespoons of crumbled Mexican queso fresco or other fresh cheese such as feta or goat cheese
A handful of cilantro leaves, for serving
1/2 cup Mexican crema or crème fraiche (or sour cream or Greek-style yogurt that's been thinned with a little milk), for serving
Turn on the oven to 425 degrees and adjust the shelf to the middle level. Trim the stem end from the eggplants and cut them into rounds about 1/2 inch thick.  (If there are any that are larger than a couple of inches in diameter, cut them into half moons.) Scoop them into a bowl, drizzle them with the oil and about 6 tablespoons of the salsa, toss to coat evenly, then spread onto a rimmed, lightly oiled baking sheet.  Slide into the oven and roast, turning periodically with a metal spatula, until the slices are beginning to brown and are soft throughout, about 20 minutes.
While the eggplant is roasting, measure the beans into a blender or food processor (including their liquid).  Blend until smooth, adding a little more bean broth (or water) if necessary to get them to move through the blades.  Scrape into a small (1- to 2-quart) saucepan and stir in enough bean broth or water to give the puree the consistency of a cream soup, usually about 1/4 cup.  Stir in the remaining 3 tablespoons of the salsa and warm over medium-low heat.  Taste and season with salt if you think it needs it (depending on the saltiness of the beans, it may not).
When the eggplant is ready, spoon a portion of the warm sauce on each dinner plate and top with a portion of eggplant. Sprinkle with the añejo cheese, some cilantro and a drizzle of crema, and you're ready to eat. 
Sweet-Sour Dark Chipotle Seasoning
Place 2 cans chipotle chiles en adobo (canning liquid and all), 2 tablespoons molasses, 1/4 cup balsamic or sweet sherry vinegar, 1/4 cup (packed) brown sugar and 1/2 cup water in a blender and process until smooth. Scrape into a small saucepan set over medium heat and bring to a brisk simmer, then turn the heat to medium-low and continue simmering, stirring regularly, until the mixture is the consistency of tomato paste, about 30 minutes. Remove from the heat and stir in 1/4 cup soy sauce. If necessary, add some water, a splash at a time, until the salsa is the consistency of runny ketchup. Cool, taste and season with salt—it may not need any, depending on the saltiness of your soy sauce. 

Peach Basil Margarita
Basil Salt or coarse (kosher) salt (see below)
1 lime wedge
2 fresh basil leaves
1 1/2 ounces 1000% blue agave blanco tequila
3/4 ounce fresh lime juice
1/2 ounce triple sec
1 ounce Peach Puree (see below)
3/4 ounce Basil Syrup (see below)
6 to 10 ice cubes
For the Basil Salt: Pull the leaves from about 10 sprigs of fresh basil (you'll have about 2 loosely packed cups). Line a rimmed baking sheet with a silicon mat or parchment paper and spread the leaves out on it in a single layer. Heat your oven to its lowest setting (160 degrees is ideal), the slide the basil and heat it—really, it's dehydrating—until the leaves are dry, about 30 minutes. (If your oven has a convection fan, use it here.) Cool. 
Using a small food processor, an electric spice grinder or mortal and pestle, coarsely pulverize the dried basil (you'll get about 2 tablespoons), then stir into the coarse salt. 
For the Basil Syrup: Measure 1 cup sugar and 1/2 cup water into a small saucepan and set over medium heat. Add the basil and bring to a simmer. Cook for 2 minutes, then remove from the heat. Cool and strain. 
The syrup will keep for several weeks in the refrigerator, tightly covered. (Drizzle any leftovers over halved peeled peaches and roast at 450 degrees until tender and browned: incredible with ice cream. 
For the Peach Puree: Peel and remove the flesh from the pits of 1 pound (3 or 4) ripe peaches, then roughly chop into 1-inch pieces (you'll need about two cups). Scoop the fruit into a food processor or blender, add about 2 tablespoons sugar, cover and process until completely smooth. Pour into a storage container (strain the mixture if you think there may be unblended bits), cover and refrigerate until you are ready to use, up to 3 days. 
Spread the Basil Salt on a small plate. Moisten the rim of a 6-ounce martini glass with the lime wedge and upend the glass onto the mixture to crust the rim. In the bottom of a cocktail shaker, muddle the basil leaves with a cocktial muddler or a wooden spoon until roughly mashed. Add the tequila, lime juice, triple sec, Peach Puree, Basil Syrup and ice. Cover and shake vigorously until frothy and cold; tiny ice crystals will appear in the drink after about 15 seconds of shaking. Strain into the salt-crustes martini glass and serve immediately. 
---
Related stories: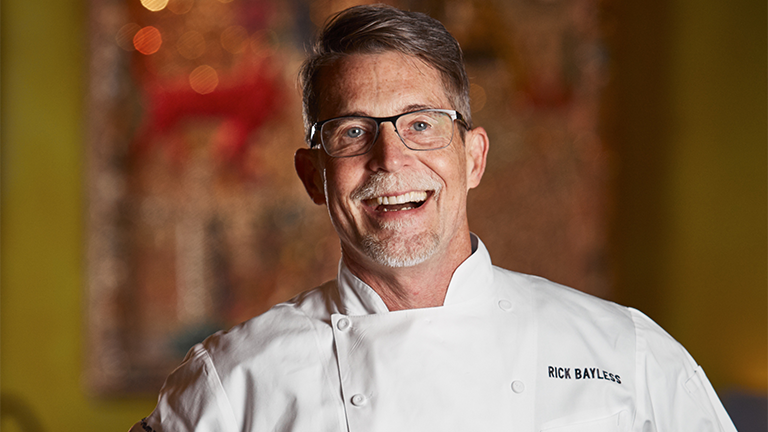 Chef Rick Bayless Dishes on Winning Julia Child Award
July 12: Chef Rick Bayless prepares a drink, makes a dish and talks about his new restaurants and winning the prestigious Julia Child Award.
---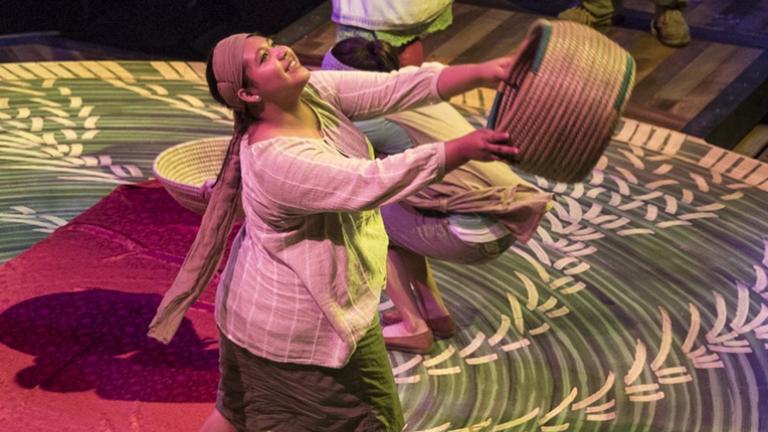 'FEAST' Serves Up Chicago's Diverse Food Culture, Cooking Traditions
May 12: A critically acclaimed stage production by Albany Park Theater Project makes its television debut on WTTW Thursday night.
---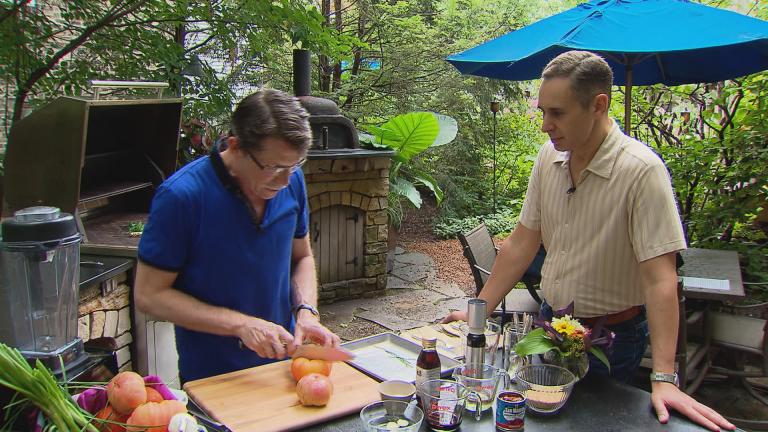 From Farm to Table with Rick Bayless
Aug. 28, 2014: Rick Bayless takes Eddie Arruza on a tour of his Bucktown garden.
---