Rick Bayless takes Eddie Arruza on a tour of his Bucktown garden. Bayless uses many of the crops he grows in his backyard in his restaurants and at home. With fall around the corner, Bayless prepares a seasonal dish using vegetables from his garden. 
Below, a recipe by Bayless for Four-Seasons Grilled Salad with Smoky Knob (or Green) Onions and Sesame.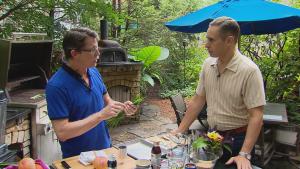 Four-Seasons Grilled Salad with Smoky Knob (or Green) Onions and Sesame
Ensalada a la Parilla "Cuatro Estaciones" con Cebollitas Ahumaditas y Ajonjolí
In this recipe, I'm going to describe how I make delicious, go-to, year-round dressing, one that starts by developing flavor with green onions (and hopefully you'll find the ones common in Mexican groceries and farmers markets, the ones we call knob onions). The white part is used fresh for sparkle, the green part turns sweet and smoky when grilled. Add a chipotle chile, some toasty-nutty sesame seeds and sesame oil, a little dark vinegar and a few cloves of sweet garlic, and you have a dressing that makes anything you've grilled—vegetables, fish, chicken—taste even better. And yes, I grill in the winter, but usually on a grill pan in the warmth of my kitchen. That's when I make this salad with the ever-available chayote. In summer, I grill tomatoes outside as the salad's main focus. In fall, it's beets (sometimes I use sliced butternut, too). And in spring, though it doesn't sound very Mexican, I fire up the charcoal and make this salad with our local asparagus. When the salad needs to play a role larger than "side dish," I add a big handful of coarsely crumbled Mexican queso fresco or panela, goat cheese or tofu. If greens are an essential when you think of salad, nestle the grilled vegetable in a bed of watercress, baby wild arugula, torn frisée, mesclun greens or the like. Though some of you may cry "cultural whiplash" when I say this, any of these versions (with or without the cheese/tofu) is delicious over steamed rice.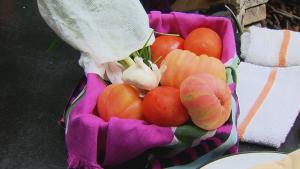 Ingredients:
3 garlic cloves, peeled
1 to 2 chipotle chiles en adobo, stemmed, seeded and roughly chopped
1/2 cup vegetable or olive oil, plus a little extra for grilling the vegetables
2 teaspoons toasted sesame oil
1/4 cup balsamic or sweet sherry vinegar (or 3 tablespoons red wine vinegar plus 1 tablespoon Worcestershire Salt)
Salt
2 knob (or green) onions (ones with a 1-inch bulb have the best taste and texture in my opinion), roots and withered tops trimmed off, wilted outer leaves removed
2 pounds firm-ripe round tomatoes, cored and sliced 1/2-inch think (or 2 pounds any color beets, peeled and sliced 1/4-inch thick, or 1 pound asparagus, woody bottom sections cut off, or 2 pounds (about 4 medium) chayote, peeled (if you wish), pitted and sliced 1/4-inch thick)
Place the garlic in a small, microwave safe dish, cover with water and microwave at 100 percent for 1 minute. In a blender, combine the garlic, chipotles, oils and vinegar (and Worcestershire if you're using it).  Blend until smooth and pour into a small bowl.  Taste and season highly with salt, usually a scant teaspoon. 
Heat one side of a gas grill to medium-high and the other side to low. Or light a charcoal fire and let it burn until the charcoal is medium-hot and covered with white ash; bank most of the coals to one side. (If you're using a grill pan, heat it over medium-high and cook the vegetables until richly grill-marked, then transfer them to a rimmed baking sheet in a 325-degree oven to finish cooking). Cut the green/knob onions in half where green meets white. Thinly slice the white, scoop into a small bowl and stir in the dressing. Using a brush or an oil sprayer, lightly oil the onion tops and both sides of each vegetable slice.  First, grill the onion tops, starting them on the hot side of the grill to brown, then moving them to the cooler side to coast along to a beautifully soft sweetness. Chop them into 1/4-inch pieces and add to the dressing bowl. Next, sprinkle both sides of the vegetable pieces with salt and grill them: I grill the tomatoes on the hottest part of the grill, about 2 minutes per side, making sure they're well oiled (if the tomatoes are soft-ripe, they are harder to work with on the grill). I grill all the other vegetables until richly grill-marked on both sides, then I move them to the cool side of the grill and let them cook until as soft as I like.  
Arrange a portion of the grilled vegetable (warm or cooled to room temperature) on each of four plates. Stir the dressing and onions well and spoon on as much as you like (cover and refrigerate the rest for another salad). Sprinkle with the toasted sesame seeds and you're ready to eat. 
---