Dorothy Brown declared victory in the Cook County Circuit Court Clerk race Tuesday night.
Cook County Circuit Court Clerk
Despite an apparent federal investigation and a lack of major endorsements, incumbent Dorothy Brown declared victory in the Cook County Circuit Court Clerk race Tuesday night, winning 47 percent of the vote with 99 percent of precincts reporting.
The Democratic Party pulled its support of Brown in October after reports surfaced that her cellphone had been seized by FBI agents as part of a federal investigation, opting instead to endorse 8th Ward Ald. Michelle Harris. Brown's other opponent, lawyer and civil rights advocate Jacob Meister, received major endorsements from both the Chicago Sun-Times and Chicago Tribune.
But those endorsements evidently didn't make a difference at the polls on Tuesday.
In a campaign speech Tuesday night, Brown said, "We didn't have the millions of dollars. We didn't have the big donors. But I had my husband," according to reporting from the Sun-Times.
---
As of 11:59 p.m. Tuesday, Harris trailed Brown with just over 30 percent of the vote; Meister with 22 percent. Republican candidate Diane Shapiro ran unopposed. 
The clerk's office is responsible for maintaining court records, and processing fines and bail bonds.
During her victory speech Tuesday evening, Brown responded to news that a former employee in her office pled guilty to lying to a federal grand jury. 
---
In a forum hosted by Carol Marin on "Chicago Tonight" last week, Meister accused Brown's office of being incompetent and disorganized.
"It is an absolute mess," Meister said. "Files are lost constantly and you can't find them because we have this big behemoth of a paper-based system with these massive warehouses all over the county ... other systems don't have these problems." 
---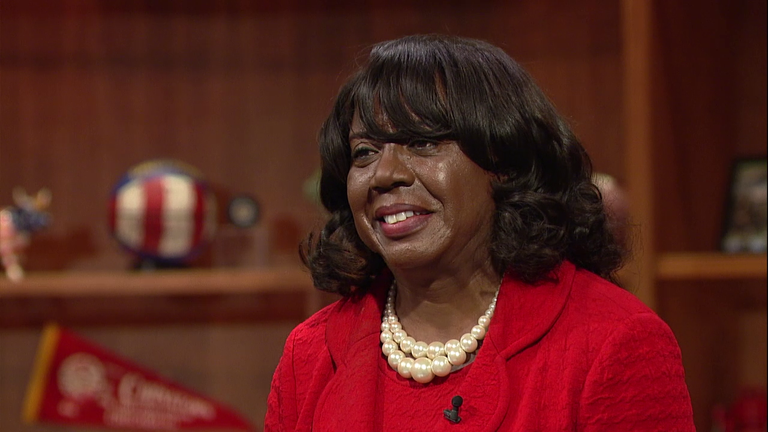 Read: Dorothy Brown Won't Back Down Despite Losing Democratic Endorsement
---
When asked how she expected voters to receive her in light of the federal seizure of her phone, Brown claimed the investigation was a non-issue. 
"I don't know why you say we're under federal investigation. I haven't been interviewed, I received my cellphone back. We know that we have done things properly," said Brown, who went on to refute accusations of patronage in her office.  
Harris has served as 8th Ward Alderman since 2006 and previously acted as secretary to the Cook County Board of Commissioners. Since announcing her intention to run for Clerk of the Circuit Court, the alderman had received flak from both the Sun-Times and Tribune editorial boards, which say she has too little management and legal experience to tackle the position. 
COOK COUNTY CLERK OF THE CIRCUIT COURT
Democratic
     Votes     
    Percentage     

Jacob Meister
212,287
22%

Dorothy A. Brown
461,192
47.5%

Michelle A. Harris
296,226
30.5%
Republican
Votes
Percentage

Diane S. Shapiro
201,644
100%
Percentage reporting: 99%
---
Cook County Recorder of Deeds
Recorder of Deeds Karen Yarbrough was unopposed in the primary. Yarbrough has held that office since 2012, when she ran in the wake of longtime recorder Gene Moore's retirement, soundly beating her Republican opponent.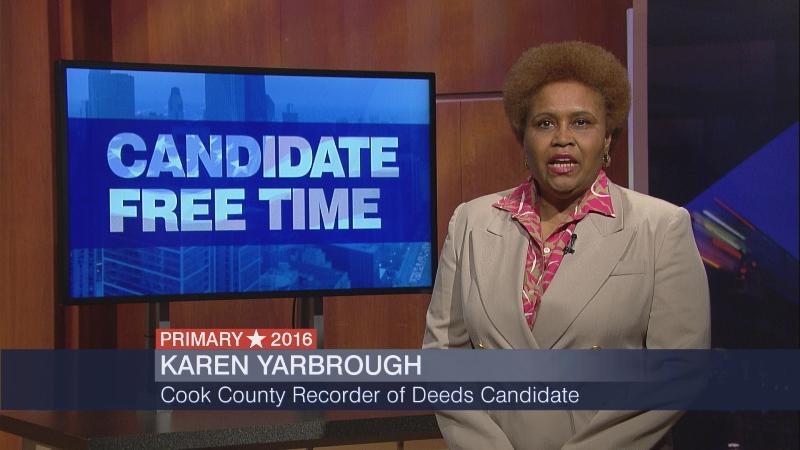 Karen Yarbrough participated in WTTW's Candidate Free Time ahead of the March primary.
Yarbrough, a resident of Maywood and former state representative from the 7th District, faced controversy in September after the Cook County Board approved a $90,000 settlement to a former employee who claimed Yarbrough wrongly fired him for political reasons. 
At the time, a spokesman for Yarbrough claimed it was cheaper to settle the case than fight it out in court, but maintained they had done "nothing wrong," according to reporting from the Chicago Tribune.  
In 2013, Yarbrough faced accusations of nepotism. A Cook County Inspector General report stated that Yarbrough's hiring of her niece as legal counsel was a violation of the Cook County ethics ordinance which prohibits hiring family members.
The report recommended Yarbrough fire her niece, which she refused to do at the time, according to reporting from the Huffington Post. Yarbrough's niece has since returned to private practice. 
In a statement to "Chicago Tonight," Yarbrough addressed what she thought to be the largest issue facing the county.
"The most pressing issue facing Cook County is how to deliver needed government services at a time when demand is increasing, and economic sluggishness is reducing resources to fund these services," Yarbrough said. "I am doing my part by streamlining my office's workflows to continue to deliver the level of service the public demands, and to do so by reducing my workforce through retirements and cutting unneeded spending." 
Most of the state's 102 counties don't have a recorder's office. In 2011, Cook County Commissioner John Fritchey moved to eliminate the recorder of deeds office, proposing it be merged into the County Clerk's office to save the county $1 million annually. 
---
Related stories from 'Chicago Tonight'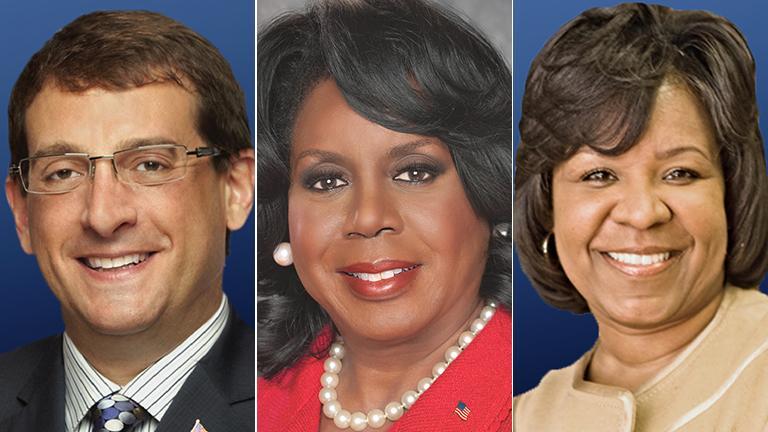 Forum: Cook County Circuit Court Clerk Candidates
The Democratic primary for Cook County Clerk of the Circuit Court got unexpectedly heated after reports emerged that the office was under FBI investigation. The Cook County Democratic Party dropped its endorsement of incumbent Dorothy Brown, who was first elected in 2000.
---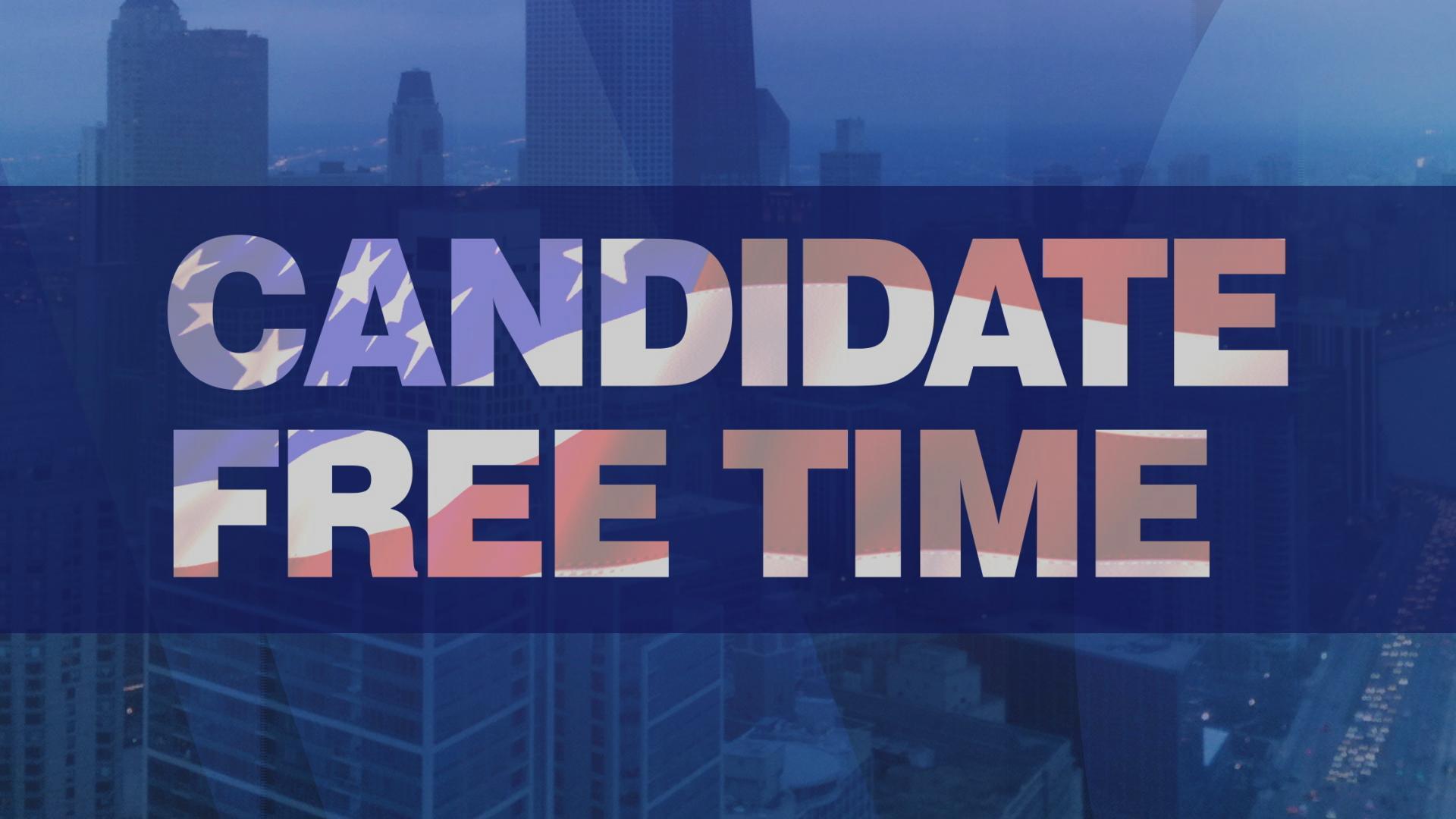 Voters' Guide to the Cook County Primary
Learn more about the candidates running for Clerk of the Circuit Court and Recorder of Deeds, including candidate bios, statements and video messages.
---
Meet more candidates vying for nominations in Tuesday's primary election, watch forum videos and more.
---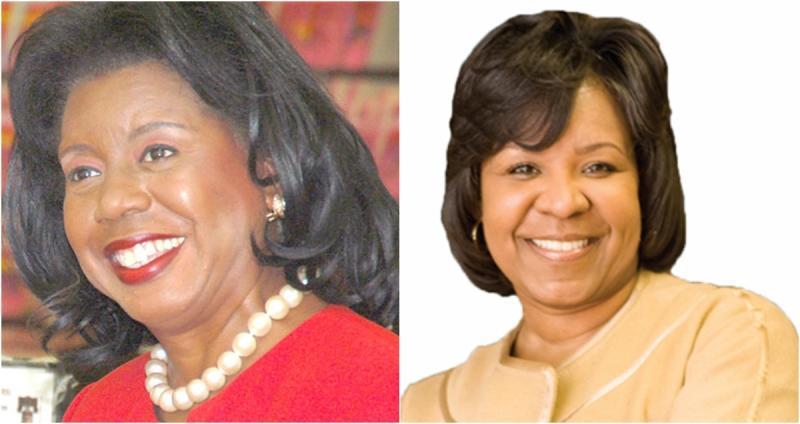 Democrats Drop Endorsement Despite Dorothy Brown's Plea; Harris Endorsed
Oct. 23, 2015: Cook County Democratic Party officials have voted to withdraw their support of Circuit Court Clerk Dorothy Brown after reports surfaced that FBI agents seized her cellphone as part of a federal investigation. 
---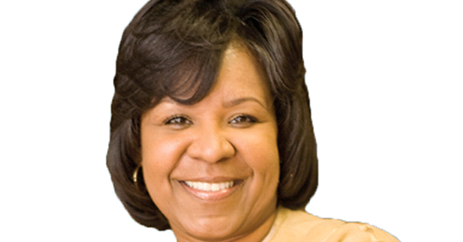 Is Alderman Harris Playing by the Rules?
Oct. 17, 2014: A top Emanuel ally and chairman of the powerful Committee on Committees, Rules and Ethics on City Council is in hot water with Illinois Attorney General Lisa Madigan's office. 
---