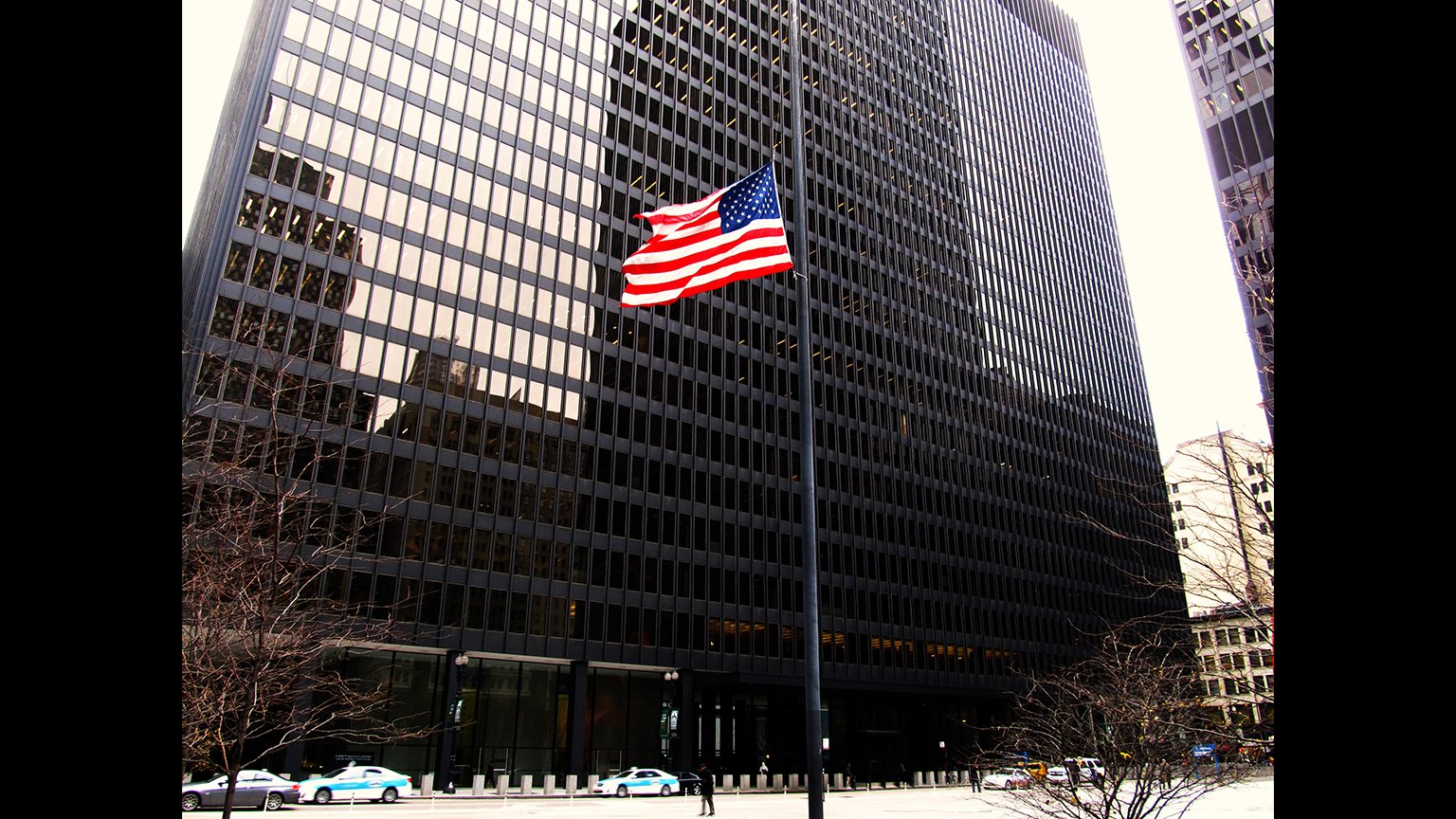 Dirksen United States Courthouse (Ken Lund / Flickr)
A former associate of Cook County Circuit Court Clerk Dorothy Brown will spend the next two years in prison.
Beena Patel, 58, was handed that sentence Thursday after she was convicted earlier this year of making false declarations to a grand jury that had been investigating her boss and her office for allegedly running a pay-to-play scheme.
In the government's sentencing memorandum, Assistant U.S. Attorneys Heather McShain and Ankur Srivastava argued that Patel lied under oath twice, which effectively "threw a wrench in the wheels of justice and ground them to a halt."
Patel – who worked in the clerk's office for some 30 years – had been called to testify in 2015 about allegations that individuals were purchasing jobs and promotions at Brown's office. But rather than assisting, federal prosecutors said she "willfully obstruct(ed)" that process by lying twice.
"Defendant not only had answers to the questions the grand jury was asking, but had information that went to the very heart of its investigation," McShain and Srivastava wrote in the sentencing memorandum. "Witnesses who lie during the course of a grand jury investigation not only violate their solemn oath to tell the truth, but also impede the grand jury's ability to gather evidence."
Patel had sold campaign fundraiser tickets on Brown's behalf to colleagues in the office and knew that other employees did the same, prosecutors alleged. But when she was asked about this during her testimony, she denied both selling the tickets and knowing that other employees had done anything similar.
When she was subpoenaed to testify a second time in 2016, Patel again lied, prosecutors said. She denied having recent conversations with another employee who'd loaned $15,000 to a company associated with Brown and her husband, and denied contacting the clerk's chief of staff regarding a promotion opportunity for another clerk's office employee whose brother had donated $10,000 to Brown's campaign.
Prosecutors had recommended a sentence of 30 months in prison.
Patel's attorney Donald Angelini argued that three years of probation was the appropriate sentence, pointing to his client's lack of criminal record and the impact this conviction could have on her ability to eventually retire.
"With or without receiving a sentence that includes a period of incarceration, the seriousness of this offense is particularly destructive for Beena Patel, because the felony conviction will undoubtedly affect Beena Patel's ability to realize her pension," he wrote in his sentencing memorandum. "This is a debilitating circumstance of the crime for which Beena was convicted."
Brown, who is not running for reelection, has not been charged with any crimes.
Contact Matt Masterson: @ByMattMasterson | [email protected] | (773) 509-5431
---
Related stories:
Cook County Circuit Court Clerk Dorothy Brown Won't Seek Re-Election
Dorothy Brown Announces 2nd Bid for Chicago Mayor
Retired Police Commander Sentenced to Probation for Social Security Theft
---