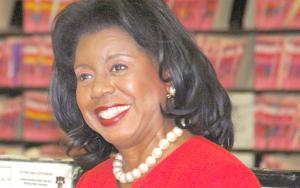 Cook County Circuit Court Clerk Dorothy Brown Cook County Democratic Party officials have decided that Dorothy Brown is out and Ald. Michelle Harris (8th Ward) is in as their endorsed candidate for Cook County Circuit Court Clerk. County Democratic committeemen today voted unanimously to withdraw their support of current circuit court clerk Brown for re-election after reports surfaced that FBI agents seized her cellphone as part of a federal investigation.
"Many committeemen felt that her being on the ticket would hurt the entire Democratic ticket and the credibility of the Cook County Democratic Party," said county party chairman Joe Berrios.
Harris says she doesn't take the support for granted and wouldn't have run without the party's backing.
"What I want to do is bring honesty and integrity back to the county," she said, defending her candidacy for the position despite not having a law background.
"The clerk is the official record keeper for the court system," she said. "I don't see where it says you need a law degree to keep records."

"It's really unfair to rescind an endorsement based on innuendo, especially of a 15-year incumbent who has operated with loyalty."
–Dorothy Brown
---
The 80 committee members made the move after Brown pleaded with them to continue supporting her, saying she "so richly deserves" it.
"I have maintained integrity in my office and worked very hard to earn your support," Brown said to them.
As for the media reports citing that she is under federal investigation for an allegedly corrupt land deal, Brown called them "unsubstantiated" and said she believes that the party would be setting a bad precedent by withdrawing its support of her "before all the facts came out."
"Investigations are started all the time. Many of you have probably had investigations going related to you," Brown said to the assembled Democratic Party officials, which also included state party chairman Michael Madigan, Cook County Board President Toni Preckwinkle, several Chicago aldermen, and suburban township officials.
Brown acknowledged that the FBI seized her cellphone, but said she has no reason to believe she is the target of their investigation. She said they didn't raid her house, as news reports have indicated, but gave her phone to a federal agent on a "public sidewalk."
"It's really unfair to rescind an endorsement based on innuendo," Brown said. "Especially of a 15-year incumbent who has operated with loyalty."
Watch Brown's statement below.
---
Attorney Jacob Meister and activist Tio Hardiman also made their pitches for the party's endorsement.
"Don't vote for the candidate under a cloud," said Meister. "Or the one who was pushed in to seize political opportunity."
Brown will continue to be a candidate for re-election, she says. But without the party's support, she loses an army of petition gatherers and campaigners that can be crucial in a primary.
Harris, a close ally of Mayor Rahm Emanuel and chairwoman of the powerful City Council Rules Committee, says she has not yet decided whether or not she'll resign as alderman to run.
"Public trust in government is severely fragile," she said. "The people of Cook County deserve to have their trust restored."