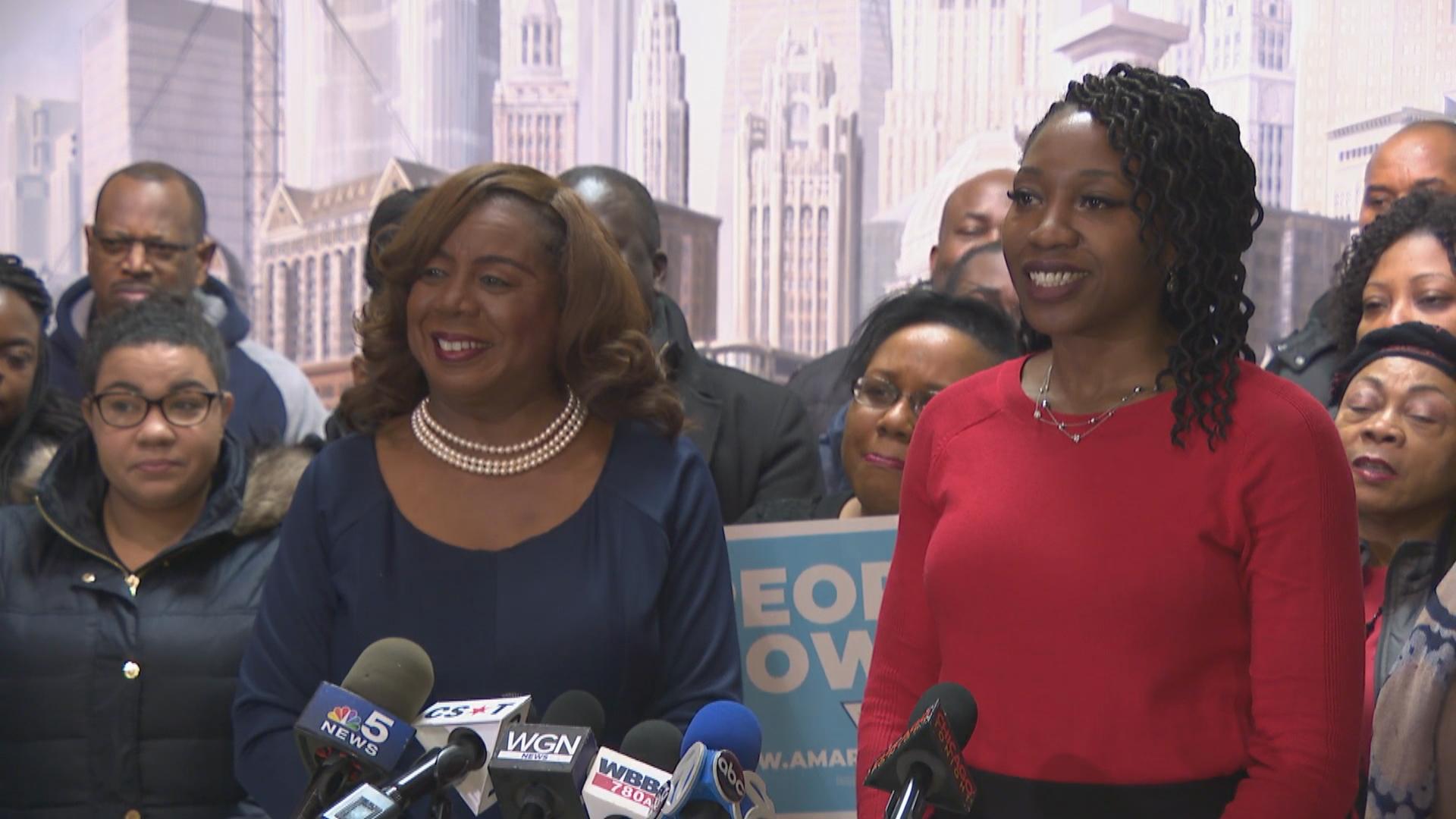 Cook County Clerk Dorothy Brown announces her endorsement of Amara Enyia for Chicago mayor.
Former mayoral candidate and Cook County Clerk Dorothy Brown announced Thursday that she is endorsing activist, organizer and policy consultant Amara Enyia for mayor.
Late last month, Brown was removed from the ballot after Chicago's Board of Election Commissioners decided she did not submit enough valid signatures to qualify for mayor. There are 14 candidates running for mayor in the Feb. 26 election, including Enyia.
"The race for mayor for the city of Chicago is very serious. The person that becomes mayor will make the difference in the lives of so many people. We can either have a mayor that continues business as usual or we can have a mayor that is for the people," Brown said. "It's time for Chicago to have a mayor that believes in fairness, justice and equity for all people. … I have decided that the best person to take this city forward and to bring true change to the city of Chicago for all of its people is Dr. Amara Enyia."
Citing Enyia's work as a public policy consultant and her multiple academic degrees, Brown said she is qualified for the job. "The breath of fresh air she brings to the political climate of Chicago will give little boys and little girls and adults alike the hope that is so needed," Brown said. "I believe Dr. Amara Enyia truly cares about the citizens of Chicago, and most importantly, she is not a part of the Chicago machine."
Brown said she spoke with several other candidates running for mayor but chose to back Enyia because the two share a vision for the city's future.
Enyia said she was honored to have Brown's endorsement. "Today is an important day in our city. We know the grave challenges that we face," Enyia said. "There is absolutely no question that our city must break away from the status quo. The status quo of establishment politicians have gotten us to where we are. … Clerk Brown knows the same politicians that are part of the problems in the city will not be the ones to bring us into the future."
Brown, who has served as Cook County Clerk for nearly 20 years, said the endorsement was not a "one-off," and that she has a "huge base of support" to lend to Enyia. "I will be going out as a surrogate for (Enyia) her and speaking for her," Brown said. "We're going to the mat with Amara Enyia."
While other mayoral candidates have come under fire for connections to Ald. Ed Burke in the wake of his corruption charge, Brown's time in office has been dogged by a federal investigation that's led to two charges against employees, accusations of jobs for sale, and orders from a judge to modernize the electronic filing system for Cook County courts.
When asked about the ongoing investigation of Brown, Enyia said, "I respect process and rule of law and what comes out of it." Asked if she was concerned about the outcome of an investigation into Brown, Enyia said she was worried about how "crucial" the mayoral election is. "We have several candidates already in the race that have significant established ties to corruption. … And those candidates are being labeled as frontrunners," Enyia said. "I'm worried about the future of our city and for any individual who shares our values."
Contact Kristen Thometz: @kristenthometz | [email protected] | (773) 509-5452
---
Related stories:
When Does Early Voting Start for Chicago's Feb. 26 Election?
Spotlight Politics: Mayoral Candidates Scramble Amid Burke Fallout
---