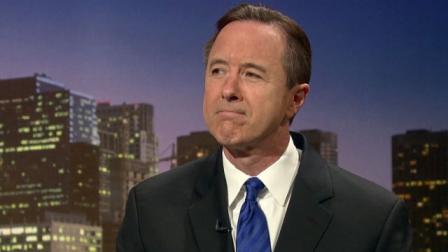 Forrest Claypool Chicago Tonight has learned that the new head of the Chicago Public Schools, Forrest Claypool, sends his child to Francis W. Parker, an exclusive, private school in Lincoln Park. Claypool likely would have made the decision to enroll his child months before Mayor Rahm Emanuel tapped him to take over the ailing school system. The CPS Board of Education approved Claypool's appointment to the top job in late July. Parker's deadline for incoming high school students to confirm their enrollment is in March.
Chicago Tonight has reached out to Claypool's office for comment and has not yet received a response.
During a Sept. 3 press conference regarding the controversy over Dyett High School, a reporter asked if Claypool believes it's relevant for CPS parents to know where his children attend school. "No," he responded. "As I said before, my kids have gone to both public and private school."
Mayor Rahm Emanuel faced similar questions during his first term. His three children have attended the University of Chicago Laboratory Schools in Hyde Park, as do those of CPS Board Vice-President Jesse Ruiz. U.S. Education Secretary Arne Duncan also sent his children to the Lab School when he ran CPS, and reportedly will again when his family returns from Washington, D.C. The children of President Barack Obama currently attend the private Sidwell Friends School in Washington, D.C.
Chief Education Officer Janice Jackson's daughter attends Mark Skinner Elementary School, a Level 1 – or top-rated – CPS school.
When asked by Carol Marin during a July 15 interview on Chicago Tonight if sending his children to a private school is a statement on the quality of the city's public schools, Ruiz said it is not.
"It sends a message that there should be options for all children," Ruiz said. "One of the reasons I dedicate so much of my time to public education is that whether you can afford the options or not, you should have the same high-quality options. And we have those high-quality options in Chicago. Some of the best schools in the nation are Chicago public schools. So whether or not you can choose to spend your money on paying for those options or not, you should have them available, and that's what I'm dedicated to doing—to making sure they're available."
In the past, the mayor has admonished reporters for questioning where he sends his children to school.
"The decision I'm going to make as it relates to my kids is one I'm going to make as a father, and not as a mayor," he told NBC Chicago's Mary Ann Ahern in 2011, shortly after taking office. "Because Mary Ann, they're not public tools. Let me break the news to you, my children are not in a public position. The mayor is."
As the district begins the 2015-2016 school year under the cloud of financial instability, lowered credit ratings, a $480 million budget hole that the district expects the state to fill, pension insolvency, an expired teacher contract under negotiation, Claypool has repeatedly touted the academic progress students have made under the Mayor's leadership, including record graduation rates, higher ACT scores and freshmen on-track rates.