Principals at Chicago Public Schools are finally getting a look at their budgets for the upcoming school year that starts in September. The district says it is releasing $31 million less to schools this year because of declining enrollment and geographic shifts. It also blames Springfield for failing to solve the pension crisis and fix the structural deficit. District officials also say the state is giving the district millions of dollars less this school year.
The CPS budget breakdown shows that 238 schools will receive more funds than they did in fiscal year 2015, and 416 schools will receive fewer funds. The student-based budgeting rate will remain the same as it did in 2015. Charters and traditional schools throughout the district will be affected.
In a news release issued Monday by CPS, Jesse Ruiz, Interim CPS CEO, said that the school budgets "reflect the reality of where we are today; a budget deficit of more than $1 billion; the demands of a broken pension system; and a state education funding that is near last in the country."
He added that CPS "will continue to work with our partners in Springfield on a comprehensive solution, but in the meantime we have to prepare for the upcoming school year. We have tried to limit the impact on our classrooms, but we sympathize with teachers, parents and principals whose schools will be seeing fewer resources than last year."
We hear from principals and the Chicago Teachers Union on what they think these budgets mean for them, and their students.
CPS also released on Monday a citywide distribution map of funding. Click on the image to see a larger view.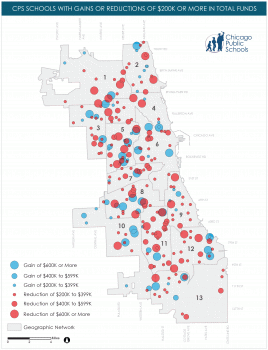 Map of gains and reductions in CPS funding.