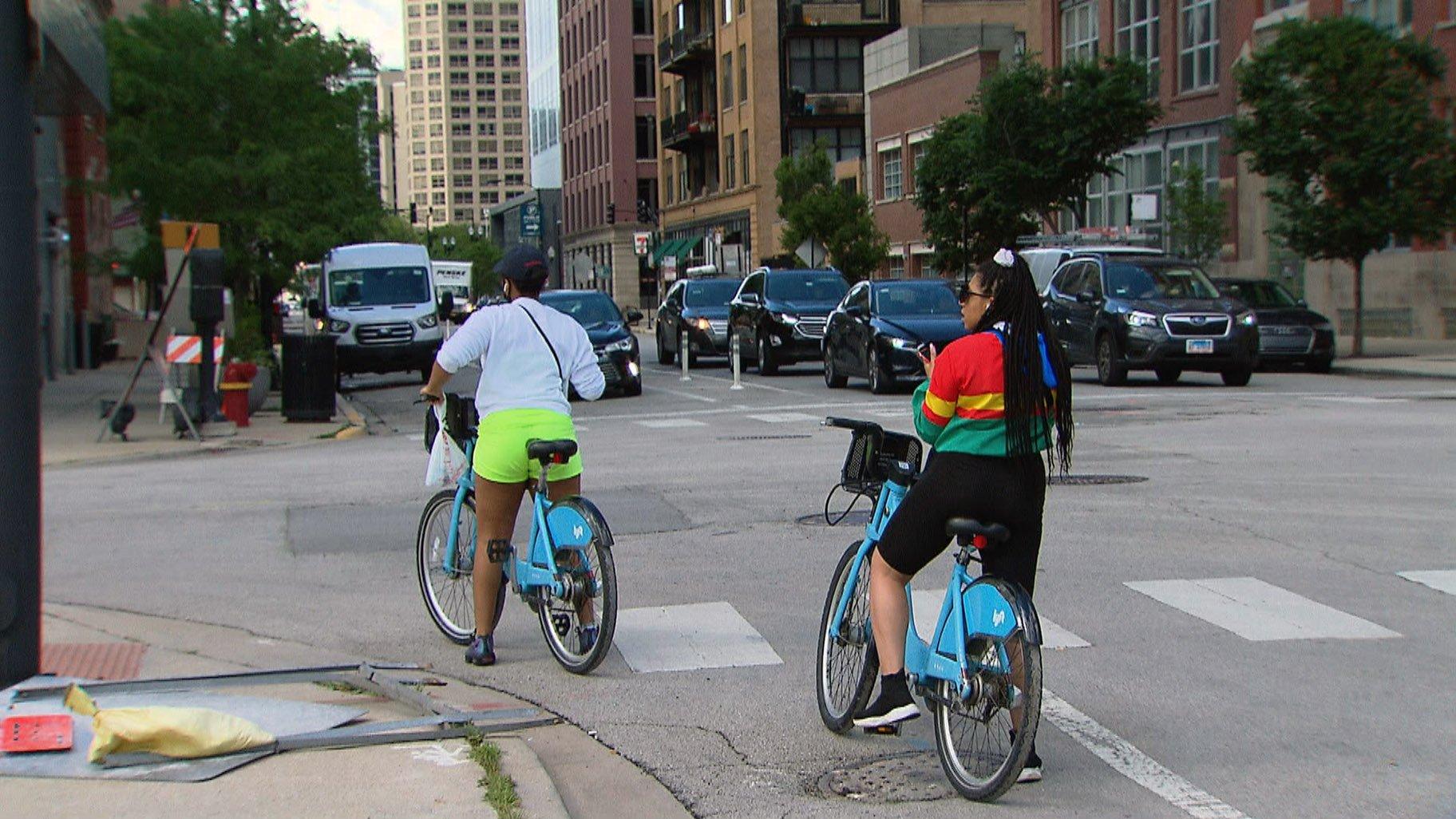 (WTTW News)
The owners of cars parked in bicycle and bus lanes downtown will get a ticket in the mail if a city camera snaps the infraction, as part of a pilot program approved Wednesday by the Chicago City Council.
Ald. Pat Dowell (3rd Ward) and Ald. David Moore (17th Ward) cast the only no votes.
Bicycle safety advocates have been actively pressing city officials to make Chicago's streets safer for bicyclists and pedestrians after a spate of fatal crashes, including the one that killed Samuel Bell, 44, while riding a bicycle in River North in September and the one that killed 2-year-old Raphael "Rafi" Cardenas while he rode a scooter in Lincoln Square in June.
"Rafi Cardenas should be alive today," said Ald. Daniel La Spata (1st Ward) during the debate over the measure on March 4. "Sam Bell should be alive today. What we are doing today will help keep more people safe."
Designed to "create safer streets and a better transit experience," the new initiative is set to last two years, and would target scofflaws downtown between the lake, Ashland Avenue, Roosevelt Road and North Avenue. Those neighborhoods, which are some of Chicago's most dense, are often the most dangerous for pedestrians and bicyclists.
Drivers who park their cars in dedicated bicycle and bus lanes, as well as crosswalks, bus stops and no parking zones, will be ticketed if the infraction is captured by city cameras mounted on poles and on the front of buses and other city vehicles, officials said.
After the incriminating photo is reviewed by city staff — much like the speed violations captured by cameras mounted near schools and parks — the registered owner of the vehicle will get a ticket in the mail. Violators would get a warning in the 30 days after the cameras are turned on, and the first ticket for each driver would also serve as a warning, officials said.
A separate effort would use digital license plate readers to enforce parking restrictions in loading zones downtown and prevent drivers from parking in the spots too long — or without authorization, officials said.
The measure is the second effort by Chicago lawmakers to crack down on drivers who block bicycle lanes after the death of 3-year-old Lily Shambrook in June. After a ComEd truck parked in a bike lane forced her mother to go around the vehicle, a semi-truck struck the bike, killing the toddler, who was riding in a carrier on her mother's bicycle.
The City Council voted unanimously in December to give employees of the Department of Finance — not just members of the Chicago Police Department — the authority to order vehicles blocking the bicycle lane to be ticketed and towed.
City law also requires signs to be posted if a bicycle lane must be closed to allow permitted work to take place, warning bicyclists about the closure and telling drivers they must yield to those on two wheels.
Violating that provision could trigger fines of between $500 and $2,000, according to the ordinance. The fine for parking in bicycle lanes without causing a crash is $250.
The City Council also approved a measure authored by Ald. Matt Martin (47th Ward) that requires the Chicago Department of Transportation to incorporate efforts to protect pedestrians, cyclists and transit riders into major projects and make those standards part of every project.
That measure also requires the city's staff to annually update the City Council on safety improvements.
Contact Heather Cherone: @HeatherCherone | (773) 569-1863 | [email protected]
---