Video: Bike advocate Sz Donnelly along with Marina Ross and Henry Cardenas, parents of 2-year-old Rafi Cardenas, address the crowd at a walk-and-roll rally for cyclist and pedestrian safety that marched from Lincoln Square to Uptown on Sunday morning. (Nick Blumberg / WTTW News)
---
Cyclist and pedestrian safety advocates, community leaders and residents gathered Sunday morning to mourn two toddlers recently killed by drivers on Chicago streets – and to demand the city make meaningful improvements to its infrastructure.
The walk-and-roll rally began at Leavitt Street and Eastwood Avenue in Lincoln Square, where 2-year-old Raphael "Rafi" Cardenas was struck and killed by a driver June 2 while he was crossing the street on a scooter. At last report, the driver has not been cited.
"This is our home. This is where we should feel safe, where our children should be able to play, where we should be able to raise our families, where anyone should be able to take a stroll or a bike ride or ride their scooter without fearing the worst," said Rafi's father, Henry Cardenas. "It's evident that our streets are not safe."
"In times of trauma and grief, we ask ourselves so many questions. We search for answers in situations where there may not be any. In spite of that, we must seek out opportunities where we can enact change," said Rafi's mother, Marina Ross.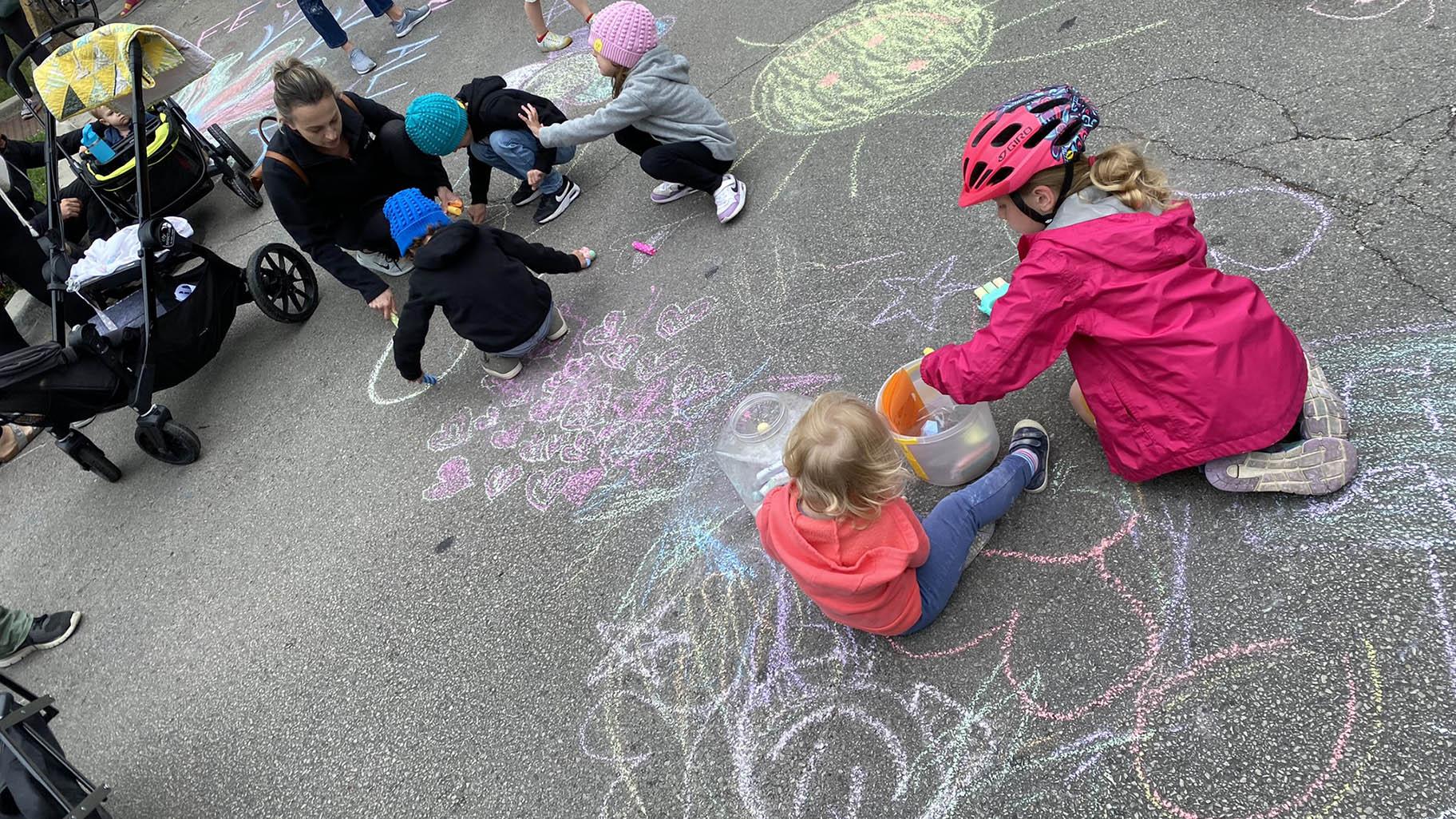 Children draw chalk art in the street on June 12, 2022, at the Lincoln Square intersection where 2-year-old Rafi Cardenas was killed by a driver while crossing the street. (Nick Blumberg / WTTW News)
Organizers of Sunday's event say the city has failed to make streets safe for all road users, citing a disjointed network of inequitably distributed bike lanes, many of which have only paint with no physical barriers protecting cyclists. Fourteen pedestrians and four cyclists have been killed so far this year, according to Streetsblog.
"This reality is sick," said Kyle Lucas of Better Streets Chicago. "Let me be clear: the city of Chicago is on the hook."
Advocates laid out the changes they want to see, including a network of connected, protected bike lanes; enforcement of drivers who illegally park and drive in bike lanes, including city employees; a cultural shift to get drivers to stop speeding and behave with care around cyclists and pedestrians; ensuring large trucks stay off neighborhood streets; and mandating side guards on trucks to prevent the kinds of fatal crashes that claimed 3-year-old Elizabeth Grace "Lily" Shambrook's life.
On Thursday morning, Lily was riding in a carrier on her mother's bike down Leland Avenue approaching Winthrop Avenue in Uptown, with her father biking behind them. A ComEd truck was illegally parked in the bike path, forcing Lily's mother to move into the road. The driver of a semi-truck struck the bike, throwing Lily from the carrier and underneath the truck. The driver of the ComEd truck was cited for parking in a bike lane and within 30 feet of a stop sign, according to police.
"I suspect that everyone here had an emotional reaction when they heard about these two awful events," said attorney Brendan Kevenides, speaking on behalf of the Shambrook family. "That emotion is important. It's hard to hold on to, but … hold on to that anger and energy and use it for positive change."
A memorial for three-year-old Lily Shambrook at the Uptown intersection where she was killed by a driver while riding in a carrier on her mother's bike is pictured on June 12, 2022. (Nick Blumberg / WTTW News)
After a series of speakers and two minutes of silence – one for each year of Rafi's life – the crowd set off on a 1.4-mile march to the site of the crash that killed Lily. Many attendees brought their children. Organizers led the crowd in chants of "paint is not protection, we want concrete!" and "neighborhoods not shortcuts, slow down!"
Ald. Matt Martin (47th Ward), U.S. Rep. Mike Quigley, and state Rep. and mayoral candidate Kam Buckner also joined the crowd. Martin, who represents the neighborhood in which Rafi was killed, pledged to continue his efforts to make the city's streets safer for all road users.
Ald. James Cappleman (46th Ward), who represents the neighborhood in which Lily was killed, was unable to attend. In a direct message posted by the cycling advocacy group Bike Lane Uprising, Cappleman said complaints about viaducts under DuSable Lake Shore Drive far outweigh the number of complaints he receives about bike safety.
Speaking with WTTW News by phone, Cappleman said some cycling advocates are calling on him to make changes that fall under the purview of the Chicago Department of Transportation.
"This tragic biking incident was worse than awful, and I can't imagine what the parents are going through," Cappleman said.  "(Some advocates) are demanding that I as an alderman make a lot of changes on Leland, (but) I have to abide by CDOT … we're not experts in traffic engineering."
Cappleman said he wants to see a "master plan" for an equitable, city-wide network of bike lanes crafted by policy experts. "I think aldermen should be left out of it … we're not experts in that."
Attendees at a safe streets rally adorned their bikes with calls for change on June 12, 2022. (Nick Blumberg / WTTW News)
At Leland and Winthrop avenues, the crowd finished its march and gathered in front of a sidewalk memorial to Lily for final words from organizers and three minutes of silence, one for each year of the toddler's life. Members of the crowd cried and comforted one another.
Advocates called on rally attendees to keep up the momentum, saying cyclist and pedestrian safety can no longer be overlooked by city officials or watered down by people who demand car-centric infrastructure.
"Safe streets should not be up to public opinion," said organizer Sz Donnelly. "We are not asking anymore. We are demanding our streets for our children."
Just hours after the conclusion of the rally, another pedestrian was killed in a crash in the North Center neighborhood after being hit by a car while crossing Irving Park Road, Ald. Martin shared on social media. The victim, an adult male whom Martin didn't identify, was a volunteer with the 47th ward office.
According to the Chicago Police Department, the 75-year-old man was hit the crosswalk shortly after 5 p.m. and taken to Illinois Masonic Hospital where he was pronounced dead. The 30-year-old man driving the car was cited for hitting a pedestrian in the roadway and for not having insurance. 
"I am devastated," Martin wrote. "He (the victim) was a kind and compassionate spouse, friend, and neighbor — someone who was deeply invested in his family and in our community, and who believed passionately in holding government accountable so that it could better serve the public."
Martin said he would continue to advocate for "holistic, systemic and better designed" pedestrian, bike and public transportation infrastructure "to ensure safe streets for all."
This article was originally published June 12. It has been updated.
Contact Nick Blumberg: [email protected] | (773) 509-5434 | @ndblumberg
---