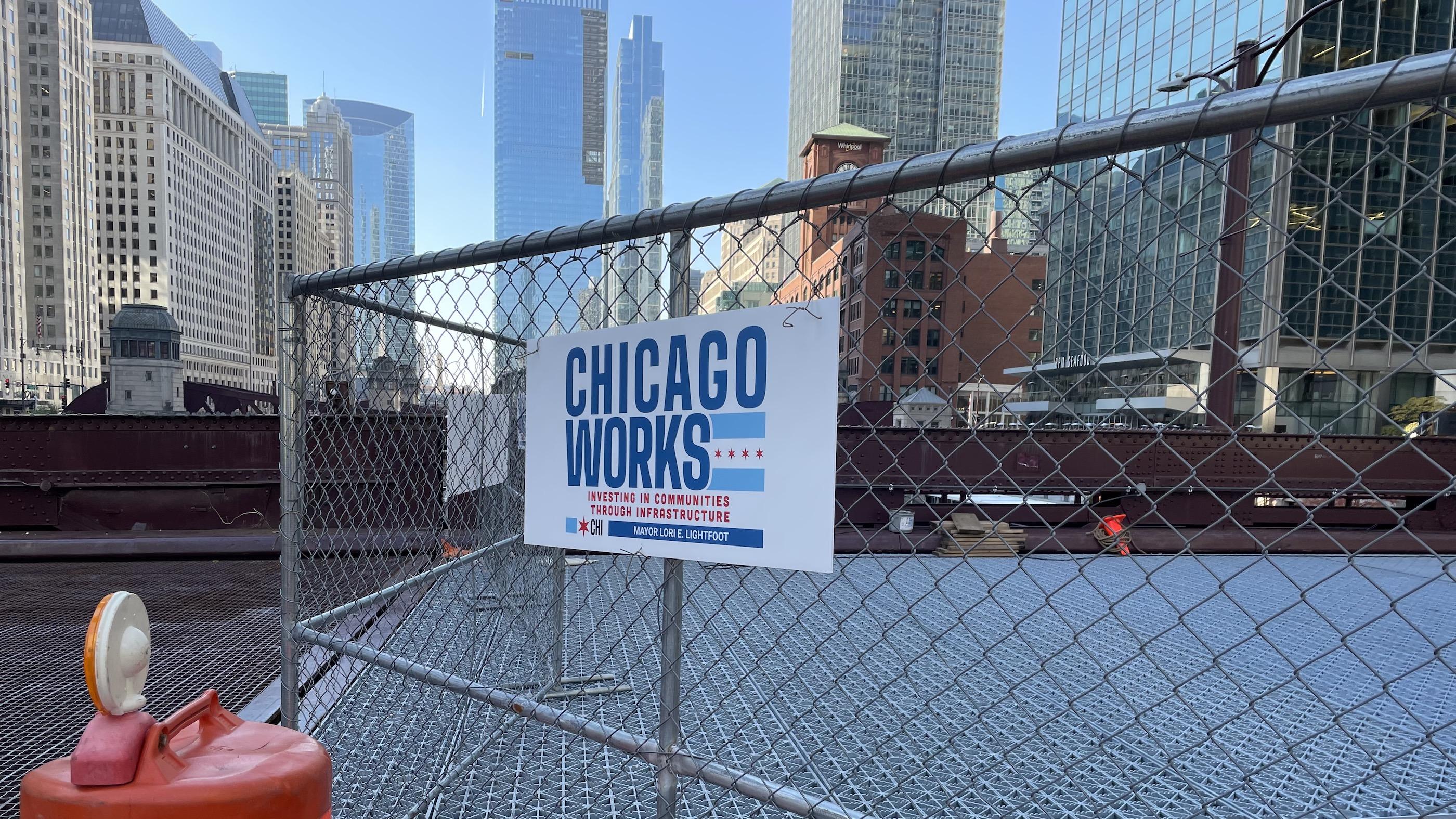 A Chicago Works sign hangs on the fence separating traffic from ongoing work to renovate the Dearborn Street bridge. (Heather Cherone/WTTW News)
The Chicago City Council is poised to approve a plan to borrow $1.85 billion to fund the second phase of Mayor Lori Lightfoot's plan to repair Chicago's crumbling streets, sidewalks, bridges and shoreline in 2023 and 2024, but it is unclear what the first phase of the city's infrastructure plan has accomplished.
In November 2020, the Chicago City Council approved the first phase of what Lightfoot calls Chicago Works as part of the city's 2021 budget and agreed to borrow $1.4 billion to fund work that was to be finished by the end of 2022. The City Council is scheduled to vote on whether to borrow $1.85 billion to fund the second phase of Chicago Works alongside Lightfoot's $16.4 billion spending plan for 2023.
The city's infrastructure plan — which pledged to spend $3.7 billion by 2026 — helped smooth the passage of the city's 2021 budget, which was ravaged by the economic catastrophe triggered by the COVID-19 pandemic. Lightfoot promised the plan would create 11,600 jobs between 2021 and 2026.
Representatives of the city's Department of Transportation and the Budget Office declined to provide WTTW News with a full breakdown of spending during 2021 and 2022 under the banner of Chicago Works.
Instead, officials detailed $77 million worth of programs, which they called "examples" of what the program has accomplished, but did not respond to repeated requests stretching over two weeks for a full accounting in advance of Monday's scheduled vote.
A proposal released in 2020 by Mayor Lori Lightfoot's administration on how it planned to spend $ 1.4 billion on infrastructure projects. (Source: City of Chicago)
Chicago property owners began paying back the debt the city took on to repair Chicago's crumbling streets, sidewalks, bridges and shoreline in 2022 with a property tax hike of $25.5 million. Lightfoot's 2023 spending plan does not include a tax hike to pay for the infrastructure plan's cost.
Chief Financial Officer Jennie Huang Bennett told Finance Committee members on Nov. 1 that the city has been able to keep its debt burden stable by improving its cash flow management — and winning an upgrade from a Wall Street ratings agency that will make it less expensive for the city to borrow funds.
When Lightfoot unveiled the second phase of her infrastructure plan at a news conference on Oct. 18, she declared the effort's first two years a "success" that had brought "a lot of jobs, a lot of economic development and a lot of improvement across our city."
The mayor has not offered any detailed information to support her claim that the program — with the bulk of the work completed by city crews — has created new jobs. When the mayor announced the second phase of the plan, she was flanked by union leaders who hailed the package as a boon for their members.
The second phase of the Chicago Works plan, set to be completed in 2023 and 2024, includes projects in nearly a dozen categories, including street resurfacing, new street lighting and renovations to city facilities, including libraries, community centers and shelters.
Lightfoot, who is running for a second term, said the infrastructure plan was designed to address the "decades-long backlog of infrastructure needs that have hindered our residents' ability to live, work and play."
Lightfoot said the infrastructure plan took "an equity-focused approach to address long-standing and persistent injustices of inequitable distribution of resources in the City of Chicago."
Ald. Jason Ervin (28th Ward) told WTTW News the plan had made a real difference in his West Side ward. Ervin, the chair of the Black Caucus, has endorsed Lightfoot's reelection bid.
"It is happening, between the lights that are being done, the alleys that are being done," Ervin said. "I do see it. Things are adequately moving."
But Ald. Brian Hopkins (2nd Ward) said he had only seen "minimal" spending from the infrastructure plan in his North Side ward that includes parts of downtown.
"My ward is really shortchanged in this program," said Hopkins, who has frequently clashed with the mayor.
Hopkins said the mayor and her administration should be more transparent about the program's operations and spending.
"This has been one of the most opaque capital bills I have ever seen," Hopkins said. "The mayor has been playing hide the ball. We are just not given anywhere near the amount of information that we're entitled to to make decisions."
Lightfoot's 2019 campaign for mayor centered on promises to increase transparency at City Hall.
Ald. Carlos Ramirez Rosa (35th Ward) said the infrastructure plan funded a number of projects in his Northwest Side ward, but he did not have a "full accounting" of what work has been done.
"Overall, it would be beneficial for the Chicago Department of Transportation and the mayor's office to issue a full, transparent report that details all of the projects funded through this citywide pot of money," said Ramirez Rosa, who often votes against the mayor's proposals and initiatives.
Ald. Matt O'Shea (19th Ward) said the only project funded by the Chicago Works plan in his Southwest Side ward was a green alley — which is designed to prevent flooding in nearby homes and sewer systems.
"I'm hoping we can get it done before the weather turns," O'Shea said, adding that projects had been delayed first by the strike by quarry workers and now the drought complicating travel along the Mississippi River.
"I can't point to this, this and this," said O'Shea, who is likely to face two challengers in his bid for reelection. "We're talking about a lot of things that this could fund. Can I point to that … street was finished two weeks ago? That green alley was finished last month? No."
O'Shea, tapped by Lightfoot to lead the City Council's Aviation Committee, has said he will not endorse her bid for a second term after the two clashed over funding for the Chicago Police Department.
The first phase of Chicago Works calls for the repair and renovation of 21 bridges across the Chicago River, including the 60-year-old bridge at Dearborn Street. That bridge is getting a new steel frame and an improved sidewalk, Lightfoot said during her Oct. 18 announcement of the second phase.
In addition, the first phase of the infrastructure plan earmarks $21.5 million to improve the streetscape along Chicago Avenue between Austin and Central avenues. That contract is expected to be awarded by the end of the year, with work starting in early 2023.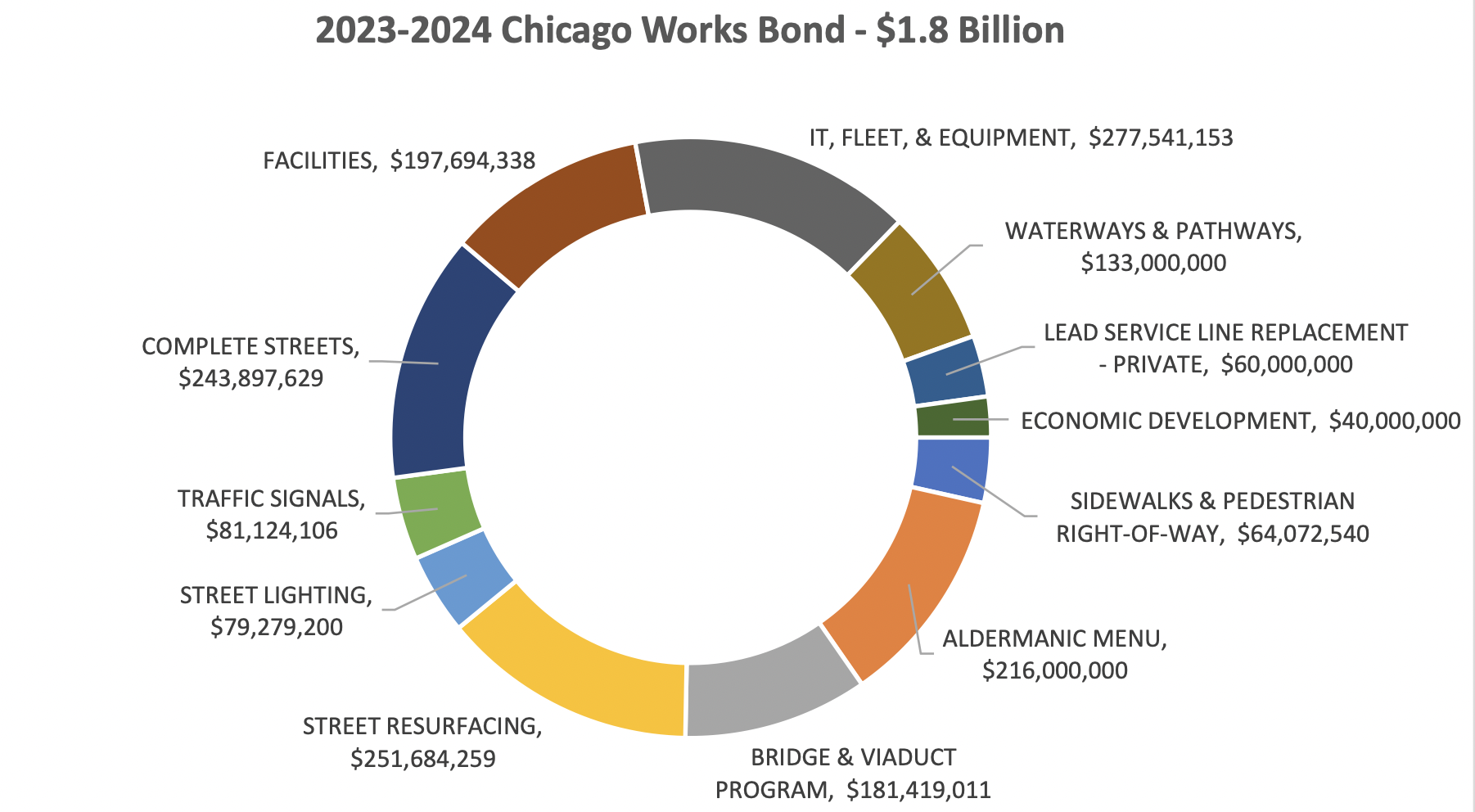 A proposal released in October by Mayor Lori Lightfoot's administration on how it planned to spend $ 1.8 billion on infrastructure projects. (Source: City of Chicago)
Contact Heather Cherone: @HeatherCherone | (773) 569-1863 | [email protected]
---