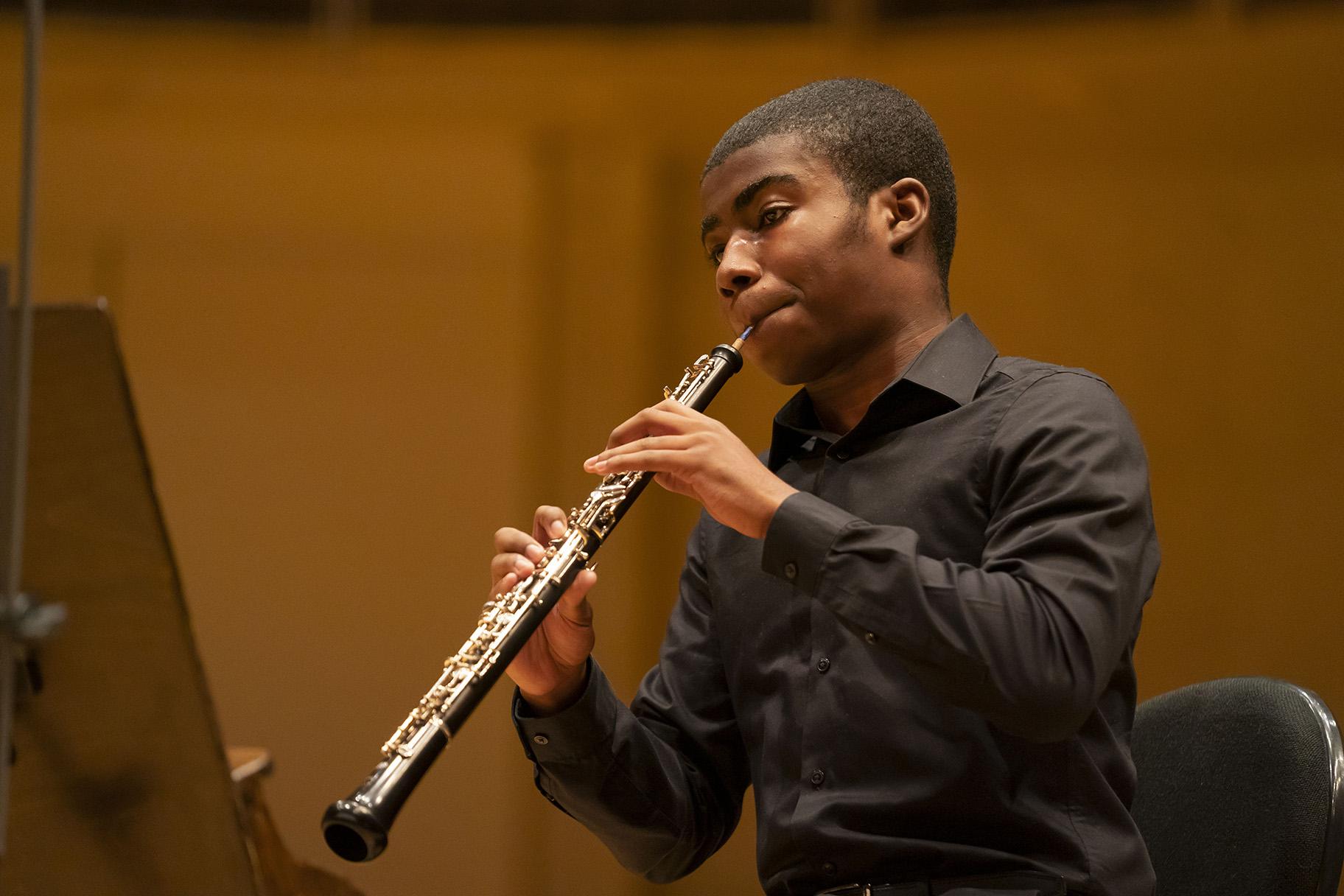 CMPI fellow Zachary Allen participates in a coaching session with CSO Zell Music Director Riccardo Muti on March 31, 2021. (Credit: Todd Rosenberg)
First, to set the record straight: This is not a review. It is primarily a note of appreciation to Maestro Riccardo Muti, the Chicago Symphony Orchestra's music director, who has not been able to conduct his beloved orchestra since the arrival of the pandemic last March, but has kept in constant touch with his musicians from his home in Ravenna, Italy, and has helped guide the superb CSO Sessions series (an expertly programmed, beautifully filmed series of chamber concerts featuring CSO musicians that is now streaming its 16th episode, and counting). On Wednesday he also pursued one of his greatest passions via Zoom.
That passion? It is the coaching of talented young student musicians who in this case were drawn largely from the recently launched Chicago Musical Pathways Initiative (CMPI) project — a program created "to identify and develop gifted and motivated orchestra students from under-represented backgrounds for acceptance into top-tier classical music programs at conservatories and universities, and subsequent entrance into professional careers."
Joining the high school students were several Civic Orchestra alums and CMPI mentors. (Muti also is involved in mentoring the talented musicians of the Civic Orchestra of Chicago, the CSO's training orchestra.)
For this event, the maestro took a seat in his office in Italy, opened the scores for chamber works by Verdi and Mozart, and proceeded to "rehearse" two different, carefully masked and distanced chamber ensembles on the stage of Chicago's Orchestra Hall, with one performing the opening allegro movement from Verdi's "String Quartet in E Minor," and the other playing the rondo finale from Mozart's "Quartet in F Major for Oboe and Strings." (Sadly, this 75-minute session, which Muti would happily have led for another hour, will not be available for streaming, but will no doubt enter the CSO's archive and be used as a teaching tool.)
Beyond serving as a spirit-raising showcase for the city's young classical music talent, the session served as a vivid example of how the maestro thinks about interpreting music. Technique is mostly a given. It is the emotional nuance of a score that is of the essence for Muti. And his intense passion for opera — and for the way the voices of instruments must be as nuanced and expressive as singers telling a story on a stage — is of crucial importance. (As it happens, Muti is headed to Tokyo this week where he will lead his Italian Opera Academy, and work with young conductors on Verdi's "Macbeth.")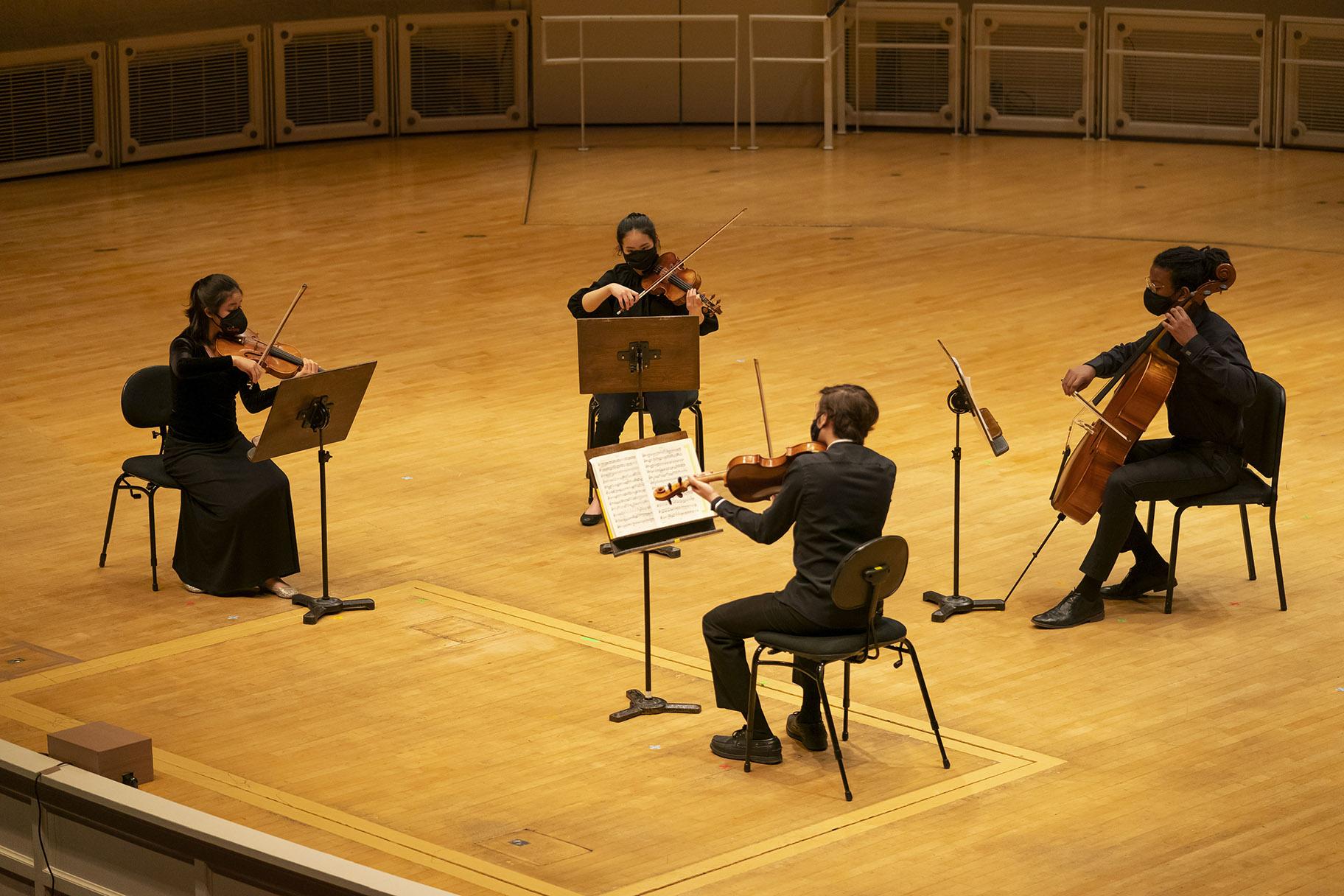 Clockwise, from left: CMPI fellows Esme Arias-Kim, Ella Saputra, Jonathan Miller and Sameer Agrawal. (Credit: Todd Rosenberg)
The Verdi "Quartet," performed by CMPI fellows Esme Arias-Kim and Ella Saputra (violins), Sameer Agrawal (viola) and Jonathan Miller (cello), opens with a singing tone that is an instant reminder of the human voice. The initial lyricism then suddenly shifts into an urgent intensity and sense of fury in which the physicality involved in string playing becomes clear. And as Muti proceeded to explain, this quartet was composed just a couple of years after the debut of Verdi's opera, "Aida," starring Teresa Stolz, the (married) Bohemian soprano with whom the composer might have had an affair, and it has echoes of an aria from that work.
"So what should come through the music is an element of jealousy as opposed to love," said Muti. "And I want to hear the pain, although 'intensity' of emotion does not mean playing louder. It is very important to pay attention to the dynamics. Breathe through the silences. And when the cello comes in should be a feeling of tragedy, and stormy waters. But then the cello brings everyone back to reason, to normality. And finally the music is full of love.
"And remember, give importance to unexpected changes," Muti added. "There is always a reason for what great composers write."
And then it was on to a passage full of fury, and the maestro's parting words to the quartet: "I want to see you when I come back to Chicago."
Next up was the final movement of the Mozart "Quartet" with a stellar lead performance on oboe by Zachary Allen, a 16-year-old sophomore at Niles West High School in Skokie whose golden tone already has earned him first prizes in a number of international competitions, including the 2020 American Fine Arts Festival which earned him a scheduled performance at Carnegie Hall's Weill Recital Hall during the 2021-2022 season. He is a formidable talent.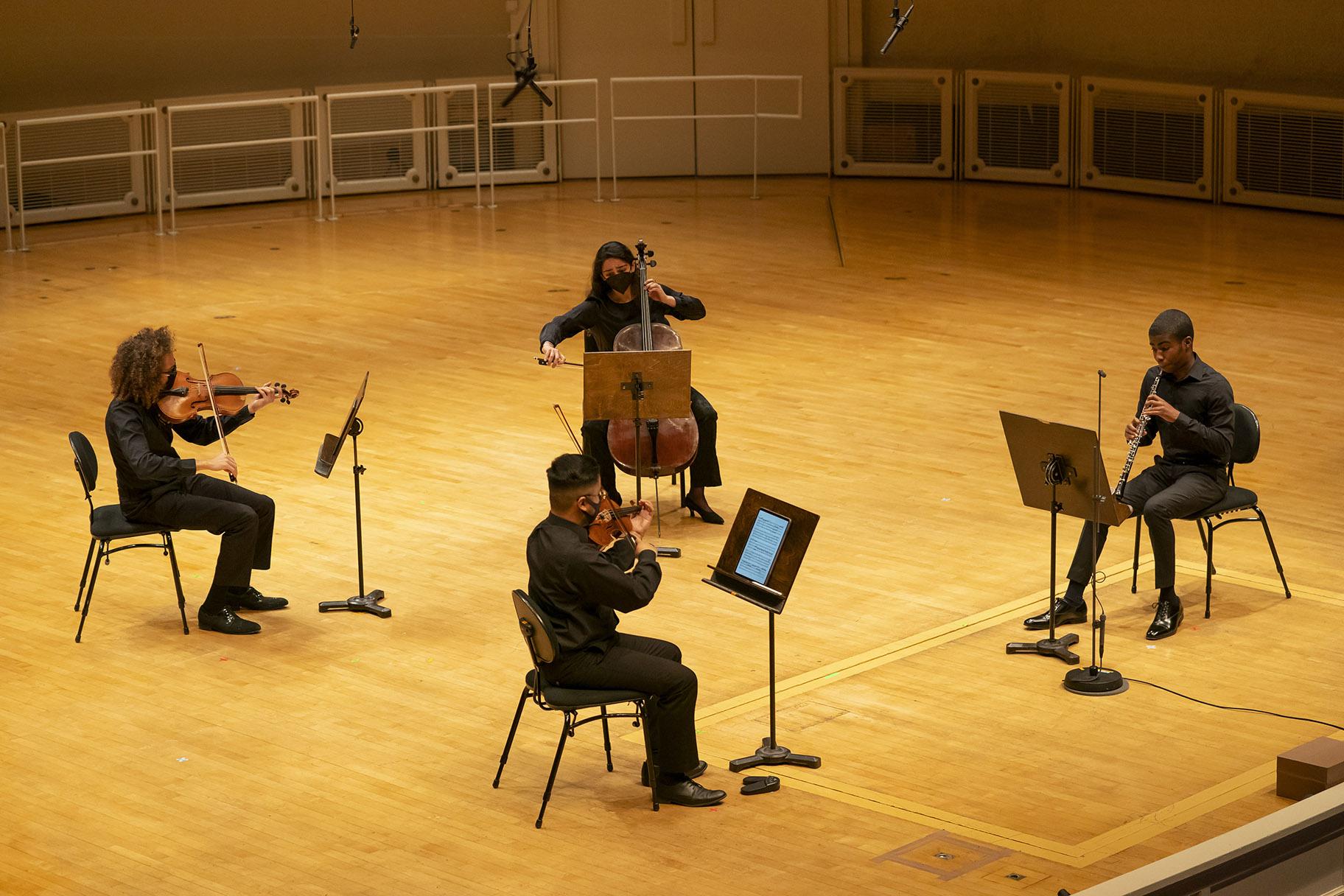 Clockwise, from left: Civic Orchestra musician and CMPI mentor Brent Taghap, Civic Orchestra alum and CMPI mentor Seth Pae, Civic Orchestra musician and CMPI mentor Najette Abouelhadi, CMPI fellow Zachary Allen. (Credit: Todd Rosenberg)
Backed by CMPI mentors Brent Taghap (violin), a member of the Civic Orchestra of Chicago; Seth Pae (viola), a Civic Orchestra alum; and Najette Abouelhadi (cello), a Civic Orchestra fellow; Allen's highly accomplished performance of this fiendishly difficult showpiece for the oboe even inspired Muti to call out, "Bravissimo."
Mozart's way of conjuring human speech and emotion in music is quite different from Verdi's in this piece, with a sense of easy grace and delight as the dominant sensation.
"Very good," said Muti, after a first hearing, "but what I miss is a sense of happiness that I can feel, even if I can't see it on most of your faces that are covered with masks. It should be like drinking wine. And with the oboe, send your voice into the sky, like a singer."
There would be many other stops and starts and suggestions along the way, with Muti humming several passages to suggest "the change in atmosphere and the shift from darkness to light."
"And don't signal the end," he said. "You don't want it to feel like that guest you push out the door.
"Music can save us; it is beauty," Muti reminded the musicians. "It can put society back on the right path again. In a way our profession is a privilege."
The program left me hoping that when Muti's very first rehearsal with the full CSO takes place, and live performances at Orchestra Hall can resume with the sound of applause ringing out, cameras will be rolling. The rebirth signaled by the first rehearsal and the first performance will, without question, be a grand opera all its own.
Follow Hedy Weiss on Twitter: @HedyWeissCritic
---