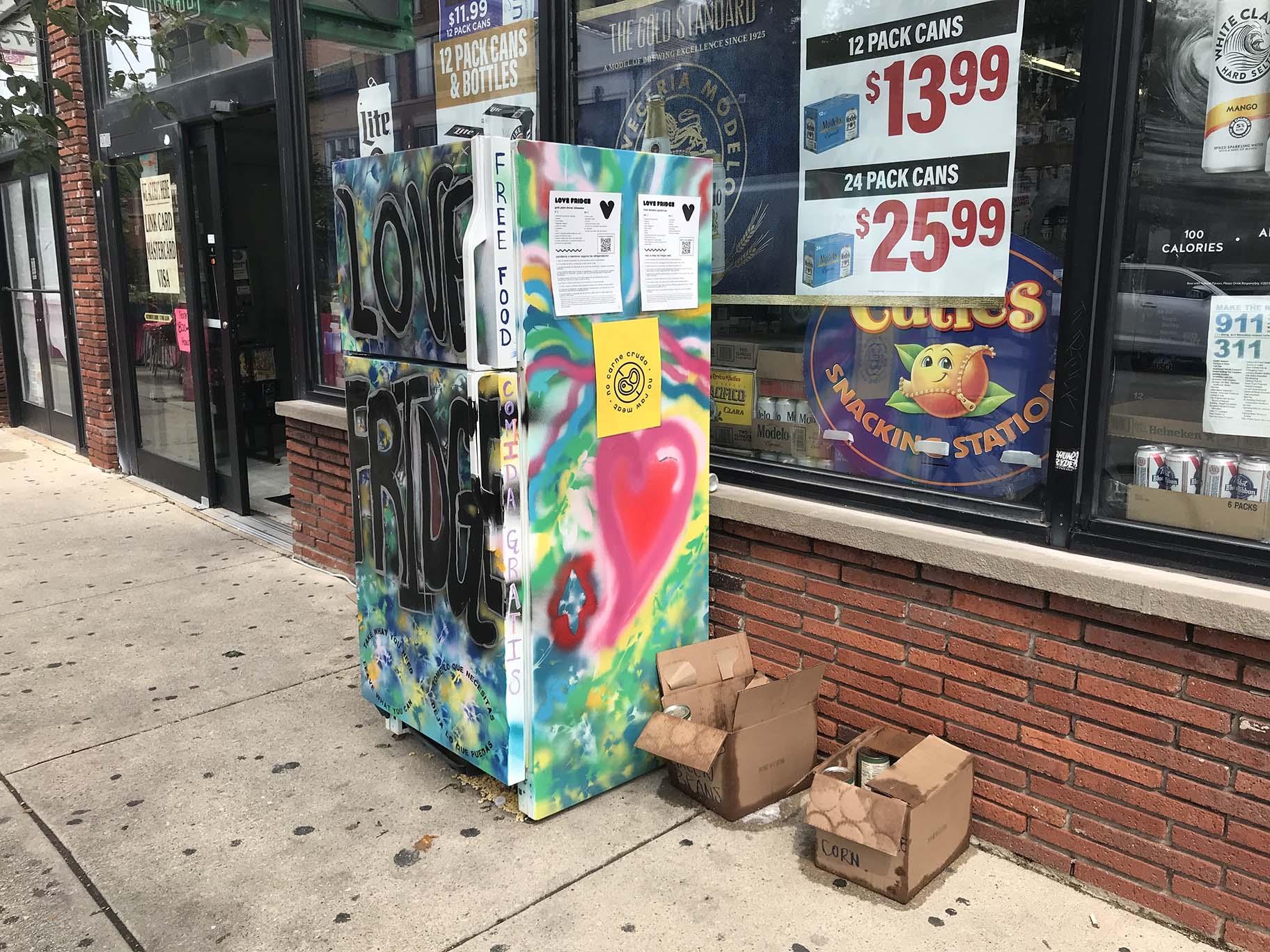 A painted refrigerator in Avondale is part of a two-month old project aimed at helping those in need. (Ariel Parrella-Aureli / WTTW News)
When Allie Mae Miller was laid off from her job as a video producer in mid-July, it took a toll on her mental health. Protests and civil unrest sparked by police brutality made things worse. Miller, an artist, knew she had to find a positive outlet for expression. She came across a social media post about a new initiative called the Love Fridge and, wasting no time, asked her landlord if she could donate an old fridge sitting in the garage. 
Cleaning and painting the fridge gave her a feeling of relief. Within a few days, she found a business to power the Avondale Love Fridge and now visits it twice a day to make sure it's stocked and clean. Every time she's there, she meets new people who give and take food from the fridge, which she named Toda Amor. It sits right outside the Carniceria La Mejor grocery store at 2915 N. Milwaukee Ave. 
"It was really good for my mental health because when I paint, it's the only time I can turn my brain off and not think about what's going on in my life," Miller said. "A lot of reflection happened in this piece."
From families with children to neighbors and people experiencing homelessness, the fridge provides free, fresh food and beverages to the community through mutual aid efforts and has brought love and family into Miller's life. The Avondale fridge is one of 10 colorful fridges that have popped up around the city organized by the Love Fridge, a collective of about 15 volunteers who came together to put mutual aid into action through food, community and love to curb food insecurity that is at an all-time high due to the pandemic.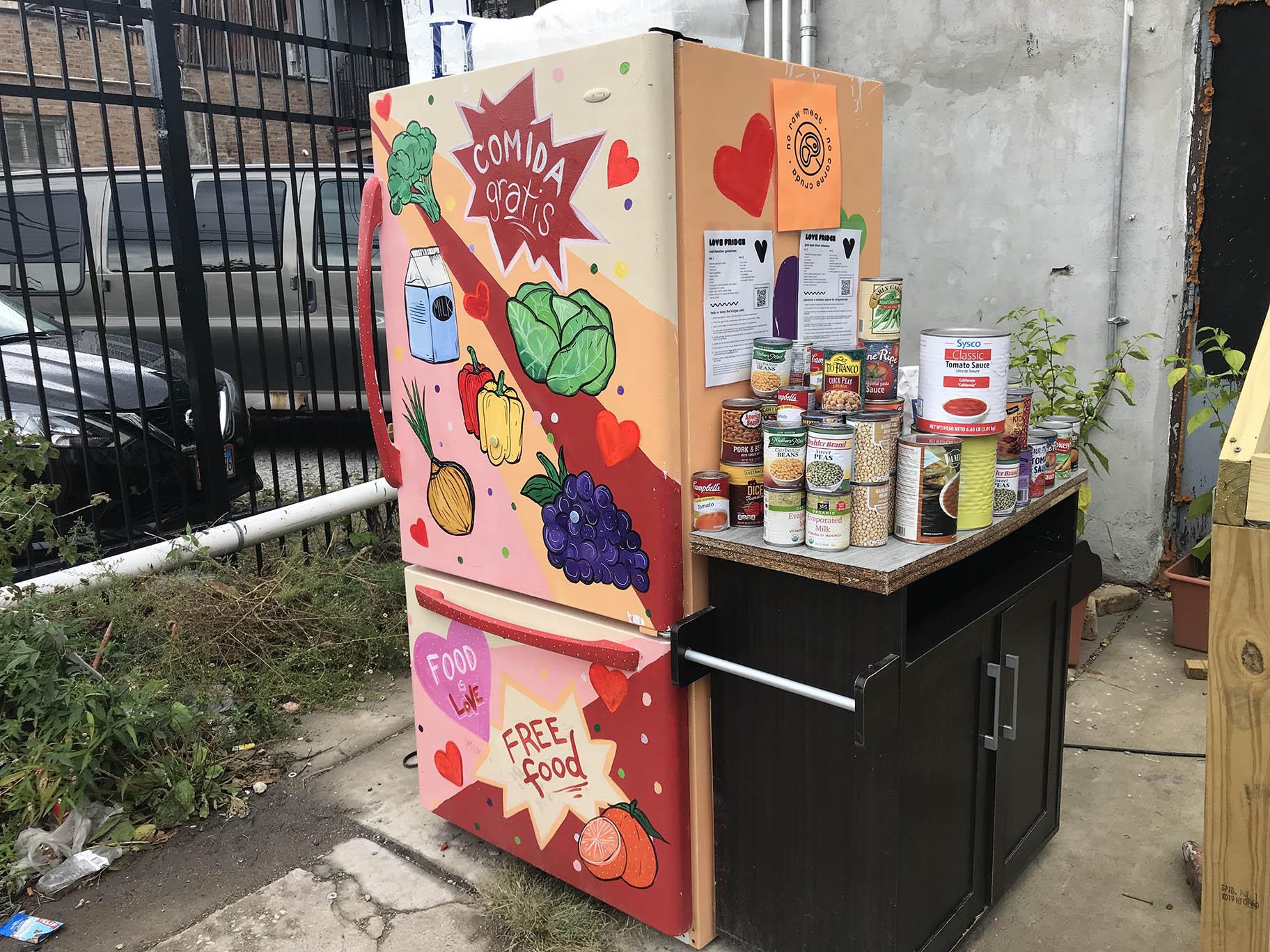 A Love Fridge in Humboldt Park. (Ariel Parrella-Aureli / WTTW News)
Each fridge is powered by a host such as a business or residence and operated by a fridge manager like Miller. With donations and outreach from community volunteers, the concept is simple: take what you need, leave what you can. The goal is to promote healthy eating and wellness, so many fridges are stocked with local vegetables and fruit in addition to prepared meals. There are vegetarian-friendly pantry items, too.
Sunday marked the two-month anniversary of the fridge project, which has grown quickly due to the overwhelming community response and support, said Ash Godfrey, one of the organizers with Love Fridge. She said the group quickly came together via Instagram after founding organizer and artist Ramon "Radius" Norwood was inspired by similar initiatives in New York and Los Angeles and put a call out to gauge interest in Chicago. 
"We're on par with those cities and we have just as much of a need — the food apartheid is very real here, even pre-pandemic," Godfrey said. 
Godfrey, who was already doing justice work in underserved communities, saw the Love Fridge initiative as a way to assist neighbors and combat the pandemic-related turmoil that has elevated the need for affordable food. 
"People are literally not able to afford to feed themselves the way they want to," she said. "People felt called [to help] and the government isn't doing enough. We actually need something for our neighbors and communities."
The initiative didn't take long to gain community support. Godfrey said the Love Fridge team is amazed at how quickly the community embraced their efforts and donated food, volunteered time and art and helped spread the word about the project, which is working to get at least six more fridges into neighborhoods like Englewood and Chatham before winter hits. 
So far, the fridges can be found in Avondale near the Logan Square border, Humboldt Park, Ukrainian Village, Bridgeport, Hyde Park, Brighton Park, Back of the Yards, North Lawndale and Little Village, where the first fridge opened. On Wednesday, a fridge in West Lawn will open to the community. 
---
"I am shocked at how many businesses have wanted to help and people have embraced it," Godfrey said. "It is incredible to see people using the fridges, these are used daily and they don't just sit there. It brings people closer together."
Miller said she's grateful for the community she's found through the Avondale fridge, which has received a plethora of donations since it opened Aug. 28. She said items like frozen pizzas, fruit cups, chopped veggies and grab-and-go items are popular, especially since the fridge feeds many people who are experiencing homelessness or who do not have access to a kitchen. 
Antonio Munguia, who helps his parents run the grocery store that hosts the Avondale fridge on the Northwest Side, was the first person to donate to it. And while he's received a few complaints that the fridge attracts more people who are homeless or intoxicated, he sees it as a helping hand to the community and says the majority of people appreciate it.
"A lot of people are happy we are trying to help out," said Munguia, a lifelong Avondale resident. "From time to time we put [grocery store] stuff here like bananas, yogurt or frozen pizzas."
Miller says she's noticed some issues that need to be worked out. Some people have been leaving raw meat and fish in the fridge — items that are not accepted due to food safety precautions. People also have left half-eaten food in the freezer, which she said is unsanitary and disrespectful. Once, someone stole the fridge's thermometers. But apart from those issues, the response has been overwhelmingly positive — a sign, she says, that it's necessary. 
"People have been sharing this in garden Facebook groups so there is better food in this fridge than in my fridge — and a lot of our fridges — because that's what people deserve," Miller said.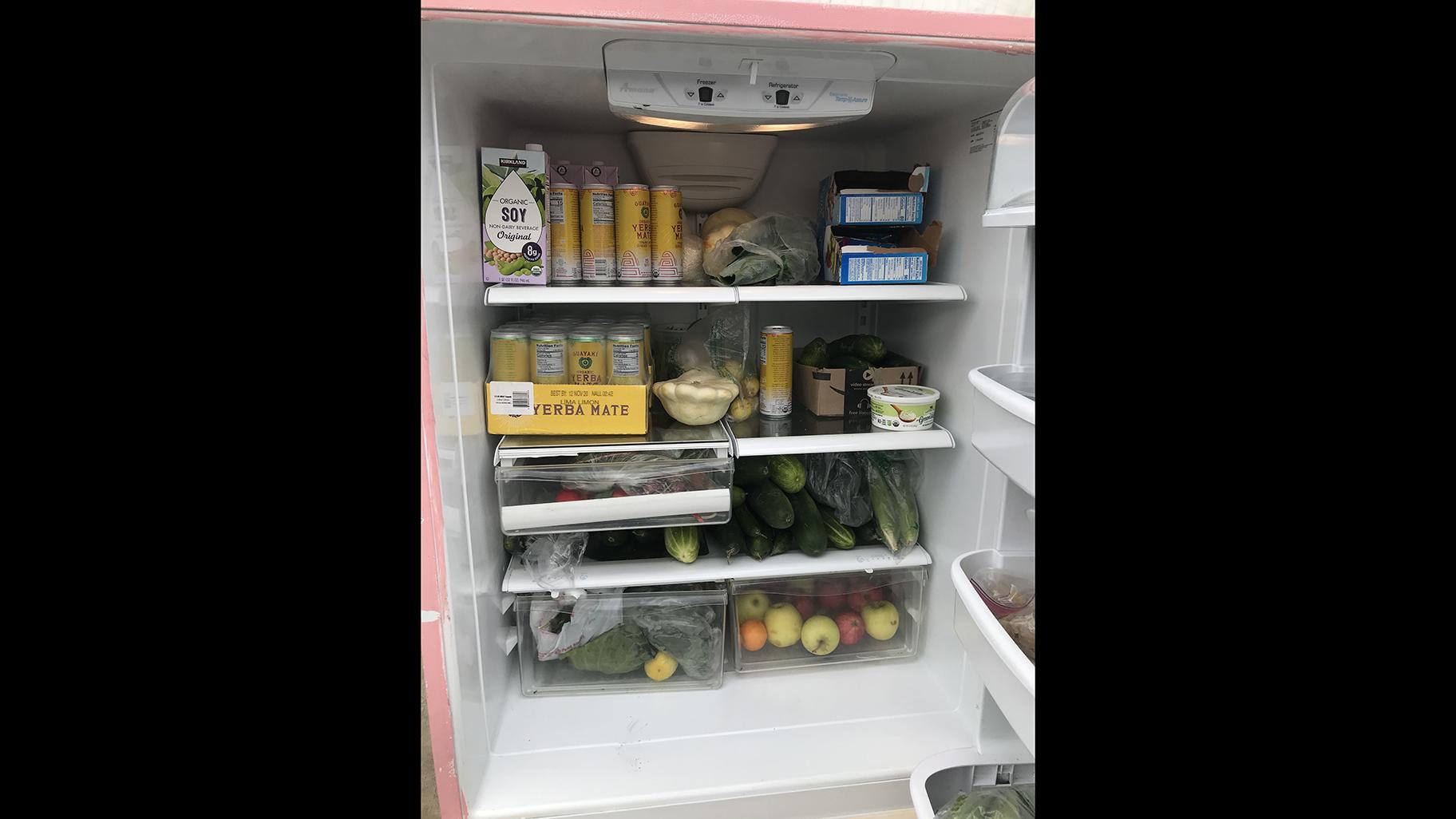 Inside the Love Fridge in Humboldt Park. (Ariel Parrella-Aureli / WTTW News)
Eric Von Haynes, founder of Flatlands Press and an organizer with the collective, helped print fridge flyers and make fridge magnets in addition to community outreach. Haynes said he offered his printing services for free to be part of change in the making and help people who are less fortunate.
"I am trying to come up with a system where people can keep their dignity at all times," Haynes said. "So if the fridge is empty, they don't have to walk up hungry and open the fridge and it not have anything. They could know from down the street by having a tag that we flip out. It's a small nuance but it matters." 
Along with the design team, Von Haynes said organizers want to create more signage, maps to help find each fridge and sandwich boards where people can log what's in the fridge, what's been donated or write requests. The signs are in Spanish and English, but designers are creating signs in Chinese to make sure more communities are represented and the collective is being inclusive.
The Love Fridge team hopes to finish installing fridges soon so they can focus on building shelters for them as colder months approach. Their goal is for each fridge to have a protected shelter with shelves for pantry items. Godfrey said the next goal is to partner with local farmers, restaurants and grocery stores to better meet the needs of each community and donate individual fridges to people, especially during the holidays. Von Haynes is looking into ways the fridges can be powered with renewable energy and getting more local farmers involved.
"It's been a beautiful experience to watch the community interact with these devices," Von Haynes said. "This is only as strong as the community — they are the ones empowering [the fridges]."
Ariel Parrella-Aureli is a freelance contributor to WTTW News: @ArielParrella
---