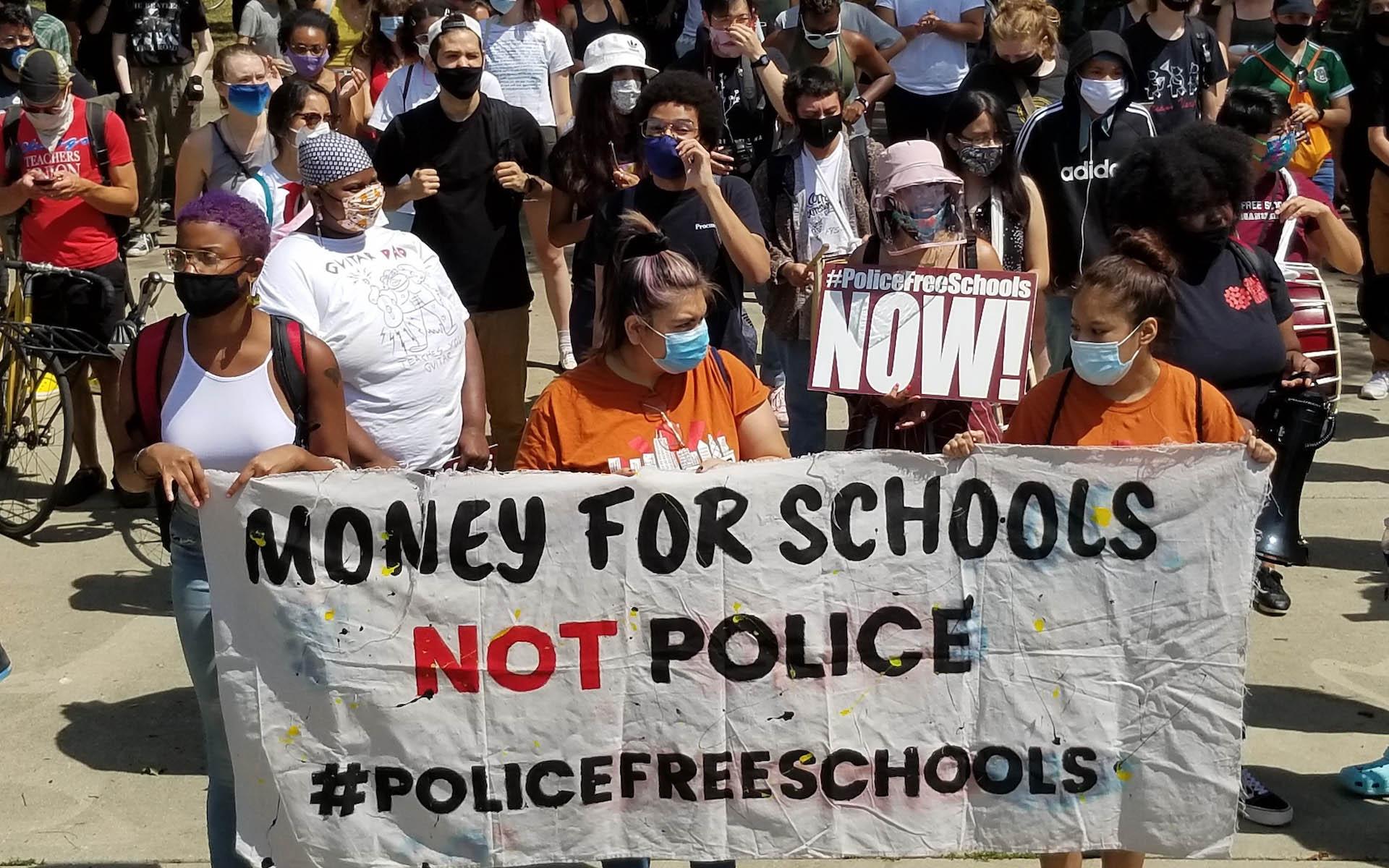 Youth activists organized a peaceful march to Mayor Lori Lightfoot's home on Aug. 13, 2020 to demand the removal of resource officers from Chicago Public Schools. (Matt Masterson / WTTW News)
Resource officers will remain in Chicago Public Schools once in-person learning resumes after the Board of Education approved a new contract with the Chicago Police Department.
In a 4-2 vote with one abstention, the seven mayoral-appointed board members approved a one-year, $12 million intergovernmental agreement between the school district and the CPD that will provide school resource officers (SROs) in 55 Chicago high schools.
But the board also signed on to a motion directing CPS to come up with alternative safety and security plans for its schools that could potentially phase out SROs down the line.
The board earlier this summer rejected a motion to terminate that CPD contract. 
Mayor Lori Lightfoot and CPS CEO Janice Jackson left the decision on SROs up to individual local school councils. According to the district, 55 schools will keep their resource officers for the upcoming academic year, while 17 school councils voted to remove police from their schools.
Board member Elizabeth Todd-Breland, who authored that previous motion seeking to terminate the SRO contract, spoke deeply Wednesday about the criminalization and trauma Black students face at a disproportionate rate because of police officers in schools.
She said ultimately it should be the board making this decision, as its members cannot "solve a system-wide civil rights issue by shirking our responsibilities" and pushing that duty "onto the backs of individual schools."
"What has changed since June?" she asked, referencing the board's previous vote on the SRO contract. "The police have not stopped killing black people … When do we decide that the historic and ongoing racism of an institution – policing – that has proven itself incapable of reform, if not in our society, at least has no place in our schools with our children?"
The new contract has been trimmed down by more than half, from $33 million last year to $12 million for the coming school year.
Under the revised agreement, SROs with sustained allegations of excessive force, or complaints of inappropriate interactions with youth in the past five years will no longer be eligible to serve in schools.
That plan also bars SROs from entering any student information into the CPD's Criminal Enterprise Information System, previously known as the gang database. CPS has said it will remove all police terminals within its schools to ensure resource officers do not have access to that system.
In addition, principals have a voice in the selection of SROs at their schools and CPS is planning additional training for those officers.
"Looking ahead, the district remains committed to working with school communities to preserve their autonomy while working with them to promote best interests of the safety of students," CPS spokeswoman Emily Bolton said in a statement.
Despite those reforms, many parents and students say CPS must go further and eliminate the entire SRO program.
"It just doesn't meet the need," Natasha Erskine, a CPS parent and organizer with Raise Your Hand Illinois, said during Wednesday's meeting. "And this is a moment to free our schools completely of those police."
Kristen Brody, the local school council chair at Goudy Technical Academy, said students of color and those with special needs make up an outsized portion of total SRO referrals within CPS.
She told the board that students with individual education plans (IEPs) made up 30% of those referrals in recent years, despite the fact they make up just 14% of the student population.
During Wednesday's meeting the board, also on a 4-2 vote with one abstention, approved a motion proposed by Vice President Sendhil Revuluri requiring CPS to work with stakeholders on developing alternative school safety plans without SROs. 
"The resolution asks the district to develop this plan to offer schools a range of approaches to keeping their students safe," said Revuluri, who voted in favor of renewing the SRO contract. "Those plans are based on best practices, that they give room to student communities to find solutions that meet their needs and ultimately they lead to a wide action by the adults so we get the best outcomes for our students."
Still, activists who had pushed for the removal of all SROs say that motion doesn't go far enough.
Students, aldermen speak out
Youth activists have led several demonstrations and marches in recent months, calling for the removal of all SROs from Chicago's schools. They say the presence of police in schools makes them feel less safe, while the funds used to pay for those officers could be better used on additional counselors, case managers and other wraparound services for students.
This continued during the board's meeting, as dozens of protesters holding signs that read "Defund Police Fund Youth" stood on Madison Street outside the school district's central office.
"WE'RE TIRED OF BEING F---ING IGNORED," Students Strike Back, a Twitter account representing CPS high school students, wrote in a tweet following the vote. "WERE THE ONES WHO LITERALLY HAVE TO DEAL WITH THESE COPS EVERY DAMN DAY. YALL. LITERALLY BLOOD, SWEAT, AND TEARS."
Speaking to the board, Alds. Ariel Reboyras (30th Ward) and David Moore (17th Ward) each gave credit to CPS for the reforms included in the new contract, as well as for letting local school councils decide if they wanted to maintain or remove their individual SRO programs.
Ald. Michael Scott (24th Ward), chair of the City Council's education committee, recognized the need for more counselors and services across CPS, but he said those shouldn't necessarily come at the expense of removing police and potentially making some school communities feel less safe.
Other elected officials, however, slammed the board for what they described as a refusal to listen to the public and those wanting police out of schools.
"No more running around. No more business as usual. No more excuses. Let's get to work on policies that actually work," Ald. Byron Sigcho Lopez (25th Ward) said. "Your appointments today are temporary … but the decisions that you make will not be forgotten."
Ald. Carlos Ramirez-Rosa (35th Ward) said there's little research showing SROs actually improve school safety. But he said there is data showing their presence can lead to lower graduation rates, higher incarceration rates and lower test scores.
"There's not a Rambo police officer that's going to karate chop the gun out of their hand," he said. The research just shows that that's not the case. If we really want to keep our students safe, we need to have a trauma-informed approach that is going to be able to prevent that from happening."
Contact Matt Masterson: @ByMattMasterson | [email protected] | (773) 509-5431
---