Video: A "Chicago Tonight" conversation about policing in schools with Will Weavers, a history teacher at Kenwood Academy High; and George Newell, an alderman liaison with the Chicago Police Department who worked in the past as an officer at Percy Julian High School.
---
Caleb Reed, a student at Mather High School on the city's North Side, was attending a school basketball game when he was approached by a school resource officer who asked for his ID.
Reed, a sophomore at the time, had forgotten to bring his ID with him and ended up being arrested and held by police for six hours before his eventual release.
"The situation was so wrong and it upsets me so much," he said, "that I don't want to ever see no black person go through that 'cause they are misunderstood or they don't have nobody to talk to."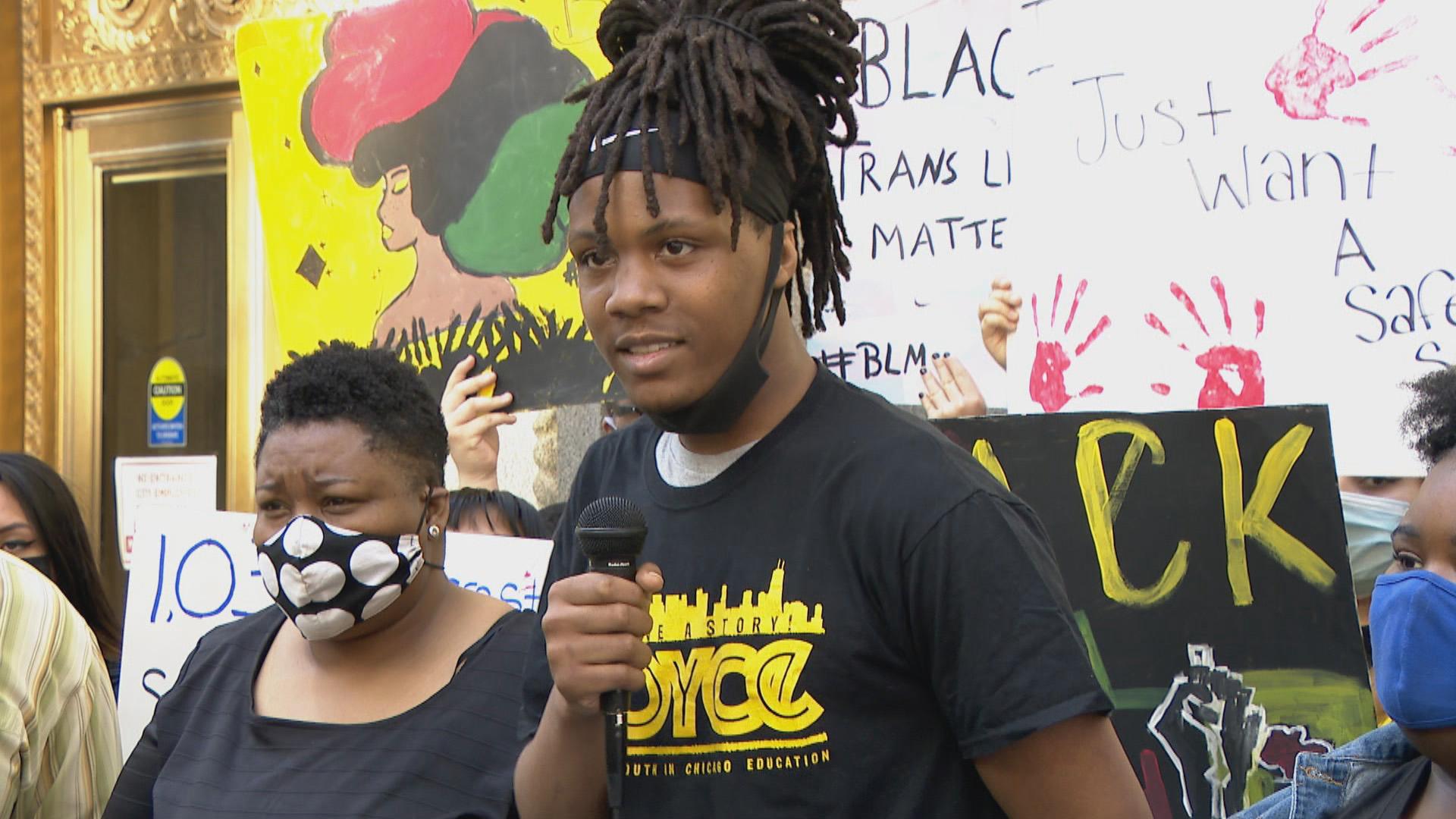 Caleb Reed, a student at Mather High School on the city's North Side, speaks about his experiences with school resources officers at an event Tuesday, June 16, 2020. (WTTW News)
Reed was among the youth activists who spoke during a press conference Tuesday supporting a newly proposed ordinance that would terminate the $33 million contract between Chicago Public Schools and the Chicago Police Department and remove school resource officers (SROs) from district schools.
The Police Free Schools Ordinance, introduced this week by Chicago Alds. Roderick Sawyer (6th), Jeanette Taylor (20th) and Carlos Ramirez-Rosa (35th), seeks to eliminate that intergovernmental agreement and instead use those funds on additional nurses, counselors, case managers and other wraparound services in CPS schools.
"The presence of Chicago police inside of schools creates dangerous conditions for students that have led to the criminalization, mass incarceration, harassment, death, and heinous use of force against Brown and predominantly Black students," the proposed ordinance states.
As of today, @AldermanLaSpata @rodriguezfor22 @ByronSigcho @RossanaFor33 @Andrefor40th @AldMattMartin @Mariafor49 have also agreed to co-sponsor #PoliceFreeSchools Ordinance. I'm sure many more aldermen will co-sponsor as well. It's time to end the school to prison pipeline! https://t.co/cqerKyfQrQ

— Ald. Carlos Ramirez-Rosa (@CDRosa) June 16, 2020
---
The ordinance will be introduced to the City Council on Wednesday, but must get committee approval before a full council vote. If approved, it would require that contract to be eliminated within 75 days.
Before COVID-19 shut down CPS buildings for the academic year, there were at least 180 school resource officers inside 76 district schools on a daily basis, according to the ordinance. Taylor said schools already have security on-site that can deal with issues and maintain the peace without the need for police assistance.
Sawyer said police were initially brought into schools to protect kids from outside threats, but now students are being criminalized simply for being in CPS. He claimed this ordinance is not an anti-police measure, but a reallocation to make sure students are getting the supports they need most.
"We have to find a way to utilize our police in the highest and best fashion," he said. "And being inside our schools is not (it)."
Calls to pull police from schools have grown louder around the country in the weeks following the killing of George Floyd at the hands of Minneapolis police last month.
Already, public school districts in Minneapolis, Denver and Seattle have suspended or outright terminated their contracts with local police departments, meaning officers will no longer be in their schools.
Last summer, CPS gave individual Local School Councils the authority to determine whether SROs would be assigned to their respective schools. The district has said the police department is launching a working group to review public feedback and develop a recommendation on SRO policy changes.
Both CPS and CPD also plan to have additional feedback sessions entering next school year.
Mayor Lori Lightfoot earlier this month indicated she was opposed to terminating the CPS contract with the police department, but later added she was pleased both sides were "soliciting feedback and engagement on this issue so they can be sure to respond to various communities' concerns."
Beyond pulling officers from schools, the proposal would also prohibit any future school security agreements between the CPD and the Chicago Board of Education. Reed believes that's a necessary step to ensure what happened to him doesn't happen again to anyone else inside a school.
"It's not a good feeling to be labeled as dangerous or labelled as criminals," he said, "because we're not. We are not at all."
Contact Matt Masterson: @ByMattMasterson | [email protected] | (773) 509-5431
---