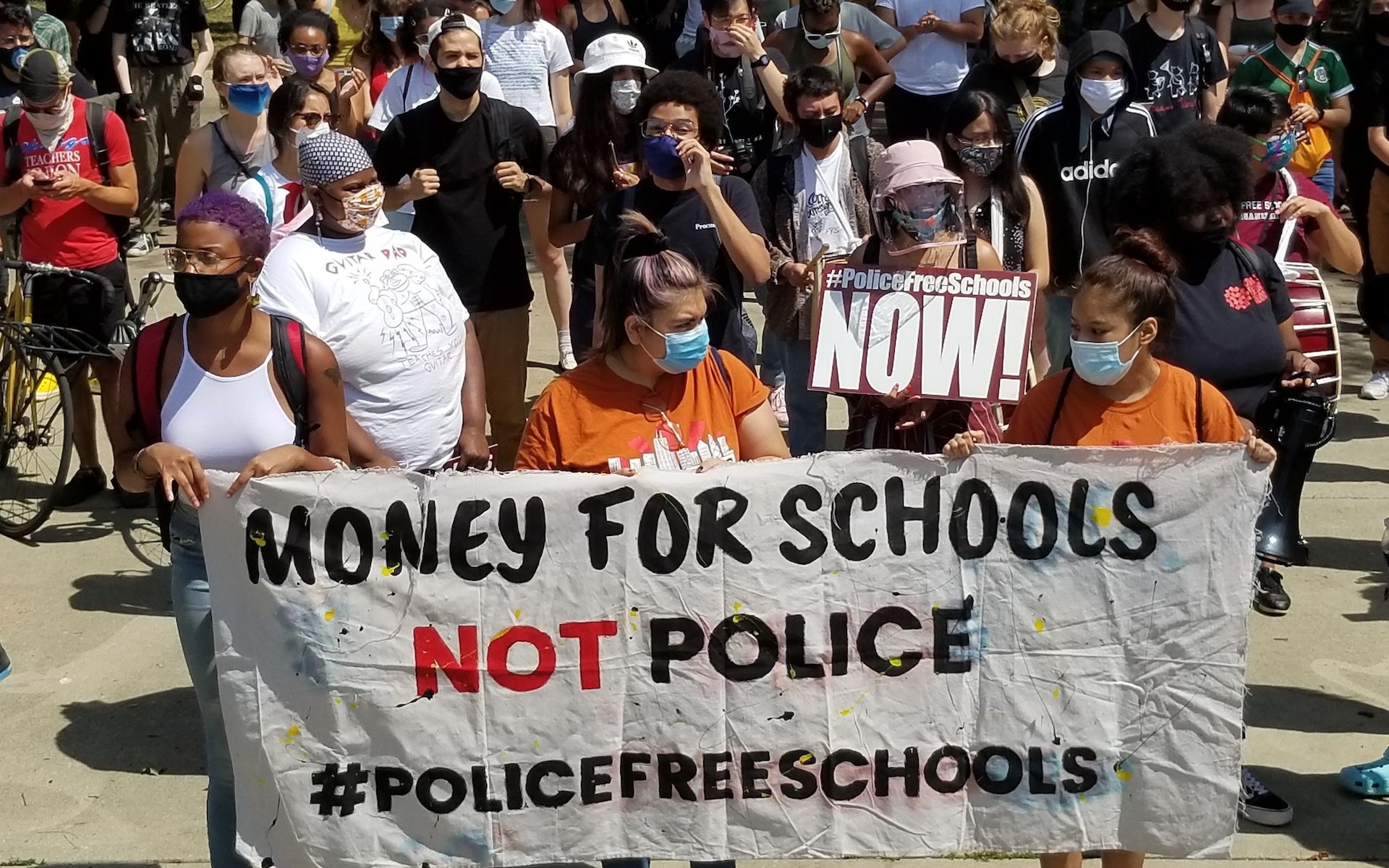 Youth activists organized a peaceful march to Mayor Lori Lightfoot's home Thursday to demand the removal of resource officers from Chicago Public Schools. (Matt Masterson / WTTW News)
Student activists marched through Logan Square toward the home of Mayor Lori Lightfoot on Thursday, demanding she and the Board of Education remove resource officers from Chicago Public Schools.
Holding signs that read "CPD out of CPS" and "Police Free Schools Now," dozens of youth activists approached the mayor's West Wrightwood Avenue home after an organized rally in Logan Square Park where they called on Lightfoot and the board to terminate the school district's contract with the Chicago Police Department.
"Four to $5 million dollars a day is going to officers who target us, who harass us, who murder us," said Alycia Kamil, a 19-year-old activist with the group GoodKids MadCity. "And those are the same officers that they put in our schools."
The group marched down Wrightwood to Kimball Avenue, where they were met by a barricade and two dozen or more CPD officers blocking the route to Lightfoot's home. Protesters instead formed a large circle in the intersection and announced their demands: defund the police department and pull officers from CPS schools.
From there, the peaceful march moved down Kimball to Milwaukee Avenue and back into Logan Square Park.
Student activists calling for the removal of police from Chicago Public Schools are marching through Logan Square to the home of Mayor Lori Lightfoot. pic.twitter.com/o6NJtEN700

— Matt Masterson (@ByMattMasterson) August 13, 2020
---
Local school councils have until the end of this week to decide whether they want school resource officers (SROs) in their buildings for the upcoming school year. At least a dozen have voted to remove their SROs, but many more are keeping their officers in the schools.
The decision was left up to individual school councils after Lightfoot and CPS CEO Janice Jackson said a districtwide mandate on SROs would be inappropriate. They instead believe LSCs are better equipped to make decisions for their own school communities.
But the board this month is expected to vote on whether to renew the districtwide contract with the CPD, which has been trimmed from $33 million down to $15 million. Activists on Thursday said those dollars should instead be spent on additional resources for students, like counselors, librarians and mental health services.
Veronica Ortiz, director of clinical services with the Brighton Park Neighborhood Council, said there's no evidence that proves the effectiveness of SROs in schools.
"To be completely honest, in most cases they cause more harm than good," she said. "The over-policing of our Black and Brown students is a traumatizing practice that can have lifelong impacts on children's health and social outcomes."
Efforts to remove officers from schools have existed for years, but they've gained significant momentum nationwide since the police killing of George Floyd in Minneapolis in May. In the months since, several major city school districts have revised or terminated their contracts with local police departments.
In Chicago, the Board of Education narrowly voted down a measure that would've ended CPS' deal with the police department in June. Some of the seven board members – each of whom was appointed by Lightfoot – felt they needed more time to understand how school communities felt about SROs in their buildings.
Activists on Thursday hope they made their voices clear.
"If students are literally not gonna be in the building, why do we have to vote on whether or not we should have SROs in our schools," said Kamil, noting that CPS students will be learning remotely at least in the fall due to the COVID-19 pandemic. "I don't care if it's $33 million, if it's $15 (million), there should be no money invested into CPD right now."
Contact Matt Masterson: @ByMattMasterson | [email protected] | (773) 509-5431
---