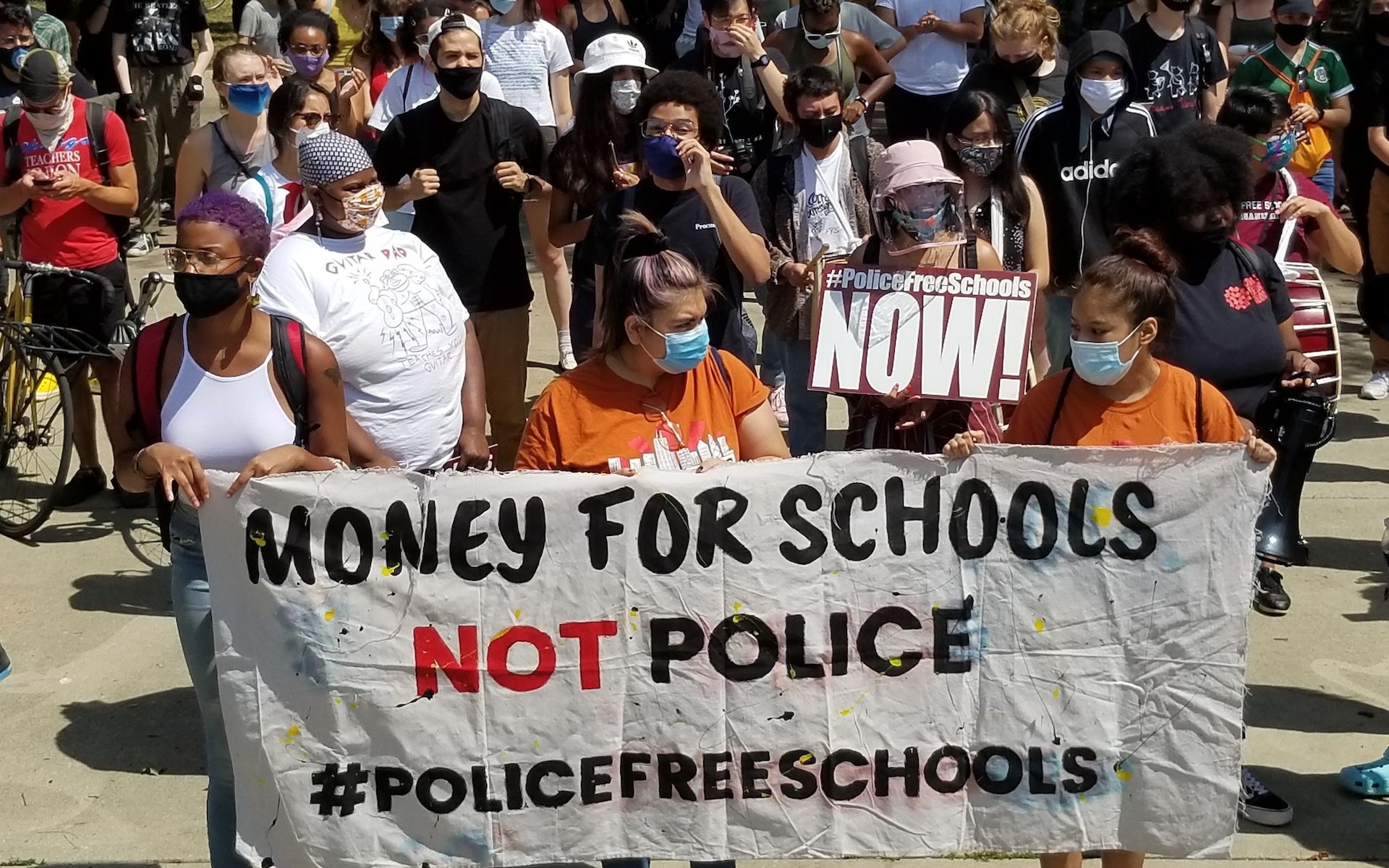 Youth activists organized a peaceful march to Mayor Lori Lightfoot's home on Aug. 13, 2020 to demand the removal of resource officers from Chicago Public Schools. (Matt Masterson / WTTW News)
Chicago Public Schools says it is strengthening eligibility requirements for its resource officers, who will no longer be allowed to enter student names into the police department's gang database nor cooperate with immigration officers under new program reforms city officials announced Wednesday.
School resource officers (SROs) with sustained allegations of excessive force, or complaints of inappropriate interactions with youth in the past five years will no longer be eligible to serve in schools, CPS CEO Janice Jackson and Mayor Lori Lightfoot announced.
These changes come after months of student-led protests calling on CPS to terminate its $33 million contract with the Chicago Police Department and remove all SROs from district schools.
"Every student deserves to come into a safe and welcoming environment where they feel valued and free," Jackson said. "We have heard from our students loud and clear. The activism that has been demonstrated among our students gives me hope for the future of this city and our country."
An updated intergovernmental agreement between the school district and CPD will codify that SROs must follow the welcoming city and welcoming school ordinances, which prevents them from cooperating with Immigration and Customs Enforcement officials.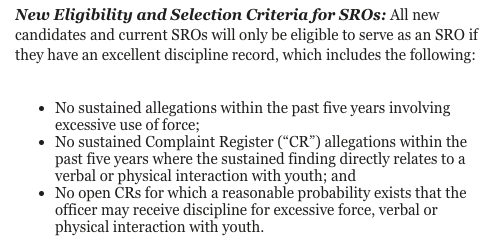 (Chicago Public Schools)
Under these changes, SROs will also be prohibited from entering any student information into the CPD's Criminal Enterprise Information System, previously known as the gang database. CPS said it will remove all police terminals within its schools to ensure resource officers do not have access to that system.
Jadine Chou, the school district's Chief of Safety and Security, said CPS is also streamlining its complaint process. In the past, complaints made against SROs may have been handled by a local police district or an individual commander or school sergeant.
Now, new complaints will be directed to the Civilian Office of Police Accountability, the oversight body which handles all complaints of police misconduct.
"That will allow us to track new complaints," Chou said. "It will also allow us to ensure … that they will be investigated and handled in a swift manner."
CPS also announced new partnerships with Lurie Children's Hospital of Chicago, the University of Chicago Educational Labs and Mikva Challenge to better analyze school-based arrests and train SROs and school staff on de-escalation tactics.
Efforts to remove officers from schools have existed for years, but they've gained significant momentum nationwide since the police killing of George Floyd in Minneapolis in May. In the months since, several major city school districts have revised or terminated their contracts with local police departments.
The student activist group Voices of Youth in Chicago Education (VOYCE) criticized the reforms Wednesday, saying they don't go far enough because SROs will remain in some CPS schools, and the district isn't using money from that police contract to invest in more mental and behavioral health services for kids.
"What students need most is support not criminalization," Derrianna Ford, a rising senior at Mather High School and a member of VOYCE, said in a statement. "In order to truly create a safe environment in all of our schools, we need trauma-informed approaches that support students' mental health such as social workers, counselors, restorative practices. We cannot expect the same police officers who brutalize us on the streets to be our mental health workers inside our schools."
The Board of Education earlier this summer rejected a motion to terminate that CPD contract, and Lightfoot and Jackson instead left the decision on SROs up to individual local school councils. According to CPS, 55 schools will keep their SROs for the upcoming academic year, while 17 local school councils voted to remove officers from their schools.
CPS had already announced it would trim that $33 million budget down to $15 million. On Wednesday, the district announced that number would be cut further, down to $12 million, due to the schools that voted out their SROs.
Lightfoot reiterated her belief Wednesday that LSCs are better equipped to make decisions for their own communities.
"The local school councils," she said, "made up of parents and other stakeholders, are in the best position to understand what their individual schools need and what their communities they represent are needing."
Contact Matt Masterson: @ByMattMasterson | [email protected] | (773) 509-5431
---