Two police chiefs from outside Chicago with experience handling high-profile mass shootings and a Chicago native who's risen to the rank of deputy chief are finalists in the city's search for its next top cop.
The Chicago Police Board on Wednesday announced the three names it will submit to Mayor Lori Lightfoot for consideration to become the police department's next superintendent: former Dallas Chief David Brown; 29-year Chicago Police Department vet Ernest Cato; and Aurora Police Chief Kristen Ziman.
The Police Board unanimously approved each of those finalists during its monthly meeting held via conference call.
"At no time in its history has the Chicago Police Department faced greater challenges, and finding the best possible leader is of the utmost importance," Board President Ghian Foreman said.
"And this was true before the COVID-19 outbreak. Now, as the city faces an unprecedented public health crisis, we need to move forward with the selection process so that a permanent leader can be named to this critically important position," Foreman said. "We are confident that we have identified three highly qualified candidates, each of whom has the experience and ability to lead the CPD during this time of crisis and well into the future."
Lightfoot will now have her choice among those finalists to replace ousted Superintendent Eddie Johnson on a full-time basis. She led the city's previous superintendent search as head of the Police Board in 2016, but the trio of finalists her board selected were ignored by then-Mayor Rahm Emanuel, who instead selected Johnson – a department insider who had not even applied for the job.
If none of the nominees accept the appointment, the board then must present three more finalists to the mayor until the position is filled. Lightfoot can also turn down the finalists, which would likewise require the board to nominate others.
Lightfoot has indicated previously she will abide by the board's choices.
Former LAPD Chief Charlie Beck was named interim superintendent in November and has since installed sweeping department-wide reforms. But he has stated repeatedly that he does not want the job permanently and is looking to return to his family in California.
The board began its search late last year after Johnson announced he'd be retiring at the end of 2019. But weeks later, Lightfoot fired Johnson, accusing him of lying to her about an October incident in which he was found asleep in his car after having multiple drinks.
Johnson was reportedly seen at Ceres Café downtown drinking for hours with a female officer who was a member of his security team. When officers found him in his car later that night, Johnson flashed his superintendent's badge and drove off, according to the Chicago Tribune.
Days after his termination as superintendent, Johnson officially retired from the department before issuing a statement defending himself and claiming he "did not intentionally mislead or deceive" Lightfoot or the public. An investigation led by the city inspector general into the incident is ongoing.
The board received 25 applications by its January deadline, according to Foreman, and conducted in-depth interviews with nine candidates, focusing on their professional accomplishments and reputations. Specifically, Foreman said the board looked at the candidates' overall experience, their work with the community, consent decree compliance and thoughts on building up the CPD.
"We wanted to know as much about each applicant as we could, what each had accomplished, what obstacles they had overcome and what mistakes they had made and why and what they had learned from those mistakes," Foreman said. "If you really take a good look at the applications, these were the three candidates that we thought best fit the bill."
Learn more about each of the finalists below.
David Brown, retired Dallas police chief | Resume
Brown served as police chief in Dallas, one of the country's 10 most populous cities, from 2010 until his retirement in 2016. He spent more than three decades with the Dallas Police Department, starting as a patrol officer in 1983 before serving both as assistant police chief and assistant city manager.
The 59-year-old Dallas native was seen as a reformer during his time as chief. In a 2016 profile, The Atlantic described the DPD as a "poster child for police reform" due to Brown's efforts to "efforts to increase transparency and train officers to reduce the lethality of interactions between police and the community."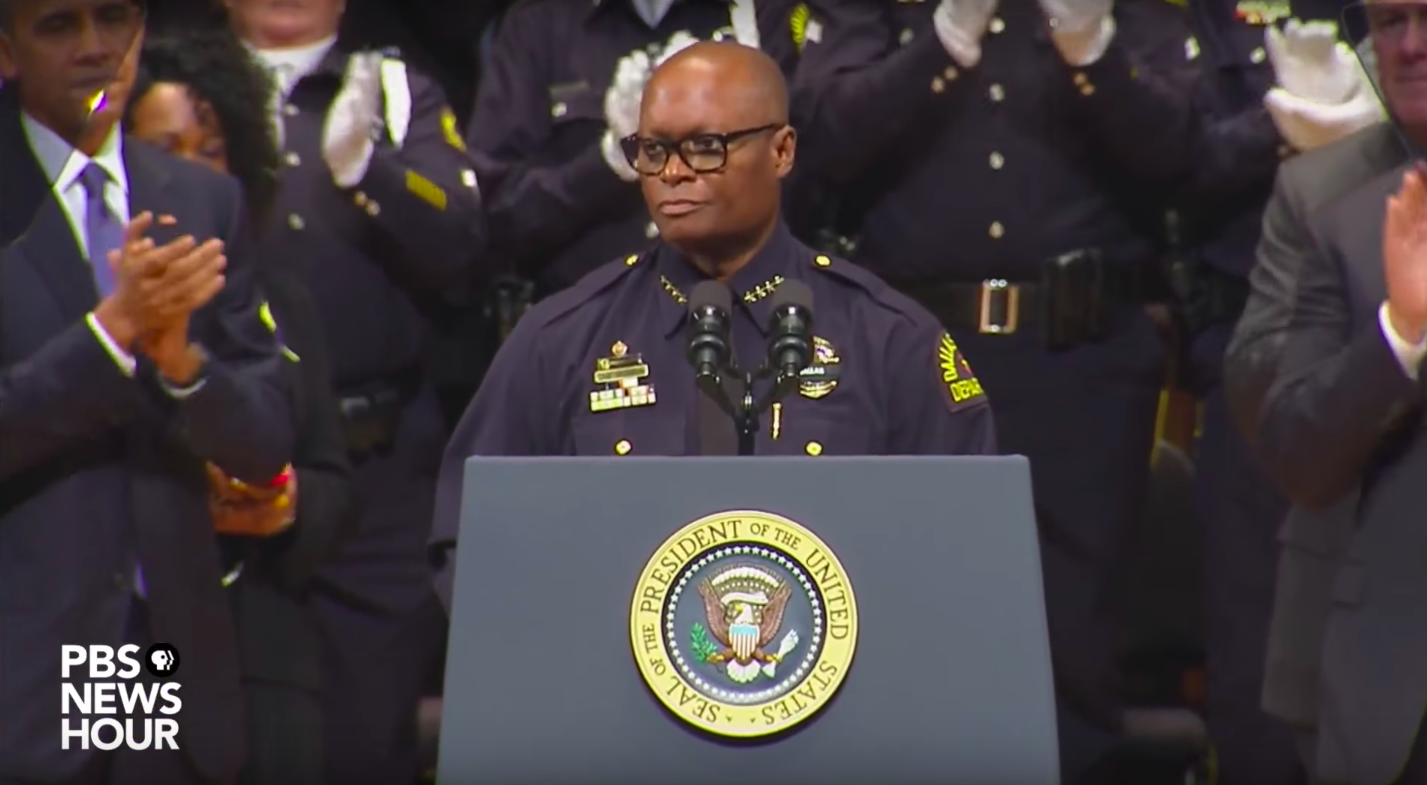 Retired Dallas Police Chief David Brown speaking at a 2016 memorial. (PBS Newshour)
After an officer killed an unarmed man in 2012, Brown responded to community outrage by updating training policies, firing underperforming officers and increasing its usage of body-worn cameras.
The most notable incident during Brown's tenure in Dallas came shortly before his retirement, when a gunman ambushed several police officers, killing five and wounding nearly a dozen others.
During the ensuing standoff, Brown made the controversial decision to use a remote-controlled robot strapped with explosives to kill the gunman.
Brown has also seen firsthand the effects of gun violence in his personal life. His youngest brother was killed in 1991 by drug dealers in the Phoenix area. And months after becoming chief in 2010, his 27-year-old son shot and killed two men, including a suburban police officer, before he was gunned down by responding officers.
Ernest Cato III, Chicago Police Department deputy chief | Resume
A Chicago native, Cato has been with the Chicago Police Department for 29 years and is the lone insider candidate for superintendent.
In his career, Cato has worked as a sergeant, tactical sergeant and also as a homicide detective on the city's West Side.
The Chicago Tribune described Cato, 54, as a "rising star" within the department, pointing to, among other things, his work with communities. He had served as commander in the department's 15th District in Austin from 2017 until Johnson promoted him to deputy chief last fall.
Ernest Cato III (Chicago Police Department)
During his time as commander, Cato led a significant reduction in the area's homicides, shootings and violent crimes.
In announcing that promotion, the CPD also extolled Cato's "passion for community engagement and partnership," pointing specifically to his role in developing community-based programs such as the 100 Churches & 100 Blocks Program and the Austin Response Team.
Kristen Ziman, Aurora police chief | Resume
Ziman would become Chicago's first female superintendent, just as she was the first female police chief in Aurora.
An Aurora native, she joined the department in 1994 as a patrol officer and was promoted to sergeant nearly a decade later. In 2008, she was promoted to lieutenant, then again in 2010 to commander before taking over as chief in 2016.
Ziman, 46, gained national recognition last year for the way she handled the aftermath of the mass shooting at the Henry Pratt Company, which left five employees dead and several others, including multiple officers, injured.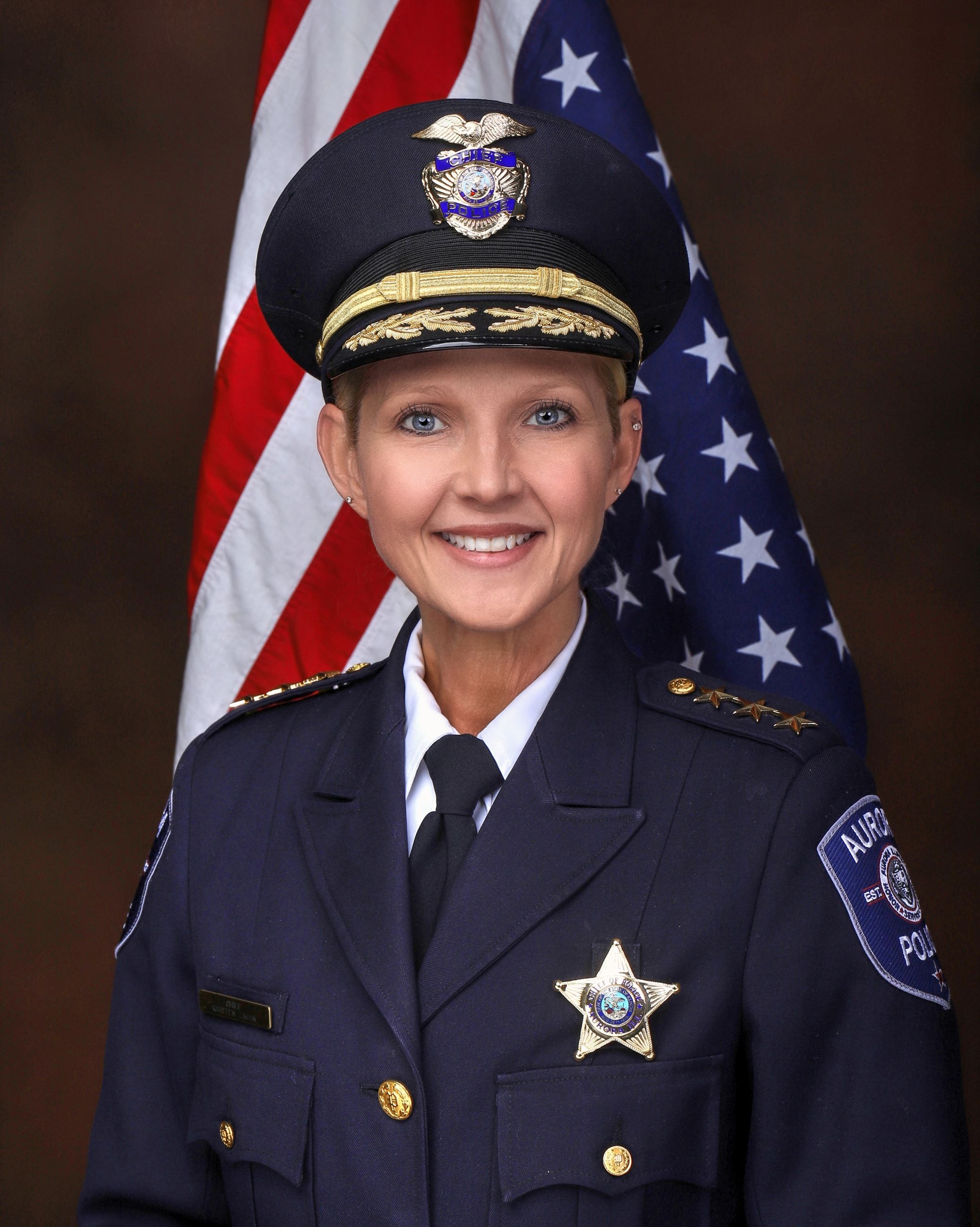 Kristen Ziman (Aurora Police Department)
She was dubbed "America's Police Chief" by some and was introduced to a national audience in the wake of the shooting.
According to her department profile, Ziman has been a columnist for the Chicago Tribune-owned Aurora Beacon-News since 2008 and also writes about police-related topics on her personal blog
She published a new blog post Tuesday. Though she didn't mention her position as a finalist in Chicago, Ziman reflected on her career as she rose through the ranks and "transformed our police department" in Aurora despite being repeatedly "underestimated."
"Sometimes we need to blow up the template of what we've always done to begin a transformation," she wrote. "And that might mean making others uncomfortable in the process. Do it anyway."
Contact Matt Masterson: @ByMattMasterson | (773) 509-5431 | [email protected] 
---