Chicago in 2019 saw double-digits drops in gun violence for the third consecutive year. But as the city continues its work to bring down the homicide rate following a 2016 spike, interim Chicago Police Superintendent Charlie Beck believes one thing is absolutely necessary: winning back the public's trust.
Speaking at the City Club of Chicago on Monday, Beck compared the situation Chicago finds itself in to that of Los Angeles – where he served as police chief for almost a decade – which saw nearly 1,200 homicides in the year following the infamous 1991 police beating of Rodney King.
But in the years since, the LAPD entered into a consent decree with the federal government and rebuilt its reputation with local communities to a point where the city has not surpassed 300 homicides in any year over the past decade.
"What LA has gone through before, Chicago is going through now," he said. "And each of these journeys is defined by the tipping-point events that caused major change."
In Chicago, Beck pointed to the 2014 shooting of black teen Laquan McDonald by white police Officer Jason Van Dyke as its "tipping point." In the year after dashcam video of that shooting was made public, Chicago recorded 762 homicides – its highest total in nearly two decades.
And just like in LA, Beck said, the police department "lost a city's faith."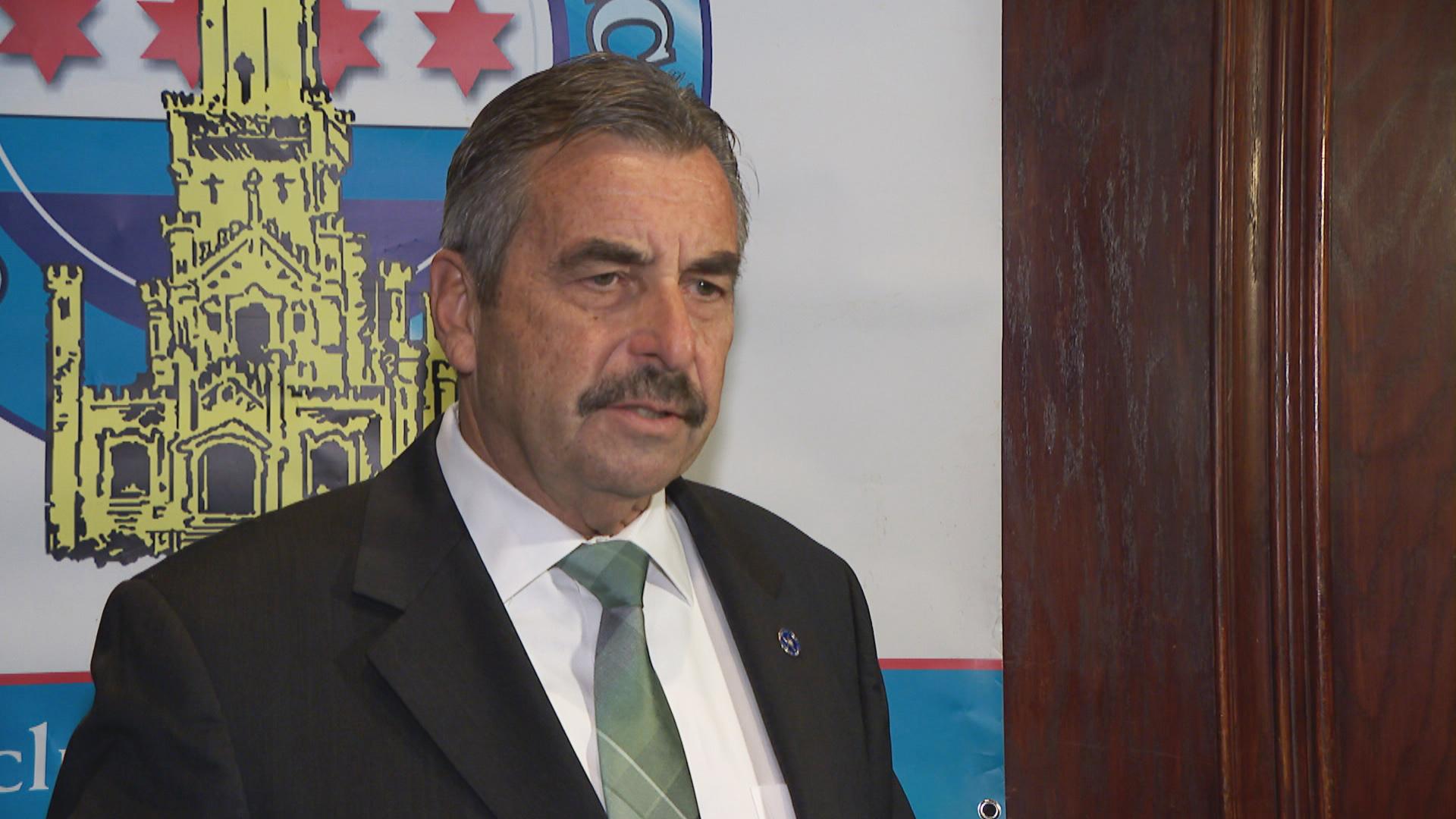 Interim Chicago Police Superintendent Charlie Beck addresses the media following his remarks at the City Club of Chicago on Monday, Jan. 13, 2020. (WTTW News)
He believes Chicago is better positioned for success because the department is well staffed and has already started spending on technological advancements for smarter policing. But a bigger point for Beck is complying with Chicago's own federal consent decree.
"Chicago will achieve these results," he said. "Chicago will follow the path of Los Angeles, will earn itself out of the consent decree, will become seen as a model for effectiveness (and) will build public trust."
It's been more than a month since Beck took over as interim replacement for Superintendent Eddie Johnson, who planned to retire but was ultimately fired in December after he allegedly lied to Mayor Lori Lightfoot about an incident in which he was found asleep behind the wheel of his car.
While Beck has made clear he doesn't intend to stay in Chicago for the long haul, he's done more than keep the superintendent seat warm for his eventual successor.
Already, Beck and Lightfoot have announced plans to end so-called merit promotions that have been criticized as being anything but merit-based.
Beck lauded a District Coordination Officer pilot program that plans to give communities a "beat cop on steroids" to handle quality-of-life and other non-911 related issues. And on Monday, he also announced plans to finish a total review of the police department's structure and resource allocation.
"By the time I leave," he said, "we will make structural changes and we will be on track to make sure we have the right number of cops in the right spots to do the right thing."
Beck later told reporters that includes restructuring CPD so it "reflects the needs of the city." But he declined to get into specifics other than noting he's working on an "aggressive" timeframe.
Monday also marked the deadline for superintendent candidates to file their applications to take over the superintendent position on a permanent basis.
The Chicago Police Board on Monday evening said it received 23 such applicants. The board said it plans to conduct interviews with the "best-qualified" applicants before submitting a list of three finalists to Lightfoot, who will appoint the new superintendent. Board President Ghian Foreman said they plan to complete an initial round of interviews by the end of January.
It's unclear exactly how long the hiring process will take to complete, but Beck said he expects to remain interim superintendent for another three to four months.
"The men and women of CPD are ready for this challenge," he said. "I've been to almost every district, I've made 1,000 contacts, these are motivated folks who are ready to step up to the plate and be the difference in Chicago. I'm very enthusiastic about the work force and I believe in them."
Contact Matt Masterson: @ByMattMasterson | [email protected] | (773) 509-5431
---