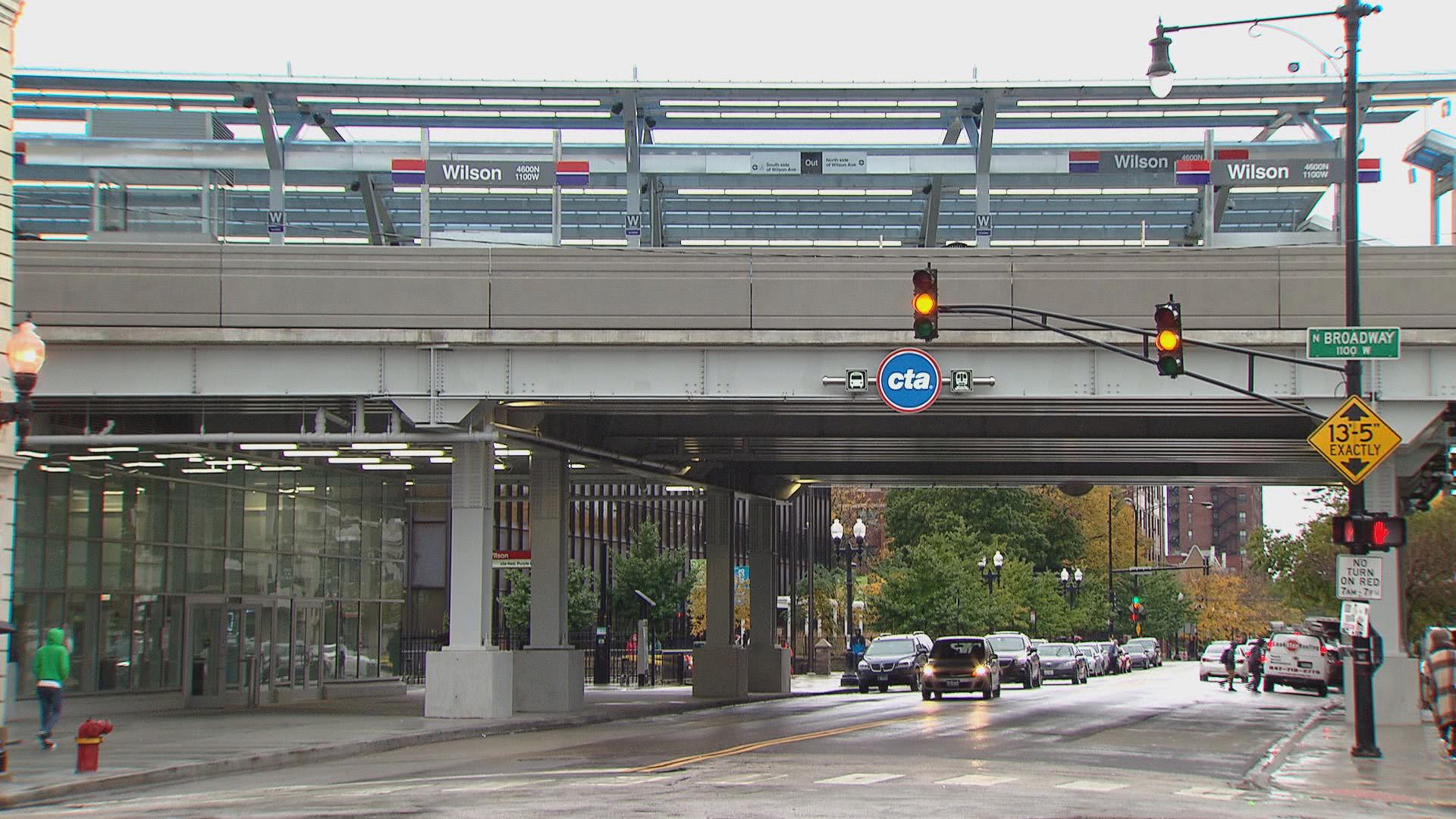 The Wilson CTA Red Line station. (WTTW News)
Northbound Red Line trains will run express between Wilson and Howard from 10 p.m. Friday until 4 a.m. Monday as part of the CTA's Red and Purple Line modernization project. Crews will be working around the clock, including on excavation, demolition of a manhole and track realignment, according to an email alert from 48th Ward Ald. Harry Osterman.
The CTA says it will run shuttle buses along the train route, stopping at corners closest to the affected stations. Riders who prefer to stay on board the train can ride northbound to Howard, then transfer to a southbound train and exit at an affected station.
Additionally, Ardmore Avenue is scheduled to be closed to street traffic between Broadway and Winthrop Avenue from 9 p.m. Friday until midday Monday, with pedestrians limited to the sidewalk on the north side of the street.
The weekend work is being done in preparation for the reconstruction of Red Line stations at Lawrence, Argyle, Berwyn and Bryn Mawr, as well as 6 miles of track, viaducts and other structures, according to a CTA handout. Prep work for the revamp is scheduled to run until fall 2020.
Starting Jan. 10, weekend work will take place on a weekly basis, according to Osterman, during which the Granville, Thorndale and Bryn Mawr stations will be closed from 9 p.m. Fridays until 4 a.m. Mondays. Osterman says more specific information about the work, including a construction timeline, will be shared at a series of community meetings next month.
The full Red and Purple Line modernization program involves several different projects – among them, the construction of a train bypass in Lakeview – aka the Belmont flyover – designed to eliminate slowdowns caused by a point on the tracks where Red, Purple and Brown Line trains must yield to one another. Phase one of the project is scheduled to run through 2025.
---
Related stories:
CDOT: 'Please Don't Stop Reporting Bike Lane Issues to 311'
Cyclists Say City Isn't Addressing 311 Complaints About Bike Lanes
Chicago Parking Fees Increasing, But City Set to Save Millions
Report: Local Transit Fails to Meet Needs of Disabled, Elderly Riders
---