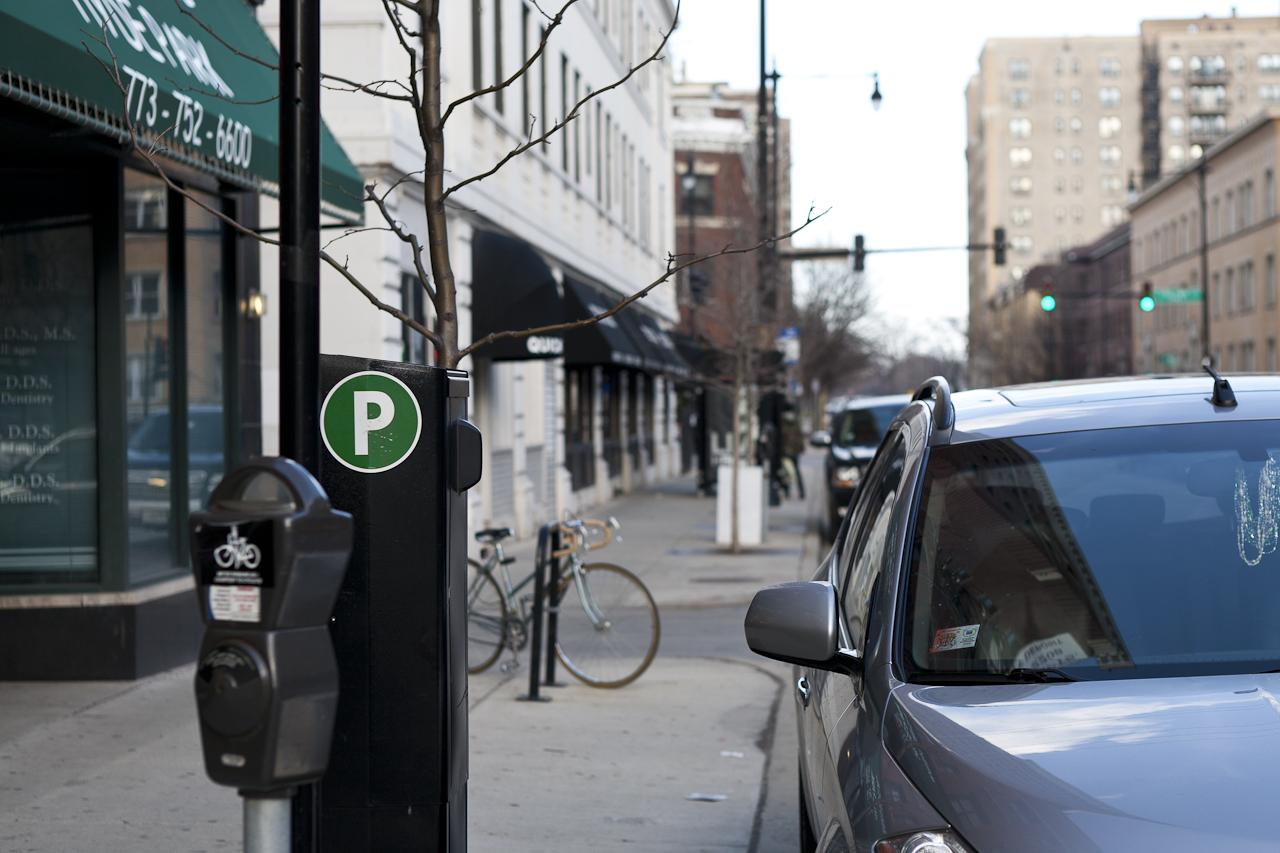 (John Lodder / Flickr)
Come January, it'll cost $7 an hour to park in the Loop (up from $6.50) and $4.50 per hour in the commercial business district that encompasses everything else from North Avenue to Roosevelt Road between Halsted Street and the lake (up from $4).
Chicago aldermen on Tuesday approved the 50-cent increases in the city's most high-demand parking areas as part of the city's 2020 budget.
Chicago will also install new parking meters in the West Loop, where the hourly rate will also be $4.50 (up from $2).
Other parking hikes will come down the road, in 25-cent increments, through a formula meant to keep meter rates in line with inflation. That could mean increases in downtown rates again in the next two to three years and in neighborhoods in five years or so, according to a Chicago Department of Finance administrator.
Through a widely maligned 2008 deal crafted by then-Mayor Richard M. Daley, the city was paid $1.15 billion in exchange for ceding 75 years' worth of parking meter revenue to a private company, Chicago Parking Meters, LLC. 
So it will technically be the company – not the city – that will collect more money from the higher rates and added meters.
But the city's budget stands to benefit nonetheless. Mayor Lori Lightfoot's administration estimates it will save $7.9 million in 2020, and more down the road.
Per the privatization deal, Chicago Parking Meters bought what the Department of Finance administrator (who spoke with WTTW News on background) describes as the "full value" or worth of the parking meter system. Whenever it's getting less, the city is on the hook.
Chicago incurs those costs, known as "true up" payments whenever parking meters are out of service, due to a festival that closes a street to traffic, construction, or removing meters to make space for a new bus lane.  
But the city also incurs costs if the "full value" of the system doesn't match up with inflation – if the city does not raise hourly rates or add meters. Say, for example (and just an example, for the sake of simple math), the parking meter system was worth $100 million last year, but the consumer price index rises by 2%. Now the value of the parking system would be $102 million. Chicago either has to pay Chicago Parking Meters $2 million, or the parking meters need to bring in that much more. 
(If anyone is mad about dropping change into a meter or plugging in credit card information via an app, take it up with the city. As Chicago Parking Meters' website states, "the city of Chicago retains control over pay station parking rates. CPM does not – and never has – set pay station parking rates.)
But if the city didn't add more parking spaces or raise rates, "then we, the city, are going to have to make up that increase," the city finance administrator said.
Chicago parking rates have not increased since 2013, even though the consumer price index has.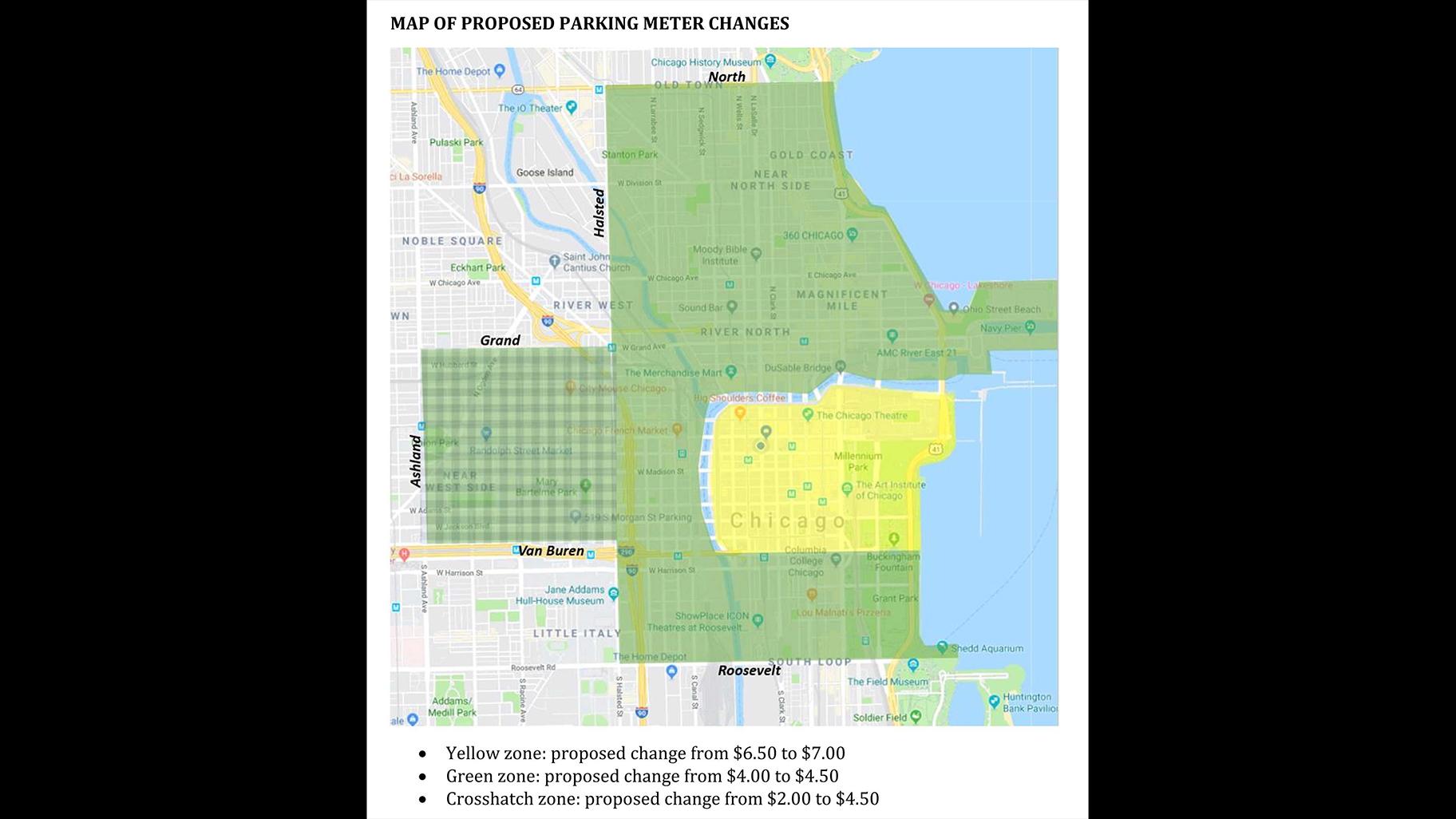 Click the image to to see a larger version. (Courtesy City of Chicago)
"As a result ... the city has to pay the parking meter concessionaire extra to make up for the lost revenue, since (aldermen) didn't raise the rates," said Sam Kling, Global Cities Fellow at the Chicago Council on Global Affairs. "Essentially, the whole city is subsidizing these artificially low parking meter rates."
The more money the city has to send to Chicago Parking Meters, the less there is for pensions, mental health services and other obligations.
The changes in the 2020 budget are meant to prevent Chicago from having to make "true up" payments in the future, so that instead of Chicago taxpayers having to cut a check to Chicago Parking Meters, all money going to the company will come from drivers who park and pay at meters.
Lightfoot's administration estimates the city's "true up" obligation to Chicago Parking Meters will be $506 million in 2020, but could be eliminated in 2021 and thereafter.
If meters ever bring in more than Chicago Parking Meters' contractually defined value of the system, the city would get to keep that revenue.
"Our goal is to reach 100%, where we get back profit versus having to pay," a department of finance spokeswoman said, adding that the city does not want to "overpromise."
While all of this may induce groans from drivers, it's necessary, Kling said.
"It's much fairer to have people who are actually using the parking spaces pay for the parking rather than have the entire city of Chicago pay for their parking," he said. "It's not a bad thing that parking rates are high. Parking rates should probably be higher if anything. You shouldn't be able to store your car on the street for free. That has a cost."
A majority of those who park in the most in-demand parking areas of the Loop and Central Business District aren't from the city, according to a memo from the city that cites a Chicago Parking Meters study, which found that 60% to 65% of vehicles parked in these zones didn't have a city sticker.
Adding meters in the West Loop will, according to the memo, "make it easier for patrons to find parking, reducing the number of cars circling the area to find available parking."
Why? Because meters will make people move their cars. 
If you have free parking or "artificially low" parking rates, people don't have an incentive to move their cars, says Kling. "You should price parking to something resembling the market rate, so that you're always going to have (parking) space available," he said.
While the city is still stuck in a "horrible" contract with Chicago Parking Meters that provides little wriggle room, Kling says "it's a good thing the city is getting on top of this" by raising rates and adding meters.
The parking changes will come at the same time as Lightfoot's new congestion tax, which was also approved Tuesday by the City Council. 
That ordinance increases a fee on single-passenger rides using ride-hailing services like Uber and Lyft from 72 cents to $3 for rides in and out of downtown on weekdays between 6 a.m. and 10 p.m. The ordinance also raises that fee to $1.25 for rides to and from neighborhoods, while decreasing the fee on multi-passenger (or "pool") rides to 65 cents. The budget banks on raising $40 million in revenue.
The move has been assailed by ride-hailing companies, but praised by advocates of public transportation and the environment.
Kling says he wouldn't "over-emphasize" the parking meter and ride-hailing fee changes, but also sees the potential impact they can have on transportation in the city.
"If you raise parking rates, you can have more parking spaces available. And you encourage people who have other options – taking the train or the bus – which is better for the environment, better for the city," Kling said. "These are small but necessary steps to ween Chicago off of this really car-centric transportation system. I think none of this is revolutionary, but it's necessary, and it's a good step in the right direction."
Hoping to take respite from the parking meter increases and congestion fee by leaving your car parked in a garage?
That, too, will cost more in the new year, via a state tax that kicks in Jan. 1.
Illinois expects to make $60 million in annual revenue to spend on a massive infrastructure program through the state's first tax on parking garages, with a 6% tax on daily and hourly garage parking and a 9% tax on monthly and annual parking.
Drivers will also pay for Gov. J.B. Pritzker's "Rebuild Illinois" plan by paying $50 more (or $148) for an annual vehicle registration sticker; it'll cost anyone who owns an electric vehicle an extra $100 (or $248 annually). The state tax on gasoline also doubled in July from 19 to 38 cents. The resulting revenue will pay for repairs to roads and bridges.  
Follow Amanda Vinicky on Twitter: @AmandaVinicky
---
Related stories:
Chicagoans Avoid Major Property Tax Increase as Lightfoot's 1st Budget Passes
The City Council Battle Over Lightfoot's Budget
Mayor: Progressive Pushback to City Budget 'Untethered' from Reality
---