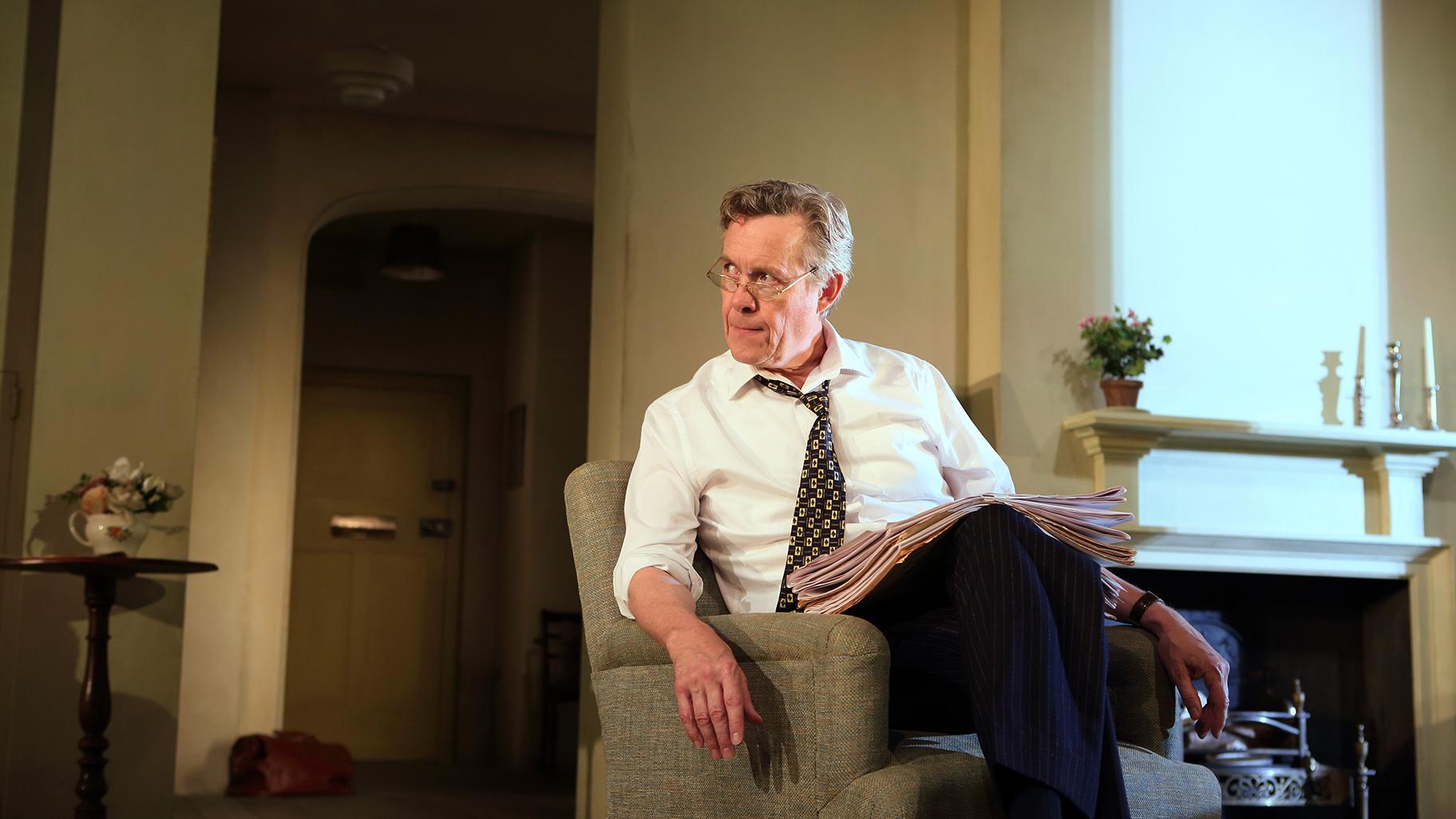 Alex Jennings in "Hansard." (Catherine Ashmore / Courtesy NT Live)
As a fervent believer in the unique power of live theater, I confess I was somewhat skeptical about National Theatre Live! (NTL), the innovative project, now in its 11th season, that broadcasts live performances via satellite (primarily from the stages of London's National Theatre), and subsequently screens recordings of those performances at cinemas throughout Britain and the world.
The projected version of a show can never quite duplicate the experience of watching actors in the flesh. Yet it offers ideal sound and sight lines, and revealing facial close-ups. And with tickets to screenings far less expensive than to live performances – not to mention the prohibitive cost of flying to London or New York in order to catch the latest hit production with its original cast – many more people can now experience terrific productions. And, as it happens, there has been no perceivable drop in box office receipts for the "live" experience since the arrival of NTL.
After watching two superb NTL productions this past weekend, "The Lehman Trilogy" (at the Barber Theater on Northwestern University's Evanston campus) and "Hansard" (at the Gene Siskel Film Center), I have become quite a convert to the form.
Here is a closer look at the shows that made me a believer.
---
Initially written as a radio play by the Italian director/playwright Stefano Massini, and subsequently performed as a stage play in Paris (where it debuted in 2013), as well as other European cities, "The Lehman Trilogy" was finally adapted by Ben Power and directed by Sam Mendes, and had its English language debut at London's National Theater in 2018.
The piece is an epic three-act, three-actor, multi-character work that chronicles the 164-year history of the Lehman Brothers and their descendants: the German-Jewish immigrant family that in many ways shaped and embodied the development of American capitalism from the mid-19th century to 2008 when the global financial services firm suddenly crashed and burned. The company became one of the most high-profile casualties of the Great Recession.
More a historical fantasia than a documentary, the play is far more than just a fascinating family portrait. It takes off in the 1840s with the successive arrival of three brothers from Bavaria, Germany, in Montgomery, Alabama, when cotton was king and slavery was in full force. And it then charts the remarkable progress of Chaim (dubbed Henry during the immigration process), Mayer and Emanuel. The trio are nicknamed "the head, the arm and the potato" for their very different personalities. They began as proprietors of a small fabric and suit shop, but they were ambitious and enterprising. And this stunningly smart and hugely entertaining time-lapse version of their rise also captures American history as it moves from the antebellum South to the magnetic pull of New York.
Over the years, the brothers, their sons and grandsons adapted to the many convulsive changes that occurred – from the Civil War, to the stock market crash of 1929 and beyond – and found ways to make money through innovations in banking and trading. Eventually, they tapped into the rise of consumerism, technology and globalization that dramatically altered the fabric of this nation and the world.
So much is quickly and vividly packed into this play thanks to the amazing talent of a phenomenal trio of actors: Simon Russell Beale as Henry, Adam Godley as Mayer and Ben Miles as Emanuel. They morph from fathers to sons (playing wives and a slew of other characters as well) in a way that makes you feel the sensation of time actually speeding up as modern life evolves. The 19th century, with its focus on such commodities as cotton, oil, coffee and tobacco, and the development of railroads, palpably shifts to the 20th century, with the advent of motion pictures, radio and computers, and the replacement of "family" by "corporate boards" all part of the process.
All this spins into being within the confines of a giant, revolving glass box (the inspired set design of Es Devlin), with the "fourth character" in the production pianist Candida Caldicot who plays Nick Powell's subtly transporting score throughout.
You are guaranteed to walk away from this show simply gobsmacked – awed by both the genius of every aspect of its theatricality, and by its scorching vision of how the engine of America grew into what – for better and for worse – it is today.
A repeat screening of "The Lehman Trilogy" is scheduled for Jan. 12, 2020 at 2 p.m. at the Josephine Louis Theater, 20 Arts Circle Drive, Evanston. For tickets ($12-$20) call (847) 491-7282 or visit www.wirtz.northwestern.edu.
Upcoming NTL screenings at Northwestern include "Small Island" (Jan. 19, 2020 at 2 p.m.), "Fleabag" (Apr. 3 at 7 p.m.) and "All My Sons," the Arthur Miller classic starring Bill Pullman and Sally Field (Apr. 4 at 7 p.m. and Apr. 5 at 2 p.m.).
And, if you happen to be headed to New York, the London production of "The Lehman Trilogy" will be making its to Broadway debut in a limited 16-week run at the Nederlander Theatre, 208 W. 41 St., New York City, with previews beginning March 7, and the opening set for March 26.
---
"Hansard"
"Hansard," the first play by British actor-turned-playwright Simon Woods, is a 90-minute tour de force starring a pair of Olivier Award-winning actors: Alex Jennings (who played the Duke of Windsor in Netflix's "The Crown") and Lindsay Duncan.
Set in 1988 during the years of Margaret Thatcher's tenure as prime minister of Great Britain, it captures the blistering confrontation between a couple whose 30-year marriage of love and pain has become a sort of bloody civil war. But on a grander scale, it also cleverly and concisely encapsulates the conflict between conservative and liberal modes of thinking both then and now, with Woods demonstrating a flair for convincingly playing the devil's advocate from both ends of the political spectrum.
The play (whose title refers to the official record of all parliamentary debate), begins as Robin Hesketh (Jennings), a Tory politician with upper-class roots, returns from London to his Cotswold country home and finds something less than a warm welcome from his wife, Diana (Duncan). Hungover and lonely, she is incensed that her husband supports a bill prohibiting the teaching or publishing of information for school-age children that normalizes homosexuality. And she is in exceptionally sharp form as she rails against his sense of privilege.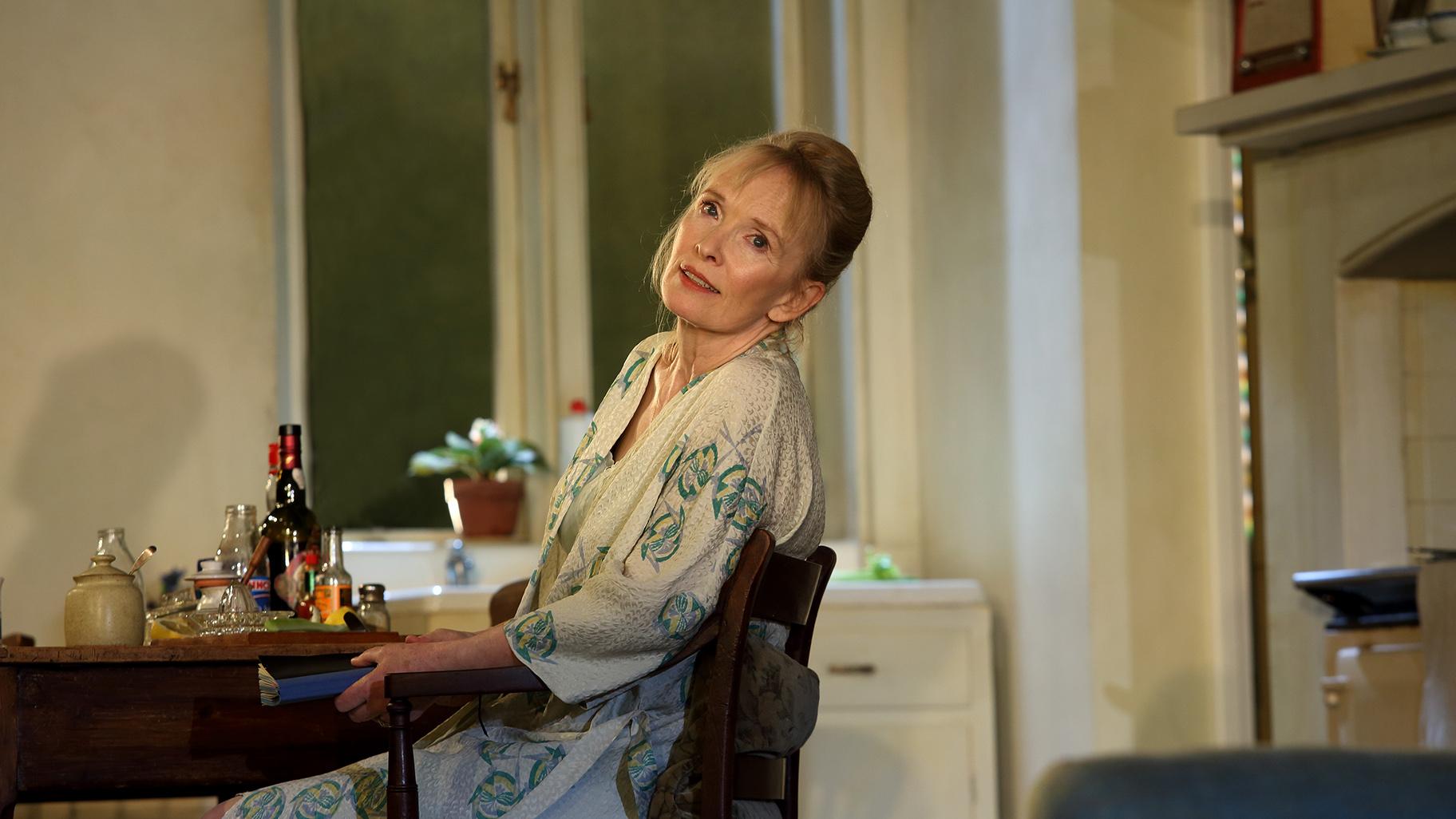 Lindsay Duncan in "Hansard." (Catherine Ashmore / Courtesy NT Live)
Robin's views are antithetical to the playwright's own. (Woods met Chelsea Clinton when they were students at Oxford and even campaigned for Hillary Clinton in the 2008 primaries.) Yet he has Robin expound the Conservatives' point of view on many matters so convincingly that you might think he'd be asked to work for the party.
Of course, there is more to the couple's feverish animosity than should be revealed here. Jennings and Duncan are a rare pair, their performances are sublime, and, for all the vitriol, the play is ultimately devastating.
Note: You can catch Alex Jennings on stage (in the flesh) later this week when he plays Signor Naccarelli, the dashing Italian father of two grown sons, in "The Light in the Piazza," the opera-infused Broadway musical by Adam Guettel and Craig Lucas being presented Dec. 14-29 at Chicago's Lyric Opera House, 20 N. Wacker Drive. The production, staged this past summer at London's Royal Festival Hall, spins the story of an unhappily married American woman (played by Renee Fleming), and her daughter, Clara (Solea Pfeiffer), whose lives are turned around during a trip to Italy, where Clara falls in love with Naccarelli's son, Fabrizio (Rob Houchen).
For tickets call (312) 332-2244 or visit www.lyricopera.org.
Follow Hedy Weiss on Twitter: @HedyWeissCritic
---
Taking Stock of Chicago Theater as 2019 Draws to a Close
A Radiant Moment in Chicago History Key to Magic of Joffrey's 'Nutcracker'
Soprano Sondra Radvanovsky Vividly Conjures 'Three Queens' Betrayed
---