Nondumiso Tembe in "Lindiwe," left, Kelvin Roston Jr. in "Oedipus Rex," center, and Christina Hall in "Always … Patsy Cline." (Photos by Michael Brosilow)
We are now in the final few weeks of what the city of Chicago and the League of Chicago Theatres designated as the Year of Chicago Theater. 
It would be all but impossible to survey the many great, good and sometimes disappointing productions that have arrived on the city's stages during the past 12 months (and I have seen a large fraction of them). But three recent shows, which I have not written about till now, can serve as a brief suggestion of the great variety of work produced, as well as the immense amount of talent that thrives here.
---
'Oedipus Rex' at Court Theatre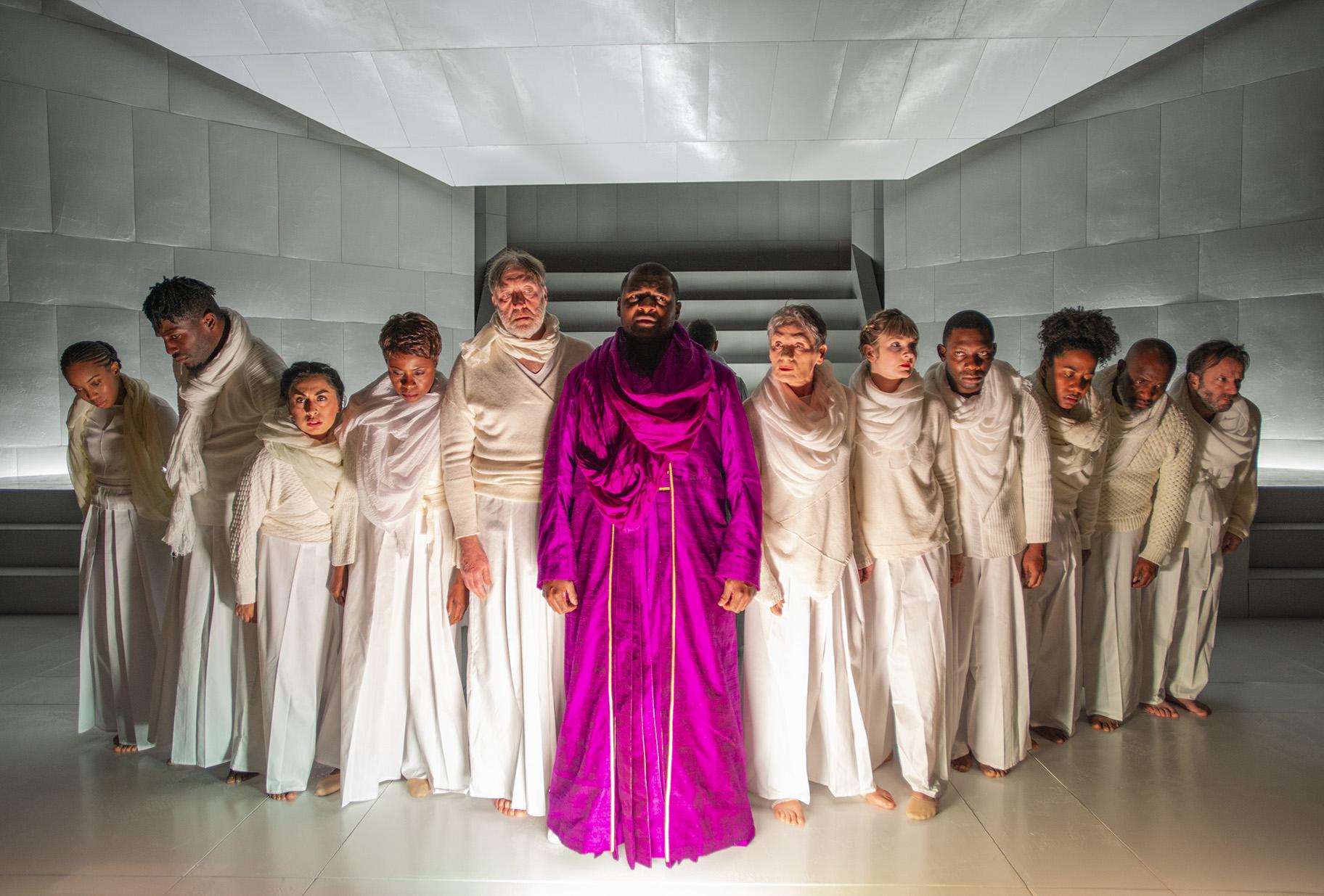 Kelvin Roston Jr., center, and the cast of "Oedipus Rex." (Photo by Michael Brosilow)
Court Theatre was founded as a company devoted to the classics, but Charles Newell, who has served as its artistic director for the past 25 years, has made it his mission to reimagine and expand the definition of "a classic." And nowhere is his technique for doing this more evident than in his riveting production of Sophocles' "Oedipus Rex," which (sadly) completes its run this Sunday.
"Oedipus," of course is the foundational work of Western theater, but using a lean, powerful translation by Nicholas Rudall (Court's founding artistic director, and a professor of classics at the University of Chicago, who died last year), Newell has applied his own gift for tapping into the contemporary energy of an ancient work by means of his casting, his use of movement, and his choice of designers. He never warps Sophocles' original, yet while holding on to the almost ritualistic power of the play he finds what remains timeless in its tale of twisted fates, and the drive for truth alongside human nature's penchant for self-deception.
John Culbert's white, starkly angled geometric set suggests the architecture of an ancient Greek temple, yet at the same time feels utterly modern. The same is true of Erin Kilmurray's movement design which injects a hint of choreographer Pina Bausch's severity. In addition, the mostly white robes by costume designer Jacqueline Firkins (with a lush purple one for King Oedipus), could easily be the garments worn for a Sunday morning church service.
Kelvin Roston Jr.'s blistering portrayal feeds on his talent as both an actor and singer, and there is something of the charismatic African American megachurch minister in his performance that works brilliantly. And the fact that this is a man who has inadvertently married his mother, Jocasta (played by the excellent Kate Collins, a white actress), subtly suggests why incest might never have crossed his mind.
The chorus of citizens ruled by Oedipus is exceptional in speech and movement. And Christopher Donahue has a memorable turn as Teiresias, the shrewdly blunt blind prophet, while Aeriel Williams is profoundly moving as Antigone, Oedipus' haunted daughter.
Ultimately, it is the sense of a kingdom undone by moral corruption and self-deception that rings most true here, whether the story unfolds in ancient Greece, circa 429 B.C., or the 21st century.
"Oedipus Rex" runs through Dec. 8 at Court Theatre, 5535 S. Ellis Ave. For tickets ($37.50-$84) call (773) 753-4472 or visit www.CourtTheatre.org. Running time is 90 minutes with no intermission.
---
'Always … Patsy Cline,' a Firebrand Theatre production at The Den Theatre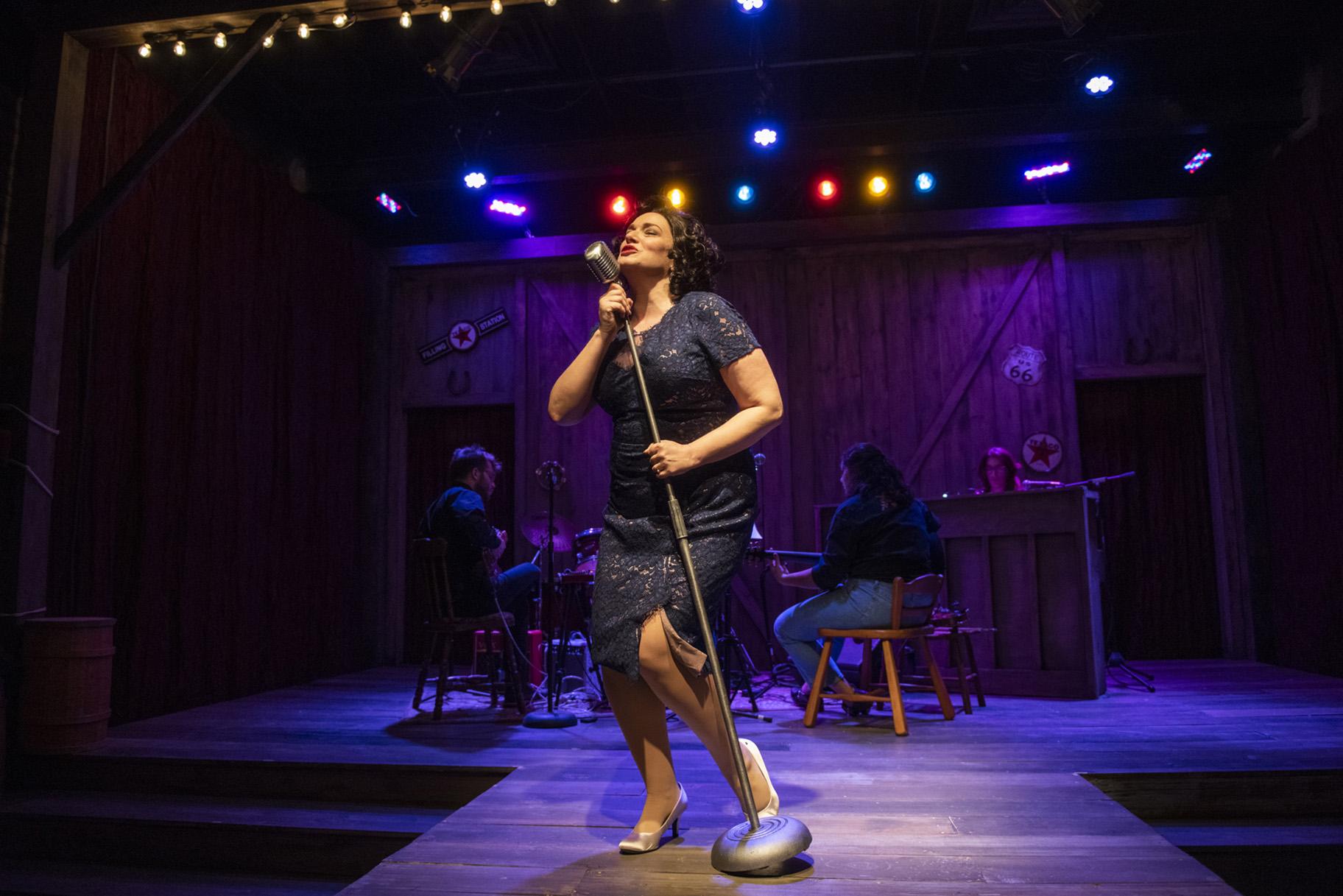 Christina Hall in Firebrand Theatre's production of "Always … Patsy Cline." (Photo by Michael Brosilow)
Firebrand Theatre ("the first Equity musical theater company devoted to employing and empowering women by expanding opportunities on and off the stage") has produced a string of winning shows since its founding in 2016, from a memorable version of "Caroline, or Change," to "Queen of the Mist." The latest delight is "Always ... Patsy Cline," the ever-popular celebration of the country music legend.
Written by Ted Swindley, it is based on the true story of the friendship that developed between Cline and Louise Seger, a Houston housewife who was a great fan of the singer, and who finally met her idol at a concert she gave in 1961.
Essentially a gal-pal revue in which Cline sings about two dozen of her greatest hits (from "Crazy" and "I Fall to Pieces" to "Sweet Dreams," "Walking After Midnight"), and Seger supplies the storyline that suggests her discontent in life, the show thrives under the exuberant direction of Brigitte Ditmars who, in collaboration with designers Lauren Nichols (set) and Steph Taylor (costumes) makes a brick-walled room in one of the Den Theatre's many spaces feel like a honky-tonk juke joint. The superb musical direction of pianist Andra Velis Simon supports the two powerhouse actresses – Christina Hall and Harmony France – who are alternating in the roles throughout the run.
I saw Hall, who has channeled Cline's wonderfully flexible, emotionally wide-ranging voice to remarkable effect, with Harmony as Louise, the fiercely determined woman who has promoted the singer to the host of a popular radio program for years and, after meeting her at a concert in 1961, invites her home for bacon and eggs, and gives her a few hours of comfort after a grueling period on the road. The two women bond (Cline is in a difficult marriage and Seger is a divorced mother of two kids), and Cline even initiates an exchange of letters until she is tragically killed in a plane crash in 1963 at the age of 30. 
Although the story unfolds just before the advent of the feminist movement, these women assert themselves in their own particular ways. And even if Cline's songbook often feels more torchy than liberated, it is downright irresistible.
The first-rate band includes Steven Romero Schaeffer (on guitars), Emma Sheikh (fiddle) and Tina Munoz Pandya (drums). A good time all around.
Firebrand Theatre's production of "Always ... Patsy Cline" runs through Dec. 15 at The Den Theatre, 1331 N. Milwaukee Ave.  For tickets ($40-$50) visit www.firebrandtheatre.org. Running time is 2 hours with one intermission.
---
'Lindiwe' at Steppenwolf Theatre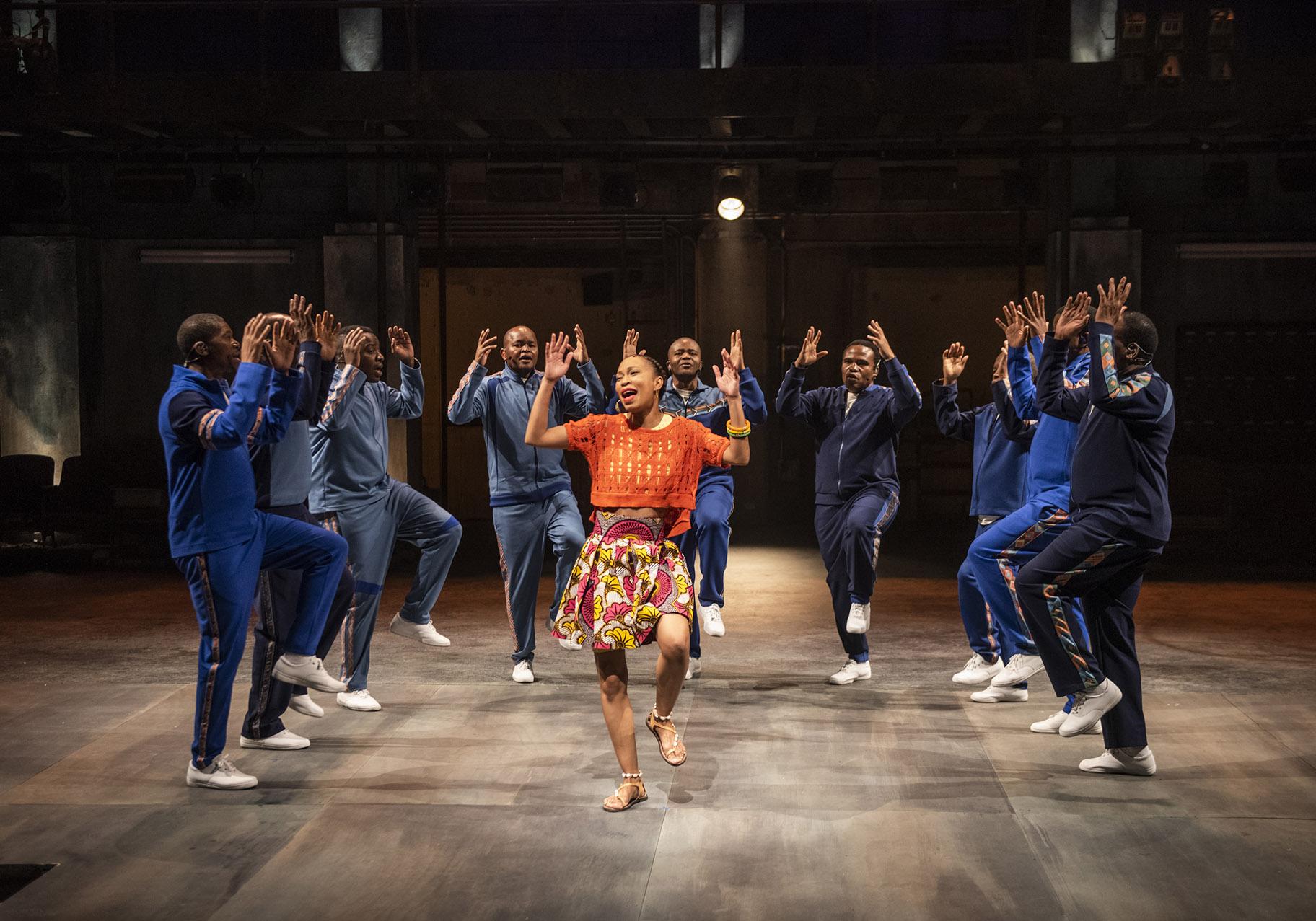 Nondumiso Tembe, center, with Ladysmith Black Mambazo in Steppenwolf's world premiere of "Lindiwe" by ensemble member Eric Simonson. (Photo by Michael Brosilow)
Steppenwolf Theatre and writer/director Eric Simonson first teamed up with Ladysmith Black Mambazo in 1992 for "The Song of Jacob Zulu," a show that began in Chicago and soon moved to Broadway. (It arrived on stage just six years after the fabled South African a cappella singing group had been catapulted to international fame on Paul Simon's 1986 album, "Graceland.")
So, last year, when the company announced it had another collaboration with Ladysmith in the works, the excitement was palpable. But while the new show, "Lindiwe," has some wonderful musical interludes, its book, by Simonson, is problematic to say the least. And even if the presence of Ladysmith (whose charismatic leader, Joseph Shabalala, retired in 2014) remains spirit-altering as it harmonizes on songs in the Zulu language and step-dances in its uniquely buoyant style, it is frustratingly underutilized here.
There is one main reason to catch the show, which has been directed by Simonson and Jonathan Berry, even if it is, overall, a disappointment – an overly long, endlessly repetitive sort of contemporary riff on the Orpheus and Eurydice myth in which the music is a mix of Ladysmith and the Chicago blues. And that reason is to make the acquaintance of Nondumiso Tembe, the award-winning South African actress, singer, dancer and songwriter with international credits who also happens to be a luminous beauty.
More: Ladysmith Black Mambazo Reunites with Steppenwolf for 'Lindiwe'
Tembe plays Lindiwe (whose name is the Zulu term for "waited for"), an already successful singer who works with Ladysmith and has come to Chicago to advance her career. She becomes instantly involved with Adam (Erik Hellman, also largely wasted here), a local sound designer and drummer who introduces her to the blues. Their relationship is feverish to start, but it soon gets caught up in career conflicts, the difficulties of geographic separation, and much else. Then comes a devastating car crash and a confusing quest for reunification with the dead.
Tembe, who possesses a magical gift for emanating both pure star quality and genuine warmth, moves like a dream, and she effortlessly switches from her own South African sound to the blues. She is sensational. And serving as Keeper, the demonic, lightning-driven god of some underworld realm is Yasen Peyankov, who can deliver a sardonic line better than anyone. They are needed.
"Lindiwe" runs through Jan. 5 at Steppenwolf Theatre, 1650 N. Halsted St. For tickets ($20-$114) call (312) 335-1650 or visit www.steppenwolf.org. Running time is 2 hours and 10 minutes with one intermission.
Follow Hedy Weiss on Twitter: @HedyWeissCritic
Note: An earlier version of this story included incorrect biographical information about Joseph Shabalala. The story has been updated.
---
A Radiant Moment in Chicago History Key to Magic of Joffrey's 'Nutcracker'
Soprano Sondra Radvanovsky Vividly Conjures 'Three Queens' Betrayed
Revisiting the Unique Poetry of Simon & Garfunkel's Soundtrack
---