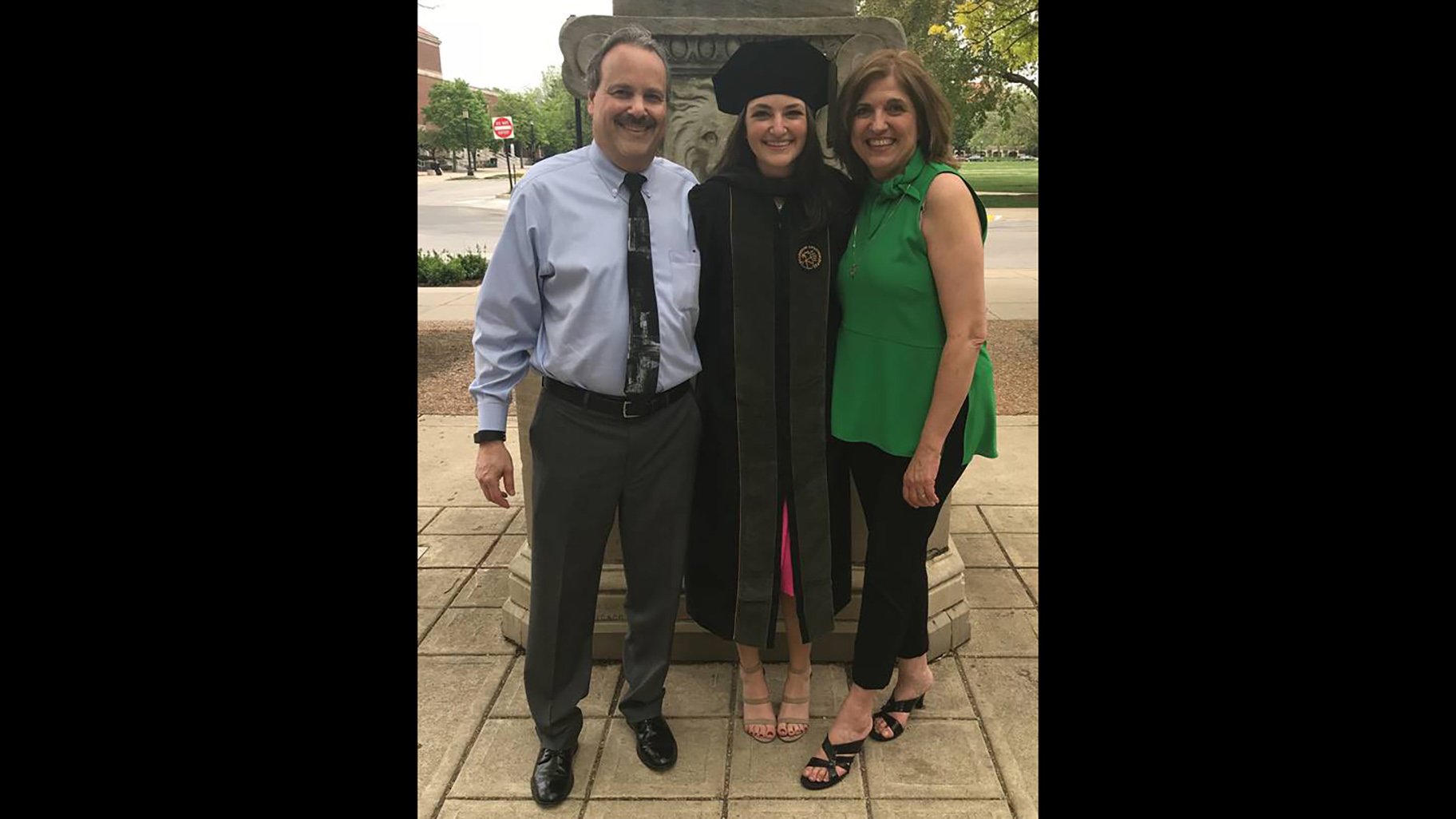 Dayna Less, center, with her father Brian and mother Teena. (Provided photo)
The father of slain pharmacy resident Dayna Less is suing Mercy Hospital and its security firm, claiming their "systemic failures" allowed a domestic violence incident last year to "escalate into a triple homicide on hospital grounds."
Brian Less filed the wrongful death suit in Cook County court Thursday, just over a year after his daughter, emergency room doctor Tamara O'Neal and Chicago police Officer Samuel Jimenez were gunned down by O'Neal's former fiancé Juan Lopez at the hospital on the city's Near South Side.
The suit names Mercy Hospital & Medical Center, SDI Security, Trinity Health Inc. and the administrator to the gunman's estate as defendants. In it, Brian Less and his attorneys claim Mercy, SDI and Trinity "completely failed to take even the most basic and simple safety and security measures" that would have prevented his daughter's death.
They say police records and security footage showed Lopez had been loitering in and around the hospital lobby for 90 minutes before the shooting. But allegedly no one from the hospital approached him "during this time to ascertain his reason for being in the hospital or assess whether he was a danger to others."
"If Mercy or SDI would have confronted the shooter, Lopez, while he was seen in person and on security cameras lurking in the hospital lobby for approximately 90 minutes before he began to attack a physician in the Mercy parking lot, Dayna's shooting would not have occurred," Less' father states in a 22-page complaint.
After Lopez shot and killed O'Neal outside the hospital and opened fire on arriving police officers, he entered the lobby where he confronted Less, 25, and another co-worker who had just gotten off an elevator, unaware of the chaos rapidly unfolding before them.
"Lopez told the two young women to 'get the f*** out of here,' the complaint states. "Both women turned toward the lobby entrance and attempted to flee. Dayna's co-worker made it to the door and out of the building. Dayna did not."
Less was struck multiple times in the chest, back and arm.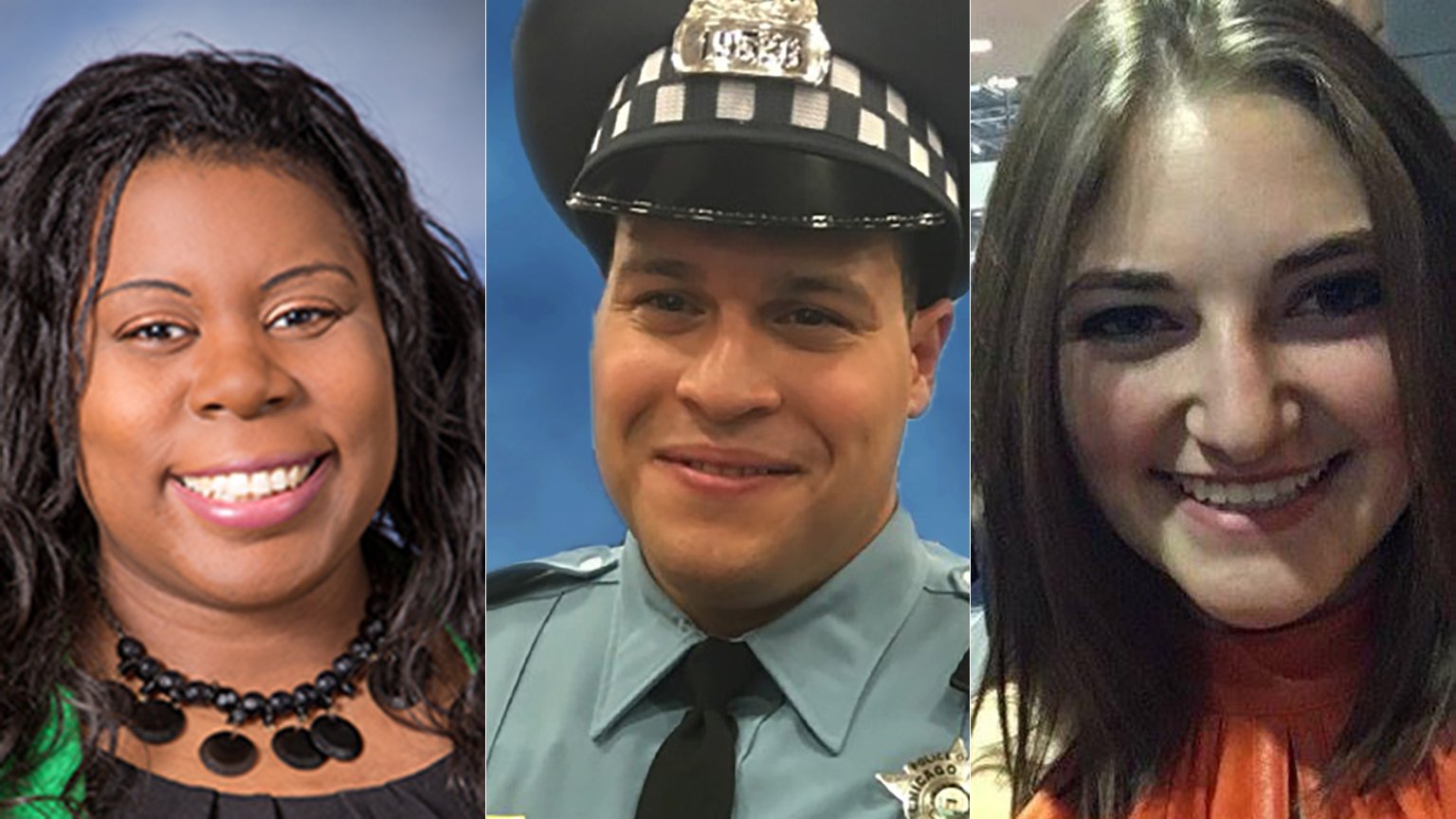 Dr. Tamara O'Neal, left, Chicago police Officer Samuel Jimenez and pharmaceutical resident Dayna Less. (Franciscan Health / Chicago Police Department / Facebook)
Lopez was pursued into an east end hallway in the hospital where he engaged in a gun battle with officers and fatally shot 28-year-old Jimenez. Lopez himself was then wounded and took his own life.
The lawsuit criticizes security personnel not only for allowing Lopez to remain in the area for as long as he did, but for failing to secure the facility as Lopez re-entered after killing O'Neal and shooting at police.
It claims the defendants "recklessly failed" to respond properly to the situation. According to the complaint, three members of the SDI security team on hand saw Lopez shoot O'Neal but did nothing to intercept Lopez or lock down the building before the gunman was able to walk back inside.
"Dayna's death could have easily been prevented if Mercy and SDI had responded properly on multiple occasions," the complaint states, "yet both inexplicably chose to do nothing until well after Dayna's shooting."
Less was born in Saint John, Indiana, and graduated from Purdue with a degree in pharmacy. She was engaged to her high school sweetheart and planned to marry in June.
Hospital spokesman Chris Vicik said in an email he was aware of the Less family's lawsuit, but could not comment on it.
"We continue to extend our deepest sympathy," he said, "to Dr. Less' family and friends over her tragic death."
Contact Matt Masterson: @ByMattMasterson | [email protected] | (773) 509-5431
---
Related stories:
Chicago Police Officer Jimenez Remembered as a 'Guardian'
Chicago Police Officer Killed in Shooting Near Thompson Center
Chicago Police Union Severs Ties With Van Dyke Defense Attorney
Johnson Calls for Firing of Rialmo for Fatal LeGrier, Jones Shooting
---