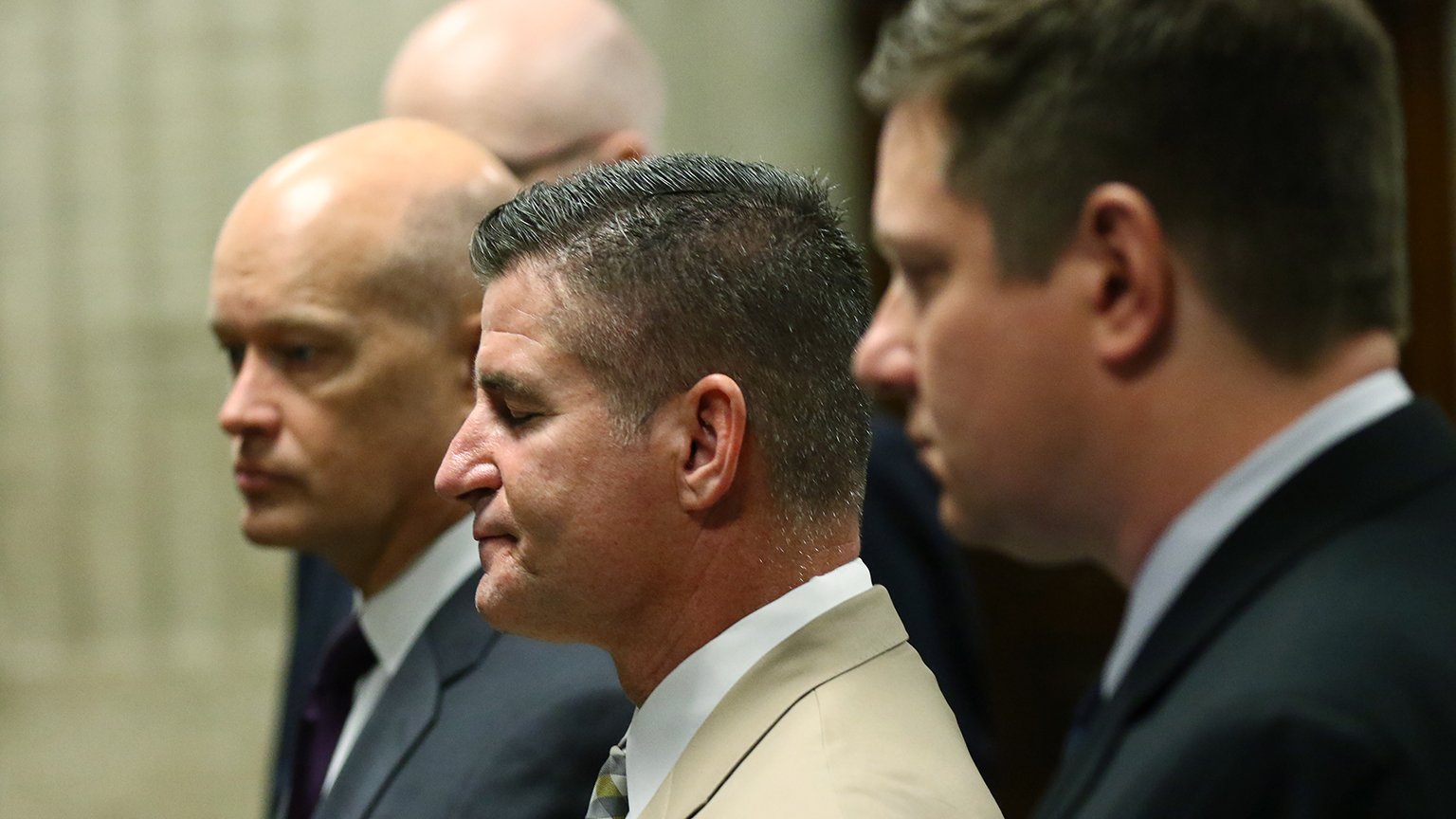 Defense attorney Dan Herbert, center, reacts to Cook County Judge Vincent Gaughan's remarks during the murder trial of Chicago police Officer Jason Van Dyke, right, on Oct. 3, 2018. (John J. Kim / Chicago Tribune / Pool)
Chicago's police union has severed its ties with the private attorney it hired to defend Officer Jason Van Dyke, who was convicted last month in the 2014 shooting death of black teen Laquan McDonald.
The Fraternal Order of Police in Chicago will no longer refer cases to Dan Herbert, a private defense attorney and former Chicago police officer who previously worked as an FOP staff attorney.
Herbert issued a statement Wednesday evening, saying some members of the FOP's executive board were displeased with the defense he and his legal team provided to Van Dyke during the monthlong trial.
"This case was not about the current FOP leadership," he said in a statement. "It is about Jason and his family. I remain close to them and Jason wants me to stay on as his lawyer. This means much more to me than some politically based criticism."
Van Dyke was convicted in October of second-degree murder and 16 counts of aggravated battery with a firearm stemming from the 2014 shooting. At trial, Herbert argued his client had not committed any crime and only fired his gun in reaction to an approaching teen armed with a knife.
He claimed the shooting was justified by state use of force statutes, but also fought unsuccessfully for months to get the case moved outside of Cook County, believing Van Dyke couldn't get a fair trial before a local jury after years of intense media coverage of the case.
After the verdict, some jurors criticized Herbert's decision to call his client as a witness. Van Dyke took the stand and cried as he recalled shooting McDonald, but jurors felt his testimony came off as rehearsed.
Herbert defended that decision, saying Van Dyke had to testify given that he was claiming self-defense, but understood that he would be second-guessed by "Monday morning quarterbacks" no matter what verdict was reached.
"Because of the politics, the cover-up, the video and the worldwide media attention, few lawyers wanted to take this on," he said in a statement. "After meeting Jason, listening to his story, learning about his outstanding record as a Chicago police officer working in the city's most dangerous neighborhoods, I decided to take his case."
Herbert began his career as a Chicago police officer in 1991. During his time there he also studied at Lewis University and the DePaul University College of Law. He worked as an officer for a decade before moving to the Cook County State's Attorney's Office, where he worked as a prosecutor for more than four years.
Herbert left that office in 2005 and became an attorney for the Chicago Fraternal Order of Police before entering private practice and opening The Herbert Law Firm in 2008.
A spokesman for the FOP declined comment Thursday morning.
Herbert again appeared as Van Dyke's attorney during a brief hearing last week and has repeatedly discussed a possible appeal. His client's wife hopes Herbert will remain on the case regardless of the FOP's decision.
"We are very happy with the job Dan Herbert did for Jason. Dan is part of our family and Jason would like him to continue on as his attorney," Van Dyke's wife Tiffany said in a statement. "He knows how hard Dan and his legal team worked on his behalf. This news is very distressing to me."
Contact Matt Masterson: @ByMattMasterson | [email protected] | (773) 509-5431
---
Related stories:
Jason Van Dyke Found Guilty of Second-Degree Murder
Closing Arguments in Jason Van Dyke Murder Trial Set for Thursday
Jason Van Dyke Takes Witness Stand, Tearfully Recounts Fatal Shooting
Van Dyke Defense Presents Fatal Shooting from Officer's Perspective
Van Dyke Defense Opens with Testimony of Laquan McDonald's Past
A Timeline of the Laquan McDonald Shooting
---