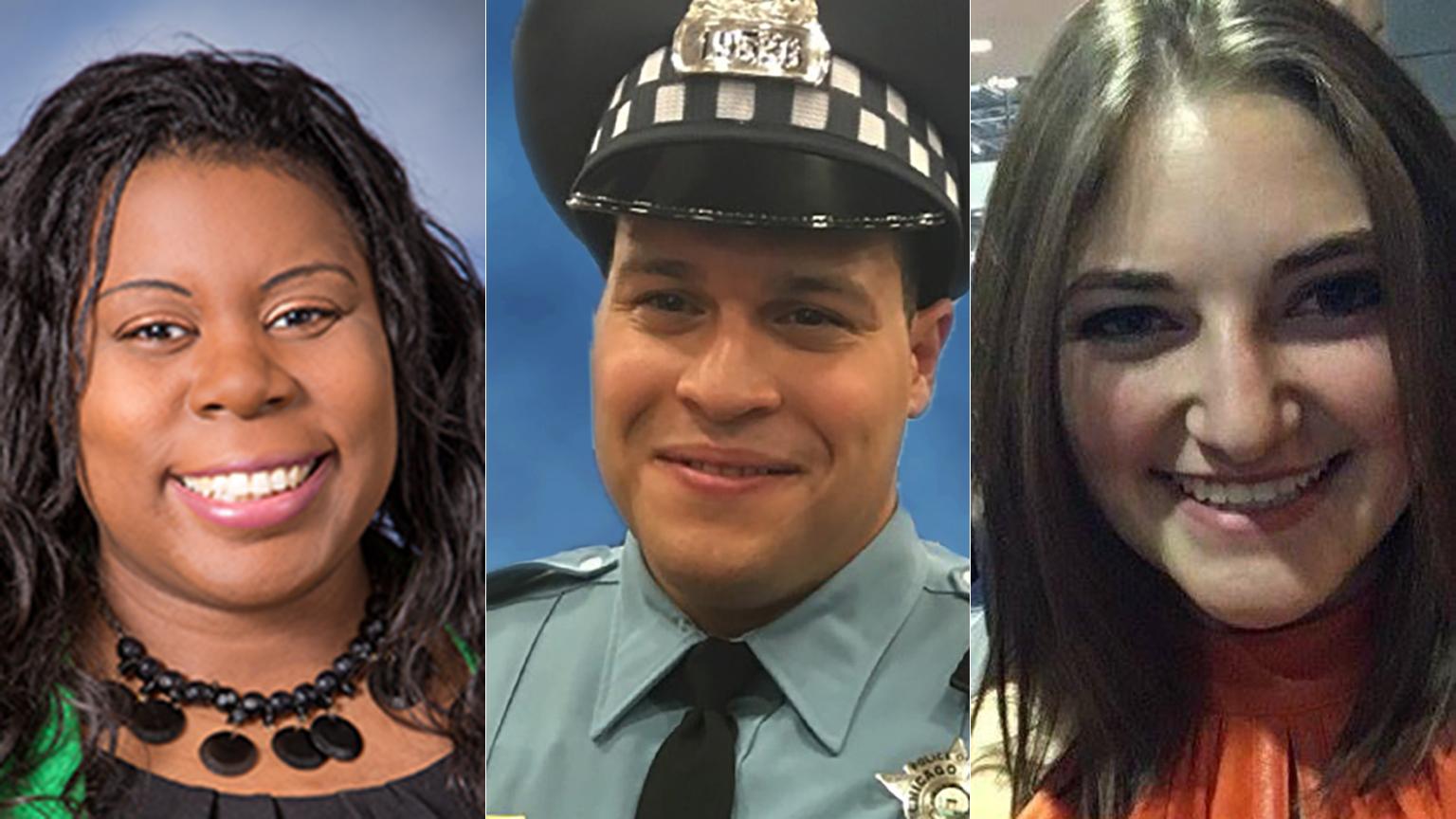 Dr. Tamara O'Neal, left, Chicago police Officer Samuel Jimenez and pharmaceutical resident Dayna Less. (Franciscan Health / Chicago Police Department / Facebook)
Tamara O'Neal was an emergency room doctor at Mercy Hospital known for her dedication and faith. Chicago police Officer Samuel Jimenez joined the department last year and only completed his mandatory probationary period in August. Dayna Less was an Indiana native and 2018 Purdue University graduate who had just begun a pharmacy residency at Mercy in July.
All three were killed Monday afternoon in a mass shooting that began as a domestic argument in a parking lot outside the Bronzeville hospital before it spilled inside.
"This just tears at the soul of our city," Mayor Rahm Emanuel said during an emotional press conference announcing the fatalities Monday evening. "It is the face and a consequence of evil."
Jimenez, 28, worked in the Chicago Police Department's 2nd District after joining the force in February 2017. He was married with three children and completed his 18-month probationary period required of all new officers just this summer.
He and his partner were not assigned to Mercy when the shooting erupted but arrived at the scene and pursued the gunman inside where they exchanged gunfire in the hospital's lobby. It was there that Jimenez was fatally struck.
"When they pulled up they heard the gunshots, and they did what the heroic officers always do – they ran toward that gunfire," CPD Superintendent Eddie Johnson said Monday. "So they weren't assigned to that call, but they went. Because that's what we do."
Jimenez was taken to the University of Chicago trauma center. At 7:30 p.m. Monday, CPD spokesman Anthony Guglielmi tweeted word of Jimenez's death. Chicago Fraternal Order of Police President Kevin Graham called Jimenez a "valued brother" and "courageous police officer" who gave up his life protecting the city.
"He will be missed," Graham said Monday. "Our thoughts and our prayers are with him and his family tonight and we will do whatever we can to help his family."
Jimenez's body was surrounded by Chicago-area law enforcement in a procession Monday night to the Cook County Morgue.
He was the second Chicago officer killed in the line of duty this year after Cmdr. Paul Bauer was gunned down outside the Thompson Center in February.
"It's not easy. It's not, but that's what we do," Johnson said Tuesday when asked about the emotional toll of the shootings. "We signed up for this, that's what we do, but it bothers you. It does, it's difficult because there is nothing I can say or the mayor can say to that wife or those three little kids to take that pain away."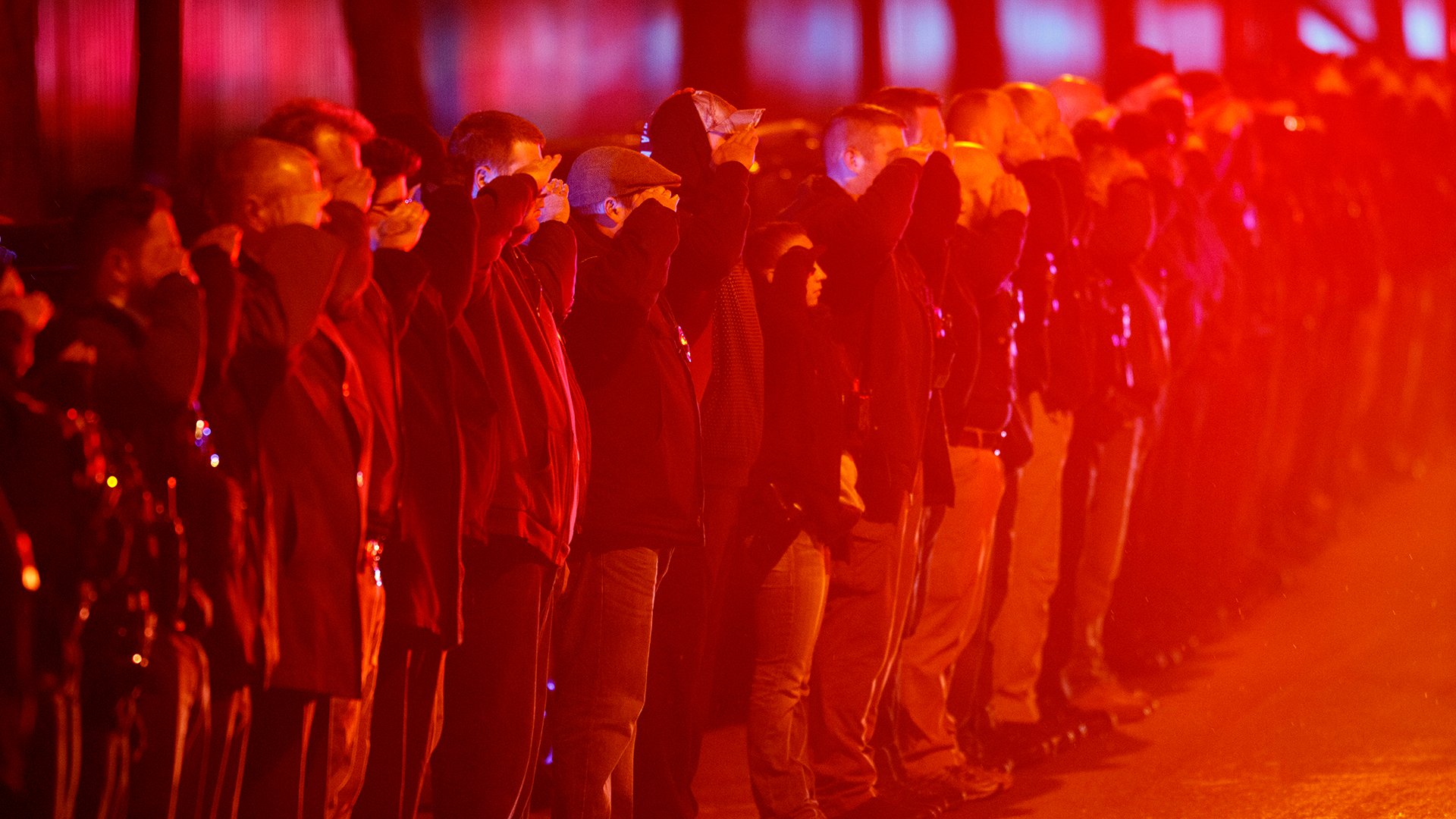 Police salute as an ambulance arrives at the medical examiner's office carrying the body of Chicago Police Department Officer Samuel Jimenez, who was killed during a shooting at Mercy Hospital earlier on Monday, Nov. 19, 2018. (Armando L. Sanchez / Chicago Tribune via AP)
O'Neal, 38, joined Mercy just two years ago after completing her degree at the University of Illinois at Chicago in 2016. Medicine was described as her "second career." She led the choir at her church and was completely dedicated to her faith, according to her coworkers, who remembered her as "fascinating" and "hard working."
"Just the best person ever, really," Patrick Connor, who heads up Mercy's emergency medical department, told reporters.
I knew her, trained with her, saved lives with her and tonight, tried to save her life. Tonight, I broke down in front of my coworkers when we lost her, and tonight I held hands with her mother in prayer. Tonight, we lost a beautiful, resilient, passionate doc. Keep singing, TO. pic.twitter.com/NLQpX1rZIn

— John Purakal, MD (@JohnPurakal) November 20, 2018
---
The suspected gunman, 32-year-old Juan Lopez, was O'Neal's former fiancé. He shot her multiple times following an argument in the Mercy parking lot before firing on arriving officers and moving inside the hospital.
Less, 25, had just stepped off an elevator on the first floor when she too was shot and killed.
"(She) had nothing to do with nothing," Johnson said. "And he shot her. Why?"
Less was born in Saint John, Indiana, and graduated from Purdue with a degree in pharmacy. She was engaged to her high school sweetheart and planned to marry next June. She graduated Lake Central High School and graduated from Purdue's pharmacy program in May after six years, according to her father Brian.
"She loved helping others," her family said in a statement. "She was good at her job because it helped others."
I was a close friend of Dayna Less. One of her and her family's favorite things together was celebrating their love for the Cubbies. ♥️ Please pray for her Mother, Father, and Fiancé during this horrific time. pic.twitter.com/4bvreD32gS

— Nina Starcevich (@nina_starcevich) November 20, 2018
---
Like Less, O'Neal was also a Purdue alum, graduating in 2002.
"We are proud of Tamara and Dayna for the lives of service they chose to pursue," Purdue President Mitch Daniels said in a statement. "We are deeply grateful and admiring of officer Jimenez for his sacrificial bravery that spared other innocent lives."
Lopez also died Monday. Autopsy reports show Lopez sustained a gunshot wound in his abdomen and a self-inflicted gunshot wound to his head, according to the Cook County Medical Examiner's office. Jimenez died from a gunshot wound to the neck, while both Less and O'Neal suffered multiple gunshot wounds. 
Contact Matt Masterson: @ByMattMasterson | [email protected] | (773) 509-5431
---
Related stories:
Chicago Police Officer Among 4 Killed in Mercy Hospital Shooting
Chicago Police Officer Killed in Shooting Near Thompson Center
Chicago Police Union Severs Ties With Van Dyke Defense Attorney
Johnson Calls for Firing of Rialmo for Fatal LeGrier, Jones Shooting
---