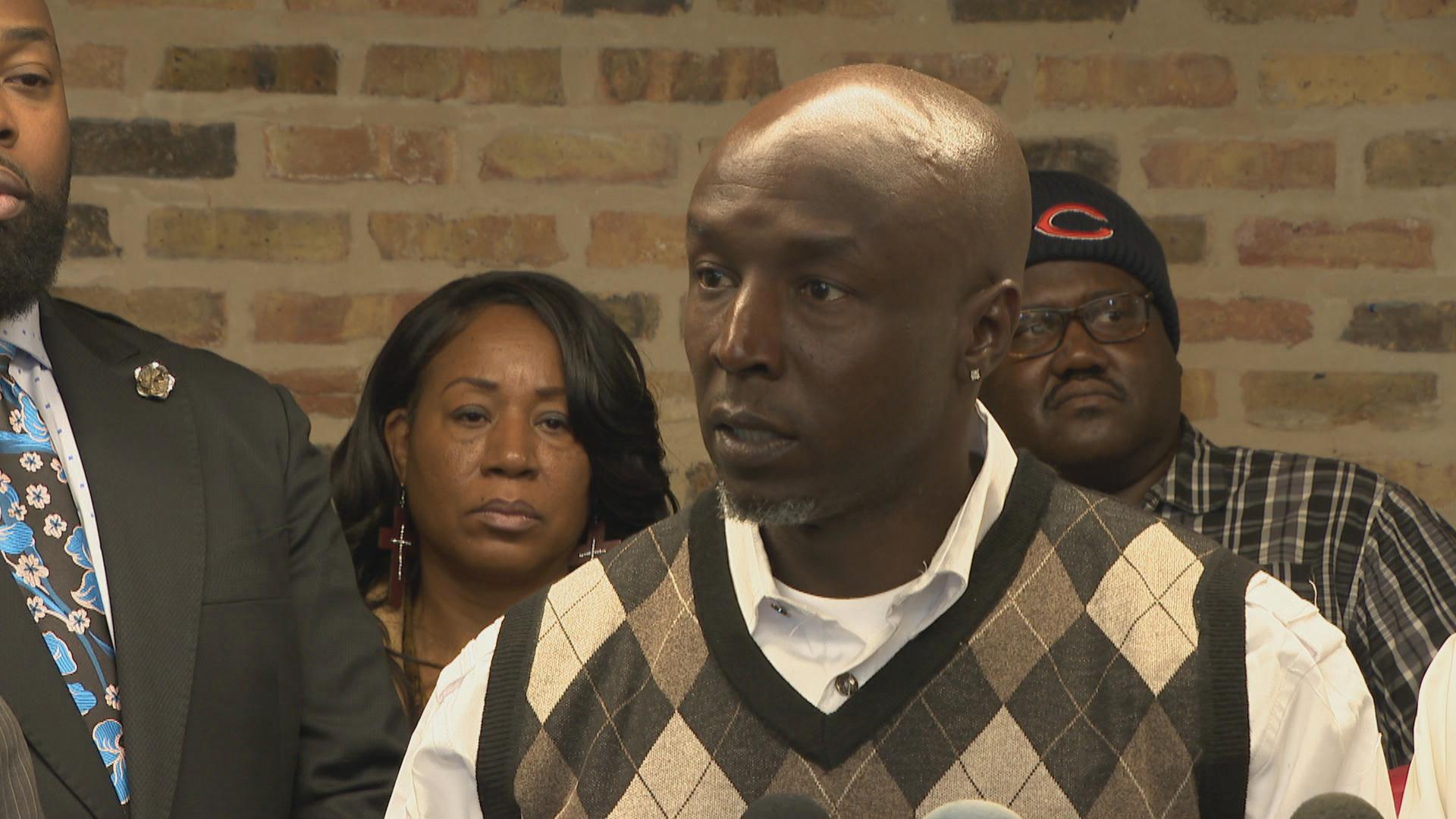 Arnold Day speaks to the media on Tuesday, Nov. 5, 2019. (WTTW News)
Arnold Day still has dreams that he's in prison. That's understandable after spending 26 years behind bars for a murder he didn't commit. And he hasn't forgotten the day he said he was tortured by Chicago police officers into falsely confessing to that crime.
"Whenever you've been abused by somebody in authority, for whatever reason, that's something that you would never forget," Day said. "I still have dreams about it sometimes. I still have dreams that I'm in prison sometimes."
Day on Tuesday filed a federal lawsuit against several Chicago police officers and the city of Chicago, claiming he was choked and threatened during a 1992 interrogation. The false confession he says he gave to end that abuse would then be used against him at trial to ensure he'd spend more than two decades in prison.
"At all times relevant hereto, members of the Chicago Police Department, including the Officer Defendants in this action, routinely manufactured evidence against innocent people by coercing, manipulating, threatening, pressuring, and offering inducements to suspects and witnesses to obtain false statements implicating innocent people, knowing full well those statements were false," Day's attorneys, the law firm of Loevy & Loevy, wrote in a 50-page civil complaint.
The lawsuit names eight Chicago police officers as defendants, including Kenneth Boudreau, William Foley, Michael Kill and Anthony Watson. It alleges Day's Fourth, Fifth and 14th Amendment rights were violated, and claims the defendants intentionally inflicted emotional distress.
Day's attorneys said their client's conviction was based on two false confessions as well as a fabricated witness statement that was allegedly obtained through the "defendants' coercive actions and unconstitutional practices."
"This did not happen by accident," said Renee Spence, an attorney with Loevy & Loevy, "but instead it was part of a deliberate attempt to steal this time from Arnold Day."
Two murders, but only one suspect
Day was 18 years old when he was arrested for the May 1991 murder of 16-year-old Jerrod Irving, who had been shot twice in the head as he sat outside on the 900 block of West 54th Street on the South Side.
Officers canvassed the area and found one witness, a woman who had known Day for more than a decade. The complaint states she was adamant Day was not involved in the shooting, despite being pressured and harassed by the officers to implicate him in the crime.
While investigating a separate murder months later – the September 1991 slaying of Rafael Garcia – officers allegedly "physically and psychologically" abused a 15-year-old witness until he falsely admitted Day was responsible for Garcia's death.
The officers then allegedly went back and tried again to pin Irving's murder on Day, coercing yet another witness into giving a false statement implicating him for that crime, according to the complaint.
Day was eventually arrested for Garcia's murder in February 1992. During his interrogation, he maintained his innocence despite being "deprived of food, water, access to a bathroom, access to counsel, and the ability to contact a family member" for several hours.
The interrogating officers then allegedly slammed Day against a wall and began choking him, threatening to throw him out a window if he refused to confess to both murders, which he eventually did, feeding back a false statement based on information the officers had given him about the crimes during his interrogation.
Day was acquitted the following year in the Garcia case. But in 1994, a separate jury found him guilty of first-degree murder and attempted armed robbery in the Irving case. He was sentenced to 60 years in prison.
No eyewitnesses were called to testify at that trial, according to the complaint, and Watson allegedly testified that there were no eyewitnesses to the shooting, despite the fact they interviewed a woman who saw the crime and said Day wasn't involved.
Seventeen years later in 2011, Day filed a claim of torture with the Illinois Torture Inquiry and Relief Commission, claiming he had been abused during his interrogation. After six more years, the commission deemed his claim to be credible.
Day also filed a petition for post-conviction relief in 2017 and late last year, a judge granted a motion from the Cook County State's Attorney's Office to vacate Day's conviction.
"After 26 years of being locked in a cage," the complaint states, "Mr. Day was permitted to walk free as an innocent man."
In April, Day was also granted a certificate of innocence, which helped pave the way for his lawsuit.
'Still catching up'
Day's attorneys say his case is not totally unique. Loevy & Loevy have filed numerous similar lawsuits in recent years, including ones that led to what's believed to be Cook County's first-ever mass exoneration.
Ex-detective Boudreau, who had worked under the command of infamous former police Commander Jon Burge, has allegedly been involved in the cases of at least 16 men who have since been exonerated after collectively serving hundreds of years in prison for crimes they didn't commit.
Attorney Jon Loevy said Boudreau and others would use physical violence or psychological intimidation to "exploit" vulnerable suspects into confessing to a crime. But it often isn't until years later that DNA and other evidence eventually proves those confessions were false.
Day has been out of prison since December. He's since moved with his fiance to Texas where he works for Goodwill. But on Tuesday he said he's still adapting to a new world that's far different than the one he last saw 26 years prior.
"I'm still catching up on a lot of things, I'm still learning a lot of things," he said. "There's not a day goes by that I don't learn something new about the way the world is moving. The world is a much different place than it was back in 1992.
"It's a challenge, but it's a challenge I'm willing to accept."
Contact Matt Masterson: @ByMattMasterson | [email protected] | (773) 509-5431
---
Related stories:
Free After 23 Years in Prison, Exonerated Man Files Suit Against City
Jon Burge, Disgraced Former Police Commander, Dies at 70
'Midnight Years' Memoir a Story of Surviving Jon Burge
Survivors of Torture Under Jon Burge Find a Place of Respite
CPS Adding New Course on History of Jon Burge Torture Cases
---