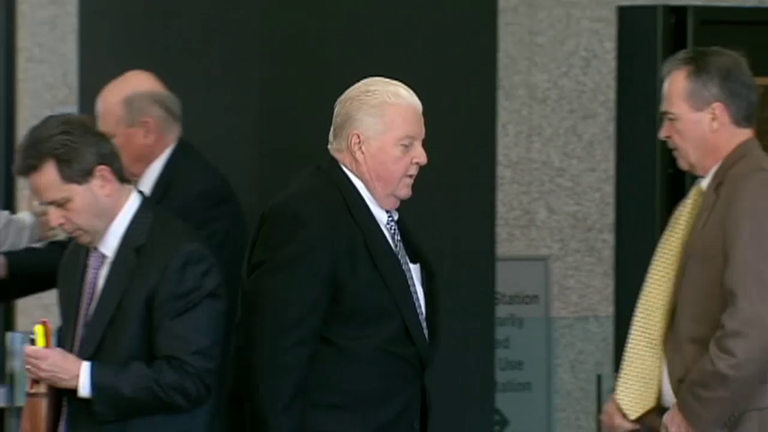 Jon Burge (WTTW News)
The Chicago City Council is set to pay $14 million to two men who spent a combined 43 years in prison after being convicted of a 1989 murder based on confessions coerced by Chicago Police detectives trained by Jon Burge, a disgraced Chicago police commander.
The City Council's Finance Committee voted unanimously Monday to recommend the settlement, which is set for a final vote by the full City Council on Wednesday.
Kevin Bailey and Corey Batchelor were 19 when they were arrested and convicted of the murder of Lula Mae Woods, the wife of a retired Chicago police officer, who was found stabbed to death in her South Side garage in June 1989.
Bailey and Batchelor were exonerated in 2018 after Cook County prosecutors dropped the charges against the two men. Bailey spent 28 years in prison, while Batchelor spent 15 years in prison before being freed. 
The detectives investigating Woods' murder had trained under Burge and have been accused of abuse in multiple convictions, attorneys for Bailey and Batchelor said.
City officials have acknowledged that Burge tortured and beat more than 100 Black men, from the 1970s to the 1990s. Chicago taxpayers have already paid approximately $115 million in lawsuit settlements and judgments, including $5.5 million in reparations for torture survivors, approved in 2015 by the Chicago City Council.
Fired by the Chicago Police Department in 1993, Burge was convicted of perjury in 2010. Released from prison in 2014, Burge died four years later at the age of 70. He never faced criminal charges related to his time as an officer, and collected a pension from the city of Chicago until the day he died.
The endorsement of the Finance Committee came without debate, and if approved the payment is equivalent to 17% of the city's entire 2022 budget for police misconduct settlements.
In a separate action, the committee voted 15-13 to pay $425,000 to Dejuan Harris, who was shot three times by an officer during a 2016 foot chase. 
While officers said Harris, then 22, pointed a gun at officers before he was shot, Harris told officials he had tossed his gun more than four feet away and was still running when he was shot.
The proposed settlement for Harris had been in limbo since September, when several alderpeople said they believed the city would prevail at trial.
However, Deputy Corporation Counsel Victoria Benson said the department's recommendation was designed to avoid a jury ruling against the city and awarding a massive judgment.
Ald. Jason Ervin (28th Ward) warned his colleagues about taking that risk.
"We are rolling the dice with taxpayer dollars," Ervin said "Easy to gamble with somebody else's money. Why don't you put some money on the table?"
Ervin's remarks brought an angry response from Ald. Nicholas Sposato (38th Ward), a former firefighter, who typically votes against settlements to resolve lawsuits alleging police misconduct.
Sposato said he was "happy to put his money where his mouth is."
In October, a federal jury ordered the city to pay $25.2 million to a man who spent 23 years behind bars for a 1994 double murder. The lawsuit accused detectives of ignoring evidence that exonerated the plaintiff. Attorneys for the city did not propose settling that case before it went to trial.
In addition, the Finance Committee voted 17-9 to recommend paying $115,000 to Bernard Grayer and Marquinyelle Holt to resolve the lawsuit they filed alleging that they were wrongfully arrested after police officers found a gun.
However, Holt had a valid Firearm Owner Information Card and a permit to carry a concealed weapon. Ultimately, all of the charges were dismissed and the gun returned to Holt.
However, the Finance Committee deadlocked 13-13 on a recommendation from city lawyers to pay $125,000 to Lenora Bonds, the mother of Terrance Harris, who died in 2013 after being shot 29 times — including twice in the back of the head — by three police officers.
Bonds called police for help after her son threatened her with a knife during a mental health crisis. Bonds' lawsuit alleges that her son died because several of the officers who responded to her call for help were not properly trained to help those experiencing a mental health crises.
Three police officers fired 32 bullets at Harris after he stabbed a police sergeant, who had been trained to respond to calls from those experiencing mental health crisis, in the face.
Benson told members of the committee that simply producing the documents that would be required if the case were to go to trial would cost Chicago taxpayers $100,000, making the proposed settlement financially justified. 
In addition, attorneys for Bonds and her son's estate are likely to argue that that officers who shot Harris were motivated by "revenge," after their fellow officer was injured, Benson said.
The tie vote means the case will not advance to the full City Council for consideration.
"This is a justified but unfortunate situation — settling sends a bad message to police officers, when they have to make these split-second decisions," said Ald. Silvana Tabares (23rd Ward).
In February 2021, the City Council paid $400,000 to the family of James Anderson, who was shot and killed by officers who responded to his mother's 911 call for help. She told dispatchers that her son suffered from mental illness but had stopped taking his medication and asked for assistance in hospitalizing him.
Contact Heather Cherone: @HeatherCherone | (773) 569-1863 | [email protected]
---