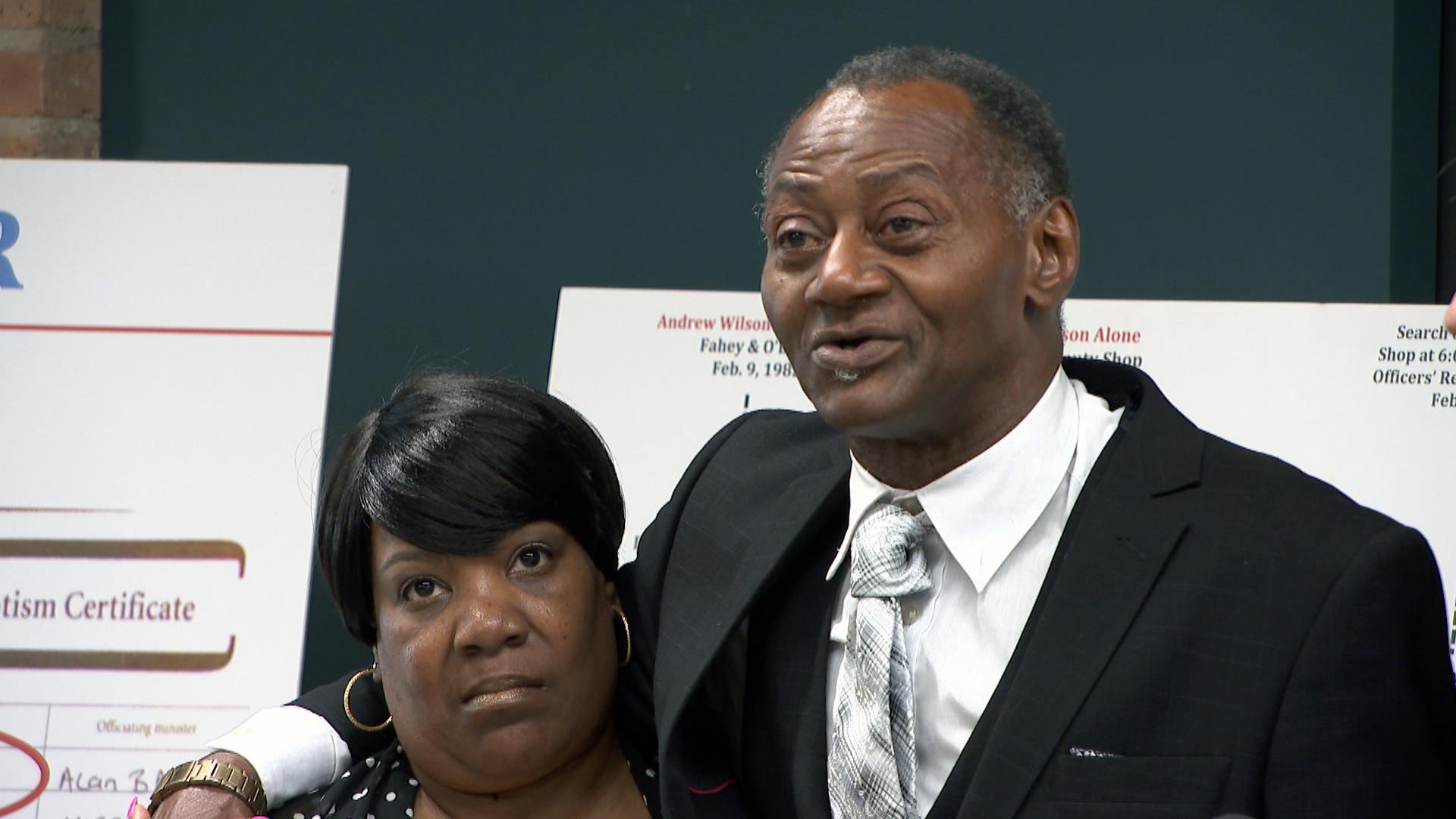 Jackie Wilson responds to a question from the media at a news conference announcing a lawsuit filed on his behalf on Wednesday, June 30, 2021. (WTTW News)
A pair of former Cook County prosecutors are facing numerous criminal charges, including perjury and official misconduct, after they allegedly concealed crucial evidence during the 2020 retrial of Jackie Wilson, a case connected to the Jon Burge scandal.
Special prosecutor Lawrence Oliver on Wednesday announced a 14-count indictment against former Assistant State's Attorneys Nicholas Trutenko and Andrew Horvat following the botched prosecution of Wilson, who was facing his third trial for the 1982 murders of police Officers William Fahey and Richard O'Brien.
Trutenko is facing charges of perjury, obstruction of justice, violations of the Local Records Act and official misconduct, while Horvat faces multiple counts of official misconduct.
"These allegations lay bare violations of the public trust placed in public officials and shakes confidence in the administration of justice," Oliver said while announcing the charges inside the Leighton Criminal Court Building.
The new charges are the latest chapter in a case that dates back more than 40 years.
Wilson has claimed he was repeatedly beaten and electroshocked by Burge, the notorious Area 2 police commander, and others working under him as they demanded a confession for the murders.
Wilson was tried, convicted and sentenced to life in prison for the murders in 1983. That conviction was tossed out in 1987, but Coleman was tried again two years later.
According to a lawsuit Wilson filed in 2021, during the 1989 trial, prosecutors and police continued "fabricating additional false evidence and withholding exculpatory evidence." That included Trutenko, who allegedly conspired with a jailhouse informant, William David Coleman, to "fabricate a false story that falsely implicated" Wilson.
This led to a second conviction in O'Brien's murder, but an acquittal for the killing of Fahey. Wilson was again sentenced to life in prison, where he remained until 2018, when Cook County Judge William Hooks ruled that Wilson's confession had been coerced out of him.
Hooks tossed out Wilson's conviction and granted him yet another trial, but this time, his false confession could not be used against him.
Special prosecutors brought in to handle the third trial again relied on Coleman's story implicating Wilson. But after two weeks, those prosecutors abruptly dropped all charges against Wilson after it was revealed that Trutenko had allegedly lied on the witness stand by suppressing the fact that he had an ongoing "illicit relationship" with Coleman.
According to Oliver, Trutenko maintained a continuous 30-year friendship with Coleman — which included representing Coleman in a hearing before the Chicago Police Board about Burge's torture allegations and acting as godfather to one of Coleman's children.
During the 2020 trial, Trutenko revealed he'd been in contact with Coleman just days prior — a revelation that came as a shock to both prosecutors and defense attorneys, who'd spent significant resources unsuccessfully trying to locate Coleman. Oliver noted that Coleman's own family had not heard from him in decades and believed he was dead.
According to Oliver, Horvat was complicit in "furthering the concealment" of this evidence, and allegedly attempted to dissuade the special prosecutor handling the 2020 re-trial from asking Trutenko on the stand about his relationship with Coleman.
"As a basic matter, if there's a conflict, you have to raise your hand," Oliver said. "You can't stay silent and not say anything and let the trainwreck happen."
This marks the second time a special prosecutor has been brought in to investigate the Cook County State's Attorney's Office under Kim Foxx for potential misconduct, following the 2019 appointment of Dan Webb, who handled the prosecution of "Empire" star Jussie Smollett.
While Webb brought renewed criminal charges against the actor in that case, he found no evidence of criminal wrongdoing by Foxx or anyone else in her office.
Oliver on Wednesday said following the indictment of Horvat and Trutenko, no additional criminal charges would be coming against anyone else in the state's attorney's office.
Foxx's office in a statement noted Trutenko was "immediately fired" in 2020 based on his witness testimony, while Horvat was fired in 2021. The state's attorney's office said that, following a review of all other Trutenko cases, it "found no other incidents of misconduct."
"The (Cook County State's Attorney's Office) takes allegations of misconduct seriously and, in the wake of this incident, has taken additional steps to improve and increase the ongoing training of staff," Foxx's office said Wednesday.
Contact Matt Masterson: @ByMattMasterson | [email protected] | (773) 509-5431
---