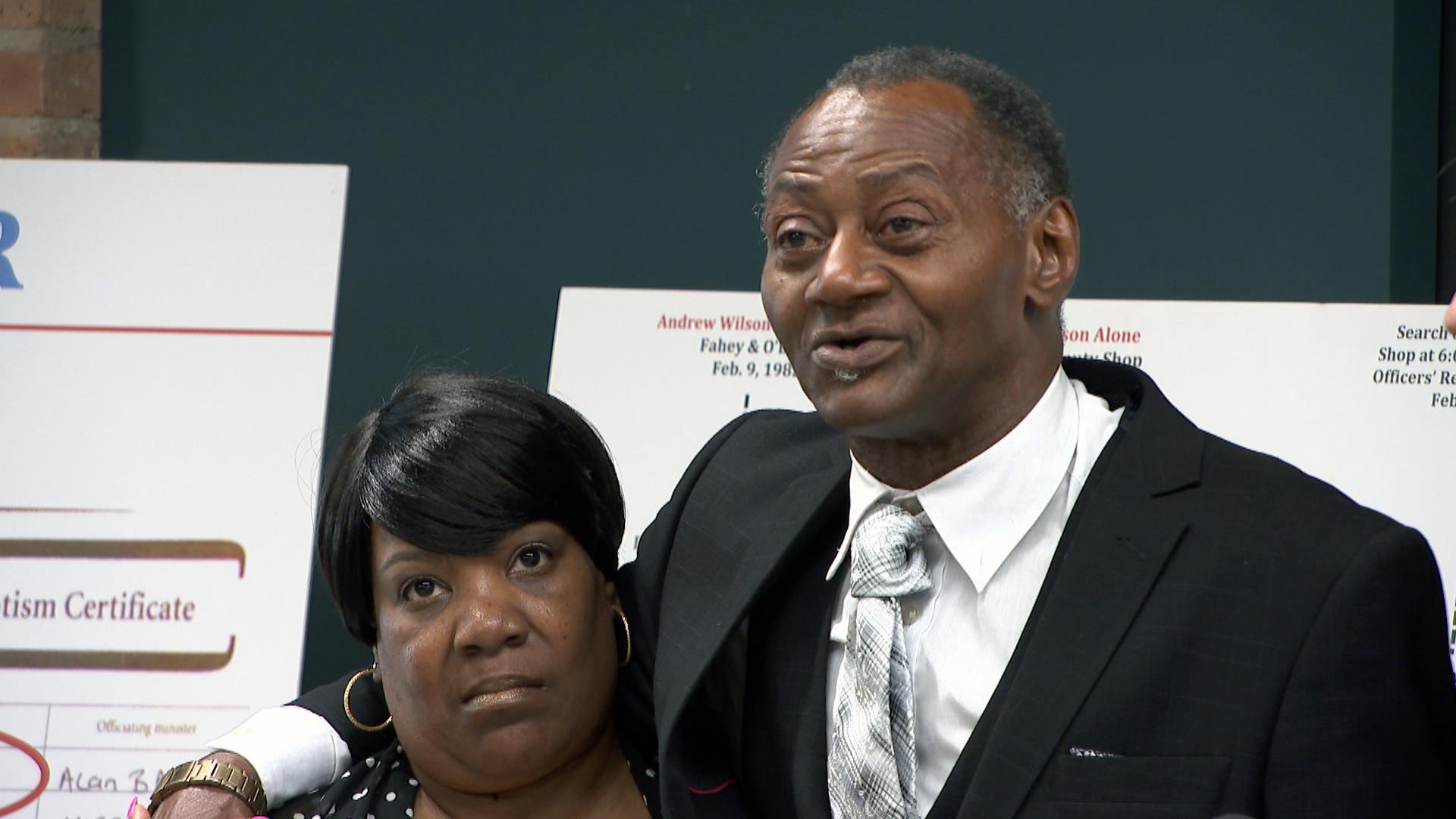 Jackie Wilson responds to a question from the media at a news conference announcing a lawsuit filed on his behalf on Wednesday, June 30, 2021. (WTTW News)
A former federal prosecutor has been tasked with investigating the Cook County State's Attorney's Office, it's handling of a decades-old murder case and one of its former prosecutors who allegedly lied on the witness stand.
Cook County Judge Judge Alfredo Maldonado on Wednesday appointed Lawrence Oliver to serve as special prosecutor in the case of Jackie Wilson, who wrongfully spent decades behind bars for a double murder he has since been exonerated of.
Oliver, who has served as the chief counsel of investigations for the Boeing Company for more than 16 years, previously worked as an assistant U.S. attorney in Chicago and as a trustee at the University of Illinois.
Now he must investigate a sprawling murder case and the state's attorney's subsequent prosecution of Wilson.
"Now that this investigation is ongoing, it goes wherever it goes," Maldonado said during Wednesday's brief hearing.
Wilson has claimed he was repeatedly beaten and electroshocked by notorious Area 2 Commander Jon Burge and others working under him as they demanded a confession for the 1982 murders of Chicago police Officers William Fahey and Richard O'Brien.
Wilson falsely confessed because, according to a lawsuit he filed last month, he believed "the only way he would leave Area 2 alive was if he gave a statement."
He was convicted and sentenced to life in prison in 1983, only for that verdict to be overturned in 1987. A second trial took place two years later.
The complaint states that during the 1989 trial, prosecutors and police continued "fabricating additional false evidence and withholding exculpatory evidence." That included former Assistant State's Attorney Nicholas Trutenko, who allegedly conspired with a jailhouse informant, William David Coleman, to "fabricate a false story that falsely implicated" Wilson.
This led to a second conviction in O'Brien's murder, but an acquittal for the killing of Fahey. Wilson was again sentenced to life in prison, where he remained until 2018, when Cook County Judge William Hooks ruled that Wilson's confession had been coerced out of him.
Hooks tossed out Wilson's conviction and granted him yet another trial, but this time, his false confession could not be used against him.
Special prosecutors brought in to handle this third trial again relied on Coleman's story implicating Wilson. But after two weeks, those prosecutors abruptly dropped all charges against Wilson after it was revealed that Trutenko had allegedly lied on the witness stand by suppressing the fact that he had an ongoing "illicit relationship" with Coleman.
During Wednesday's hearing, Maldonado said that Oliver will have the same investigatory powers as the state's attorney and will be allowed to convene a grand jury and file criminal charges if he sees fit. He also must submit a final report to the court, detailing the results of this investigation.
In a statement Wednesday, State's Attorney Kim Foxx said her office "is committed to transparency and accountability in this and all matters, and the office will fully cooperate with the review of this case."
Contact Matt Masterson: @ByMattMasterson | [email protected] | (773) 509-5431
---