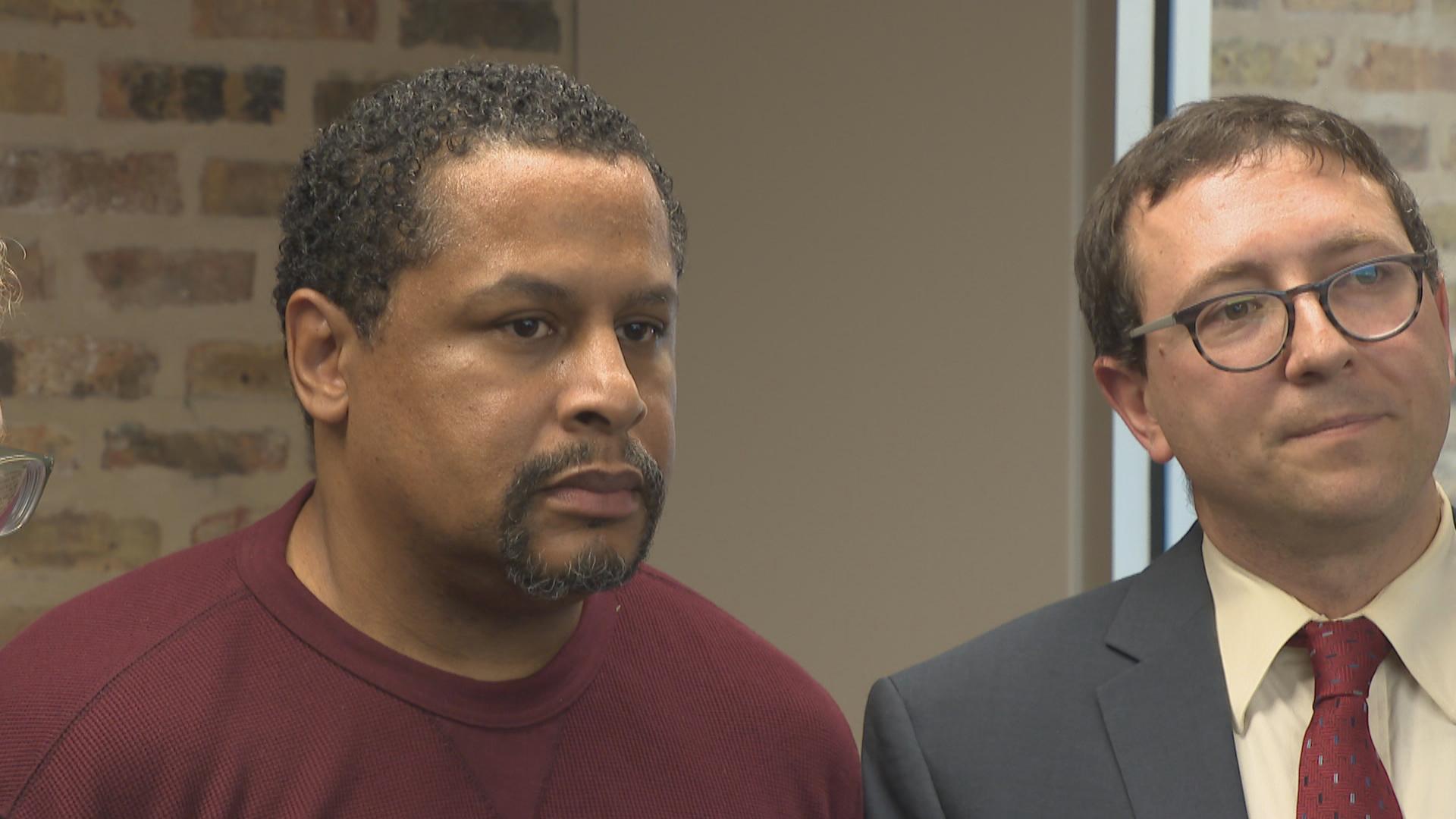 Nevest Coleman, left, stands with his attorney, Russell Ainsworth. (Chicago Tonight)
A Chicago man is suing the city and several retired Chicago Police officers, demanding dozens of criminal investgations be reopened after he sat behind bars for more than two decades, convicted of a crime he didn't commit.
Attorneys for 48-year-old Nevest Coleman on Thursday filed a federal civil suit against the city of Chicago, several officers and Cook County State's Attorney's officials after their client spent 23 years in prison on rape and murder charges. The only evidence used against him at trial, his attorneys say, was a false confession that was allegedly beaten and coerced out of him by Chicago Police detectives. DNA testing later proved his innocence.
"I was sitting in prison for 23 years, just sitting there thinking I ain't never going to see my people again, I'm never going to see freedom," said Coleman, whose parents passed away while he was incarcerated. "I lost a lot of people in 23 years that I can't get back."
Coleman was present when a friend first discovered the body of 20-year-old Antwinica Bridgeman, weeks after she had been raped and murdered in the basement of the Englewood apartment building where Coleman's family lived in 1994.
His attorneys say the named defendants trained under disgraced former CPD commander Jon Burge. They argue that, far from being an isolated occurrence, the misconduct in this case was the result of the Police Department's "policies and practices of pursuing wrongful convictions through reliance on coerced statements and profoundly flawed investigations."
(Courtesy Loevy & Loevy Attorneys at Law)
They claim the defendants were also tied to multiple other false confession and wrongful conviction cases. Kenneth Boudreau and Bill Foley, the lead detectives on Coleman's case, also allegedly obtained a false confession in the case of the "Englewood Four," who spent more than a decade in prison for the rape and murder of a woman in 1994.
Those four were later exonerated and last year, the City Council approved a $31 million settlement with the men.
"What we're asking for is that every case that was investigated by those detectives should be reinvestigated," Coleman's attorney Russell Ainsworth said. "There are dozens of men who made contemporaneous, credible claims of the exact same abuse that Nevest Coleman went through and their cases have not been re-examined."
"There are more innocent men whose cases must be reopened, they must be investigated and if they are innocent they should be released immediately."
The suit also seeks compensatory damages of an undisclosed amount. A CPD spokesman declined comment Thursday saying the department does not discuss pending litigation.
The 35-page complaint alleges there was no physical evidence tying Coleman to the crime and the only reason he was convicted was because of a false confession he gave after being beaten during an interrogation in 1994. He had no previous criminal record and had been working full time as a groundskeeper for the Chicago White Sox at the ballpark then known as Comiskey.
The investigation quickly centered on those two men, though Coleman's friend was ruled out as a suspect because he had been in police custody at the time of the murder. Coleman – who was 25 years old at the time – was brought in for questioning and alleges detectives physically and mentally harassed him for hours until he was coerced into a confession.
Read the full 35-page complaint here
"When Mr. Coleman protested that he had told the Defendant Officer everything he knew and was telling the truth, that detective punched him in the face," the complaint states. "Mr. Coleman asked why the Defendant Officer had hit him, and the Defendant Officer punched him in the face again. Mr. Coleman fell to the floor and curled up in the fetal position, covering his face with his hands."
The suit alleges the defendants lied to Coleman, telling him he would be allowed to go home if he implicated two other men in the crime. When he finally did so – recounting a story fed to him by police that he acted as a lookout while the other men killed Bridgeman – he was charged with murder.
Coleman quickly recanted that confession to his lawyer, but he and Darryl Fulton (one of the men Coleman falsely implicated) were convicted of first-degree murder and aggravated sexual assault in 1997 and sentenced to life in prison.
DNA testing of semen found at the murder scene would later show neither man had been involved in Bridgeman's death. That evidence actually implicated another man who had already been connected to three other rapes. Both Coleman and Fulton were exonerated and released from prison late last year.
"This is about holding responsible those who took 23 years from Nevest Coleman's life," Ainsworth said. "This case is about the legacy of Jon Burge who trained the detectives who caused Nevest Coleman to be taken for 23 years away from his family."
Fulton already filed his own civil suit in December, alleging he had also been beaten during an interrogation, after which a detective threatened to "put a bullet in [his] brain" if he did not confess.
Coleman has only been out of prison for two months and said he's still readjusting to life on the outside. One of his next tasks is finding a job. Next week he'll head back to Comiskey – now Guaranteed Rate Field – for an interview with the White Sox about another grounds crew position. 
"See how that goes," he said. "Hopefully go back to where I feel comfortable at working."
Contact Matt Masterson: @ByMattMasterson | [email protected] | (773) 509-5431
---
Related stories: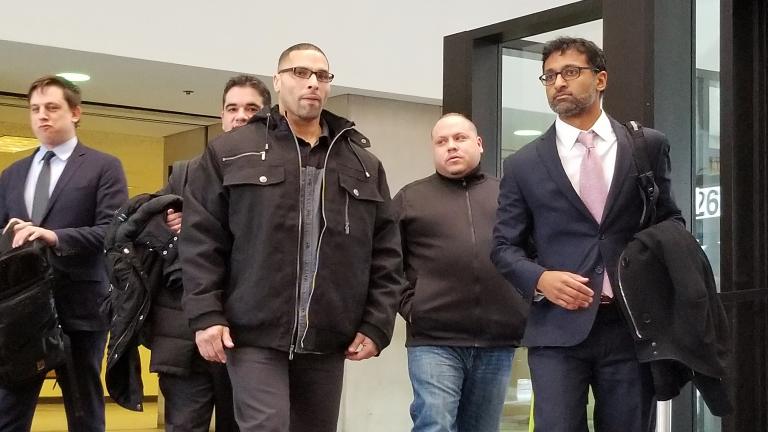 Murder Charges Tossed for Chicago Man After More Than 2 Decades in Prison
Jan. 9: Thomas Sierra, 41, spent more than half his life in prison, convicted of a murder he has claimed from the beginning he didn't commit. On Tuesday, the Cook County State's Attorney's Office dropped the charges.
---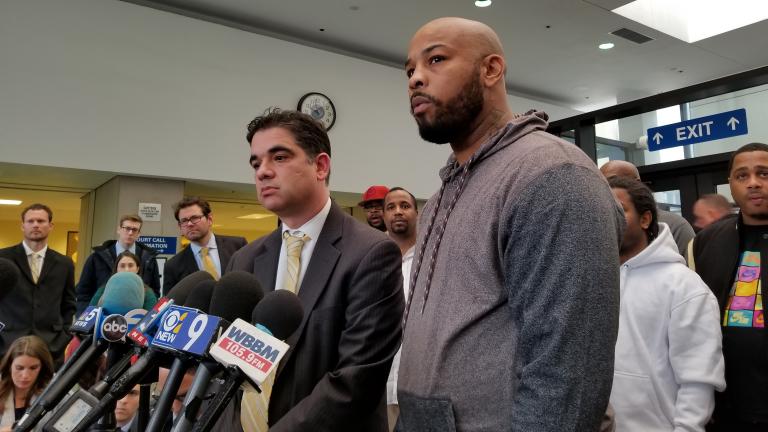 15 Men Cleared in First-Ever Mass Exoneration in Cook County
Nov. 16: "It's a brand new beginning for me," said Leonard Gipson, one of 15 men who had drug convictions vacated by a judge Thursday. The convictions stemmed from arrests made more than a decade ago by disgraced former Chicago Police Sgt. Ronald Watts.
---
CPS Adding New Course on History of Jon Burge Torture Cases
April 25: Chicago teachers will spend the coming weeks preparing for a new course on the history of the disgraced former Chicago Police Department commander who, for two decades, systematically abused and tortured suspects on the South Side to force confessions.
---