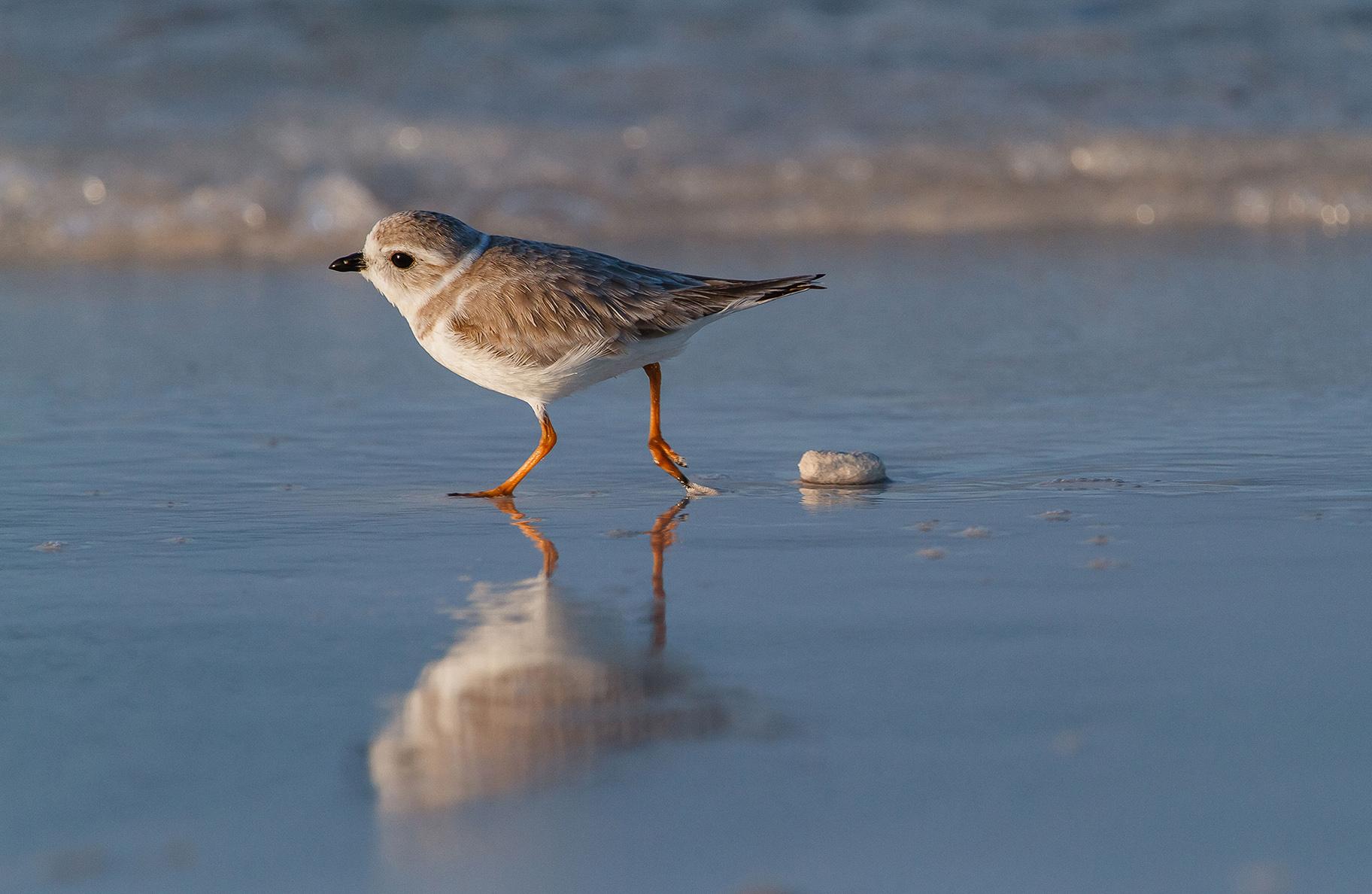 A piping plover (Lorraine Minns / Audubon Photography Awards)
Nearly two-thirds of bird species in North America are at risk of extinction from climate change, according to an alarming new report from the National Audubon Society.
Scientists with the environmental nonprofit found that 389 of the 604 North American bird species are at risk of dying out as a result of temperature increases linked to global warming. The findings are based on an analysis of 140 million bird records, including observational data from field biologists and bird enthusiasts across the country.
The new report follows a study released last month showing there are 3 billion fewer birds in the U.S. and Canada today than there were in 1970, a decline of nearly 30%.
"Can you imagine not having the sounds of birds in the spring and the fall?" said David O'Neill, Audubon's chief conservation officer. "That's an emotional connection that people have to birds, and losing that [would be] horrible.
"From an environmental perspective, birds are absolutely a mirror for the health of the environment," O'Neill continued. "If birds are doing poorly, the environment is doing poorly. And that means humans are doing poorly."
A red-headed woodpecker (Gary Robinette / Audubon Photography Awards)
Audubon's report estimated the number of bird species that will be at risk under three different scenarios outlined in a 2014 report from the United Nations' Intergovernmental Panel on Climate Change, which included models for temperature increases of 1.5, 2 and 3 degrees Celsius.
In Illinois, 15 bird species would be at "high vulnerability" of dying out should global temperatures rise 3 degrees Celsius or more compared to pre-industrial levels.
"That's because these birds won't have breeding grounds or summering grounds that are essential to their life cycle," O'Neill said.
The list of species that could go extinct in Illinois includes the red-headed woodpecker, brown thrasher and several types of sparrows and warblers.
There is some good news in the report, however. Audubon scientists found that by keeping temperatures from rising more than 1.5 degrees Celsius, 76% of North American bird species – or 290 species in total – would face a far lower risk of extinction. In Illinois, just five bird species would be "highly vulnerable" to dying out, compared to 15 species under the 3-degree scenario.
"It's not too late if we act now," O'Neill said. "And that's the real message we want to convey. We're confident that if we step up our efforts around reducing greenhouse gases … we can save a lot of birds."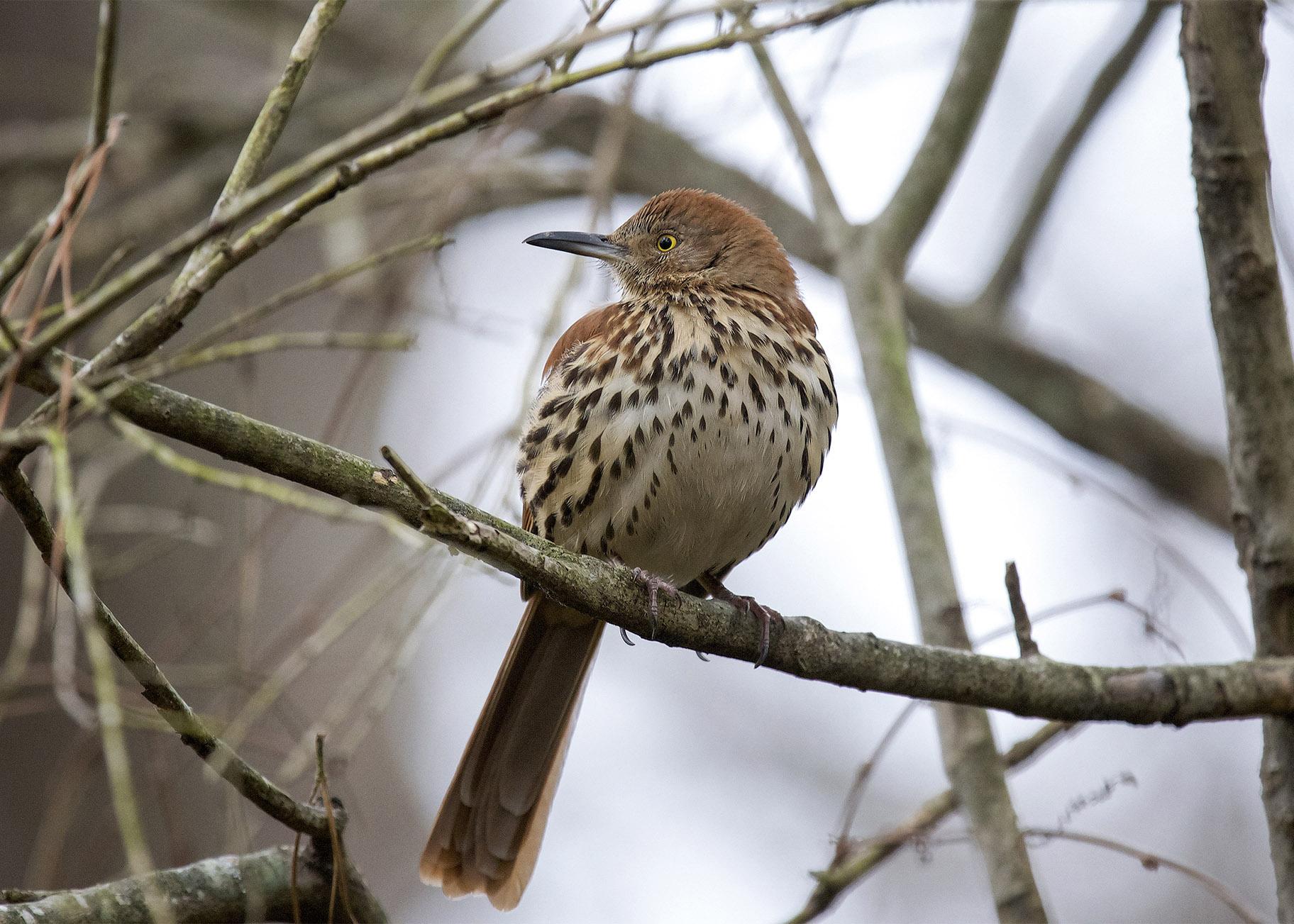 A brown thrasher (Una Davenhill / Great Backyard Bird Count)
The 2014 IPCC report cited by Audubon preceded the landmark 2015 Paris climate agreement, which set a goal of keeping global average temperatures from rising more than 1.5 degrees Celsius compared to pre-industrial levels. The deal was originally signed by the U.S. and 195 other countries, but President Donald Trump withdrew the U.S. from the agreement in 2017.
The U.S. is now the only country on the planet not part of the agreement.
"It's absolutely disappointing that we would walk away from the Paris accord, that we're not proving to be leaders globally," O'Neill said. "But on the other hand, what we're finding is that states and municipalities and lots of governments across the country are taking action to address the issue of climate change, to advance clean energy solutions."
O'Neill said those concerned about the risks facing many bird species can take steps to reduce their own emissions, while also supporting political leaders and policies that address climate change.
Another way to help? "[People] can grow their own backyard gardens that attract birds," O'Neil said. "Those little small steps are meaningful, especially if they are embraced by millions of people."
Contact Alex Ruppenthal: @arupp | (773) 509-5623 | [email protected]
---
Related stories:
Where Have the Wild Birds Gone? 3 Billion Fewer Than 1970
Chicago is Most Dangerous City for Migratory Birds, Study Finds
Chicago Wilderness Survey Shows Hope for Threatened Grassland Birds