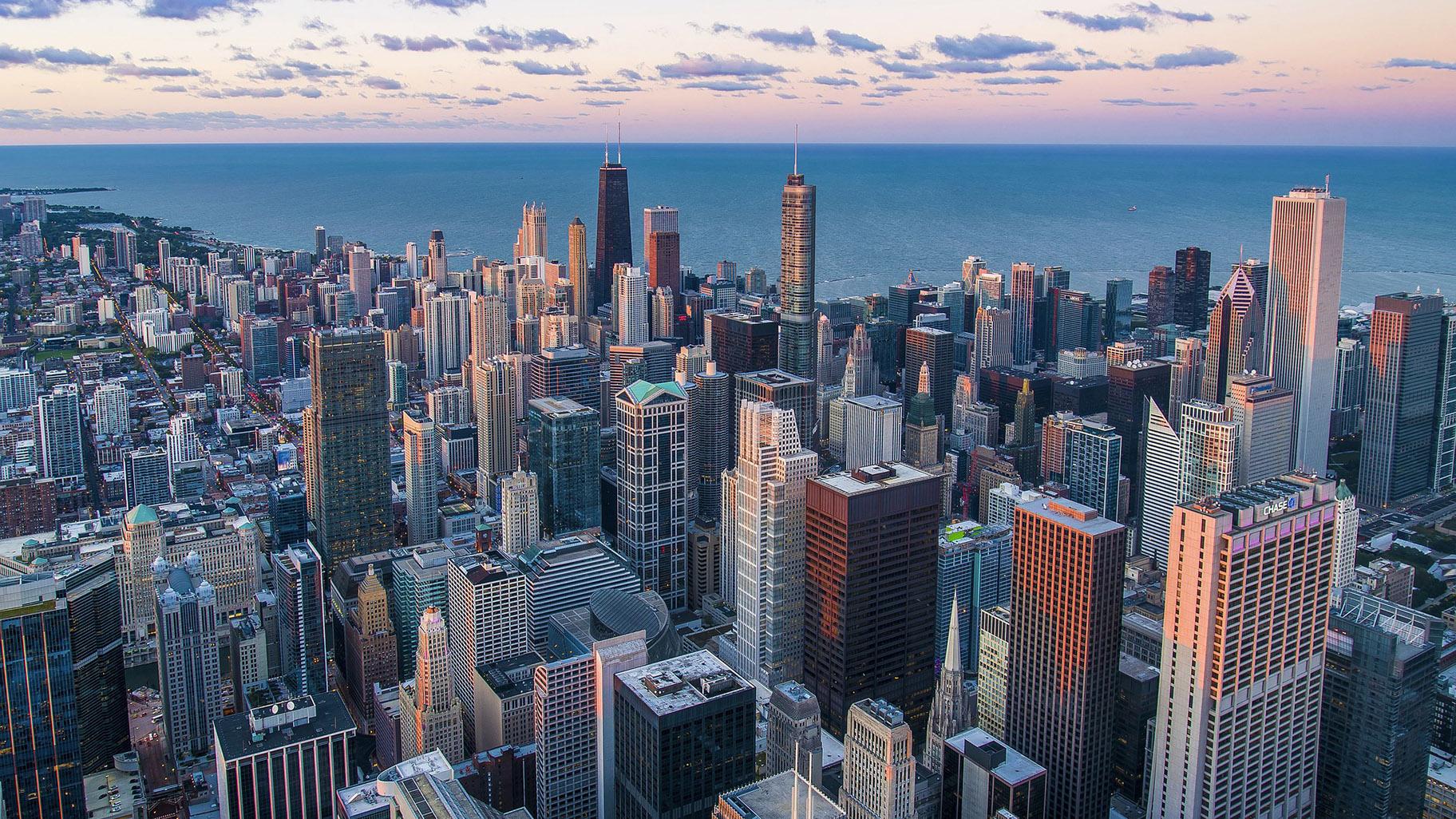 (Pexels / Pixabay)
Chicago's gleaming skyline and position along a busy migratory corridor make it the most dangerous city in the U.S. for birds traveling north and south each fall and spring, a new study has found.
An estimated 600 million birds die from building collisions each year in the U.S., according to the Cornell Lab of Ornithology.
Scientists at the lab combined satellite data showing light pollution levels with weather radar measuring bird migration density to determine where birds are at the biggest risk of becoming attracted to and disoriented by lights and crashing into buildings.
With its location on the highly traveled Mississippi Flyway and density of tall buildings, Chicago was ranked as the most dangerous city for migratory birds – during both the fall and spring migrations – according to the new study, published this week in the journal Frontiers in Ecology and the Environment.
Following Chicago were Dallas and Houston, which are also positioned along the flyway, the busiest aerial corridor for birds in the country.
Artificial light radiance from the 125 cities studied by researchers at the Cornell Lab of Ornithology (Courtesy Cornell Lab of Ornithology)
"This quantified something that we had been feeling for a long time," said Annette Prince, director of the Chicago Bird Collision Monitors, which recovers about 6,000 birds in a 1.5-square-mile area of downtown Chicago each year.
About two-thirds of collisions recorded by the group are fatal, and dead birds are given to the Field Museum, which takes tissue samples from birds and other specimens and catalogues them for research.
Injured birds are taken to the Willowbrook Wildlife Center in Glen Ellyn for treatment.
Despite the carnage caused by Chicago's taller structures, the city has been proactive in seeking to limit the damage, Prince said.
More than 90 percent of downtown buildings 20 stories or taller participate in the Chicago Audubon Society's Lights Out program, which launched in 1995 and encourages building owners to turn off lights from 11 p.m. until sunrise during bird migration season.
Meanwhile, a measure before the City Council aims to further reduce risks for birds navigating their way through the maze of tall downtown buildings.
In January, 2nd Ward Ald. Brian Hopkins introduced the Bird Friendly Design Ordinance, which would establish material and design standards for construction of new buildings or renovations that minimize the use of glass and interior landscaping, which is highly disorienting for birds, Prince said.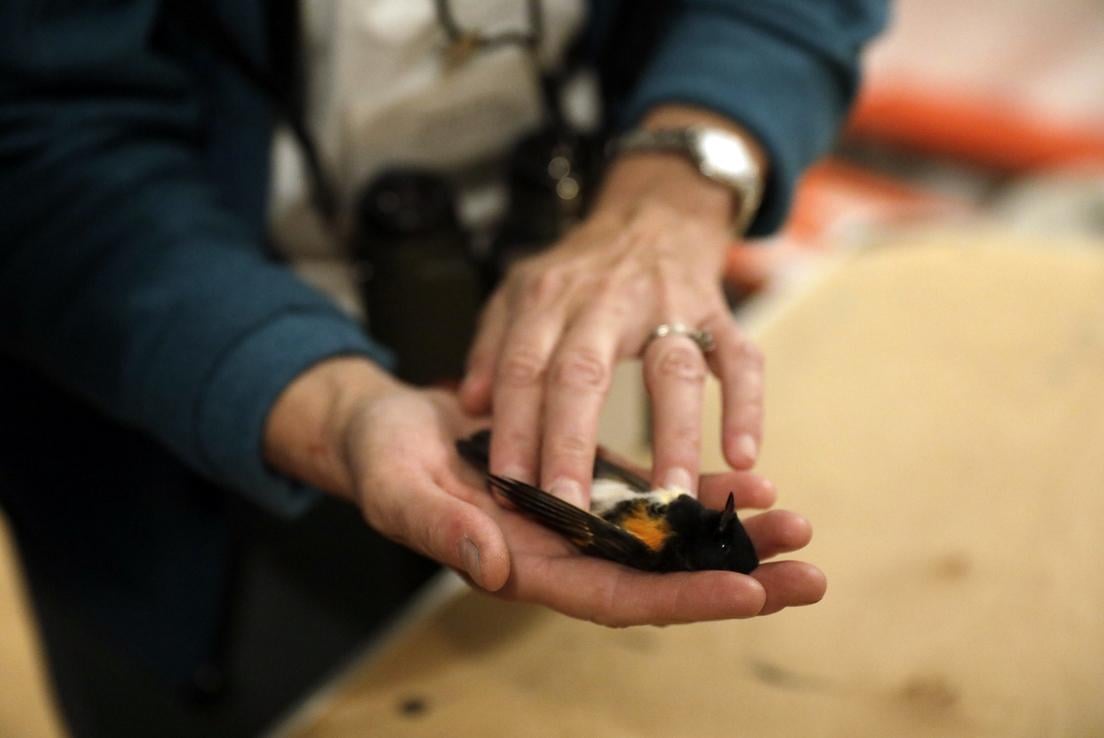 An American Redstart bird after a building collision (Ben Norman / Cornell Lab of Ornithology)
For buildings with glass exteriors, the ordinance would require elements that make the structures more visible to birds, such as frosted or etched glass, screens, netting or patterns like dots painted on the surface.
The ordinance also sets out requirements for lighting. For example, exterior light fixtures that are not necessary for safety or building entrances would need to be shut off between 11 p.m. and sunrise, with exceptions for "occasional after-hours lighting," according to the proposed ordinance.
The ordinance would also require sensors for interior lighting that could reduce light by at least 50 percent.
"We know thousands of lives are [already] being saved just by the simple act of light reduction," Prince said, noting that such efforts also help buildings save money by cutting energy usage.
The proposed ordinance was assigned to the City Council's Health and Environmental Protection committee.
Although many Chicago buildings have taken steps to reduce light, Prince said that when she approaches owners of new buildings or ones that haven't signed on to the Lights Out program, she often hears some version of, "'Let's see if birds collide with our building, and then we can make changes.'"
"That's like saying, 'Let's leave this pothole here and see how many cars hit it,'" Prince said.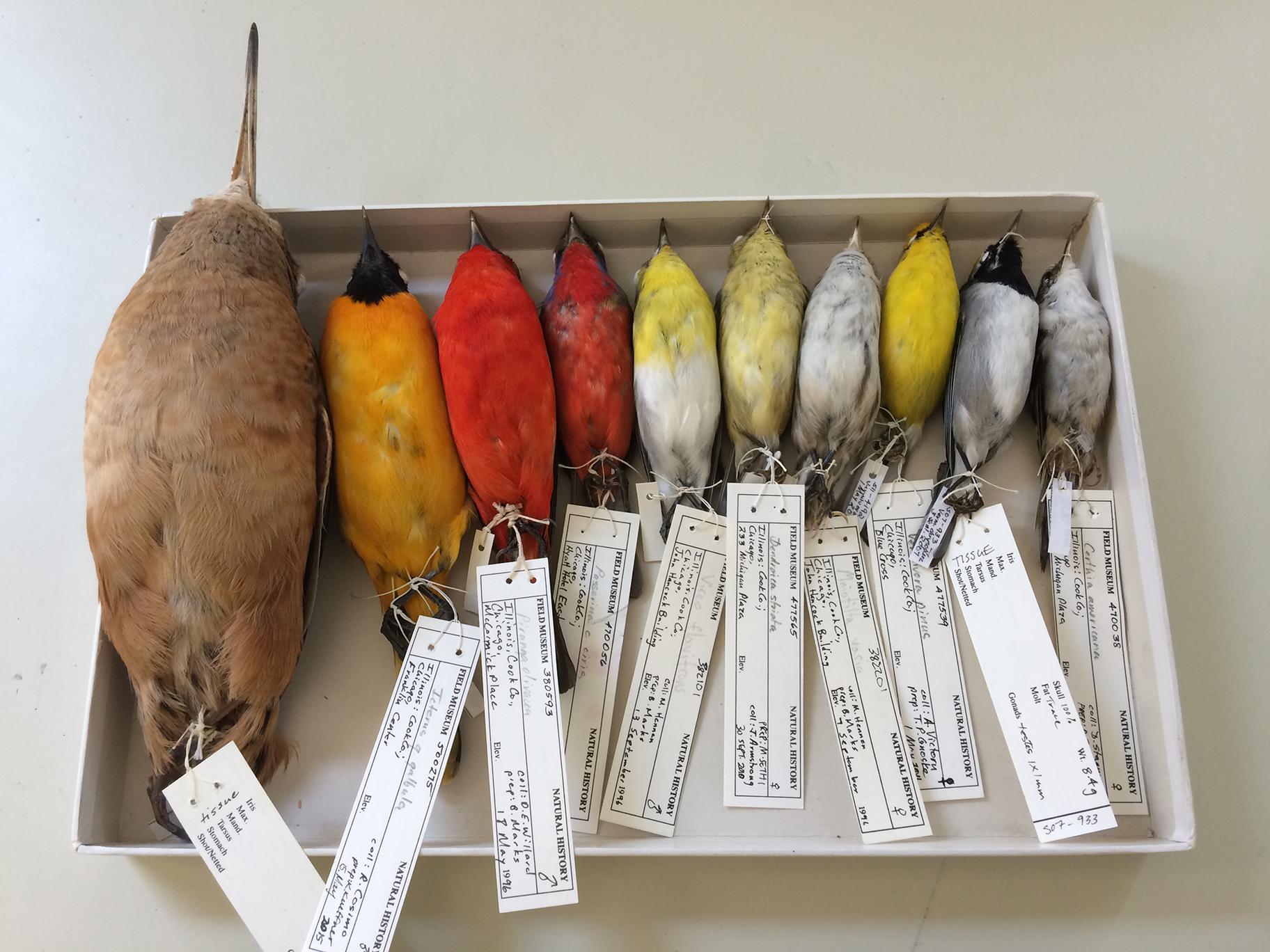 Dead birds collected by the Chicago Bird Collision Monitors and given to the Field Museum's Bird Division. (Josh Engel / The Field Museum)
Although skyscrapers pose the biggest risk to traveling birds, scientists from the Cornell Lab noted that an estimated 250,000 birds die from collisions with houses and residences each year.
"If you don't need lights on, turn them off," said Kyle Horton, the lead author of the Cornell Lab study, in a statement. "It's a large-scale issue, but acting even at the very local level to reduce lighting can make a difference."
Bird migration occurs over several months each spring and fall, but the heaviest migratory activity takes place over just a few days, according to the study. Scientists said that heavy light-polluting cities like Chicago can expect half of their bird-migration traffic to pass through on as few as seven nights spaced throughout the season. Those nights vary by city based on wind conditions, temperature and other factors.
"Now that we know where and when the largest numbers of migratory birds pass heavily lit areas, we can use this to help spur extra conservation efforts in these cities," said Cecilia Nilsson, a co-author on the study and postdoctoral fellow at the Cornell Lab, in a statement.
Prince, of the Chicago Bird Collision Monitors, said the group's volunteers have been surveying streets in the Loop for dead or injured birds each morning since mid-March. But the bulk of migratory birds will pass through the city over the next month or so, she said.
"We're still watching species start to show up as the weather and their food sources improve," she said.
Sightings of dead or injured birds can be reported by phone via the Chicago Bird Collision Monitors' hotline: 773-988-1867. 
The organization also offers tips on making windows safer for migrating birds on its website. 
Contact Alex Ruppenthal: @arupp | [email protected] | (773) 509-5623
---
Related stories: