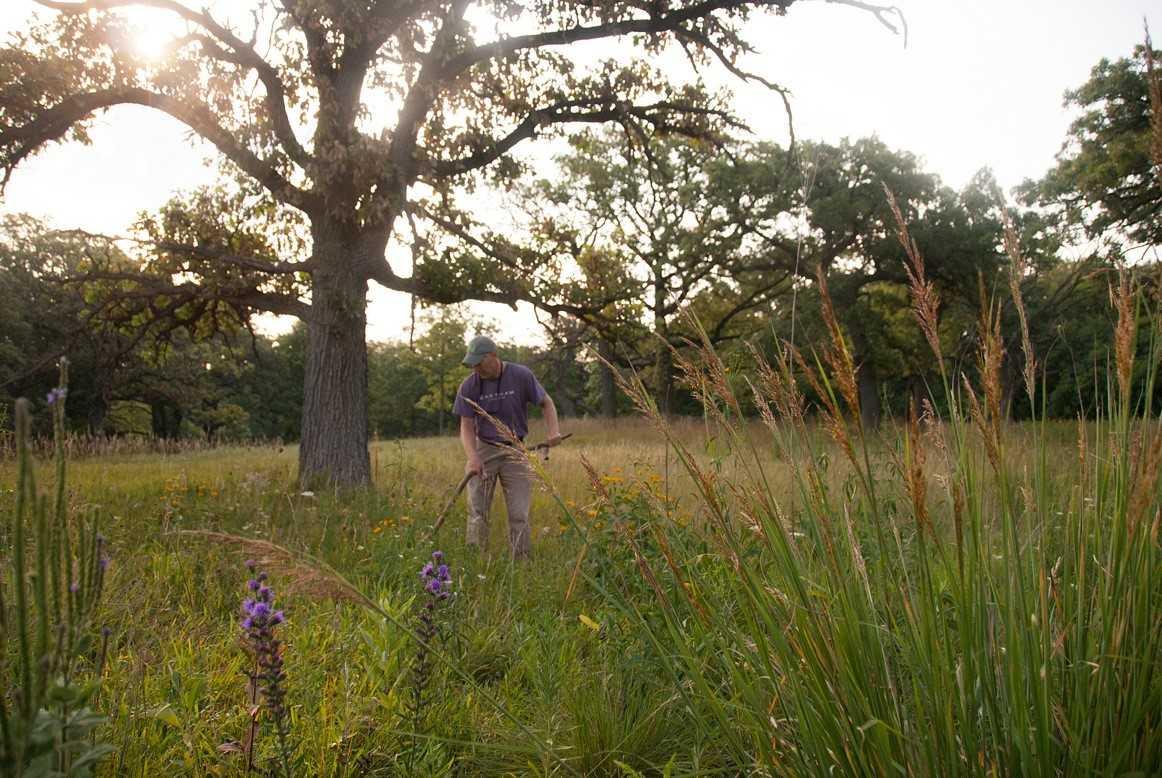 The Spring Creek Reservoir Forest Preserve in Bloomingdale (Daniel Suarez / Audubon Great Lakes)
A first-of-its-kind survey of the Chicago area's remaining grasslands could be good news for several species of threatened birds that once thrived across Illinois.
Conducted by the regional office of the National Audubon Society, the report maps current grassland habitat in the suburbs and collar counties of Chicago. Released last week, the survey marks the first time that the region's grasslands have been quantified successfully.
It also lays the foundation for renewed conservation efforts designed to help a number of endangered species of grassland birds, said Daniel Suarez, stewardship program manager for Chicago-based Audubon Great Lakes, which conducted the survey
"We cannot bring back imperiled grassland birds without first understanding how specific land management actions impact their habitats," Suarez said in a statement. "This report is a turning point in grassland bird conservation because we finally have the foundation on which to build a richer understanding of this relationship, so that we can set bird and habitat conservation goals."
The survey, titled "State of the Grasslands Report: Chicago Wilderness – 2018," notes that despite Illinois' legacy of abundant grasslands – which gave rise to its nickname as the Prairie State – just 0.01 percent of the state's original prairie remains.
An Eastern meadowlark (Seri Douse / Great Backyard Bird Count)
Although that might paint a grim picture, there is good news: The 2,000 or so remaining acres of grassland still have the potential to bring back threatened and endangered bird species, including bobolinks, Eastern meadowlarks, grasshopper sparrows, Henslow's sparrows and sedge wrens, according to the survey.
In fact, populations of several of those species are rebounding in places where landowners and conservationists have teamed up to preserve a healthy grassland habitat, according to data studied by Audubon Great Lakes.
"It's exciting that small patches of restored grassland can collectively have a big impact," said Stephanie Beilke, conservation science associate for Audubon Great Lakes, in a statement. "The work being done here in Chicago can potentially serve as a model for success across our region. It's a ray of hope for our grassland birds."
In addition to providing detailed grassland maps and data on local land management practices that could help boost restoration efforts, the survey also shows that restorating remaining grasslands in the Chicago area carries a value of more than $900 million – in the form of "ecosystem services," such as carbon sequestration, pollinator services, water quality and infiltration and flood abatement.
For more information and to read the full report, visit Audubon Great Lakes' website.
Contact Alex Ruppenthal: @arupp | [email protected] | (773) 509-5623
---
Related stories:
DryHop, Lincoln Park Zoo to Release IPA Inspired by Rare New Zealand Bird
Illinois Sues Trump Administration Over Plan to Strip Protections for Migratory Birds