A CTA bus operator who was fired after an on-duty accident in which he struck and ran over a cyclist was among the highest-paid drivers working for the agency in recent years, according to a WTTW News analysis of CTA employee salaries.
Sunday Ajayi, 53, of south suburban Richton Park, was paid $151,789 in 2018. Only 10 CTA bus operators earned more that year. A WTTW News analysis of CTA employee salaries found the median salary for full-time, permanently employed bus operators in 2018 was $75,674.
Ajayi was fired from the CTA after a June accident in which he struck Joseph Morgan with his bus while Morgan, then 24 years old, was cycling southbound on Wells Street in River North. The crash was Ajayi's third on the job since January 2018, CTA documents show.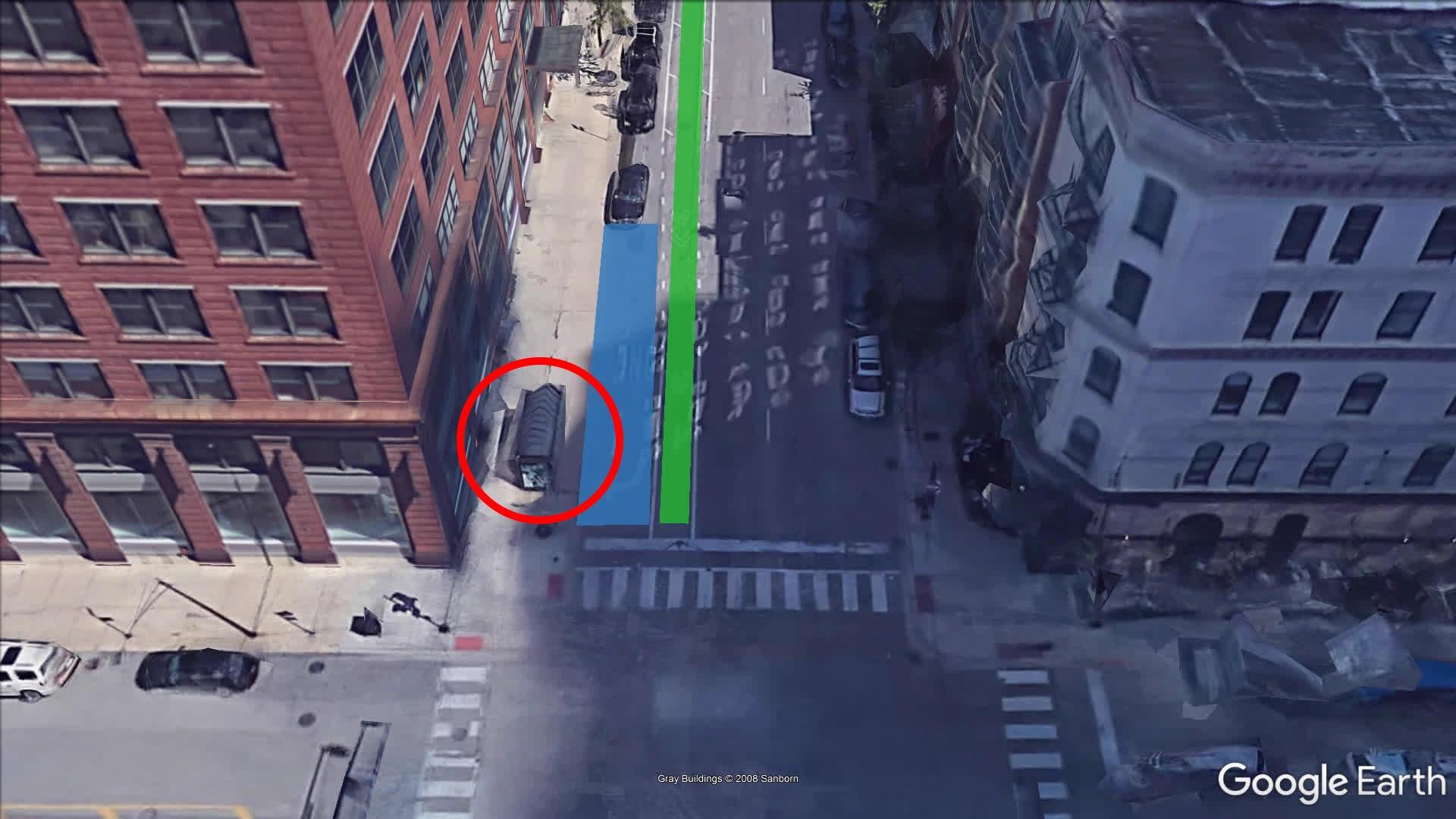 An aerial view of the intersection of Wells and Hubbard streets, looking north. A CTA bus struck a cyclist near the intersection in June 2019. According to police, the bus was pulling up to the bus stop, circled, and the cyclist was riding in the bike lane, in green. The bus lane is highlighted in blue. (Google Earth)
According to his attorney, Morgan, now 25, is staying with family in Michigan while he recovers from significant orthopedic and gastrointestinal injuries – necessitating a rerouted colon – he sustained as a result of the crash. In response to a lawsuit filed by Morgan, both the CTA and Ajayi have admitted in court filings that Ajayi "struck and (ran) over" Morgan and admitted "negligence in the operation of (the) vehicle," but denied Morgan's injuries and asked the court to dismiss the complaint.
While Ajayi's 2018 salary is notable, many other CTA employees had higher-than-usual wages that year. Some of this is because of back pay: A new labor agreement approved in 2018 included hourly wage increases. But because the union's previous agreement expired in early 2016, bus drivers, train operators and other employees worked for more than two years without a contract. Back pay issued in 2018 to cover the difference bumped up many salaries.
But documents show that Ajayi earned considerably more than most CTA bus drivers in other years. Before the 2018 labor agreement, Ajayi's hourly wage was $32.82 – the highest rate for drivers and a $68,265 annual base salary for a 40-hour workweek. In 2015, he earned $114,564. Only 15 other drivers made more. In 2016, he earned $79,302 – just the 375th-highest paid bus driver, but still above the median salary of $67,669. In 2017, Ajayi's salary exceeded its previous high, coming in at $117,998 and making him the 36th highest-paid driver.
While those high points appear to indicate significant overtime or other upgrades, the CTA declined to answer questions related to the number of consecutive hours a bus driver can work. In a statement, the CTA said it "ensures that bus operators have eight hours off between shifts. An operator is only eligible for overtime work if the end of the overtime shift is more than eight hours from the beginning of their scheduled work the next day." The agency directed questions about how much overtime Ajayi had worked around the time of the June crash to its Freedom of Information Act department.
Ajayi racked up 18 traffic tickets between 1989 and 2005, court records show, three of which were issued after he became a CTA employee. (He was hired as a part-time bus operator in May 1998 before landing a full-time position in December 2000.) Those tickets cite speeding as much as 25 mph over the limit, unsafe driving, driving an uninsured vehicle and improper child restraints, among other infractions. While many of the tickets were dismissed or not prosecuted, records show Ajayi paid at least $475 to cover seven of them.
WTTW News asked the CTA how it evaluates applicants' driving histories during the hiring process, and what might disqualify someone from being hired. In a statement, CTA Media Relations said: "The CTA requires an official copy of the applicant's court purposes driving abstract as issued by the Secretary of State. Each abstract is reviewed to ensure that the candidate's driving record meets CTA standards. Those standards are uniform and include review of convictions, suspensions, supervisions, accidents, revocations and DUIs." When asked to provide those uniform standards, Media Relations replied that "beyond the specific examples we provided, we do not have those details readily available."
Ajayi and the CTA are facing another lawsuit related to a January 2018 crash. In that case, Ajayi rear-ended a car while driving a bus along King Drive near 95th Street, according to a lawsuit filed by Robert Crocker, the driver of the car. In response to Crocker's suit, the CTA admitted its driver caused the crash, that he "carelessly and negligently failed to keep a proper lookout" and slow down to avoid the crash. It also denied Crocker's injuries and asked for his suit to be dismissed.
Attempts to contact Ajayi were unsuccessful. The next hearings in the Crocker and Morgan suits are scheduled in October and November, respectively.
---
Related stories:
Bus Driver Fired, CTA Sued After Cyclist Struck by Bus in River North
Bicyclist Struck by CTA Bus in River North
'Greenway' Plan for Lincoln Park Side Street Sparks Neighborhood Tension
---